MARCH 29: BAD DEALS DID IN THE LEAFS.
Now that it's become clear the Toronto Maple Leafs won't make the 2006 playoffs, media outlets across Canada are conducting post-mortems on the team as they stumble through their final games of the regular season, trying to find explanations for the angry denizens of "Leafs Nation".
My non-Canadian readers, or those Canadian readers who cheer for other Canadian clubs, are probably wondering why I've fixated on the Leafs situation twice in one month. The answer, of course, is that, love 'em or hate 'em, the Maple Leafs are one of the NHL's most important franchises.
Like the NY Rangers before them, their trials and tribulations are worthy of consideration. I'm not a fan of either club, indeed, I'm not emotionally tied to them at all, but they are two of the league's most powerful and popular franchises, so when something goes wrong with them, it merits consideration.
Some of the Leafs critics have focused on what the club must do to improve in the future (I got the jump on that by over two weeks), but many are trying to figure out what went wrong and where the blame lies.
Maple Leaf Sports and Entertainment, general manager John Ferguson Jr and head coach (and former GM) Pat Quinn are all getting their share of the blame for this season's disaster, which I forecast in my season preview. Then again, I also forecast the Sharks to finish atop the Pacific Division and the Carolina Hurricanes and NY Rangers to miss the playoffs, so I suppose I can't toot my own horn that loudly when it comes to prognostications.
In my March 16th Soapbox I focused less on assigning blame for the Leafs woes and more on how they can reverse their fortunes for both the immediate and long term future.
But since there seems to be more media focus of late on blame and identifying where the Leafs went off the rails, I've decided to add my two cents before moving on to other hockey matters.
Ultimately, the Leafs problems come down to one thing: several years of questionable or outright bad decisions regarding player movement. Not one major trade stands out as the reason for the decline, but rather a combination of moves that, over time, became an avalanche that would bury the Leafs.
First, there was the decision to trade defenceman Jason Smith to the Edmonton Oilers during the 1998-99 season. He went on to become a mainstay of the Oilers blueline corps as well as their team captain. His defensive savvy and leadership skills would've come in handy this season for the Leafs.
Or how about the stupid decision to swap Mathieu Schneider to the Rangers for Alexander Karpotsev? There is no two ways about it, this was a bad trade for the Leafs. Schneider may be well-travelled and perhaps there was contractual justification to move him, but surely to Buddha they could've gotten a better return than "Potsie".
There was also the incredibly bad decision to waive - WAIVE! - speedy little forward Steve Sullivan during the 1999-2000 season. He went on to become a reliable scorer for the Chicago Blackhawks and now the Nashville Predators. The Leafs could've used his wheels this season.
Or how about trading Fredrik Modin to the Tampa Bay Lightning for Cory Cross and a draft pick? Modin's been one of the Bolts best forwards, helping them win the Stanley Cup. The Globe and Mail is now suggesting the Leafs should try to reacquire Modin as a free agent this summer to play on Mats Sundin's line. Cross, of course, hasn't been with the Leafs for some time.
Letting Yanic Perreault go via free agency was another mistake, as he's averaged over 20 goals and 45 points per season since leaving the Leafs, as well as being a valuable faceoff specialist.
Then there's the blunder of dealing away hard-nosed Danny Markov to the Phoenix Coyotes for center Travis Green and marshmallow soft Robert Reichel, who frequently incurred the wrath of Toronto fans and media for his indifferent play. Green is now with the Bruins. A player of Markov's physicality was sorely missed on the Leafs blueline this season
All of these, however, pale in comparison to the worst trade made in recent Leafs history: shipping Alyn McCauley, Brad Boyes and a first round pick to the San Jose Sharks for Owen Nolan.
McCauley has gone on to become a checking line staple with the Sharks. Boyes, subsequently dealt to Boston along with that Leafs first rounder, is shining in this, his rookie season, whilst the Bruins used that pick to select promising d-man Mark Stuart.
Nolan never panned out with the Leafs and is now involved in a contentious contract buyout with the club. McCauley and Boyes were key parts of the Leafs future needlessly sacrificed for a quick fix.
Acquiring Brian Leetch at the 2004 trade deadline by sending the Rangers a first and second round pick and a prospect would've been worthwhile in the short term had they retained him but instead they allowed Leetch to depart via free agency. A team's future cannot be rebuilt by sacrificing picks and prospects in this manner.
Not every move the Leafs made over the last 8 years were lousy. Signing Curtis Joseph and later Ed Belfour gave them stellar goaltending, and the acquisition of Bryan McCabe from Chicago for Alexander Karpotsev was an absolute steal.
Yes, hindsight is 20/20, and no team wins every trade they make, but some of these moves - waiving Steve Sullivan and dealing away Markov for Reichel and Green - were roundly panned at the time they occurred, whilst the acquisition of Nolan evoked mixed reactions.
When you lose more deals than you win, it never bodes well for the future, and it finally caught up to the Maple Leafs this season.
MARCH 26: THE HIGH COST OF YOUNG SUPERSTARS.
One of the joys of this NHL season, the first under the new Collective Bargaining Agreement, has been the emergence of exciting young talent.
Washington's Alexander Ovechkin (the front runner for this season's Calder Trophy), Pittsburgh's Sidney Crosby, the Rangers Henrik Lundqvist, Calgary's Dion Phaneuf, Dalla's Jussi Jokinen, Colorado's Marek Svatos and Buffalo's Tomas Vanek are among the top players in this year's rookie crop, which thanks to the lockout is among perhaps the best ever in NHL history.
There are also other young players in their second and third NHL seasons who are also contributing to the excitement of the 2005-06 season, like Carolina's Eric Staal, Ottawa's Jason Spezza, San Jose's Jonathan Cheechoo and Edmonton's Ales Hemsky.
For their respective teams, these players represent the promise of the future, with many of them considered the foundation upon which their franchises will be built into winners.
Despite the giddiness the fans of these players and their respective clubs may be feeling this season, they must remember that those young stars, the NHL's future superstars, will come with a high rentention cost.
Clever general managers, like the Sharks Doug Wilson, recognized this early, locking up Cheechoo this season to a five-year, $15 million contract.
That averages to $3 million per season, a considerable raise from the $760K he earned this season. Thanks to the Sharks acquiring set-up wizard Joe Thornton earlier this season, Cheechoo is on pace to pot fifty goals this season, so it's not surprising Wilson wanted to get him under an affordable long-term extension quickly.
With Thornton as his linemate Cheecho should expect more 40-50 goal seasons, which in the long run will make his new contract look like a bargain.
You can bet the agents for Eric Staal ($942K) and Jason Spezza ($1.1 million) made a quick note of Cheechoo's contract, but will they try to land deals for their clients comparable to Cheechoo's? Or will they try to go larger?
$3 million per season would certainly seem more than an adequate raise for what these two have achieved this season.
But Spezza's agent could argue that, although his client could finish barely ahead of Cheechoo in points this season, if Spezza hadn't missed several games due to injury, his point total may have been much higher, perhaps among the top ten point-getters thus providing justification for a higher salary than Cheechoo's.
Carolina could have an even bigger headache on their hands with Staal, who not only leads the Hurricanes in scoring, but could finish third overall in the league in individual points.
It's doubtful Staal's agent would accept a five-year, $15 million contract for his client. Try in the neighbourhood of $20-25 million.
It may not be enough for the Hurricanes to cite Staal is only entering RFA status for the first time and has only two NHL seasons under his belt to justify $3 million per, not with the kind of season he's had.
The Staal camp will base their demands on where he sits in the scoring standings and how that will project for the future. Should Staal carry over his strong regular season into the playoffs, it only increases his value.
Even with the rise in the salary cap next season and with their current status as Stanley Cup contender, there's no guarantee the 'Canes willingly go that high to retain Staal.
That's not to suggest they won't re-sign him, but the contract talks could become a drawn-out affair, one that could potentially drag into the new season.
The Hurricanes also have a lot of other free agents to consider re-signing this season, which could also become a serious factor in Staal's contract negotiations, and vice-versa.
It the Staal camp really wanted to push it, they could use Calgary's Jarome Iginla ($7 million) or Atlanta's Marian Hossa ($5 million) as comparables, citing the fact Staal had a better season than both, but if that were to occur, the 'Canes would counter that those players had been in the league much longer and it also took them years to reach that level of salary.
The Edmonton Oilers should've taken note of Cheechoo's new contract, because Ales Hemsky is only a handful of points behind Cheechoo in league standings, and his agent could be seeking, if not the same length, perhaps the same amount of money per season.
Easy enough for the Oilers to afford? If they decide not to retain Mike Peca, probably, but that still doesn't mean it'll be easy.
The respective clubs to whom this season's top rookie players belong will also be watching Spezza's and Staal's contract negotations closely, for they'll have an impact upon their future contract talks.
For those rookies currently in big-market cities, like Svatos, Jokinen and Lundqvist, it's unlikely there will be much difficulty in re-signing them, but for those smaller market clubs, like Washington, Pittsburgh and Calgary, it could be a much different story.
Ovechkin is already among the NHL's top offensive players, and should become the first rookie since Teemu Selanne in 1992-93 to score fifty goals. Crosby, at only 18, is the Penguins leading scorer and is also among the top ten forwards. Phaneuf sits third in Flames scoring and leads them with 15 powerplay goals, a phenomenal achievement for a rookie blueliner. He's also among the top 20 in points for defencemen, which is all the more impressive considering he plays for a low-scoring team.
Ovechkin and Phaneuf both earned over $900K this season, Crosby $850K. On their current career paths, Ovechkin and Crosby will be among the league's top five offensive players (barring injury, of course) and Phaneuf among the top five blueliners by the end of their current contracts
Think it'll be easy to retain them for $3-$4 million per season? Guess again.
Obviously the Capitals, Penguins and Flames will re-sign them, but don't expect it to be for anything less than $5 million per season. Indeed, the odds are good they'll seek over $6 million per.
All the aforementioned teams also have to factor in that those players will also all be eligible for unrestricted free agency by either age 27 or after seven NHL seasons.
For franchise players like Ovechkin, Crosby and Staal, that's going to give them the whip hand, making them very rich, either with their current clubs or with others.
When the new CBA was hammered out last summer, I repeatedly pointed out both here and in my Foxsports.com columns that the younger eligibility age for unrestricted free agency was going to be costly for teams, particularly small-market clubs, to retain their best young players.
The contract negotiations of these aforementioned players within the next two to three years are going to provide a clear lesson to those who believed the players got spanked by the owners under this new CBA that it'll be the players, particularly the league's best young talent, who'll have the last laugh.
And prove to hockey fans just how costly it will be to have a young superstar on your favourite team's roster.
MARCH 22: TICKET PRICES TO RISE AGAIN?
Remember back in the midst of the dark days of the NHL lockout, when NHL Commissioner Gary Bettman stated several times that one of the reasons for seeking "cost certainty" from the NHLPA was to make the game more affordable for the fans?
Now I realize most hockey fans would rather put "the lost season" behind them, after all, the NHL product is better than it's been in years, new stars are emerging and there's genuine excitement about the game again.
I also realize the playoff race is absorbing most of the attention of hockey fans right now, but I'd like to just remind them about the supposed concept of "making the game more affordable for the fans".
When most hockey fans read or heard that phrase, they naturally assumed it to mean that this would mean lower ticket prices to attend NHL games.
They must've, because poll after poll of NHL hockey fans taken during the lockout showed an overwhelming majority of them believed the players salaries were responsible for higher ticket prices.
That doesn't mean those fans were stupid, but merely ignorant of the business of hockey. I used to subscribe to that theory, too, until I actually did the research and discovered there was little or no correlation between salaries and ticket prices.
Throughout the lockout I pointed out that it was each market, not the salaries, that determined what ticket prices would be. I received a lot of e-mails from folks arguing that point, most intelligently written, a few less so.
Yet in all the arguments I read and heard against this, none could prove the direct link to salaries and ticket prices.
The best examples against linking salaries to ticket prices were the Chicago Blackhawks and Minnesota Wild ranking amongst the top ten in the league in 2003-04 in ticket prices whilst ranking amongst the bottom ten in payroll, and the Nashville Predators charging the 15th highest prices whilst carrying the lowest payroll.
During the course of the lockout I also doubted that most NHL teams would actually lower their prices once they returned to action, but if they did, I claimed those prices wouldn't stay down for long, that they were only reduced as a means of enticing jaded hockey fans back to the arenas.
Lo and behold, almost all of them reduced their prices, which resulted in a few taunting e-mails from my critics who ignored my previous cautions that this reduction may not last for long.
It appears that I'll have the last word. Not the last laugh, because I don't find it funny at all, but the definitive last word.
On March 19th, the Raleigh News and Observer reported the Carolina Hurricanes would raise ticket prices for next season by between 5 and 17%.
In February, the St. Petersburg Times reported the Lightning, one of the few NHL teams to raise prices this season (by 2.29%) would also raise prices by as much as 15% for next season.
In the same month, the Tennessean reported the Nashville Predators, after cutting prices this season, would be raising ticket prices for next season by 8% for season ticket holders and by a higher but as yet undisclosed amount for single-game buyers.
Only three teams announced a price hike for next season...so far. Are they merely in the minority? Or the tip of the price hike iceberg? It would be foolish to believe they'll be the only clubs to raise ticket prices next season.
The teams that cut their ticket prices did so exactly for the reason I claimed throughout the lockout, to entice you, the hockey fan, to come back to the product.
It had nothing to do with "cost certainty". It never has and never will. It all has to do with getting your butt back into a hard plastic seat.
It's obvious why the Hurricanes will raise their prices for next season, after all, their team is now battling with the Ottawa Senators for first overall in the Eastern Conference. They're an exciting club powered by young superstar Eric Staal.
Their ticket prices were the lowest in the NHL this season because they had to attract fans. After all, if somebody had said back in October the Hurricanes would be one of the NHL's elite teams this season, you'd be laughed out of any sports bar that follows hockey.
But now they're a top club, with a bright future, and the fans are starting to come back, so naturally, ownership wants to take advantage of that success.
Nothing wrong with that, it's only good business, you raise prices when your team is successful and you lower them as an incentive to keep the fans when the team is lousy.
But it doesn't have anything to do with the salary cap, gang.
The 'Canes began this season with a payroll well below the league average, down around $28 million. It only increased to $35 million by the trade deadline due to the acquisitions of Doug Weight and Mark Recchi, both of whom are UFAs at season's end and could be cast off by the off-season.
No, it has everything to do with the club's improvement, which is resulting in an improvement at the gate.
The Predators cut their ticket prices for this season by over 14%, because ownership was concerned that any potential increase in attendance built by their first post-season appearance ever might've stalled by the work stoppage.
Thus far into the season, the Preds were sitting 25th overall in attendance, playing to 84 percent capacity, perhaps not great, but undoubtedly better than anticipated.
At least the Hurricanes and Preds reduced ticket prices to start this season. So why did teams like Tampa Bay, Atlanta, Edmonton, and Florida increase ticket prices at the start of this season? They're supposedly "small market" NHL clubs, so why did they raise ticket prices coming off a season-killing lockout?
It's not because Tampa Bay and Atlanta are bumping up against the salary cap, or that Edmonton needed the extra money because they traded for Chris Pronger and Michael Peca.
They charged what they knew their market would bear. Edmonton, long a strong hockey market, saw its average attendance jump from 16, 658 in 2002-03 to 17,678 in 2003-04.
Tampa Bay's rose from 16,454 in 2003 to 17,820 in 2004, based primarily on the team's improved on-ice fortunes. By virtue of starting this season as the defending Stanley Cup champions, the Lightning counted on a strong gate for this season.
Atlanta, whilst their average attendance in 2003-04 of 15,121 was still below the league average, nevertheless saw a substantial increase over the 13, 476 in 2003. Florida's was also below the league average, but the 15, 936 drawn in 2003-04 was higher than the 15, 428 of the year prior.
Critics might argue that because only three teams have announced they'll raise ticket prices doesn't mean others will, and might point to this as proof the salary cap is keeping ticket prices under control.
If only that were true. I'd really like to be proven wrong on this one, I really would, because so many fans honestly believed attending an NHL game would be more affordable in a salary cap world.
Sadly, the reality is that in a lot of NHL cities, the turnout for games was such that it caught everyone - including yours truly - by surprise.
The NHL is reporting revenues for this season could come in at close to $2.1 billion, which was close to what was reported in the final year of the old CBA.
And in those markets where the attendance was at its strongest, you can bet those team owners are already making plans to start raising those prices again. By how much remains to be seen, but it's almost a certainty that prices will rise in more than just those aforementioned three cities for next season.
Just remember, it wasn't the players salaries to blame, because they're all capped now thus effectively eliminating them as a target.
It's just the cost of doing business.
MARCH 19: WHY DOES THE NHLPA WANT TO RESTRICT THE INCREASE IN THE SALARY CAP?
That question has been sent to me by several readers in recent weeks, ever since reports first surfaced back in February that NHLPA Director Ted Saskin would seek approval from the players to request the league restrict the anticipated increase in the salary cap.
It's been reported for some time now that the salary cap will rise next season, as projected revenues for this season were much higher than anticipated by both the league and the PA.
The cap could go up to as much as $46 million US, higher than the league's "take it or leave it" final offer of $42.5 million to the PA prior to the cancellation of the 2004-05 season.
Back then the league claimed that anything over $42.5 million was far too high for its smaller markets to survive, yet in his recent "state of the NHL" good will tour through Western Canada, Bettman expressed no concerns about it. In fact, he seemed quite pleased about it.
But I digress. The projected increase to around $46 million, as well as an increase of the cap "floor" to as much as $30 million, should have the PA shouting huzzahs. After all, an increase in the cap by up to $7 million bucks means more money to be spent on player salaries.
Yet amazingly, PA Executive Director Ted Saskin is trying to convince the players to ask the league to restrict the cap increase to $42-$43 million. This has been an ongoing issue within the PA membership for a couple of months now, but has been gaining more media attention in recent weeks.
So why is Saskin seeking to slow down the projected cap increase? The answer, quite simply, has to do with escrow.
Under the new CBA, a certain percentage of the players salaries, based on projected quarterly revenues, would be withheld in an escrow account. If the teams spending exceeded a certain percentage of revenues, that escrow portion of the players salaries would be turned over to the team owners.
But if spending remained below that percentage, the money gets returned to the players with interest. That's what happened this season.
If the salary cap increases to a ceiling of $46 million and a floor of $30 million, that obviously means teams - particularly the big market ones - will have more money to spend on players salaries for next season.
The beneficiaries of that increased spending will be the top tier unrestricted free agent (Group III) and restricted free agent (Group II) players, who are in a distinct minority amongst the 700+ NHLPA membership
While the rank and file Group II or III free agents will see raises, too, they obviously won't be getting as much as their more talented peers.
This also means larger escrow payments for next season, which also increases the likelihood they won't get as much of it back as they did this season, or may not get any of it back at all.
If the salary cap were set at a lower rate than $46 million, it makes it more difficult for traditional free-spending teams to revert to their old ways, which in turn also means more palatable escrow payments .
While that sounds good for the majority of players, for those eligible for free agent status this summer, particularly the "name" players, a restricted increase in the cap means less money they could potentially make on the free agent market.
And that's why we're hearing reports of internal debate amongst the players over this proposal.
While I'm not privy to the inner workings of the PA, if recent media reports are anything to go by, this issue has grown to the point where the players won't be voting on it until the first week of July at their annual meeting, which will mean delaying the start of the UFA market.
It's hard to say right now which direction the players will go with this, but it appears Saskin is banking on the support of the rank file who make up the majority of the PA membership.
It's also been suggested that Saskin is doing this to save his job, as apparently the membership were unhappy over having a portion of their salaries withheld in escrow.
If so, it's a smart move by Saskin. He already dodged the bullet this season when revenues were higher than projected, so it only makes sense to put the brakes on the anticipated rise in the cap to minimize those escrow payments.
As TSN's Bob McKenzie recently observed, it's one issue that, along with another potential challenge to Saskin's hiring, this time by former NHLPA official Steve Larmer, that could make for an interesting off-season for the PA.
Some PA critics are pointing to this as continued evidence of the divisions within the player ranks, one that could further fracture the once strongly-united PA.
But this issue also has the potential to drive a wedge once again between the big market owners and their small market cousins.
The salary cap has been a godsend this season for many small market clubs, seen as the reason why many of those clubs are now more competitive.
So you can best believe that those small market owners aren't exactly doing handsprings over the possibility of the cap going up to $46 million, a level most of them howled was unworkable during the lockout .
After all, they know only too well the spending histories of their big market rivals, and foresee them once again driving up the market value of free agent players, thus making it harder for the small markets to retain their best players or engage in competitive bidding for Group III free agents.
The only real beneficiaries of an $46 million salary cap would be the big market clubs, or at least those willing to spend up to that amount. Considering some of them had payrolls around $60 million in the final year of the old CBA, $46 million is more than affordable.
Remember, folks, just because the cap will go to $46 million doesn't mean every team will spend up to that amount, or for that matter, that a majority will spend over $40 million.
With this year's cap at $39 million, roughly half of the NHL teams spent less than $35 million on payroll. Figure the odds of those teams plopping down $46 million. Or $43 million. Or $40 million.
It would once again be a handful of teams - as well as a handful of star NHL players - that would benefit.
Of course, that's not going to impress the big market owners, who'll cry about how restrictive this measure would be, how it's only Saskin's way of trying to keep his job, how it won't allow successful franchises to keep their teams together, blah, blah, blah.
The real reason for their complaining will be because it'll make it that much harder for them to potentially poach away top talent from smaller markets.
Well, too bad for them. They stood with the small market owners to wrest a hard cap and other concessions from the PA. They have no business in crying if the $43 million cap raise is approved.
If Saskin is successful in convincing the PA to agree to a raise to $43 million, you can bet the small markets will be quickly voting to accept it too.
As for those free agent players, if last summer was any indication, they shouldn't worry too much about the money they'll make, particularly the star players.
Last summer's cap was $39 million, but that didn't stop big stars like Joe Thornton and Vincent Lecavalier from getting substantial pay raises.
And it didn't stop a team like the Chicago Blackhawks from overpaying Nikolai Khabibulin, a good goalie who had one great playoff run, an almost untradeable four-year, $6.75 million per season contract.
Never underestimate the savviness of a player agent and the greed - or desperation - of a general manager, cap or no cap.
Will Saskin successfully convince the players to vote for a marginal cap raise? Who knows. Nobody foresaw the PA potentially seeking to restrict cap increases, which only proves that the dance between owners and players may be moving into a new direction, which could have an interesting impact upon labour talks when this current CBA expires.
MARCH 16: LEAFS NEED TO LOOK TO THE FUTURE.
Toronto Maple Leafs GM John Ferguson Jr certainly heard the howls of his critics last week.
Apart from acquiring a veteran defenceman (whilst dealing away another) and a prospect, he did very little by deadline day to improve his roster.
But even his critics couldn't decide on which course of action "JFJ" should've taken.
Some believed he should've made a big splash by either shopping star veterans and/or promising young talent for players to bolster the Leafs chances of making the playoffs.
Others felt Ferguson should've merely given up on making the postseason and "blown up the roster" in hopes of bringing in help for his club in the future.
Ferguson continues to stand by his current roster, publicly claiming they'll make the playoffs.
They still might, but those odds are long, and even if they do make the 2006 post-season, they'll likely be roadkill for one of the upper echelon clubs in the East.
Some Leafs fans will likely cling to the hope that if their team can make the playoffs anything can happen, that an upset is possible and that they could catch fire and go all the way to winning the Stanley Cup.
Right. And I stand a very good chance of winning the lottery this week.
Sure, it's possible, but the odds are so long against it that I don't even take it seriously.
For those fans in "Leafs Nation" living in reality, it's painfully obvious that their club, a perennial Cup favourite since 2000, is on the decline.
Now fans can pin the blame on Ferguson for this, but we don't know for certain if he's making his decision independently or if he's getting some direction from team ownership.
It shouldn't be surprising, however, that the Leafs are struggling this season.
The salary cap ensured this team couldn't conduct business as usual, so that they had to shed salary to get under the cap, preventing Leafs management from wallowing in the UFA market as in years past.
Give JFJ some credit, he did try to bolster the club with what he could afford. True, not all of them panned out. Jeff O'Neill wasn't able to find the scoring touch that deserted him in Carolina, whilst Alexander Khavanov was exposed as a d-man who previously benefited from playing for St. Louis Blues teams with more blueline depth than this year's version of the Maple Leafs. The less said about Mariusz Czerkawski, the better.
Yet for all the bitching about Jason Allison and Eric Lindros, without their offensive contributions the Leafs may not even be in position where they still have a shot at making the playoffs.
There was plenty of second-guessing as to Ferguson's decision to retain Ed Belfour, but even with the benefit of hindsight, he really didn't have much choice, considering the lack of available goaltending to sign or trade for. In the end, he had to trust the guy who was arguably the main reason the Leafs did as well as they did in the 2003-04 regular season.
Regardless of where the Leafs finish at season's end, it's clearly time for management - and ownership - to take a long, hard look at this club and decide which direction they're going in.
If they continue to stick with their current roster, or worse, toss around the available payroll cash they'll have this summer on aging vets as in the past, their situation isn't going to improve very much over this season.
Some hard decisions will have to be made regarding the future, and that's going to mean doing something that's been a dirty word in Toronto since the 1998-99 season.
Rebuild.
Not in a "blow up the roster" style but rather by looking at both short-and-long term.
In other words, they can do this without having to engage in a fire sale roster clearance that the Washington Capitals did two years ago. The could still have a team that, while it won't be a Cup contender in the next two years, could find themselves in that position in three to five years.
First, they'll need to change coaches. Pat Quinn was responsible for turning the Leafs around in the first three years of his tenure, but it's obvious this season that the players are no longer listening to him. After 8 years, it's time for some fresh blood behind the bench.
Possibilities include Paul Maurice, presently coaching the Leafs farm club or perhaps former Habs coach Claude Julien. I'm sure the denizens of "Leafs Nation" could also come up with some alternatives.
Turning to the roster, there are some players who are indepensible to the Leafs future and should be retained.
Team captain Mats Sundin has another year left on his current contract, and while his production may be down this season, that's due to an early season eye injury. Even so, he's still scoring at nearly a point per game pace.
Any attempt to dump him between now and next season could prove hasty. The Leafs need Sundin to continue leading this club. Besides, you don't just dump a player who's still performing at nearly a point-per-game clip.
As annoying as I find Darcy Tucker, there can be no denying he loves being a Maple Leaf. As long as he doesn't turn into the divisive force in the dressing room toward younger players that drove him out of Montreal and Tampa Bay, he's worth keeping for his gritty offence.
Bryan McCabe and Tomas Kaberle are two of the better offensive blueliners in the game. Kaberle obviously isn't going anywhere after re-signing a long term deal with the Leafs and neither should McCabe if a deal can be reached prior to this summer to keep him off the UFA list.
Next comes the fun part: which potential UFAs do you keep and which do you cut?
Actually, it's easier than it looks.
Bryan McCabe, keep him. Yes, it will likely cost a little over $5 million per season, but given the seasons he's had since he became a Leaf, they'd be foolish not to. And if they don't re-sign him, he'll have no problem finding another team willing to pay out that kind of cash.
Ed Belfour, release him and give him his $1.5 million golden handshake. The play of Mikael Tellqvist this season proves the Leafs have a good future between the pipes, and it doesn't involve the Eagle. It's pointless to keep paying him a big salary for another season when he can no longer deliver the goods.
Khavanov: bye-bye. Lindros, thanks for coming out and giving it a good try, but your injury history makes you a liability the Leafs don't need, not even for one more season.
With Allison, it gets fuzzier. Yes, he's slow, yes, he's streaky, but he's also been one of the Leafs better offensive forwards. If his salary demands are decent, why not try him for another season? If not, then fine, cut him loose, bade him good luck in the UFA market, and look elsewhere.
Aki Berg? There has to be enough quality depth in this summer's UFA market to justify an upgrade. Richardson? If he plays well enough, why not re-sign him for another season? He'll likely agree to less money to finish his career as a Leaf.
Kilger and Wilm? Energetic checking line forwards and very affordable, so they stay.
Nik Antropov and JS Aubin? So long. Don't bother qualifying them. If you can find a sucker to take Antropov off your hands for anything, even a draft pick, do it.
As for other key RFAs, it's likely not going to cost that much to retain Tellqvist, Carlo Colaiacovo, Matt Stajan and Kyle Wellwood. In fact, given their promise, it might not be a bad idea to lock these guys up to affordable, long term contracts, rather than having to dance around with them in negotiations in two years time, where it's a good possibility their value will be much higher.
Even by re-signing McCabe, Richardson, Kilger, and possibly Allison, plus their key RFAs, the Leafs will have freed up payroll by chopping deadwood from other areas of the roster. That combined with the anticipated raise in the cap ceiling will give the Leafs flexibility to bring in some free agent help.
That doesn't mean following the same methods in the past, tossing money at expensive, aging free agents, but rather finding affordable talent with character and a strong work ethic.
The Leafs will need to find an experienced backup for Tellqvist, someone affordable but reliable enough to help him share the load in the short term until either Justin Pogge or Tuukka Rask are ready to move up.
Columbus's Martin Prusek might be available, as could Mika Noronen, who's obviously a short-term replacement until Dan Cloutier returns to battle it out next season with Alex Auld for the title of Vancouver Canucks starting goalie.
Unfortunately, that's a thin list, which could also mean looking for an affordable veteran to more evenly split the duties with Tellqvist. One possibility is Martin Biron, but he's already making over $2 million per season and probably would seek that much as a UFA.
The Leafs will need some depth on the blueline, but it has to be affordable, proven and most importantly, have good character.
In other words, they have to be coming to Toronto to win, not to retire.
Potential UFA blueliners this summer who might be a good fit for the Leafs include Ruslan Salei, Jay McKee, Karlis Skrastins, Willie Mitchell, Filip Kuba, former Leafs Danny Markov and Kenny Jonsson (if the rumours of his interest in returning to the NHL are true), Denis Gauthier, and Kim Johnsson.
If the Leafs were quick enough and clever enough, they could have at least two of the aforementioned in their lineup for next season. Any combination of the above would provide that much-needed blueline depth, thus ensuring Tellqvist wouldn't have to make like Belfour and Joseph before him and cover for the obvious mistakes from a porous Leafs blueline.
Yes, Wade Redden, Zdeno Chara, Niklas Lidstrom and Ed Jovanovski would make obviously better choices and if any of them are available, it might worth the bidding. But then again, they're going to command huge salaries, and by investing in just one, the Leafs could be jeopardizing themselves in other areas.
No, better to let other teams blow their budgets and instead invest in true blueline depth, which they've been lacking for years.
There was a silver lining in the Leafs inability to sign or trade for expensive veterans, that being it gave some of their youngsters an opportunity to see more playing time. Surprise, surprise, it now turns out the Leafs have some quality youth that, instead of being buried behind expensive veterans or dealt off for the same, could form the basis of the new core of the next generation of Leafs stars.
Wellwood, Stajan, Colaiacovo (if he can stay healthy), Alexander Steen, Alexei Ponikarovsky and Steffan Kronwall have all shown various levels of skill, and if they're allowed to remain and develop with the Leafs under the right coaching, within the next two or three seasons they could be the foundation of the roster for years to come.
Still, the Leafs most likely will need to bring in a winger to play on Mats Sundin's line, and that (next to McCabe's) re-signing is where they may have to spend the most.
Even so, given the potential UFAs out there this summer, they won't need to blow the budget to achieve this.
Columbus's David Vyborny could be a possibility, as could the Oilers Sergei Samsonov if he goes unsigned this summer. Mark Parrish could be another, as could either Martin Straka or Petr Sykora. Patrik Elias, Anson Carter or Daniel Briere would be long shots but if they're available this summer, why not?
Trades of course remain possibilities, but if they're going to move anyone, they must be careful how they approach this. Whilst recommending retaining Tucker, if the opportunity arose to get a better player (packaged with a pick or prospect), it might be worth considering.
As for the kids, try to keep them off-limits as much as possible, but if there is no other option, the only one I'd consider packaging would be Colaiacovo if the Leafs went the free agent market for affordable blueline depth of quality.
By the way, I'm not a Maple Leafs fan, but if their fans are to finally see an end to the second-longest Cup drought in NHL history, these suggested changes are the only way I see the club doing it.
If they stick to business as usual, shelling out big bucks for aging veterans, or sacrifice their promising youth for quick fixes, there will be no foreseeable end.
Bank on it.
MARCH 13: DOWN THE HOME STRETCH.
With less than 20 games remaining in the 2005-06 season, here's how the 30 teams stack up heading down the stretch.
ANAHEIM MIGHTY DUCKS. The Ducks are hanging in there down the stretch, poised to threaten the Edmonton Oilers tenuous hold on the final playoff berth in the West. A strong finish combined with potential stumbles by the Oilers and LA Kings could see them sneak in, and they'll need their veterans like Teemu Selanne, JS Giguere and Scott Niedermayer to lead the way.
ATLANTA THRASHERS. Their GM has backed away from his guarantee the Thrashers would make the playoffs, but they're still very much in the hunt. With strong goaltending from Kari Lehtonen and the offensive power of Ilya Kovalchuk and Marian Hossa, like the Ducks in the West they could sneak into a playoff berth but they'll have to play well the rest of the way to have a shot.
BOSTON BRUINS. The long, miserable 2005-06 season is nearly done for the Bruins and their fans. Their playoff hopes are all but dashed and once again the Bruins management will be left to assess the damage and once again rebuild. If management is smart, they'll lay off chasing high-salaried free agents, look instead to bring in some character players and continue to build around their younger players.
BUFFALO SABRES. It's okay, Sabres fans, you can exhale now. Your speedy, energetic club is so far up in the Eastern Conference standings that even a slump the rest of the way won't jeopardize their playoff chances. They're also getting players like Daniel Briere back from injury to help them jockey for a higher position in the standings and make them an even tougher team to beat in the playoffs.
CALGARY FLAMES. They're one of the best defensive clubs in the NHL, and that hardworking, disciplined system has carried them into the elite teams in the West. However, heading down the stretch there are concerns about their popgun offence, something management was unable to address at the deadline. This will remain a concern in the playoffs.
CAROLINA HURRICANES. Yep, they're for real, battling the mighty Ottawa Senators for first overall in the East. Kudos to GM Jim Rutherford for quickly landing a replacement for the injured Erik Cole in veteran Mark Recchi. It's no longer a question of "if" they'll make the playoffs because that's a moot point, but where they'll finish in the upper echelon of the East.
CHICAGO BLACKHAWKS. Another woeful season draws to a close for the Blackhawks and their dwindling fan base. Loading up with free agent talent did nothing to reverse their fortunes, and once again the 'Hawks head into the off-season to lick their wounds and look toward rebuilding.
COLORADO AVALANCHE. GM Pierre Lacroix has taken the biggest gamble of his career, trading away David Aebischer for Jose Theodore, who's sidelined for another month due to injury. They'll need their backups to play well and everyone else to step up their game, as a playoff berth this season is no guarantee. For the first time in their history, Avs fans have good reason to be nervous.
COLUMBUS BLUE JACKETS. Once again, they finish near the bottom of the Western Conference standings, but this time, there's a ray of hope for the long-suffering Jackets fans, as their club has had a strong second half. That's due in no small part to the return from injury of Rick Nash, but Jackets management will have to continue to find depth to fill in their obvious roster gaps.
DALLAS STARS. So much for the theory of the Stars being a fading power in the West. Once again they're in their accustomed near the top of the Conference, thanks to their strong team play and the return to form of veteran captain Mike Modano. Having picked up more defensive depth at the trade deadline, the Stars have bolstered their status as a legitimate Cup contender.
DETROIT RED WINGS. Another club that defied the fading power label to once again perch atop the Western Conference. The depth in experienced veteran talent and rising young stars continues to power the Winged Wheel. They'll have no problem making the playoffs, but there are some concerns about their goaltending and blueline depth, which could be a factor throughout the postseason.
EDMONTON OILERS. There's great expectations upon the shoulders of recently acquired goalie Dwayne Roloson and winger Sergei Samsonov to help their new team solidify a playoff berth. They're feeling the pressure from the Mighty Ducks for that final berth, and if their new additions struggle to adjust to their new team, their postseason hopes could be in trouble.
FLORIDA PANTHERS. Their playoff hopes are all but gone now, but at least the good news is they've re-signed team captain Olli Jokinen to a long-term contract, which might also convince star goalie Roberto Luongo to stick around. If this team can ever fulfill their promise, they could be a potential powerhouse in the East, but it won't happen this year.
LOS ANGELES KINGS. Like the Oilers, the Kings have a slippery grip on one of the last postseason berths in the West, and they also made trades to bolster their roster in hopes of nailing down that berth. They'll need to step it up the rest of the way because the Oilers and Mighty Ducks are breathing down their necks.
MINNESOTA WILD. They still have a shot at a playoff berth, but the odds are long. They'll need to string together more wins and for the clubs above them to slump if they're to stay in the chase down the stretch. The lack of offensive depth once again plagues them, something management must address in the off-season if the Wild are to get back into the playoffs again.
MONTREAL CANADIENS. Backup Cristobal Huet's strong play got Jose Theodore traded away, but it also helped his teammates regain their early season confidence. Since the Olympic break they've been one of the NHL's hottest teams, but they'll have to continue that strong play if they're to secure a playoff berth in the East, especially with the Thrashers sticking with them in the postseason race.
NASHVILLE PREDATORS. They're not only making believers of their fans, but also of a growing number of pundits. The Preds continue to live in the rarified air near the top of the Western Conference standings. Barring a rash of injuries, they're unlikely to stumble down the stretch.
NEW JERSEY DEVILS. They recovered well from a poor first half to play themselves back into the middle of the playoff standings in the East. Management brought in some defensive depth at the trade deadline, but they're still lacking in offensive depth. That won't give them trouble down the stretch but could make the playoff road a tough one.
NEW YORK ISLANDERS. Their deadline deals signalled the end of the Isles dwindling playoff hopes and the start of yet another rebuilding project on Long Island. Isles fans now turn their attention to the off-season, where they hope for a new GM that'll be an improvement over Mike Milbury, as well as a potential buyout of underachieving forward Alexei Yashin.
NEW YORK RANGERS. Doesn't matter if you like the Blueshirts or not, it's good to see them in position to make the playoffs for the first time in nine years. A resurgent Jaromir Jagr, the goaltending of rookie Henrik Lundqvist and a rejuvenated roster thanks to head coach Tom Renney have gotten the job done in the regular season, but recently their lack of defensive depth has some concerned about their chances of a lengthy postseason run.
OTTAWA SENATORS. Despite injuries to key players throughout this season, the Sens continue to chug along as one of the best clubs in the East. Backup Ray Emery has done a good job holding the fort whilst starter Dominik Hasek recovers from a leg injury, but they'll need "the Dominator" back at 100% for the playoffs. Fortunately the rest of the Sens regulars are healthy which should also keep them flying high as the season winds down.
PHILADELPHIA FLYERS. Credit coach Ken Hitchcock for keeping this team playing at a high level despite a series of injuries to key players, but those injuries may be catching up to the Flyers as they've stumbled in recent weeks, dropping to fifth overall in the East. They'll continue to play hard and shouldn't be in danger of missing the postseason, but will need to get their walking wounded back in action soon for the playoffs.
PHOENIX COYOTES. A season that started with high expectations turned into one of disappointment for the 'Yotes and their fans, who can't wait for these final games to end. Management already got a jump on rebuilding, re-signing two key players and dealing away some veterans at the deadline.
PITTSBURGH PENGUINS. Apart from Sidney Crosby, Penguins fans have had nothing to cheer about this season. The optimism of the early season died out quickly and most now cannot wait for this moribund club to play out the string. They're looking forward to Evegni Malkin joining the Pens next season, but he and Crosby can't do it alone. Management has a lot of work ahead of it.
ST. LOUIS BLUES. This has been a season to forget in St. Louis. The team's playoff streak, the longest active one in the NHL, has come to a ignominious end. They're still seeking a new owner and are a club lacking focus and depth. It's been a long year, and it's going to be a long summer.
SAN JOSE SHARKS. The acquisition of Joe Thornton sparked a reversal of the Sharks fortunes, and they've clawed their way to within six points of a playoff berth. They've played much better in the second half of the season, but it could be too little too late for this season. At least they can look ahead to next season with confidence.
TAMPA BAY LIGHTNING. The defending Stanley Cup champions have not played as such throughout much of this season, and find themselves in a desperate fight to retain one of the last playoff berths in the East. A lack of quality goaltending and blueline depth has proven costly, and unless they can step it up in the season's final weeks, it could cost them the season.
TORONTO MAPLE LEAFS. There's panic in Leafs Nation and for good reason, as the Leafs are in danger of missing the playoffs for the first time in 8 years. Management may still have faith in this team, but age and inconsistency appears to have caught up with its key players. It remains to be seen if they can muster enough to claw back into the playoffs.
VANCOUVER CANUCKS. GM Dave Nonis did a fine job of bringing in depth needed in goal and on the blueline, which should go a long way to helping the Canucks nail down a playoff berth. Once their injured regular d-men are back in action, the Canucks should be in good shape defensively heading into the playoffs.
WASHINGTON CAPITALS. It could've been a season to forget for Capitals fans, except for the play of offensive superstar Alexander Ovechkin, who was everything they'd hoped he'd be in his rookie season. The Caps still have a long way to go in their rebuilding process, but now they have a true franchise player to build around.
MARCH 10: BUY OUT YASHIN.
Had the following sent to me by a couple of Islanders fans and thought I'd post it up: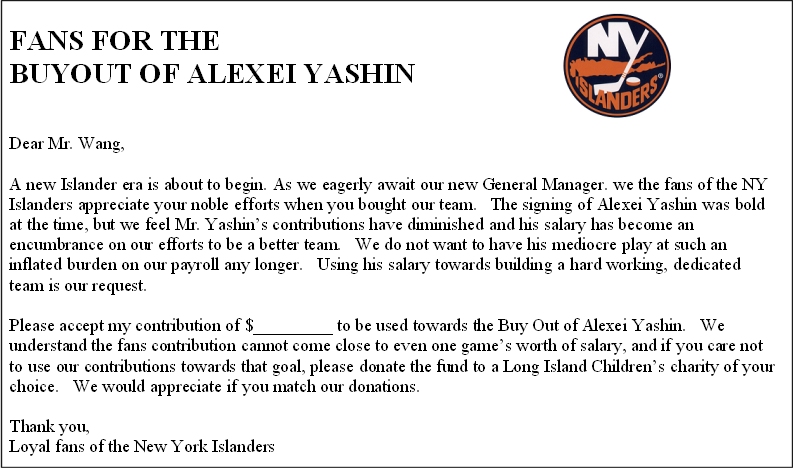 I'm not an Islanders fan, but I hate seeing this once-proud franchise stuck under the weight of Alexei Yashin's contract, perhaps the greatest monument to Mike Milbury's ineptness as general manager. So what the hell, if you've got a spare buck or two, why not help your Islanders friends. My thanks to Greg Rivard and Dee Karl for sending this in.
POSTSCRIPT: It must be remembered that any buyout of Yashin's contract will count against the salary cap. Last year's contract buyouts were a one-time-only event that won't count against the salary cap. I assume that those Isles fans who are supporting this little drive understand this and simply want Yashin gone.
GAINEY DESTROYING THE HABS?
Check out my response to this e-bay parody auction on my Foxsports.com blog.
MARCH 8: TRADE BAIT?
With the NHL trade deadline about to go down, here's a look at those players considered potential trade bait and their potential likelihood to be moved by 3 pm Eastern on March 9th.
-BRENDAN WITT, WASHINGTON CAPITALS. His trade request has been in since August 2005 and Capitals management claim they want to accomodate that request, but he wants to go to a contender, and that may not be easy to do. Then again, it's worthwhile to wait until the last minute to move him in order to maximize the return. He'll be dealt, but where remains a mystery until March 9th.
-DWAYNE ROLOSON AND WILLIE MITCHELL, MINNESOTA WILD. The Wild's re-signing goalie Manny Fernandez to a long-term contract last week all but assures Roloson is on his way out, either via trade or this summer's UFA market. Mitchell, however, is another story. Wild GM Doug Risebrough said he might move one of his four UFA blueliners, which includes Mitchell, but unless the latter has already told Risebrough he doesn't want to stay, I believe the Wild will try to retain him.
- KEITH TKACHUK, DALLAS DRAKE, ERIC WEINRICH, DEAN McAMMOND AND PATRICK LALIME, ST. LOUIS BLUES. Speculation abounds the Blues will engage in a late-season fire sale. Drake and Weinrich may still have some value to playoff bound clubs, less so McAmmond and Lalime. Tkachuk would certainly attract interest around the league, but he's given every indication he doesn't intend on waiving his "no-trade" clause, even if he were dealt to a contender.
- TYLER ARNASON, MATTHEW BARNABY, MARTIN LAPOINTE, JIM DOWD, CURTIS BROWN AND JASSEN CULLIMORE, CHICAGO BLACKHAWKS. Another non-playoff club believed preparing to dump salary at deadline time, the names most often mentioned are Arnason, Barnaby and Cullimore. The Leafs and Canadiens are linked with Arnason, the Sens with Barnaby and the Lightning with Cullimore. It's doubtful Lapointe will be moved, whilst Dowd and Brown may not be attracting as much interest as believed.
- ED BELFOUR, BRYAN McCABE, JASON ALLISON AND MAT SUNDIN, TORONTO MAPLE LEAFS. Lots of conflicting reports out of TO of late. You've got GM John Ferguson Jr saying he still believes his roster is good enough to make the playoffs, but then "NHL sources" tell reporters that the Leafs could move a player or two by March 9th if they've failed to make up ground in the playoff race. I'll go with "JFJ" on this, as he's probably not going to conduct a "fire sale". Besides, there are too many factors working against moving those aforementioned players. I'm not convinced the Leafs will trade McCabe, and will likely re-sign him by the summer. Belfour and Sundin have "no-trade" clauses and I don't see them waiving them. The only likely one to move in my opinion is Allison, but if Ferguson still believes in his roster, he could be staying put.
- MARTIN BIRON, BUFFALO SABRES. Earlier this season I fully expected the Sabres to move Biron, but the injury to Ryan Miller last fall pushed him into service, where he acquitted himself well and bolstered his trade value. However, it now seems the Sabres are intent to retain him, having reportedly shopped little-used Mika Noronen instead. It's always possible Biron could be dealt, but it would take a sweetheart offer to make this happen. I wouldn't be surprised if he's still a Sabres after March 9th.
-MARK RECCHI, PITTSBURGH PENGUINS. He's softened his no-trade stance, suggesting he would consider accepting a trade only if it helps the Penguins. Despite his age (38), he's still proven capable of performing at a high level, especially on a woeful club like the Pens, and that's attracting a lot of interest. Still, he won't come cheap, and it'll have to be a healthy return that sends Recchi to another NHL city.
-MARK PARRISH, NY ISLANDERS. He's previously hinted he wouldn't mind signing with the Minnesota Wild as a free agent this summer, which may be indicative that he has no intention of re-signing with the Isles. That's led to the club getting plenty of inquiries about Parrish, even spurring a report on Tuesday that he'd been traded, although it was later discredited. The Isles are about to face another period of rebuilding and since they can't move Alexei Yashin, they may very well turn to moving Parrish if he doesn't intend on re-signing.
-SERGEI SAMSONOV, BOSTON BRUINS. Trade speculation has dogged Samsonov all season because of his UFA status this summer. But the Bruins have a history of retaining their impending UFAs rather than trading them at the deadline. Samsonov also has an injury history which may turn off potential suitors, particularly given his recent knee sprain. I would'nt be surprised if he's still a Bruin after Thursday.
- KEVIN WEEKES AND TOM POTI, NY RANGERS. Both have been rumoured for months to be on their way out, yet they still remain with the Blueshirts. It's not surprising why; Weekes is an experienced backup for hotshot rookie Henrik Lundqvist, whilst Poti despite his defensive lapses is arguably their best offensive blueliner. It's believed the Rangers want to bring in a depth d-man but I don't see Weekes or Poti used as bait to accomplish this.
- ROBERTO LUONGO AND OLLI JOKINEN, FLORIDA PANTHERS. I don't believe Luongo will be moved, simply because the Panthers still own his rights for another year. They're under no pressure to move him now. Next year's deadline, on the other hand, is another matter.
As for Jokinen, he's very enticing, but his potential salary demands, rumoured to be in the neighbourhood of $6 million per season, could be the deal breaker. We've heard Calgary, Nashville and Ottawa are interested. The Preds and Flames may have more cap space than Ottawa to absorb that salary next season, but that doesn't mean they're willing to spend.
- CURTIS JOSEPH, PAUL MARA, DEREK MORRIS, DENIS GAUTHIER, MIKE RICCI AND SHANE DOAN, PHOENIX COYOTES. "CuJo" is seen as the most likely to move, but there's been a growing belief that the 'Yotes might hang onto him. Mara, Morris, Gauthier and Ricci could all attract interest, particularly the first three as there's a growing market for experienced quality d-men. Ricci seems to be fading since his Selke nomination season of 2001-02, but there remains a possibility teams seeking experienced checking depth up front could consider him a decent short-term acquisition.
As for Shane Doan, forget it, not gonna happen. He's a guy you build a team around, not one you toss away in a deadline deal for prospects or picks.
- TODD BERTUZZI, VANCOUVER CANUCKS. Despite the denials from Canucks GM Dave Nonis, there continues to be media speculation that "Big Bert" could be on the move for the right deal (or the "perfect" one, as suggested by the respected Bob McKenzie of TSN). Sure, anything's possible, but I really don't believe Bertuzzi will be on the move on March 9th.
- SHELDON SOURAY, MIKE RIBEIRO, JAN BULIS AND RICHARD ZEDNIK, MONTREAL CANADIENS. Zednik and Ribeiro have been underachievers this season, sparking plenty of speculation they may be on the move. Given the negative press about them this season, that's not going to make them very attractive to other clubs. Souray would certainly attract attention, but Habs GM Bob Gainey has stated his intent to bolster his blueline, so it wouldn't make sense to move Souray, who's been improving since December. Bulis would also be an attractive commodity on the trade market, but he's been arguably the Habs best two-way forward. Like Souray, it would make no sense to move Bulis.
- BRAD RICHARDS, TAMPA BAY LIGHTNING. No way, no how. I'll be the most shocked guy in hockey if the Bolts actually move him.
- JEFF CARTER AND MIKE RICHARDS, PHILADELPHIA FLYERS. Three words: not gonna happen. Bob Clarke won't jeopardize his future for a quick fix now.
MARCH 6: ALL EYES ON THE TRADE DEADLINE.
It's that special time of year again for hockey fans, where attention is focussed on the NHL trade deadline and the internet and sports TV airwaves are filled with speculation over potential deals.
The NHL trade deadline has been around for some time, but it's only been over the past 8 to ten years that it's really attracted a lot of attention from fans and media, thanks to the rise of specialty cable networks and the internet.
Heading into this year's deadline, the first under the league's new Collective Bargaining Agreement (CBA), there's heightened speculation as to how the salary cap will affect player movement.
That speculation is legitimate, after all, there are some teams, like the Toronto Maple Leafs, who in years past would make a move or two to bolster their rosters but, thanks to the cap, find their options limited as to what they can do.
However, it's also apparent that there can be factors that can still allow general managers to address needs by the deadline.
One example is injured reserve, whereby if a player is absent from the roster for more than ten games, the portion of their salary that would've been normally paid to them if they'd been healthy won't count against the team's cap while they're sidelined by injury.
The Philadelphia Flyers, for example, had some cap space freed up due to Keith Primeau's recent announcement that he'll be out for the rest of the season because of post-concussion symptoms.
It's expected that the Flyers may use that free space to perhaps bring in some short term help for their roster, especially given their struggles since returning from the Olympic break.
There's been comments from a few general managers, notably Carolina's Jim Rutherford and Vancouver's Dave Nonis, that there may not be as much trade activity as in past years, in part because the trade deadline is earlier this year and there are many teams still in the hunt for a playoff berth.
Actually, it's probably more to do with the Olympic break than the date of the deadline this time around. The 2001 trade deadline was held on March 12th, the 2003 deadline on March 11th and the 2004 deadline on March 9th, same as this year.
But they do have a good point about the number of teams willing to be "sellers" this season. As the Ottawa Sun's Don Brennan recently noted, only five teams - "Columbus, Chicago, St. Louis, Washington and Pittsburgh" - as of March 2 could be considered real sellers, as they have no chance of making the playoffs and must look toward next season.
But the number of available teams may be increasing as the days count down to March 9th.
A quick look at the NHL standings as of March 5th indicates several clubs are seeing their post-season hopes potentially slipping away, which could either spur them into swinging either potentially season-saving deals or into dumping salary in anticipation of rebuilding for next season.
In the East, the Boston Bruins, Toronto Maple Leafs, NY Islanders and Florida Panthers fall into either one or the other categories, while the San Jose Sharks, Minnesota Wild and Phoenix Coyotes face the same grim choices in the West.
As for sure-fire buyers, the respective GMs of the Ottawa Senators and Edmonton Oilers are on record as actively shopping as the deadline approaches. The Philadephia Flyers, Los Angeles Kings, Nashville Predators and Tampa Bay Lightning might also be in the buying mood.
Blogger Tom Benjamin suggests this year's deadline has the potential to be much ado about nothing, or in his words, "little ado about nothing". He bases this on both Nonis's recent comments to the Vancouver Province and a recent article by the Globe and Mail's Eric Duhatschek.
Duhatschek's article is of particular interest, as he notes that since 1980 there have been few deadline deals that have had a major impact for those teams considered "buyers":
"The problem is, if you need to go all the way back to 1980 to find that one great deal that made all the difference in the world, maybe there's a lesson in there — that, the vast majority of trading deadline deals don't do what they're supposed to; they don't make a huge difference in the outcome of a playoff series.
Consider, for example, that the 2004 Stanley Cup champion Tampa Bay Lightning did little to fortify their roster at the deadline. They added Darryl Sydor in January and he played decently for them, but he didn't make the difference between winning and losing. Calgary, the finalists that same year, acquired a trio of depth players (Marcus Nilson, Ville Nieminen, Chris Simon), but no one was shouting 'stop the presses' when those deals went down.
Instead, most of the excitement involved the Toronto Maple Leafs, who landed Brian Leetch and Ron Francis in separate deals that cost them a first, a second and a fourth-round draft choice, plus a couple of prospects. The year before, the Leafs were at it again, acquiring Owen Nolan, Glen Wesley, Doug Gilmour and Phil Housley in separate trades that cost them Alyn McCauley, Brad Boyes, a first-, a second- and a sixth-round draft choice. Housley was awful, Gilmour and Nolan got hurt and Wesley was OK. The Leafs stumbled out in the second round in '04, were bounced in the first round in '03, and ultimately had nothing to show for either of those years when they exited the playoffs.
They made a splash at the deadline. They satisfied the short-term need to generate fodder for talk radio hosts, but in the end, they didn't do themselves a bit of good — and actually, set their development programs back by mortgaging big chunks of their future. A month is often not enough time to fully integrate a rent-a-player into a team's line-up. The players that do end up helping to make a difference are usually far outstripped by the ones that show up and don't ever get in sync with the new system and new teammates and new area codes.
Over time, it is usually the sellers — not the buyers — that end up as the big trading-deadline winners (both the New York Rangers and the Washington Capitals got a big jump on their rebuilding programs by stripping their rosters clean in March of 2004).
So maybe the answer for most GMs is to sit on their hands and do little (or nothing) when the deadline beckons instead of overplaying their hands and sacrificing the future in the faint hope of winning in the present. The hundreds of deals made in vain at the deadline in the past suggest that an 11th-hour fix is highly overrated."
Duhatschek is correct, very few deadline deals have a major impact for those clubs considered buyers, but that doesn't mean general managers (or team owners for that matter) will learn from history, not if there's a tantalizing offer that could be just the right move to push them over the top.
Benjamin suggests it's entirely possible this year's deadline could lack the frenzy of years past:
The trade deadline has created a buzz and excitement for the NHL as it heads into the stretch run. Sellers have managed to take advantage of the marketing hoopla to make some good deals. Buyers looked like heroes - for effort if nothing else - and everybody was happy making much ado about nothing.
One of the things I was curious about before the season started was the impact of the new CBA on the trading deadline. Will anything happen? Will the hockey analysts be twiddling their thumbs waiting for trades that aren't made? Or will it be business as usual?
The new CBA may have converted the trade deadline frenzy from much ado about nothing to little ado about nothing.
Tom's comments are based on common sense, but never underestimate the power of an NHL general manager to go against common sense.
I don't mean to paint them all as trigger-happy, since most usually put careful consideration and planning into any deals before opting to pull the trigger.
But the trade deadline is a different time of year, when pressures on general managers are ratcheted up, not by the demands of fans and media, but by their respective team ownership.
Some team owners are patient, preferring to defer to their hockey experts in their team's front office. But some can be demanding, pressuring their GMs into perhaps swinging deals they might not normally make, especially with potential post-season revenue on the line.
It's entirely possible that very little, if anything, happens at this year's deadline, but then again, a few creative moves by several savvy general managers could open the floodgates to a series of moves.
It's tough to say if the CBA will have an impact on this year's trade deadline. There were some suggestions last summer shortly after the new CBA was signed that we'd see few major player moves, yet August 2005 was the busiest month for player movement I've seen in the eight years I've been tracking NHL trades.
Of course, things were different then, as there were numerous teams with considerable gaps in their rosters to fill, and a need to dump salary to either get under the cap or to free up salary space to re-sign other players.
This year's cap could have an impact on the 2006 trade deadline, but that doesn't mean it'll continue to do so on future deadlines over the life of the current CBA.
The cap is supposed to rise for next season, somewhere between $42 and $47 million, which gives more space for teams to swing trades, provided of course they don't get crazy during this upcoming off-season and max out their payrolls.
It'll be interesting to see what happens in the coming days. As someone whose website sees its highest traffic during the trade deadline, here's hoping for a busy time!
MARCH 1: CANADIAN PLAYERS LACK SKILL?
In the wake of Team Canada's disappointing performance at the Torino Winter Olympics, there was little outcry from the media in their post-mortems that the blame should be placed on the Canadian hockey system as there had been following the 1998 Nagano Winter Olympics, where Canada's Men's hockey team again came up short.
The consensus amongst Canadian hockey pundits was that the game was in good shape, and that perhaps better preparation was in order for the 2010 Vancouver Winter Games.
Still, there were some media skeptics. William Houston of the Globe and Mail quoted two American hockey commentators, Al Morganti of Comcast in Philadelphia and Jim Kelley of Rogers Sportnet, who were both recent guests of The Fan 590's Bob McCown.
After knocking USA Hockey's program, Morganti commented on Canada's iconic triumph in 2002 at the Salt Lake Olympics, where, he said, "a team won a gold medal by playing one good game." He might also have commented on Canada's victory at the World Cup in 2004, which was described yesterday by commentator Bill Watters as the Team Canada Invitational, given the tiring travel schedule imposed on the Europeans while the Canadians stayed in Toronto. Canada won its final two games, but was outplayed and just plain lucky.
Yes, Canada played "one good game" to clinch the Gold Medal in the 2002 Winter Olympics. And the Americans played one bad game to not win the gold. As did Sweden, Russia, Finland and the Czech Republic.
As for the World Cup, I agree that it should've been a truly "World" venue by having it played elsewhere besides Canada, where there's an obvious home ice advantage. But as for being "lucky" and "outplayed", that's not how it was reported by those who covered the tournament 18 months ago.
Now if Morganti were referring to the 1996 World Cup, where Canada stumbled through to the finals, where they ran into red-hot Team USA goaltender Mike Richter who all but single-handedly won that tournament for the Americans, then yes, Team Canada was outplayed and just plain lucky.
As for McCown and Kelley, here's their take:
When McCown's segment with Morganti and Duhatschek ended, he noted to Kelley that Americans seem less inclined to "sugar coat" problems than Canadians.
"All we do is make excuses," McCown said.
"And the biggest part of the we is the media," Kelley said.
Houston then offered his assessment:
So true. The Canadian hockey media, with some exceptions, are first into the bunker. To the battle stations, men and women, to defend our great game and the Canadian way.
Say what?
Canadians are less inclined to sugar coat problems with our hockey system? Most of the hockey media defends our game and the Canadian way?
That certainly wasn't the case during and after the Nagano Olympics, when the Canadian media (or the Sun media, at least) went on a frenzy of second-guessing everything about Team Canada and the Canadian game.
Houston has more:
Consider this: Who's the most talented player in the world? It certainly isn't a Canadian. Arguably, it's a 20-year-old Russian, Alexander Ovechkin. If it isn't Ovechkin, it is a 34-year-old Czech, Jaromir Jagr.
The last time Canadian hockey could honestly say it produced the world's greatest player was the early 1990s, when Mario Lemieux was in his prime.
Ovechkin is truly a marvel, no question, and Jagr (when motivated) is undoubtedly one of the best.
But just how far did those two carry their respective teams in international play?
Last time I checked, the Russians and Mr. Ovechkin were bounced from the medal rounds in this year's Olympics by the gritty team defence of Finland. He was also taught a serious lesson in the 2005 World Juniors about hotdogging by Team Canada, who bounced him right out of the gold medal game.
He's a great talent and could have a long, bright future, possibly even become the game's best player. Or then again, his style of play could see him end up like his idol Pavel Bure, another exciting player whose promise was cut short because of injuries.
Jagr in his prime was undoubtedly the best, but injuries and his obvious (and justified) disdain over the state of the NHL game in recent years has tarnished his legacy. In international play, he was outshone in the 1998 Nagano Games by Dominik Hasek and wasn't the gamebreaking factor in 2002 and 2006 that he usually is in NHL play.
He also wound up banged around like a pinball in this year's Olympics, suffering injuries that blessedly shouldn't affect the remainder of his season with the NY Rangers but demonstrated that age is starting to catch up to him.
Yes, it's been a long time since Canada produced "the world's greatest player", but that doesn't mean this country still can't do so. One need only look at the promise of Sidney Crosby to witness that.
But it also shows that the rest of the world has caught up to Canada in terms of player development. That still doesn't mean Canada isn't capable of producing great players.
Houston then had this to say:
Still, the excuse makers will talk about Canada's wonderful accomplishments.
They will recite the men's record on the world scene -- the gold medals won by the senior team, the juniors and under-18 team.
But those achievements were the result of Canadian hockey capitalizing on its strengths: organization, commitment, preparation, excellent coaching, strong team play, a work ethic, defence, determination and aggressive play.
Skill development? There are two systems in which the game is taught: European and North American.
The Europeans produce the game's best skaters and stickhandlers.
The players are creative with the puck and fast on their skates.
That's because Europeans spend more time practising skills than North Americans and receive better coaching. Bodychecking is kept out of the game until the junior level. That gives the little guys a comfort level in which they can do things with the puck without worrying about getting hammered.
In the Canadian volunteer system, kids at the top level will play more than 100 games a season, but will not receive enough practice time. Winning is paramount. Size is important. Defensive and physical play is stressed. Entrenched organizers and influential figures glorify toughness and fighting. They ridicule no-bodychecking rules.
That's why Canada produces good players, excellent checkers and great fighters. And that's also why, when a Canadian team goes to the Olympics and competes at the world's highest level, it gets outskated and can't score.
So in Houston's opinion, it really doesn't matter that, since Canada won Gold in Olympic Men's Hockey, the country has dominated the World Juniors (silver in 2003 and 2004, gold in 2005 and 2006), won the World Championships in 2003 and 2004, and the 2004 World Cup of Hockey, as well as dominating Spengler Cup and Under-18 tournaments.
Did those teams get outskated and outscored? Wonder if the countries that were defeated in those tournaments won by Canada feel that way?
But for Houston, because the 2006 version of Team Canada didn't even place in the medal rounds of the Olympics, that is apparently proof positive Canada doesn't produce skilled players.
The fact that this year's version of Team Canada was without its two best offensive blueliners in Scott Niedermayer and Ed Jovanovski, and inexplicably left the talented (and skilled) Dion Phaneuf at home doesn't factor into Houston's equation.
The fact that Team Canada management chose players who this season aren't scoring as in years past (Iginla, Lecavalier, Bertuzzi, St. Louis, and Draper) over those who are having great seasons (Staal, Crosby, Spezza, Savard, Tanguay and Marleau) also isn't a factor Houston considers noteworthy, although the absence of Crosby caught the attention of one Russian player who helped defeat Canada in the quarterfinals.
The fact some key Canadian players played hurt or that the Team Canada braintrust opted to leave most of their best young players behind or riding the taxi squad is also lost on Houston.
There is always room for improvement in the Canadian system for skill development. I agree with Houston that there should be more emphasis on practicing skills and bodychecking should be kept out of all development levels except for Junior.
That being said, talented young NHLers like Crosby, Spezza, Staal, Nash and Phaneuf punch holes in his theory that Canada doesn't produce skilled players, let alone have anyone that could potentially be the world's best player.
The reason there's no media cauterwauling over "what's wrong with Canadian hockey" this time around is because overall there's very little wrong with Canadian hockey.
The record since 2002 is proof positive.
There were several reasons why Canada's Men's Olympic Hockey team failed miserably at Torino.
Lack of skill wasn't one of them.