SPECTOR'S SEASON PREVIEW
2000-01
EASTERN CONFERENCE.
NORTHEAST DIVISION.
1. Toronto Maple Leafs: Seemingly addressed their lack of gritty leadership by signing free agent veterans Shayne Corson, Gary Roberts and Dave Manson. Still looking to address the loss of Bryan Berard due to injury from their blueline, expect Tomas Kabarle to step up this season to fill the role of top offensive blueliner. Look for another young prospect to make the linemate this season, possibly young Petr Svoboda or Jeff Farkas. Lots of flashy offense up front, led by Mats Sundin and Sergei Berezin. Curtis Joseph remains one of the best goalies in the game and the bedrock of the Leafs defence. Should dominate the division in the regular season. While signing the aforementioned veterans to compliment Darcy Tucker to provide toughness should make the Leafs a better club, the entire team is going to have to learn to play that style come playoff time. Over-reliance on the vets in that category could prove fatal.
2. Ottawa Senators: Proved last season they are far more than Alexei Yashin's supporting cast. Radek Bonk had a breakthrough season, and Marian Hossa and Vaclav Prospal should continue their developement. Prospect Martin Havlat could make the club this season, adding further offensive depth. Very solid defensively, with a blueline anchored by Wade Redden and the emerging Sami Salo. Two wild cards could have a major effect on their season. First, the status of their goaltending. Backup Patrick Lalime takes over the number one spot, with prospect Jani Hurme as his backup. Lalime had a good season, but is he truly ready to be a number one? Finally, what effect could the return of former captain Alexei Yashin from his nasty contract holdout have on the roster?
3. Buffalo Sabres: Should rebound from a sub-par 99-00 season. Expect Dominik Hasek to return to his dominating form. Late season additions Doug Gilmour and Chris Gratton should provide much-needed offensive depth as this year progresses. Watch for Maxim Afinogenov to build on his promising rookie campaign. The blueline, made up of Jason Wooley, Alexei Zhitnik, Jay McKee and Rhett Warrener, is still very good. Still, some questions will need to be resolved if the Sabres are to do better than third in the division. First, Michael Peca's contract negotiations could hurt the team if they drag on into the season. Being Hasek's backup means less playing time for Martin Biron, who had a strong year filling in for "the Dominator". Finally, can this team regain the hardworking mindset that took them to the Stanley Cup finals in 1999?
4. Montreal Canadiens: An impressive late season run, despite setting an NHL record for injuries, has given some cause for hope in Habs fans. Anchored by Jeff Hackett, the Canadiens are very strong in goal. Their blueline showed much improvement last year, and the Habs are counting on late-season acquisition Sheldon Souray to benefit from the extra icetime he couldn't get in New Jersey. Highly touted prospect Andrei Markov may also crack the lineup this season. Up front, expect Dainius Zubrus to continue his development, and watch for potential improvement from Aaron Asham and Jason Ward. The key for the Canadiens hopes this season, however, is the health of it's key offensive stars. If Saku Koivu, Brian Savage and Trevor Linden can stay healthy, the team's offense should improve markedly, making them a potential playoff club. Another rash of serious injuries like the past two years, however, could not only mean another missed post-season, but the end of Rejean Houle's tenure as general manager.
5. Boston Bruins: A year ago, the Bruins were being touted as potential Cup contenders. No longer, as managements hardline tactics with the now-departed Dmitri Khristich and number one goaltender Byron Dafoe, along with injuries to key players, scuttled the Bruins season. While Dafoe and center Jason Allison are back, re-signed and healthy, key offensive forwards Joe Thornton, Sergei Samsonov and Anson Carter remain embroiled in contract holdouts. Should they miss the start of the season, it could be disastrous for Boston's hopes to improve this season. Most will be watching closely to see if Kyle McLaren is up to the challenge of replacing long time Burins legend Ray Bourque. If the Bruins falter again this season, expect head coach Pat Burns to be made the fall guy.
ATLANTIC DIVISION.
1. New Jersey Devils: Deep in all positions, the defending Cup champions should not only dominate the division, but the Conference and possibly the league. Forwards stars like Petr Sykora, Patrick Elias, Scott Gomez and John Madden have yet to hit their prime. The defensive corps, led by Smythe winner Scott Stevens, boasts promising talent like Brian Rafalski and Colin White. Look for prospect Willie Mitchell to earn a regular spot. Goaltender Martin Brodeur remains one of the top five netminders in the business. The only area of concern are the holdouts of center Jason Arnott and defenceman Scott Neidermayer. Arnott was the Devils leading playoff scorer and is finally playing to his full potential, while Neidermayer remains one of the best puck-moving defencemen in the league. Prolonged absences by both will be felt, but this is a team noted for being able to absorb prolonged holdouts of key players and still being able to play well. Head coach Larry Robinson will get the most out of this club, regardless of holdout status or injuries.
2. Philadelphia Flyers: While they rid themselves of one area of turmoil by virtue of former captain Eric Lindros becoming a restricted free agent, failure to re-sign John LeClair wil hover over this club for the rest of the season. That being said, if the Flyers show the same resilience as they did in the playoffs last spring, they should be a lock for second in the division. There will be much expectations for sophomores Brian Boucher and Simon Gagne to exceed their rookie performances of a year ago. Defenceman Andy Delmore will have to prove he can provide the sparkling play throughout the grind of a regular season as he did in the 2000 playoffs. Center Keith Primeau will be looking to improve on his holdout shortened season, while Mark Recchi looks to equal last season's stunning comeback performance. Expect head coach Craig Ramsey to keep these guys as focussed as they were last spring, as well as continued strong play from blueliner and new captain Eric Desjardins. Look for Daymond Langkow to continue his strong development.
3. Pittsburgh Penguins: Expect the usual brilliance from Jagr, and look for continued improvement from Jan Hrdina. Martin Straka will be expected to improve over last season. Aleksey Morozov is heading into a crucial season, as the Pens are hoping this is the season he bursts out offensively. The blueline, bolstered by the late-season acquisitions of Janne Laukkanen and Bob Boughner, are much tougher to play against. Expect sophomore blueliner Michal Rozsival to improve and contribute more offensively. Pittsburgh's achilles heel, however, is in goal, following the loss of Ron Tugnutt to free agency. Jean-Sebastien Aubin had a good rookie year, but may not yet be ready to carry the load of a number one. Heading into the regular season, they still lack an experienced NHL goaltender. It is here that GM Craig Patrick must find help fast, or else his club could be in big trouble as the season wears on.
4. New York Rangers: While some have called Mark Messier's return to Broadway "the second coming of the Messiah", like most sequels, expect it to be less powerful than the original run. Messier is clearly aging, and while he brings terrific leadership back to New York, it may not be enough to lift the Rangers back into the playoffs. Last season's "Czech line" (Nedved, Dvorak, Hlavac) should continue to dazzle,and hopefully 2000 Calder candidate Mike York won't get buried behind Messier and Nedved. But the real questions here are whether high-priced vets (like Fleury, Graves, Kamensky and Leetch) can find their game again, and whether highly touted prospects like Pavel Brendl, Manny Malholtra and Jamie Lundmark are ready for the big time. The Rangers desperately need young talent to step up and make contributions. Without it, they won't make the playoffs, despite Messier's brave promise.
5. New York Islanders: The Isles rebuilding seems to have been going on forever. This season, under new, stable ownership and the guiding hand of head coach Butch Goring, it may finally be ready to step forward in a positive direction. There's lots of budding talent up front, like Tim Connolly, Mark Parrish, Brad Isbister, Dave Scatchard, Oleg Kvasha and Bill Muckalt. If they can all show improvement next season, it'll be a boon to the team. Their development will only help Mariusz Czerkawski, who emerged as a legimate scorer in his own right last season, but at times had to carry their offense. The blueline is in better shape with the addition of Roman Harmlik to quarterback the powerplay. Getting Hamrlik, Kenny Jonsson and Zdeno Chara under contract in time for the season will make life easier for the goaltenders. And they'll have their work cut out for them. John Vanbiesbrouck is getting up in age and will feel it by season's end if he has to carry the load. That becomes a distinct possibility, as all eyes will be on the kid GM Mike Milbury tossed away two already promising young goalies for: Rick DiPietro. If he's half as good as expected, he'll be a godsend for the Isles. If he's not, Milbury will be unemployed, and the Isles rebuilding could suffer a setback.
SOUTHEAST DIVISION.
1. Florida Panthers: This team made a big step in the right direction of adding to their depth by dealing with the Islanders for hot goalie prospect Roberto Luongo and promising forward Olli Jokinen. They followed it up by getting Igor Larionov for his experience and leadership. Of course, how this club goes will depend on two players: Pavel Bure and Trevor Kidd. The former, because if he stays healthy, will once again provide the offensive spark the Panthers need to be a playoff club again. The latter, because Luongo may still not be fully ready for the big time, and they'll need "Kidder" to stay healthy and be on top of his game. The lack of a strong puckmoving defenceman remains a sore point, so look for GM Bryan Murray to continue shopping to find one. If Kozlov and Whitney can carry over their strong performances from last season, the Panthers should be in good shape.
2. Washington Capitals: Which Caps team will show up this season? The one that struggled mightily through the first three months of last season? The one that was red-hot throughout the second half? Or the one that died with nary a whimper in the playoffs? Or maybe the one ravaged by injuries as they were two seasons ago? Vezina winner Olaf Kolzig will continue to provide stellar goaltending. Look for Peter Bondra to rebound sharply from the decline of the past two seasons, as he seeks to increase his trade value. Center Adam Oates is getting up in years, so they'll be looking for stronger seasons from youngsters Jan Bulis and Jeff Halpern. They'll also be taking a long look at Alexei Tezikov on the blueline. Two disconcerting notes has been the holdouts of potential Norris candidate Sergei Gonchar and last season's surprising 29 goal man Chris Simon. Without these two, the Caps will be hard pressed to remain a playoff club if Bondra and Oates falter, and the youngsters fail to come through. Depending on how things work out, they could finish either atop the division, or out of the playoffs.
3. Carolina Hurricanes: The 'Canes are hoping to bounce back from a disappointing season and return to the playoffs. Arturs Irbe will continue to give them outstanding goaltending, while waiting in the wings is prospect JM Pelletier. Up front, look for a full season of Rod Brind'Amour to work wonders for the offense. Ron Francis is getting up in years, but should still have enough left in the tank to make a difference. Speedy Sami Kapanen should also have a better season, and Bates Battaglia could become a 20 goal, 40 point man. However, the Hurricanes weak spot is the blueline.Sandis Ozolinsh gives them a great powerplay quarterback, and they'll be hoping for young David Tanabe to prove he's ready for the big time this season. Outside of those two and Glen Wesley, there isn't much left to get excited about. "Ozo", while great offensively, is not as strong in the defensive part of the game. They'll need a complete team effort defensively to overcome this.
4. Tampa Bay Lightning: Still a young, rebuilding team, but it appears to be finally heading in the right directions. Future superstarVincent Lecavalier should continue his strong development, and watch for Fredrik Modin and Mike Johnson to be the beneficiaries as his linemates. There's some promising young talent on the blueline as well, in Pavel Kubina, Paul Mara and Cory Sarich. If prospects like Brad Richards or Sheldon Keefe should make the club, they could also benefit the Bolts attack. The Lightning still need to improve throughout their roster, but nowhere moreso than in goal. Promising Dan Cloutier had a terrible season, so much so the Bolts traded for Kevin Weekes, another netminder with promise. Should the competition between these two make the Bolts stronger in goal, they might be able to slide up into third if the Hurricanes struggle. One thing's for certain, the days of the Tampa Bay Lightning being the league's laughingstock are over.
5. Atlanta Thrashers: Barring the unlikely event the Lightning should implode this season, this is where the Thrashers will finish. They're a hard-working bunch, and they do have strong fan support, but they're still very much a work in progress. Still, there are some bright spots for the future. Expect Patrik Stefan to have a much better sophomore season than his rookie campaign was. Should Hnat Domenichelli, Stephen Guolla and Dean Sylvester continue to improve, it'll be a much needed boost to the club's offense. The blueline should also show improvement, as Petr Buzek, Frantisek Kaberle and Yannick Tremblay develop over the season. Number one netminder Damian Rhodes was hobbled by injury last season, but if this fiesty competitor bounces back as expected, the Trash should win a lot more games this season than the measly 14 they had last year. Don't look for their 2000 first rounder, Dany Heatley, to play this season, as apparently he'll be returning to college for one more year.
WESTERN CONFERENCE.
CENTRAL DIVISION.
1. St. Louis Blues: The next great power in the Western Conference should be even stronger this season under Joel Quenneville's coaching. This club learned the hard way that being regular season champs means squat if you can't win in the playoffs, and GM Larry Pleau addressed this by signing free agents defenceman Sean Hill and forward Dallas Drake to add grit and depth. Goalie Roman Turek should improve now that he's more comfortable as the number one goaltender. The forward lines continue to be scary, led by high scoring Pavol Demitra and Pierre Turgeon. Look for the Blues offense to be even more dangerous as rising stars like Michal Handzus, Lubos Bartecko, Jochen Hecht and Marty Reasoner. Hill will bring much needed depth to the blueline, which will be welcome relief for Norris winners Chris Pronger and Al MacInnis. This team has the talent to be a Cup contender, but now they must learn how to pay the price to win it all.
2. Detroit Red Wings: There wasn't much in terms of changes made this off-season to make the Red Wings a younger team. Truth be told, Detroit management hasn't done a whole lot over the past three years to make their club younger. Their roster is aging and clearly showed it in last year's playoffs.. Many of the core players of their Cup years - Yzerman, Shanahan, Federov, Osgood, Lidstrom - are still here and still talented enough to keep the Wings among the top ten teams in the league. They'll be looking to promising defenceman Jiri Fischer to step up more this season. Head coach Scotty Bowman will continue to get as much out of this lineup as he can, but age, and the injuries that come with it, are haunting the Wings. Detroit is still a dangerous team and not one to be taken lightly, but their days of dominating the NHL are long gone.
3. Chicago Blackhawks - The Hawks are looking to get back into the playoffs after three years of frustration and upheaval. "GM" Mike Smith has been quietly making his stamp on the team by hiring away staff from his former club, the Toronto Maple Leafs. On paper, the Hawks have the talent to be a playoff contender. Sniper Tony Amonte should continue his high-scoring ways. Forwards Michael Nylander and Steve Sullivan, acquired in trades last season, were pleasant surprises offensively. They'll need underachievers Alexei Zhamnov and Eric Daze to step up their performances this season. The blueline has lots of potential in Bryan McCabe and Anders Eriksson, and a strong puck-carrying defenceman in Boris Mironov. If these three can improve over their dreadful play last season, the Hawks could be in good shape. However, the one big "if" for Chicago is between the pipes. This will be the "make-or-break" year for Jocelyn Thibault, if he wants to silence his critics and prove once and for all he's a quality number one netminder.
4. Nashville Predators - GM Dave Poile and coach Barry Trotz have continue to do a wonderful job in building and developing this three year old club. It may now be ready to start making a serious run for a playoff berth. Veteran forward Cliff Ronning and Patrick Kjellberg should continue to contribute, and they'll be helped by promising youngsters like David Legwand. Defensively, the Preds are sound, with a blueline made up of capable, if unspectacular, defencemen like Karlis Skrastins and Bill Houlder. Unfortunately, they're looking to start the season without Kimmo Timonen, who is embroiled in a contract holdout with the club. His absence could hurt the Predators as the season wears on. Mike Dunham was supposed to be poised to make his mark as a number one netminder when Nashville plucked him from the Devils in the 1998 expansion draft, but injuries and inconsistent play have hampered that performance. The Predators will need him to stay healthy and play up to those expectations. If he does, and if they can overcome Timonen's absence, the Preds could slide into their in the division should the Blackhawks falter again this season.
5. Columbus Blue Jackets: Unless the Predators suffer a major setback, this is where the Bluejackets will finish the season. Still, don't expect this club to just roll over and give up wins every night. GM Doug MacLean knows what it takes for an expansion club to build and develop: you start from the net and work out. Defensively, the Jackets look okay. Marc Denis is supposedly a goalie of the future, but for now will make a very capable backup, as the underrated Ron Tugnutt carries the load in net.. Defensively, the Jackets will make every club pay the price to score, with veteran defencemen like Lyle Odelein and Jamie Pushor and promising youngsters like Jean-Luc Grande-Pierre. Up front, Geoff Sanderson, Stephen Heinze and Robert Kron will provide a little offense, but don't look for very many highscoring blowouts for the Jackets. This is a club that'll earn their wins through hard working, defensive play. It won't be pretty, and they'll be many more losses than wins, but they'll have a good foundation on which to build for future years.
NORTHWEST DIVISION.
1. Colorado Avalanche: On paper, there really aren't a lot of teams in the NHL that can match up with the Avs' depth. Goaltender Patrick Roy is poised to break Terry Sawchuk's record for most career victories. The blueline boasts a returning Ray Bourque, the emerging hard-nosed force of Adam Foote and the developing Martin Skoula. Up front, one of the deepest, most lethal offensive forces in the league right now, with Peter Forsberg, captain Joe Sakic, Adam Deadmarsh, and the developing talents of Milan Hejduk, Chris Drury and Alex Tanguay. They appear a shoo-in as Cup contenders, but there are some troubling aspects about this club. Roy is aging and is no longer the dominant playoff force he once was. This may be Sakic's final year with the Avalanche, unless GM Pierre Lacroix relents to a long term deal with a no-trade clause in it. That could hover over the team as an unnecessary distraction, much like John LeClair's contract status will be in Philladelphia. Whenever Foote or Forsberg or Sakic are out with injuries, the team appears to lack focus. And in the last two Western Conference finals, they lacked the killer instinct and gritty defensive style to put away the Dallas Stars. They'll need to be a healthier, more determined bunch this season to go all the way. Still, they'll remain among the top teams in the West, and should dominate the division.
2. Edmonton Oilers: The Glen Sather era is over, but GM Kevin Lowe has wasted no time in putting his mark on the team. Gone were the long, drawn-out, sometimes bitter contract holdouts of the past. Instead, Lowe got all but Ryan Smyth back under contract in time for pre-season play, no small feat for a team with one of the tightest payrolls in the NHL. They'll continue to get outstanding netminding, as Tommy Salo continues that distinctive Oilers tradition. The blueline, long one of the league's most
promising, should be even stronger this year with Tom Poti, Janne Niinimaa and Jason Smith all more seasoned. Look for more of the same brilliance from Doug Weight, as well as improved offence from some of their younger stars. Inconsistent play has plagued Edmonton over the past three years, but hopefully as this young club matures, they'll be able to put this behind them this season. One question mark remains forward Bill Guerin, who was unable to follow up last season his 30 goal performance of the year prior. He'll be due for a new contract next season, and Lowe may decide to shop him, regardless of how he's playing. The Oilers will need a more consistent, healthy effort from their roster this season, as both the Flames and Canucks have improved enough that they could steal second in the division from them this season.
3. Vancouver Canucks: The media has focussed on two issues with this club: how well will the Sedin twins fit into the Canucks roster? And can they survive without the leadership of the departed Mark Messier? To answer the former, GM Brian Burke has done a great job in keeping as much pressure off his golden twins as possible. He's not playing them up as the franchise saviours, which is very wise, considering these kids will have enough pressure on them. Look for these kids to be broken in slowly over the course of the season. As for losing Messier, what most have lost sight of is that the Canucks have the depth in promising young talent that they should be able to overcome "the Moose's" absence. Markus Naslund is one of the most underrated offensive stars in the game, while Todd Bertuzzi is poised for a break-out season if he can stay healthy. Peter Schaefer had a good rookie season and looks to improve. And don't forget Brendan Morrison, who had 9 points in his first 12 games as a Canuck after coming over from New Jersey in a late season trade. Factor in a blueline anchored by Adrian Aucoin and Mattias Ohlund, and with Felix Potvin showing signs of returning to the form of his best days with the Toronto Maple Leafs, and Vancouver looks to be in better shape than most give them credit for. With Marc Crawford back for his second full season, bringing consistency behind the bench, big things could be coming out of Canada's West Coast this season. They won't challenge the Avs for the division title, but they could give the Oilers a run for their money if their key players stay healthy and their youngsters continue to develop.
4. Calgary Flames: This team has so much promising young talent that it should be able to finish much higher than this. With offensive stars like Valeri Bure and Jerome Iginla up front, a rising blueline corp anchored by the ageless Phil Housley and promising youngster Robin Regehr, and the fine goaltending tandem of Mike Vernon and Fred Braithwaite, the Flames could make a serious challenge to the Canucks and their inter-provincial rivals, the Oilers. However, there are two major factors that could scuttle Calgary's season. First, they still don't have blue-chip defenceman Derek Morris, nor promising forward Marc Savard, under contract as of this writing. The longer these guys are out of the lineup, the tougher it could be for the Flames to gain ground in the standings as the season wears on. Another factor could be the change in coaching, as Don Hay replaces the fired Brian Sutter. It's unknown just how well the Flames will respond to their new coach. It's been four years since the Flames last saw the playoffs, and Calgary fans are getting antsy. Another sub-par year will only create further difficulties in bringing back the fans, as well as keeping the team in the Stampede City.
5. Minnesota Wild: To steal a catch-phrase from a certain pro wrestler: finally, the NHL has come back to Minnesota! But while a great injustice has been righted (after all, of all the US states, the most logical place for an NHL franchise is the hockey-mad "Land of 10,000 Lakes"), there are some in the media who believe the Wild could be poised to have the worst NHL season ever. While it's debateable whether or not this will happen, one thing is certain: the Wild won't be playoff contenders for quite a while. GM Doug Risebrough certainly did the best he could with a meagre expansion draft pool, picking up Emmanuel Fernandez and Jamie McLennan in goal; Sean O'Donnell and Filip Kuba on the blueline, and Sergei Krivokrasov and Darby Hendrickson up front. Signing on former Adams winner Jacques Lemaire as head coach was a great move, as this team will need to play strong defensive hockey over the next few years as they wait for their prospects to develop. The Wild, like their counterparts in Columbus, will give it their best shot and try to stay competitive. In terms of comparing the two teams, the Wild will probably finish behind the Blue Jackets. As for the division, they'll finish last. As for the honours of league doormat, that could be theirs as well.
PACIFIC DIVISION.
1. Dallas Stars: After winning it all in 1999, the Stars came up just short in the 2000 Cup finals. This has led to pondering that the Stars are about to go into decline. Don't count on it! Dallas is still one of
the best teams in the NHL, and not one to be trifled with. Eddie Belfour remains among the game's very best goalies, while the blueline corps, anchored by captain Derian Hatcher, Sergei Zubov, Darryl Sydor and Richard Matvichuck, is ranked among the league's elite. There are some concerns regarding the aging of certain key players in the roster, as well as the loss of leadership by the retirement of Guy Carbonneau. While it's true that Brett Hull is no longer the feared sniper he once was, he has become a
more complete player, which makes him as dangerous as he was in his offense-only prime. Joe Nieuwendyk will be looking to rebound from an off-year, and with a healthy, motivated Jamie Langenbrunner in the lineup, that could pay dividends for both players. Mike Modano is one of the game's best players right now, and will continue to be the lynchpin for the Stars offense. Expect the Stars to be a much healthier, more motivated squad than last season, and look for youngsters like Brendan Morrow and Roman Lyashenko to step up and improve their performances, thank to the additional icetime they'll receive this year.
2. San Jose Sharks: This should be the season when the Sharks finally put it all together consistently. With established stars like Owen Nolan, Jeff Friesen, and Vincent Damphousse, plus rising young talent in Patrick Marleau, Marco Strum and Brad Stuart, San Jose looks like a team that could challenge for a seed in the top four in the Western Conference. Unfortunately, it looks like those plans could suffer a derailment. The Sharks had eight key players (Nolan, Shields, Marleau, Korolyuk, Sturm, Ragnarsson and two others) miss the start of training camp due to contract squabbles. While the number is now down to five as of this writing, the fact so many important players could miss the start of the season or longer, as well as will need time to get back into game shape if/when they do return, could put the Sharks hopes of improvement in jeopardy. Should that happen, the Sharks will be lucky to scrap into the playoffs, much like they've done the past three years. That would be a real shame, as this club has the talent to take the next step and become a Cup contender. Depending on what head coach Darryl Sutter can do with those he has on hand, the Sharks could finish this high, but don't be surprised if they get caught by the Kings.
3. Los Angeles Kings: Head coach Andy Murray did a fine job of reversing the Kings fortunes last season, as they rebounded nicely into a playoff berth. The acquisitions of Ziggy Palffy and Bryan Smolinski also helped boost the Kings offense last season, and they should continue to do so this season. Luc Robitaille has been earning a lot of respect around the league for his strong play of the last two seasons, especially when one considers he was written off as washed up a few years ago. However, there remains three main problem areas for the Kings. First, Josef Stumpel is holding out for a new contract, and by all accounts, it's a real possibility he could return to play in Europe this season, which would make him ineligible to play for the Kings. That would have a serious effect on their offence. Second, the Kings still lack a quality number one netminder. They'll start the season with Stephane Fiset and Jamie Storr, but unless one of these two steps up their play, the Kings may have to seriously address this issue as the season progresses. Last, and most important, it appears Norris-winning blueliner Rob Blake is unhappy with contract negotiations for a new deal that'll take him past free agency. So much so, he recently turned in his captaincy of the team. Blake is the anchor of the Kings defence, and if he's not happy, or distracted, it could have a serious effect on the Kings overall defence.
4. Anaheim Mighty Ducks: GM Pierre Gauthier has been trying to improve the supporting cast for his superstars Paul Kariya and Teemu Selanne, and while he's slowly made some key additions over the past couple of seasons (Oleg Tverdovsky, Marty McInnis), and has some strength this season as their young blueline matures, this club still needs to improve it's overall depth if it wants to be more than just a marginal playoff contender. The Ducks offense was stymied for the most part last season by head coach Craig Hartsburg's defensive system. The end result was not only missing the playoffs, but a drop in production that had key players Kariya and Selanne, and some Ducks fans, grumbling. Look for a return to a more offensive style by Anaheim. One area to watch will be in goal, where Guy Hebert had a bit of an off-season last year. They'll need him to return to form if they want to bounce back into the playoffs again.
5. Phoenix Coyotes: If this club somehow manages to remain a playoff team this year, it'll be thanks to a tremendous amount of self-discipline and strong coaching. There are so many distractions for this club right now that it's become the league's version of a soap opera. You've got bad blood between the current ownership and the incoming one, of which the legendary Wayne Gretzky is part of. Gretzky wants to get holdout goalie Nikolai Khabibulin re-signed, as well as get a new deal hammered out for Jeremy Roenick, and sign free agent (and good buddy) Claude Lemieux. Unfortunately, nothing can take place until the sale of the team is final, and Gretzky's partner, Steve Ellman, has been slow to raise the rest of the money to purchase the club from Richard Burke. Then, there's the problems concerning Keith Tkachuk's salary, which some maintain was too high for the Coyotes to afford if they want to re-sign Khabibulin and Roenick. Current GM, Bobby Smith, tried to shop Tkachuk last season, which (along with injuries) led to a sub-par season for the Coyotes captain. To make matters worse, last year's rookie star Trevor Letowski is staging a holdout for more money. This club does have the talent to make the playoffs, but if these distractions carry over throughout the season, it'll sink this team's playoff hopes for 2001.
SHOTS ON NET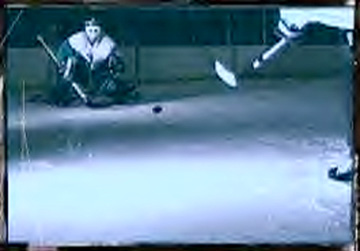 The NHL from a fan's perspective.

by Lyle Richardson

Click here to order your copy for only $8.00!

Do you agree or disagree with the above? E-mail your comments to DblSpector@aol.com.
Click here to return to Spector's Hockey Page
The opinions expressed on this page are of the author, and in no way reflect the views of the NHL, it teams or players. All material copyrighted (C) 2000 Spector's Hockey. Reproduction of this material in whole, or in part, without consent by the author is prohibited.