UPDATED: June 1, 2002
SPECTOR'S FAN MAIL
A sampling of what hockey fans think of my site (both pro and con).

Sent: Wednesday, March 06, 2002 6:44 PM
Subject: Thanks
> Dear Spector,
>
> I love your site and visit it many times a day. I tell all my hockey crazy friends about it. Please, keep up the good work........Mike
Sent: Saturday, March 09, 2002 5:09 PM
Subject: Thank You
Just wanted to e-mail and say thanx for all your work. This is far and away the best damn sight on the net. (Well, Hockey related anyway).
Sent: Monday, March 11, 2002 12:24 PM
Subject: Your Page Mentioned in the San Jose Mercury News
> http://www.bayarea.com/mld/mercurynews/sports/2836257.htm
>
> I have been a loyal reader of you rumor page for the past 4 years. I opened up my paper today and saw your site referenced in a story. Just thought I would pass on the good news.
>
> Thanks for a great place for NHL trade rumors,
>
> Zakk DeVine


Sent: Tuesday, March 12, 2002 12:39 AM
Subject: Your Site and Opinions
Yo Spector,
Flyers fan from Philly here. Your site is great, you save me massive amount of time browsing crap on the internet and your commentary on Brooks and Garrioch is raw and hilarious. Anyway, keep up the great work. If it was up to me you'd be writing for TSN or ESPN. And I'm pulling for your Canadiens to make the playoffs. We need more Canadian teams in the playoffs.

Thanks,
Ian McCauley
Sent: Saturday, March 16, 2002 7:35 PM
Subject: spector's mailbox
> hey specs, i love reading the site. it's a great resource and all a great mountain of bullshit we all love to read anyways. thanks.

Sent: Wednesday, March 20, 2002 9:26 PM
Subject: Thanks!
Hey Spector,
Just wanted to drop you a line and say thanks for another season of rumors. Really enjoy your web page and appreciate the effort you take. So, thanks again!
-Dean

Sent: Sunday, April 07, 2002 7:17 PM
Subject: Please stop bashing the rangers...
Im sorry but i usually come to your site almost daily but its getting a little crazy with the rangers bashing. You didnt do it before but you are doing it now. Its almost unreadable from a rangers fan's standpoint. Its not like the rangers have an amazing amount of talent where they should be dominating but they do have a team that should be in the playoffs. Look at their lines. And to say "build from within" is crazy... Are you asking a big market team to act like a small market team? That makes no sense. What should be done is to have a good mix of both. The Yankees do it in baseball and that should be the case with the rangers in hockey.

As for the FA's, Detroit consistently brings in guys that have already seen their money as you say. And its impossible not to bring in a guy like Guerin if you can. How does bringing in Guerin make the team worse? It doesnt. It is a step to get better and that is simply what the rangers need to do. Take a bunch of those steps.

Dont really want to get into a debate i would just rather you stick to your non objective point of view rather than developing into a typical new york hating person.
Sent: Saturday, April 13, 2002 3:46 PM
Subject: Playoff Predictions
"... the Devils aren't being considered a serious Cup contender this season."
Is this just your personal opinion or what because I have heard on radio stations and NHL 2nite especially, that the Devils are now the favorites in the east.
Sent: Wednesday, April 17, 2002 6:17 PM
Subject: your sharks/coyotes prediction
> I love your website, i think you have smart commentary on the best sport in the world, and i've emailed before, but I disagree with your assesment of the San Jose series. Nabakov's 'meltdown' last season was inspired by a hit from Tkachuk(I hope i got it, but I'm pretty sure i've never spelled that name right) in game three. However I do understand what Burke has done this year, and he does deserve the edge. Forwards are a completely different story though. Marleau has played the best hockey of his career down the stretch and you make no mention of him, I guarntee you'll hear his name plenty of times before this series is done. The Sharks have arguably the most depth in the league up front, with every single line chipping in, how could you not give them the edge? As for the yotes, how could you leave out Claude Lemieux? Also, how can you suggest the Sharks will take a playoff series lightly? As long as Nolan is wearing the C and a coach like Sutter is behind the bench the Sharks will never take any playoff game lightly. I think this will be one of the better, if not the best series in the first round, with the sharks coming out top.

Sent: Thursday, May 16, 2002 11:15 PM
> Why are you always coming down on the Ducks organization/Disney, for their supposed tight reins on spending, while other teams are even cheaper, especially Edmonton and Chicago?
>
> By the way, the richest owners in the league are those idiots that own the Kings-hmmm, didnt exactly see those over achievers spending hand over fist for free agents. You wanna attack teams, save your venom for jokes like The Rangers, a virtual all star team that cant event make playoffs, or the pathetic
> Lightning, a 10-year old team thats made playoffs once. The attacks on Disney are redundent-suppose your just hopping on the Disney bashing bandwagon?
> Finally, why do you waste your team on so much bullshit, in regards to suppose trades? Granted, your website has the incorrectly spelled word (unless youre based in England) "rumours," but I dont seen anything you conjure up out of your backside that ever comes true.
> But, hey, it makes for some comical reading, and in that regard, I must thank you.
SHOTS ON NET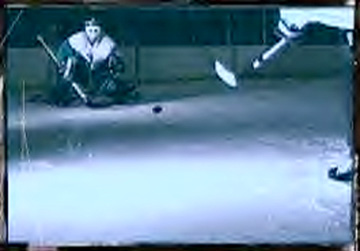 The NHL from a fan's perspective.

by Lyle Richardson

Click here to order your copy for only $8.00!
Do you agree or disagree with the above? E-mail your comments to spector@islandtelecom.com.
Click here to return to Spector's Hockey Page
The opinions expressed on this page are of the author, and in no way reflect the views of the NHL, it teams or players. All material in Spector's Soapbox copyrighted (C) 2002. Reproduction of this material in whole, or in part, without consent by the author is prohibited.