SEPTEMBER 27: Spector's Note: Hey, folks, because I've been busy this week with my season preview, I didn't have time to write up a proper Soapbox article for today. So instead, here's a couple of photos of the New York Rangers tour of Casa Bacardi in Puerto Rico, and some video of Ken Dryden and Serge Savard in honour of the recent announcement the Montreal Canadiens will retire their numbers this season.On Sunday, I'll take a look at what teams could be the substantial players in next summer's unrestricted free agent market, and why the salary cap is likely to rise again after this season.
RANGERS LEARN TO MAKE RUM.
The following were sent in courtesy of Lesley Snyder of The Baddish Group.
The New York Rangers were in Puerto Rico this past weekend for their exhibition game against the Panthers and while there, visited Casa Bacardi, home of the legendary spirits producer.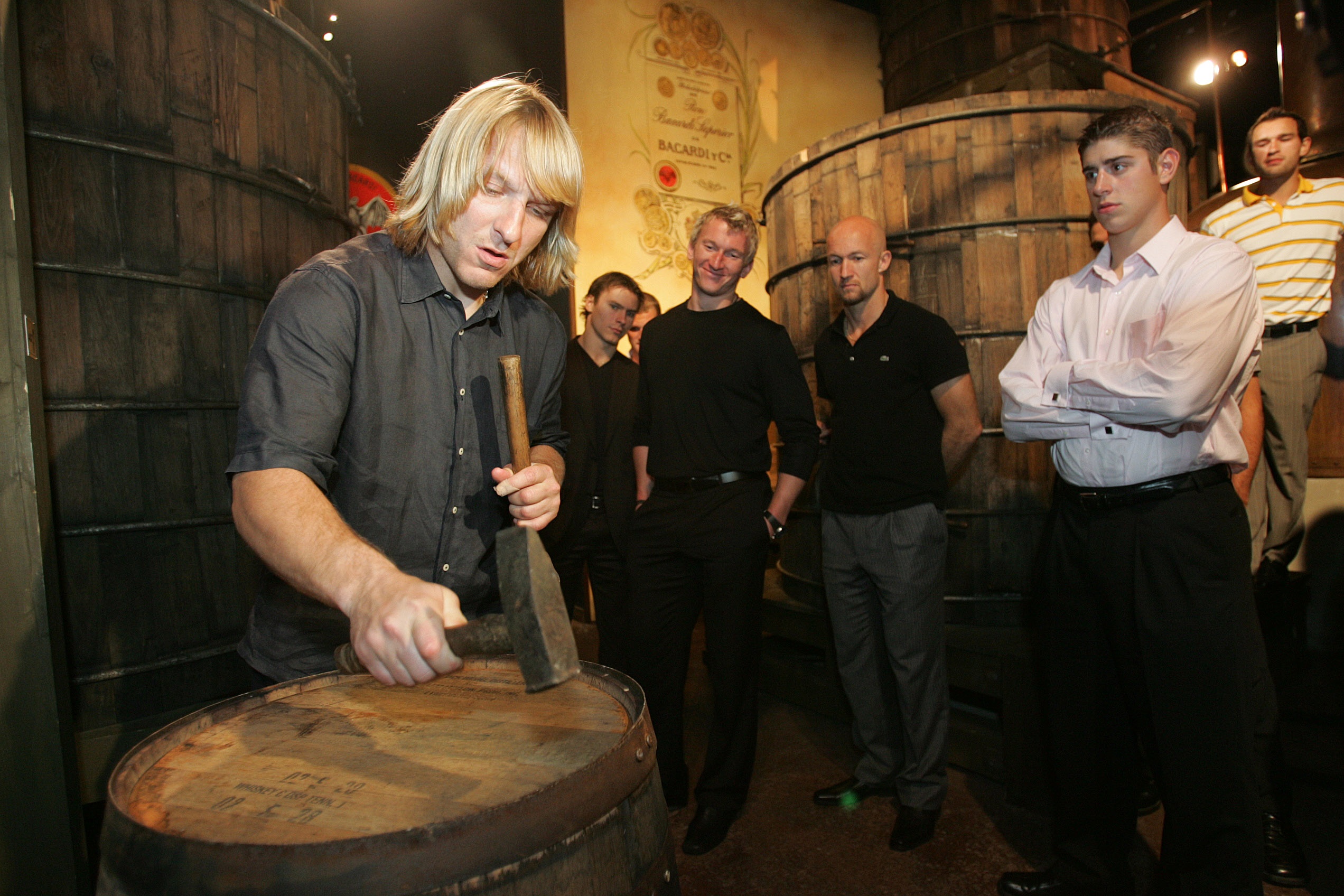 Darius Kasparaitis traded in his hockey stick for a hammer during his tour of Casa Bacardi while he visited right before the exhibition game. At Casa Bacardi, Darius got a one-on-one lesson on the art of coopering the barrels that age BACARDI rum.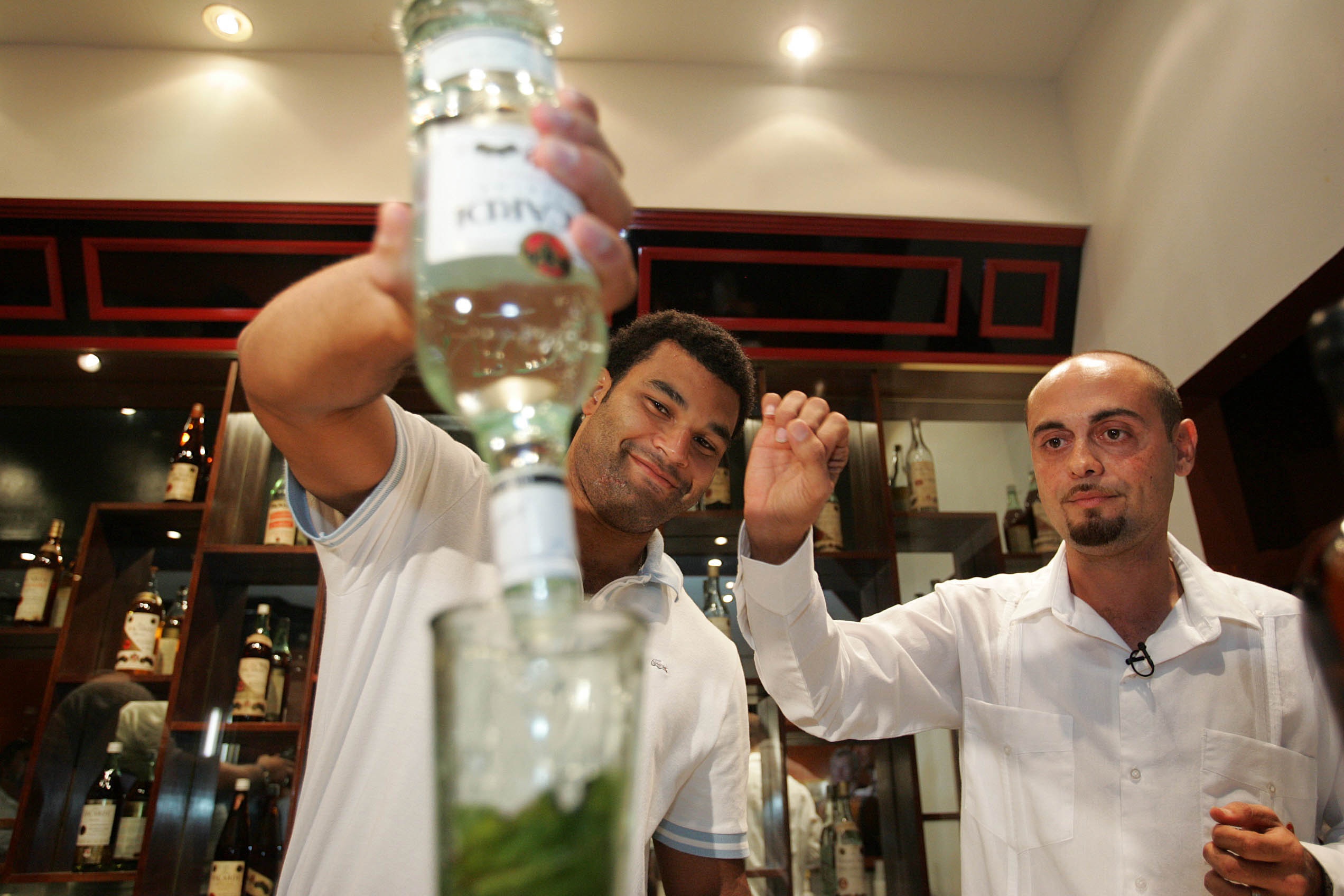 In honor of their visit, Jesus, the head bartender shared with Nigel Dawes the secret for making a great 'Ranger-ito' - a take on the traditional mojito.
DRYDEN, SAVARD NUMBERS TO BE RETIRED.
The Montreal Canadiens recently announced that during the 2006-07 season the team would retire the numbers worn by former Habs greats and Hall of Famers Ken Dryden and Serge Savard.
Dryden wore number 29 from 1971 to 1979, while Savard wore number 18 for most of his 15 seasons with the club.
When I was a kid growing up in the 1970s, Dryden was my hero. Here now is a couple of videos honouring the Canadiens legend, one of which I found quite funny. Enjoy!
SEPTEMBER 24: PRE-SEASON PARADE OF INJURIES.
Ordinarily the NHL pre-season is a time for teams to shake out and evaluate their rosters for the upcoming regular season. New players adjust to new teammates, old acquaintances are renewed, promising youngsters try to crack the roster and older veterans struggle to earn or retain their jobs.
A little over a week into the 2006 pre-season indicates a more disturbing trend, that of an unusually high number of injuries, particularly to key players, during training camp and pre-season games.
Injuries are a fact of pro hockey and occur regardless of whether a game is pre-season, regular season or post-season, but as noted above key players seem to be dropping like flies.
- Promising Pittsburgh Penguins rookie Evgeny Malkin dislocated his shoulder after colliding with teammate John LeClair last week in a game against Philadelphia. It's unknown at this time how long he'll be sidelined.
- Chicago Blackhawks promising but injury prone young centre Tuomo Ruutu suffered a grade two knee sprain against Columbus and is out for at least four weeks.
- Columbus Blue Jackets centre Sergei Fedorov suffered a separated shoulder against Buffalo and is out four-to-six weeks.
- Ottawa Senators defenceman Joe Corvo, acquired during the off-season via free agency, suffered a fractured right foot against Buffalo and is out indefinitely, stirring up speculation the Sens might try to find a short-term replacement via whatever's left in the UFA pool.
- Florida Panthers forward Todd Bertuzzi injured his ribs during a pre-season matchup and is questionable for the Panthers season opener against Boston on October 6th.
- St. Louis Blues defenceman Jay McKee suffered a knee injury against Minnesoa and is expected to miss up to four weeks.
Other notables nursing injuries and questionable for the start of the season include:
- Buffalo Sabres forward Daniel Briere (hip);
- Calgary Flames defenceman Rhett Warrener (knee);
- Chicago Blackhawks centre Michal Handzus (shoulder);
- Columbus Blue Jackets defenceman Adam Foote (knee);
- Florida Panthers defenceman Mike Van Ryn (wrist).
There's nothing that can be really pinned on this rash of pre-season injuries other than just plain bad luck. Here's hoping week two of the pre-season doesn't give us a lengthening list of "name" guys hitting the infirmary.
Tie Domi's Retirement.
So a reliable scoring forward like Scott Young, who potted 342 goals and 756 points in 1,181 regular season games, 44 goals and 87 point in 141 playoff games, who played on two Stanley Cup champion teams in Pittsburgh and Colorado, who counted Mario Lemieux and Joe Sakic as teammates and linemates, merits only a brief mention in the St. Louis Post-Dispatch of his retirement.
Meanwhile, Tie Domi, a popular goon who made his living predominantly with his fists in over 1,000 NHL games, who never helped anyone win a Stanley Cup, gets feted with a lengthy retirement press conference and rewarded with a job as a TSN analyst.
Does that not strike folks other than Maple Leafs fans as just not right somehow?
I'll give Domi credit where it's due. He's charismatic, much smarter than his critics give him credit, possesses enough business savvy to make himself millions away from the ice, and can thank his chumminess with Leafs ownership for not only his retirement press conference but also last year's embarrassing 1,000 games commemoration shindig.
Anyway, here's my Tie Domi moments:
SEPTEMBER 20: NEWS AND NOTES.
- Hockey has always brought people together who might normally never meet. Sometimes, this can even result in saving a life.
The Atlanta Thrashers website has the story of how one of their fans, Andy Freeman, needed a life-saving kidney transplant and how another Thrashers fan, a total stranger named Brandi Shaw, donated one of her kidneys to Freeman.
In these cynical and at times hateful days,stories like this remind us that, for all the bad things in the world today, human kindness and decency remains as strong as ever.
- Detroit's Henrik Zetterberg is opening his own clothing line called "Zatacollection", which will feature T-shirts, sweatshirts and caps designed by Zetterberg himself.
MSG Network's Stan Fischler doesn't think too much of Zetterberg's endeavour:
"Why Don't Hockey Players Stay Out Of Businesses In Which They Don't Belong category: Henrik Zetterberg has his own clothing line of sweatshirts, caps and T-shirts. And we're sure running to buy a bunch, right!"
I don't know what "The Maven's" got against Zetterberg - or any hockey player, for that matter - opening his own clothing line, but he may wish to reconsider his comments in this instance.
You see, Zetterberg's donating the first three years of profits from his new clothing line to his Swedish hometown's sports club.
We'll just file Fischler's comments under the "Sportswriter With Foot In His Mouth" category.
As for Zetterberg, well done! Professional hockey players remain arguably the most giving athletes in professional sports.
- Hey hockey fans, do you have a love of the Japanese poetry style known as haiku? Have you ever wished that someone would write haikus about hockey and publish them?
Your wish is now answered. Check out "Hockey Haiku: The Essential Collection" by Chad Davidson and John Poch.
Here's a sampling of what you'll find:
A Hockey Haiku Aperitif:
In hockey, we say
"the ice," which is to say, ice
transcends space-time stuff
___________________________________
The ref calls icing.
Everyone is dumb-founded.
There's ice everywhere.
___________________________________

Stiff cross-checks - you fall
Face down - Narcissus on ice.
Bloody reflection.
__________________________________
What's so Wild about
Minnesota? Ten thousand
lakes fill up with tears.
____________________________________
Much depends upon
a Red Wing glazed with Duck blood
after fisticuffs.
___________________________________
Berserk hockey dads
have different agendas.
Coach has a shiner.
____________________________________
Hockey haiku, then
volleyball villanelle. Next?
Limerick de luge.
I particularly like the one about hockey dads and the Wild.
The book is now available on Amazon.com, just following the above link provided.
- I'm no fan of the Buffalo Sabres new logo and jerseys, but as James Mirtle recently noted, there's been far worse logos than the "Buffaslug" throughout hockey history.
I didn't mind the old Colorado Rockies logo, but I'm in agreement with James that the worst was the old Dallas Spurs logo of the defunct WHA.
As they might say in Texas, combining a hockey skate with a cowboy boot just ain't right.
- If the NHL is looking for a, shall we say, unique way to sell the game in the United States, they might want to take a page from the Slovakians. Jes Golbez provides us with two examples. Be warned that the follow-up link Jes provides shows the ladies in more revealing poses.
Yes, it's objectifying women's bodies and I don't believe we'll ever see the NHL endorse this kind of promotion for their teams, but there's no denying that it is eye-catching.
Oh, by the way, they should get something out there for the ladies too. Fair is fair.
-The Hockey Rodent reminds us all that there's been a change in the rules regarding the call-up of players from the minors.
Last season if a team wanted to call up a player, they had to pass through re-entry waivers whereby if they were claimed by another club half their salary would be paid by that team.
However, this resulted in teams being unwilling to call up players for fear of losing them via waivers. It also violated US Labor law.
Thus, the new rule is if a player has 320 combined professional games (NHL, AHL or elsewhere) or a goalie has 180 combined pro games they don't have to pass through re-entry waivers.
- Another day, another rumour that the Pittsburgh Penguins might be moving to Canada.
Sorry, folks, but I've heard so much speculation in recent years that the Pens could move to Hamilton or Winnipeg or Las Vegas or Kansas City that it just doesn't pique my interest anymore.
In other words, I'll believe it when I see it.
Sure, it would be great to see another NHL franchise back in Winnipeg or Quebec City or finally landing in Hamilton, but I just don't believe it'll be the Penguins, or any other NHL team, moving to one of those cities anytime soon.
- Finally, check out this link for a classic SCTV comedy sketch involving two "NHL greats" from Montreal and Toronto shooting a breakfast cereal commercial. Hat tip to Eric McErlain of Off Wing Opinion.
SEPTEMBER 17: WHAT WE'VE LEARNED ABOUT THE CBA (SO FAR...).
- The middle tier as well as the top tier players will benefit if the cap increases.
Everyone knew the best players would earn top dollar, but as I noted last summer when this CBA was ratified, with a salary cap tied to revenue fluctuations, the players in the middle tier - the key area of support for NHLPA director Ted Saskin - would also benefit provided revenues rose.
Last season the NHL began with the average salary at $1.3 million. It's now at $1.79 million, just slightly below where it was prior to the lockout ($1.829 million).
Granted, the salaries of the top players pulls up that average number, but even taking that into account, middle tier players aren't doing as badly as was expected by some observers a year ago.
The increase in the salary cap this summer, combined with available cap space of certain teams, resulted in more than handful of middle tier players landing significant contract increases.
Edmonton's Dwayne Roloson, Carolina's Justin Williams, Buffalo's Maxim Afinogenov, NY Rangers Aaron Ward and Matt Cullen, Anaheim's Andy McDonald, Phoenix's Nick Boynton, Buffalo's Jay McKee, Vancouver's Willie Mitchell, New Jersey's Jamie Langenbrunner, Florida's Ruslan Salei and Tampa Bay's Filip Kuba are just some noticeable examples.
- Owner solidarity only lasts during labour disputes.
After that, it's every owner for himself, with the Philadlephia Flyers' offer sheet to Vancouver Canucks forward Ryan Kesler providing the best example.
What's ironic is Flyers owner Ed Snider was one of NHL Commissioner Gary Bettman's ardent and vocal supporters during the lockout, although it may be that Snider was more "anti-Bob Goodenow" than "anti-NHLPA".
Rival owners and general managers are furious at Snider and Flyers GM Bob Clarke, but folks, what the Flyers front office did was within the rules of the CBA, and while some observers suggest the owners grudgingly allowed the offer sheet clause to stand (with some minor modifications) under this CBA, it's still a rule any team can use to try to better their club regardless of the reason why it's in the CBA.
This is business, and those taking it personally are hypocrites.
They must also be careful in their protests for they leave themselves open to charges of collusion.
As for whether or not the Flyers move will open the floodgates for more offer sheets, that remains to be seen as the salary cap makes it difficult to pull these off, especially for players of any reasonable worth.
- There are no term limits for contracts.
See Rick DiPietro's new 15-year deal with the New York Islanders. Sure, some folks at NHL headquarters might be pissed, but if Isles owner Charles Wang wants to saddle itself with an untradeable contract for an average goaltender, that's his business, even if it turns out it may not be in the best interest of the team.
Don't be surprised, however, if strict term limits are imposed on player contracts in the next CBA.
- A salary cap near $45 million isn't a Canadian small market killer.
There was speculation that small market teams may not survive if the salary cap rose over $42 million.
Indeed, I wondered myself how Canadian small market teams like Edmonton, Calgary and Ottawa would adjust if the cap rose to the mid-$40 millions.
Evidently, it's not a big deal for those clubs. Edmonton's salary is presently at $40 million, Calgary's over $41.6 million and Ottawa's $42.6 million.
So if those teams could spend more now, why didn't they do so under the previous CBA?
The answer:
- A strong Canadian dollar = strong small market Canadian franchises.
During the lockout Edmonton Oilers Chairman Cal Nichols claimed his club couldn't survive without a salary cap, but the real key to his team's survival was the improvement in the value of the Canadian dollar.
Under the previous CBA, the Canadian dollar spent years trading at less than .70 cents American. At times, it went as low as .65 cents. Under those conditions, small market Canadian clubs like the Oilers, Flames and Senators that took in revenues in Canadian dollars were paying their players in American dollars and thus playing a losing game against American teams.
Even if they spent higher, they couldn't afford to compete with American teams when attempting to retain their best players headed for impending free agency.
But since 2003, the value of the Canadian dollar has risen steadily against the Yankee greenback, to where it's now regularly worth around .90 cents US.
That makes it much easier for small market Canadian teams to spend close to the cap ceiling. The salary cap has very little to do with the survival of those clubs.
It's also a big reason why the NHL didn't see the significant revenue loss it expected when it returned to action last season. While most American sports fans barely noticed the NHL's return, Canadian sports fans did, and went hockey-mad. It led to Commissioner Bettman expressing sincere thanks to Canadian hockey fans for their rabid support.
For those few snotty American hockey fans who used to advocate folding those small market Canadian teams if they "couldn't compete in today's NHL", remember the NHL needs competitive Canadian teams moreso than ever.
- Salary arbitration and unrestricted free agency remain the key salary pillars for NHL players.
I stated when this current CBA was ratified that the players would be in good shape financially because they retained their arbitration and UFA rights.
This past summer proved beyond a shadow of a doubt that they will continue to be the prime factor in the increase in players salaries.
A salary cap has done very little to put a drag on player salaries. Why?
- A salary cap tied to revenues works in the players advantage.
Provided revenues increase each season, players salaries will continue to rise.
Even I'm surprised by how much the maximum annual salary has risen after only one NHL season (from $7.8 to $8.36 million). Granted, league revenues may not increase as much this season as last, but even if they're a continuous gradual increase over the next five years, the maximum annual salary could hit over $9 million in the next two seasons and reach $9.5 million by the final year of this CBA.
If the league's popularity amongst American sports fans should increase by any substantial amount, not only could league revenues show significant increases but so will the salary cap and the league maximum.
Thus, while it seems unrealistic at this time, it remains possible that the days of contracts worth over $10 million per season could return much sooner than anticipated.
It's possible league revenues could also drop off this season, which would result in the salary cap dropping and ultimately the maximum salary. Possible, but unlikely, because the NHL reached its nadir in the American sports market two years ago. There's nowhere left to go but up.
- Lowered UFA qualification age and the salary cap means more player movement.
In the eight years I've been covering trade and free agent movement in the NHL, I honestly cannot recall a more active summer than this year.
Last summer's player movement in the opening weeks of the new CBA were seen as an anomaly, after all, the teams had less than two months to get their depleted rosters re-stocked and there were an unusually higher number of available players.
But this year saw a significant increase in player movement, thanks to lowered UFA qualification age and the salary cap.
The cap has put limits on how much the teams can spend on salaries, but the amount of available cap space per team has determined which clubs can afford to take on additional talent and which ones are forced to reduce payroll.
The lowered age for UFA qualification has also resulted in more interest in the UFA market, as more players in their prime become available.
It's a trend that's going to continue over the life of this CBA.
SEPTEMBER 13: LIST OF POTENTIAL 2007 FREE AGENTS.
With a hat tip to this site on NHL salaries, I've compiled a complete listing per team of their impending significant unrestricted and restricted free agents for next season.
Bear in mind that this list could change over the course of the 2006-07 season as players could be re-signed by their current clubs or dealt to teams more willing to pay their raises.It's also not a complete list, but rather of the more noteworthy players, those who may have value to their current clubs or to their rivals.
If you notice any errors please let me know ASAP and I'll update the list accordingly.
ANAHEIM: UFA: Teemu Selanne, Samuel Pahlsson, Travis Green, Todd Fedoruk, Sean O'Donnell, Joe DiPenta, Ian Moran, J-S Giguere. RFA: Ryan Getzlaf, Corey Perry, Dustin Penner, Travis Moen.
ATLANTA: UFA: Slava Kozlov, Scott Mellanby, Jon Sim, Greg de Vries, Andy Sutton, Vitaly Vishnevski, Shane Hnidy. RFA: Steve McCarthy, Grant Exelby.
BOSTON: UFA: Marco Sturm, Wayne Primeau, Brad Stuart. RFA: Hannu Toivonen.
BUFFALO: UFA: Daniel Briere, Chris Drury, Adam Mair, Teppo Numminen, Martin Biron. RFA: Thomas Vanek, Derek Roy
CALGARY: UFA: Tony Amonte, Jeff Friesen, Marcus Nilson, Byron Ritchie, Roman Hamrlik, Andrew Ference, Brad Ference, Jamie McLennan. RFA: Matthew Lombardi, Jamie Lundmark,
CAROLINA: UFA: Scott Walker, Ray Whitney, Kevyn Adams, Brad Isbister, Glen Wesley. RFA: Cam Ward, David Tanabe.
CHICAGO: UFA: Michal Handzus, Brian Smolinski, Mikael Holmqvist, Patrick Lalime. RFA: Brandon Bochenski, Jim Vandemeer, Sebastien Caron.
COLORADO: UFA: Joe Sakic, Steve Konowalchuk, Pierre Turgeon, Ian Laperriere, Tyler Arnason, Brett McLean, Brad May, Antti Laakasonen, Patrice Brisebois, Ken Klee. RFA: Marek Svatos, Ossi Vaananen, Kurt Sauer, Jordan Leopold.
COLUMBUS: UFA: Fredrik Modin, Bryan Berard, Anders Eriksson, Ty Conklin.
DALLAS: UFA: Eric Lindros, Brendan Morrow, Stu Barnes, Matthew Barnaby, Janne Niinimaa, Darryl Sydor, Jaroslav Modry, Jon Klemm, Stephane Robidas. RFA: Patrik Stefan, Jussi Jokinen,
DETROIT: UFA: Pavel Datsyuk, Robert Lang, Tomas Holmstrom, Kirk Maltby, Greg Johnson, Mathieu Schneider, Danny Markov, Chris Chelios, Dominik Hasek. RFA: Jiri Hudler, Niklas Kronwall, Jiri Fischer.
EDMONTON: UFA: Ryan Smyth, Petr Sykora, Ethan Moreau, Daniel Tjarnqvist, Steve Staios, Jussi Markkanen. RFA Raffi Torres, Brad Winchester, Matt Greene.
FLORIDA: UFA: Todd Bertuzzi, Joe Nieuwendyk, Gary Roberts, Jozef Stumpel, Martin Gelinas, Ric Jackman, Ed Belfour. RFA: Nathan Horton, Juraj Kolnik, Stephen Weiss, Bryan Allen, Alex Auld, Steve Montador.
LOS ANGELES: UFAS: Eric Belanger, Derek Armstrong, Tom Kostopoulos, Jeff Cowan, Aaron Miller, Brent Sopel, Mike Weaver, Dan Cloutier, Mathieu Garon. RFAS: Mike Cammalleri, Sean Avery, Jason Labarbera.
MINNESOTA: UFA: Todd White, Wes Walz, Pascal Dupuis. RFA: Pierre-Marc Bouchard, Mikko Koivu, Mattias Weinhandl, Stephane Veilleux, Martin Skoula, Nick Schulz.
MONTREAL: UFA: Radek Bonk, Mike Johnson, Craig Rivet, Sheldon Souray, Andrei Markov, David Aebischer. RFA: Michael Ryder, Mike Ribeiro, Chris Higgins, Alexander Perezhogin, Mike Komisarek.
NASHVILLE: UFA: Paul Kariya, Scott Nichol, Kimmo Timonen. RFA: Scott Hartnell, Josef Vasicek, Scottie Upshall, Darcy Hordichuk, Vernon Fiddler, Ryan Suter,
NEW JERSEY: UFA: Scott Gomez, Alexander Mogilny, Brian Rafalski, Vladimir Malakhov, Brad Lukowich, Jason Weimer, Dan McGillis. RFA: Zach Parise,
NY ISLANDERS: UFA: Mike York, Jason Blake, Chris Simon, Aaron Asham, Tom Poti, Sean Hill, Joel Bouchard. RFA: Trent Hunter.
NY RANGERS: UFA: Brendan Shanahan, Martin Straka, Michael Nylander (team option), Jason Ward, Sandis Ozolinsh, Kevin Weekes. RFA: Petr Prucha, Adam Hall, Karel Rachunek.
OTTAWA: UFA: Dean McAmmond, Denis Hamel, Chris Phillips, Tom Preissing, Jamie Allison. RFA: Chris Kelly, Anton Volchenkov, Ray Emery.
PHILADELPHIA: UFA: Peter Forsberg, Kyle Calder, Petr Nedved, Sami Kapanen, Mike Knuble, Niko Dimitrakos, Randy Robitaille, Robert Esche. RFA: Ben Eager, Joni Pitkanen, Antero Niittymaki.
PHOENIX: UFA: Shane Doan, Ladislav Nagy, Mike Ricci, Jeremy Roenick, Tyson Nash, Owen Nolan, Curtis Joseph. RFA: Mike Comrie, Oleg Saprykin, Keith Ballard, David Leveneau.
PITTSBURGH: UFA: Mark Recchi, John LeClair, Nils Ekman, Ronald Petrovicky, Eric Cairns, Jocelyn Thibault. RFA: Colby Armstrong, Ryan Whitney.
SAN JOSE: UFA: Ville Nieminen, Mark Smith, Scott Parker, Scott Hannan, Jim Fahey. RFA: Milan Michalek, Rob Davison, Mathieu Biron.
ST. LOUIS: UFA: Keith Tkachuk, Bill Guerin, Jamal Myers, Vladimir, Orszagh, Eric Brewer, Manny Legace, Curtis Sanford. RFA: Peter Sejna, Barrett Jackman, Matt Walker.
TAMPA BAY: UFA: Ruslan Fedotenko, Rob DiMaio, Cory Sarich, Nolan Pratt, Luke Richardson, Sean Burke. RFA: Dmitry Afanasenkov, Paul Ranger.
TORONTO: UFA: Mats Sundin (team option), Mike Peca, Darcy Tucker, Jeff O'Neill, Wade Belak. RFA: Nik Antropov, Alexander Ponikarovsky, Carlo Colaiacovo, Mikael Tellqvist.
VANCOUVER: UFA: Jan Bulis, Sami Salo, Rory Fitzpatrick. RFA: Taylor Pyatt, Tyler Bouck.
WASHINGTON: UFA: Richard Zednik, Dainius Zubrus, Donald Brashear, Jamie Heward, Bryan Muir, Brent Johnson. RFA: Alexander Semin, Brian Sutherby, Kris Beech, Steve Eminger.
SEPTEMBER 10: YOU'RE ON NOTICE!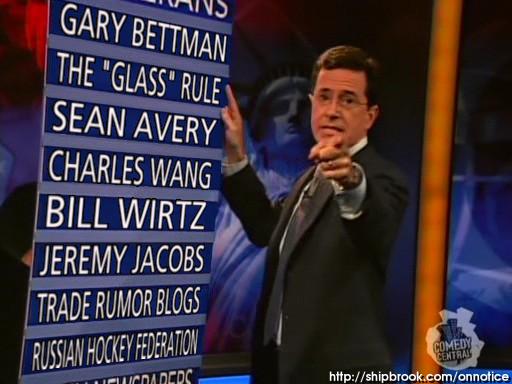 I'm a big fan of Stephen Colbert and one of my favourite bits from his show is when he puts someone or something on his "You're On Notice!" list.
Here now is a brief explanation of why these people and things are on my "You're On Notice!" list:
Gary Bettman: Overseeing the decline of the NHL from serious sports league in the United States to barely registering on the American sports radar, thanks in no small part to his pyrrhic victory over the NHLPA following a season-killing lockout.
The "Glass" Rule: I've been in favour of almost all the rule changes adopted by the NHL last season except for the one whereby if a player inadvertently shoots the puck over the glass he's assessed a delay of game penalty. Stupid, stupid rule that could one day cost a team the Stanley Cup.
Sean Avery: He has the talent to be a very good player in the NHL, but his mouth keeps writing cheques his body can't cash. He's more than just the traditional "agitator", he's a loud-mouthed, selfish loose cannon who if not careful could find his NHL career cut short.
Charles Wang: Dumping Neil Smith after less than two months on the job as GM and hiring former backup goalie and management novice Garth Snow as his replacement turned the Isles into this summer's laughingstock. The shrinking number of Islanders fans deserve better than this.
Bill Wirtz: The Blackhawks were once among the elite teams in the NHL, but under Wirtz's ownership over the past ten years have declined into a moribund franchise that has only made the playoffs twice in the last ten years. Wirtz's contempt for Chicago hockey fans has all but killed interest in NHL hockey in the Windy City.
Jeremy Jacobs: Like Wirtz in Chicago, Jacobs has taken a team that was once one of the most popular in Boston and turned that city's fans away from it. Every few years there's been "hopeful" signs of improvement, only to see them cruelly dashed by management bungling and an apparent unwillingness to financially commit to a winning team.
Trade Rumor Blogs: If they're true "insiders", why then do the rumors they post continually overlook the salary cap? Not only does it make it easy to punch holes into their rumors, but also their "insider" status. True "insiders" wouldn't make such glaring errors.
Russian Hockey Federation: Their beef over compensation under the current NHL-IIHF transfer agreement is legitimate, but their blustering over "sports terrorism", their "go-it-alone" approach at compensation and their bungled attempts to prevent the best Russian players from pursuing NHL careers makes them look like a bunch of Boris Badenovs.
SEPTEMBER 6: RANDOM THOUGHTS.
- Blogger extraordinaire Jes Golbez has resurrected The Carnival of the Hockey Blogs (Edition 22 - Electronik Supersonik). Please, go check out what's making the rounds amongst the finest hockey minds in the blogosphere.
- Evgeny Malkin signs with the Pittsburgh Penguins, which is only yet further confirmation that there's little, if anything, his former Russian Super League club or the Russian Hockey Federation can do to prevent him starting his NHL career this season.
As I noted on my trade rumours page, the Russians didn't sign off on a transfer agreement, which means they're entitled to the square root of squat as compensation for the loss of Malkin.
Again, I agree with the Russians' position that they should receive more than merely $200K per player as compensation for their star players when they bolt to the NHL, but I don't agree with their current methods, especially when their own country's business laws works against them as it does in Malkin's case.
The only way they'll get anything for Malkin is if the NHL decides to throw them a bone as a means of coercing the Russians into signing a transfer agreement. Don't be surprised, however, if that doesn't happen.
The best way for the Russians is to work with the other European countries in hopes of presenting a united front in negotiations with the NHL in hopes of landing a better agreement. Their current "go it alone" stance is only hurting them.
- Should the NHL offer press credentials to certain bloggers?
While there are opinions pro and con to this notion, I think that anything which can bolster the NHL's image amongst its fans and perhaps attract new fans is worth giving a try.
That being said, I don't wanna see those credentials wasted, in other words, whereby bloggers are lost in the post-game media scrum hearing the same cliched answers to the same hackneyed questions.
I'd like to see something where the bloggers can interview players but in a different setting, away from the nonsense of the dressing room interview, in hopes of perhaps garnering some different and hopefully honest opinions.
That's not to suggest the media aren't doing a good job, but players seem more guarded in interviews with the press, whereas perhaps they might feel more comfortable actually talking with a hockey fan, even one carrying press credentials.
I'd also like to see bloggers write about the general state of the NHL product or of their team and allowed to be critical in doing so, rather than pumping out the equivilant of shiny, hapy NHL propoganda.
It would also be interesting to hear the opinion of those in the media about bloggers with press credentials.
- I've received a few e-mails over the course of the summer from hockey fans wondering why ticket prices in some NHL cities are going up for this season when there's a salary cap in place.
Put simply, ticket prices are based on what each market will bear, not on what the players are being paid.
The reason a lot of NHL teams lowered their ticket prices last season was not because of the salary cap, but as a means of enticing fans back after losing an entire season to a bitter labour dispute between the NHL and NHLPA.
Obviously it worked because there's a considerable number of clubs raising prices for the coming season, a trend that's likely to continue over the course of the current CBA.
- The Puck Stops Here has a recent post on the stars of women's hockey who are retired, retiring or will soon retire. The post wonders how long it'll take for women like Cammi Granato, Cassie Campbell, and Manon Rheaume, among others, will be inducted into the Hockey Hall of Fame.
Unfortunately, I fear these fine athletes will be grandmothers before they'll finally get their due, if ever. The Hall tends to look solely at NHL players to be singled out for induction, with the result that many top European stars have yet to get their due. If male European hockey stars who didn't make their careers in the NHL are continually snubbed, it's unlikely the stars of women's hockey will receive better treatment.
There also tends to be some politicizing that goes into the selection, resulting in worthy candidates such as Glenn Anderson, Mark Howe and Butch Goring continuing to cool their heels while other, more questionable candidates make the cut.
I also fear that some old fashioned chauvinism will also rear its ugly head, which could keep many of women's hockey's greatest players excluded.
SEPTEMBER 3: CHECKETTS ON TICKET PRICES.
Here's what new St. Louis Blues owner Dave Checketts had to say recently in defence of his raising the team's ticket prices:
"You can't have the best club in the NHL with the lowest ticket prices; it doesn't work," he explains. "We're under pressure to deliver a great team and a great experience, and the fans have to step up and pay more."
"You can't have the best club in the NHL with the lowest ticket prices; it doesn't work"?
How then does Checketts explain the 2005-06 Stanley Cup champion Carolina Hurricanes?
According to Team Marketing Report, the Hurricanes had the lowest average ticket prices in the NHL last season, at $26.15.
The team the Hurricanes defeated in the Eastern Conference Finals were the Buffalo Sabres, who ranked 28th at $29.73.
The Western Conference finalist Anaheim Ducks ranked 27th last season, at $30.32, while the Western Conference semi-finalist San Jose Sharks ranked 26th at $33.00.
Meanwhile, of the top fifteen teams in ticket prices, eight of them - over half - didn't make the playoffs.
Oh, and in case Mr. Checketts considers this information a fluke, consider the 2003-04 season.
The Stanley Cup Finalist Calgary Flames ranked 24th ticket prices in the NHL that season at $36.46 (adjusted to US dollars). The 2004 Cup champion Tampa Bay Lightning ranked 25th at $36.26. The Western Conference semi-finalist San Jose Sharks ranked 21st at $39.15.
Care to answer that question again, Dave?
STUPID TRADE RUMOURS.
The reduction of player movement over the month of August gave rise to some really, really stupid trade and free agent rumours, almost all of which were created on hockey message boards and rumour blogs.
Now I have no problem with fans kicking around trade and free agent proposals amongst themselves. It's fun, kinda like trade talk in a fantasy hockey league or sim league, and certainly helps to pass the time during the slow months in the off-season.
Unfortunately, there are a few hockey fans out there claiming to be "hockey insiders" posting up a lot of tripe and claiming it to be fact.
I don't fault those hockey fans who visit such sites and blogs, after all, it's none of my business and I certainly don't lay claim to cornering the market on hockey trade and free agent speculation. There's plenty of room to go around.
What occasionally draws me onto those sites and blogs are referral e-mails from some of my readers wanting to know if there's any validity to the rumours posted there.
I'm flattered when that happens, for those readers obviously value my opinion in these matters.
Wacky rumours generated on the internet happen all the time, folks. I've been in this game for eight years now and I've seen my share, and discredited more than a few of them.
Usually how these speculations get started is someone will look at the need of one team and then look at a player on another team as being a good fit to address that need.
Sometimes, these rumours get started by folks having a little fun at the expense of more serious hockey fans.
As wacky and strange as some of these rumours in the past have been, I could usually concede the speculation had some small possibility of validity.
Not so with some of what's been bouncing around the 'net this summer.
What makes so many of this summer's cyberspace speculations so stupid?
Two words: salary cap.
These "insiders" continually fail to take the salary cap into account when posting these speculations.
For example, a recent rumour claims the Philadelphia Flyers may be interested in UFA right wing Anson Carter.
What makes this rumour so stupid? The salary cap.
Presently the Flyers salary cap sits at $36.6 million, which seemingly suggests the club has over $7 million in available cap space.
Of course, that's as long as team captain Keith Primeau is sidelined. If he returns to the roster for the start of the season, however, his $3.167 million salary counts against the cap, putting the Flyers payroll to almost $40 million.
That still leaves around $4 million in cap space, more than enough to sign Carter at around $2.5 million, right?
Wrong.
The Flyers still haven't re-signed star forward Simon Gagne, who's seeking a salary similar to Calgary's Alex Tanguay (three years, $15.75 million). That's $5.25 million per season, kids. Do the math and suddenly it's clear not only as to why the Flyers still haven't re-signed Gagne, but why any talk of them signing Carter is ridiculous.
Unless, of course, the Flyers are planning on a salary dumping trade, but that hasn't been suggested in any of these "Carter to Philly" rumours sent my way.
Oh, yeah, there's also the little issue of depth, since the Flyers have Mike Knuble and Jeff Carter as their top two right wings, thus making little sense to bring in another one.
Then there's those claiming Patrick Marleau wants out of San Jose and could be dealt to the Edmonton Oilers.
Among the myriad of reasons why this rumour is baloney, the salary cap stands out as the main one.
Shawn Horcoff and Jarret Stoll are the Oilers top two centers, which shoots a big hole in that rumour, but the salary cap does the best job of shooting this down.
The Oilers are presently sitting at $37.8 million in payroll, meaning they'd have to free up the cap space for Marleau to avoid bumping up against $40 million. Just so you know, Marleau makes $4.167 million per season for the next two seasons
Oh, and then there's the little matter of re-signing promising right winger Joffrey Lupul, whom the Oilers acquired for Chris Pronger back in July. He'll probably seek over $2 million per season, which would also have a serious impact on the Oilers cap space.
The Sharks would likely want a defenceman in return...oops, sorry, the Oilers have none to spare, never mind.
Speaking of the Oilers, another rumour claims they're in talks with the Montreal Canadiens for a swap that would see Marc-Andre Bergeron dealt to Montreal for Sheldon Souray.
Once again, folks, consult the cap on this one.
Bergeron is signed through to 2008-09 at $983K per season. Souray will make $2.38 million this season, is eligible for UFA status next summer and could try to sign with a California-based team to be close to his young daughter.
Yeah, that sounds like a really smart trade for the Oilers. Even if they were to acquire Souray, it would probably cost them at least $3.5 million per season to retain him.
Besides, Souray is not much of an upgrade over Bergeron. He's bigger, but as witnessed more than once last season, susceptible to being deked out of his jock by swifter, talented forwards enroute to highlight reel goals.
Oh, did I mention the Oilers still have to sign Joffrey Lupul?
Then there are the three-way deals, a particular favourite amongst internet rumourmongers, that are just so ridiculous I'm not going to highlight them here for the simple reason that the salary cap works against all of them.
"Three-ways" (sounds naughty, doesn't it?) rarely happened under the old CBA, and are less likely nowadays under the salary cap. The rare time they occur (like July's San Jose-Chicago-Ottawa deal) is obviously early in the off-season when teams have available cap space to pull off such deals, not in late-August or early September when that available cap space has been used up.
Again, remember that just because some teams are currently sitting under $35 million doesn't mean they're willing to spend more. In most cases, those clubs have set their own cap limits, either to qualify for revenue sharing or simply because they don't feel the need to spend more.
Now I understand that general managers are busy guys, and that they may not be working on just one deal at a time, that sometimes they can have several deals on the go at once.
It's possible that one of those aforementioned rumours could actually come true, but given the facts, I'm confident in my dismissals.
Remember, folks, in the NHL's brave new world, the general managers have to constantly keep their salary cap in mind whenever they're discussing potential trades or considering potential UFA signings.
So in closing this little rant, let me offer up this little piece of advice to the so-called "insiders": take the salary cap into consideration when you make your posts.
If for nothing else, it'll give your "rumours" a little more validity, and force some of you to actually put some real thought into your speculations.