OCTOBER 29: TALES OF NHL HALLOWEEN HORROR.
It's that time of year once again, folks. A time when ghosts, goblins and monsters prepare to prowl the land, when the telling of scary tales becomes popular.
And like every year at this time, some NHL teams (and their fans) make the frightening realization that all is not well, when their game is bedeviled by terrors seemingly beyond their control, where avenues of escape are limited and the wrong decisions could doom their season.
Like The Simpsons annual Halloween specials, it's times once again for my annual "Tales of NHL Halloween Horror!" (Cue lightning, thunder, scary music and demonic laughter).
The Philadelphia Flyers are in a situation they and their fans are unaccustomed to, wallowing in the bottom of the league standings for the first time since the early '90s.
Goaltender Robert Esche has been unhappy since last season having to compete for his job with Antero Niittymaki, who's been hampered this season by a hip injury.
Veteran blueliners Derian Hatcher and Mike Rathje have struggled to adapt to the faster NHL game. Key forwards Kyle Calder, Jeff Carter and Mike Richards have struggled thus far to score.
Overall the Flyers have been exposed as a slow moving team, one that gets easily burned by fleet-footed opponents.
The slow start cost head coach Ken Hitchcock and long-time GM Bob Clarke their jobs, but it remains to be seen if their replacements can reverse the club's fortunes this season.
The Boston Bruins entered this season with high hopes. A new GM and head coach were in place, and the club had opened the vault to sign imposing defenceman Zdeno Chara and playmaking centre Marc Savard as free agents.
The B's also possessed promising young forwards in Patrice Bergeron, Brad Boyes and Phil Kessel, a good corps of defencemen and what appeared to be a steady goaltending tandem in Tim Thomas and Hannu Toivonen.
Instead, it's all fallen apart early, and this year's Bruins look painfully similar to last year's version.
This could merely be an adjustment period as on paper the Bruins appear to be a better team than they've been thus far on the ice, but there are serious issues of concern that if left unchecked could only worsen.
The goaltending has been, in a word, terrible. So terrible there's rumours new Bruins GM Peter Chiarelli is shopping around for an upgrade, but the asking price could be steep and take time, which could prove costly to the Bruins playoff hopes this season.
Goaltending isn't the only problem for the B's, for despite an offensive arsenal of Savard, Bergeron, Boyes, Kessel, Marco Sturm and Glen Murray, they've only bulged the twine 17 times in their first 8 games.
These guys have to get it going soon, otherwise it won't matter who's guarding the Bruins net.
The Columbus Blue Jackets were hoping that this season might mark their first playoff appearance in franchise history, but another slow start has the local fans and media grumbling once again.
The Jackets are much deeper at forward than at any time in their history, and goalie Pascal Leclaire has at times this season played outstanding hockey.
Defensively, however, it's another story, as problems still loom with the Jackets. They've given up over 30 shots per game in most of their games this season, and in the faster NHL, that can be a recipe for disaster.
Leclaire has looked sharp in most of his games but it may be expecting too much of him to face that kind of barrage this early in his NHL career.
Even with their new-found offensive depth, however, the Jackets are struggling to find the back of the net. A team with Rick Nash, Fredrik Modin, Nikolai Zherdev, David Vyborny and Anson Carter should have scored more than 19 goals in their first 8 games. Sergei Fedorov gets a pass since he was out with injury for most of those games, but if he fails to add a spark, he'll share the blame.
The Chicago Blackhawks have appeared on my annual Halloween horror list every year but one since 1998, but in the first two weeks of this season, it appeared that they wouldn't be on it this year.
The 'Hawks leapt out to a good start, playing above .500, when disaster struck in the form of injuries.
Leading scorer Martin Havlat, who was also leading the league in points, was sidelined with a sprained right ankle. Starting goalie Nikolai Khabibulin, who had regained his usually strong form after a horrific 2005-06 campaign, suffered a broken finger on his right hand. Centre Michal Handzus tore up his knee and is gone for the season.
Factor in the preseason injuries to Tuomo Ruutu and Cam Barker, from which they've yet to return from, and it became too much for the 'Hawks to bear.
As of this writing the Blackhawks have now lost four straight, including a 5-0 pasting at the hands of the Vancouver Canucks, causing the shrinking number of 'Hawks supporters to expect yet another lost season.
It was one thing for the Blackhawks to have stumbled because of inept management, poor coaching, indifferent players or heartless ownership. But to have this team whacked by serious injuries after a promising start is cruel fate.
The Calgary Flames made this list last season with a slower-than-expected start. I noted then that part of the reason for that slow start was a lack of offensive depth. This year, it's the same problem.
The Flames have strong goaltending in Miikka Kiprusoff, one of the best and deepest bluelines in the league and are among the best defensive clubs in the league.
But they just can't score. Rival clubs have done a great job of shutting down Jarome Iginla and Alex Tanguay, who was brought in last summer to bolster the anemic offence.
The proof is in the stats. In their first 8 games, they've scored only 21 times. Only the Bruins, Flyers and Blue Jackets have score less.
The Flames struggled at the same time last season, and made this list because of it, but rallied to finish atop their division at season's end, so it could be premature to expect the worst.
If this trend keeps up, however, management may have no recourse but to utilize their defensive depth (except for untouchables Dion Phaneuf and Robyn Regehr) as trade bait for more offensive help.
The Phoenix Coyotes are marking a "Decade in the Desert" this season, commemorating the club's move from Winnipeg ten seasons ago.
Their 3-8 start wasn't what they or their fans were hoping for to kick off that celebration.
The 'Yotes achilles heel thus far has been defence. Goalie Curtis Joseph has not looked sharp this season, but he's had little help from a blueline corps that on paper should be playing much better than it has thus far.
The end result is a Coyotes team leading the league in goals against.
Offensively their best players haven't been playing as well as hoped, particularly Ladislav Nagy who has only three goals this season. UFA acquisition Owen Nolan has turned up his game of late, but in the first games with the Coyotes he appeared to be struggling to adapt. Another UFA addition, Jeremy Roenick, has only three points thus far and appears to have lost more than a couple of steps.
Trade rumours have dogged this club of late, and while perhaps a coaching change might be the more logical course of action, head coach (and team co-owner) Wayne Gretzky claims he has no intention of stepping down.
The Coyotes finally ended a lengthy losing skid last week with a convincing victory over an Edmonton Oilers team that may have taken them too lightly.
It'll take more victories like that for the Coyotes to dig themselves out of this deep hole. Another lengthy losing streak could kill their season.
Now it must be remembered that it's not even November yet, there's still plenty of hockey to be played and it's a long way to April. Teams that struggle early out of the gate can sometimes rally to not only make the playoffs but even march on to the Stanley Cup finals.
Usually, however, out of six or seven teams that start the season poorly, only one or two can achieve that rally. Most fail to recover, as a poor start tends to be a season-killer.
That is the true horror for fans of the aforementioned teams to contemplate.
- Finally, this cartoon by Raleigh News & Observer cartoonist Grey Blackwell has nothing to do with Halloween, but I wanted to post it up because I got a good laugh out of it and hope all of you will too, even if you're not a Hurricanes fan.
OCTOBER 25: ODDS 'N SODS.
- The best team in the NHL thus far in this young season is unquestionably the Buffalo Sabres, who have leapt out of the gate with a 9-0-0 record.
This team is doing exactly as expected, picking up from where they left off last season, including the 2006 playoffs, where if they'd had a healthier blueliner corps in the Conference Finals might've defeated the eventual Stanley Cup champion Carolina Hurricanes.
Thanks to the rules that have opened up the game's offence, speed kills and right now no team is more lethal than the Sabres.
The only way to counter the Sabres is to match their speed, but thus far few of their opponents have been able to do so. Indeed, it was this club's 9-1 shellacking of the Philadelphia Flyers that lead to the firing of Ken Hitchcock as Flyers head coach and the downfall of GM Bob Clarke.
The Sabres as a team are bringing excitement back into the NHL, and they'll be the template for rival clubs to build around in the coming years.
- Other teams off to a fast start this season are the Atlanta Thrashers (currently second overall in the East and leading the Southeast division), the Dallas Stars (leading both the Western Conference and the Pacific Division) and the Minnesota Wild (currently tied for second overall in the Conference and leading the Northwest division.
We're used to seeing the Stars in that position but it still comes as a surprise to me thus far as I considered them a team in transition.
The Wild have bolstered their offensive production (particularly on the powerplay), while the Thrashers have been getting it done with their first line offense and the goaltending of Kari Lehtonen.
- Checking out the NHL's points leaders on Tuesday, there's no sign of super sophomores Alexander Ovechkin and Sidney Crosby.
Actually, Crosby as of this writing has ten points, only five short of the overall lead, and Ovechkin has seven points but with four goals on the season is well short of the league lead of 10.
Now I'm not suggesting these two are feeling the sophomore slump, indeed it's far too early to write either guy off, but weren't you folks expecting more from these two young superstars early?
I know I was.
- I knew before the start of the season that the lack of offensive depth was a problem area for the Calgary Flames, but I certainly didn't expect it to be so bad that the Flames would be among the worst clubs in the West in the early going.
Putting Alex Tanguay on Jarome Iginla's line failed to produce any significant offensive explosion, and while Matt Lombardi has been a pleasant surprise, the rest of the forwards just aren't getting the job done.
The stats speak for themselves. The Flames as of October 24th were tied with the Boston Bruins and Philadelphia Flyers for the least goals scored in the NHL.
GM Darryl Sutter will have to give serious consideration toward shopping around for an offensive boost by dangling one of his defencemen, if he hasn't already started doing so.
- Pittsburgh Penguins rookie forward Jordan Staal is off to a good start, with four goals in his first eight games, playing well enough to move up to the team's second line.
Still, management has to decide if they'll retain him for the season or send him back to Junior A before his tenth NHL game for contractual reasons.
If they're going to demote Staal, here's hoping it's for hockey reasons and not contractual reasons. That sends the wrong message to fans that this team is more interested in its bottom line than in winning.
If young Staal deserves to play, then play him and worry about negotiating a new contract in 2009. By then, the club's well-known money woes could be resolved, one way (new arena in Pittsburgh) or another (relocation).
- Remember how many eyebrows were raised this past summer when the Edmonton Oilers signed Petr Sykora? Remember the guffaws when they signed him to a one-year, $2.9 million contract?
Looks like the joke was on us. Sykora not only has 13 points in his first 8 games as an Oiler, he's also leading the team in scoring.
Most importantly, Sykora tells the Edmonton Sun he's "hockey happy", getting a chance to score every game since being placed on the same line as star playmaker Ales Hemsky.
If he stays on this pace, Sykora could be considered the comeback player of the season.
- Looks like a full-blown goalie controversy is brewing in Colorado.
The Denver Post noted starter Jose Theodore has a 2-3-1 record, 3.68 GAA and .877 save percentage while backup Peter Budaj has a 2-0-1 record, with less than a 2.00 goals-against average and a .940 save percentage.
A team plays better if they have confidence in their goaltender. Right now, it seems Budaj, not Theodore, has the Avs' confidence. Theodore had best step things up if he doesn't want to become the most expensive backup in the NHL.
OCTOBER 22: MORE THOUGHTS ON THE CBA.
I realize most hockey fans prefer to put the CBA out of their minds once the current deal was ratified in July 2005 and focus on the game, but I've been keeping tabs on how this deal evolves over its lifetime.
I still find it interesting that there are still some pundits who continue to believe the players got spanked on this CBA.
Yes, the player capitulated on a salary cap, the 20% reduction in their salaries to start last season and escrow, but look more closely, folks, and you'll see that, as I predicted over a year ago, there is much more to this CBA that works in the players' benefit than meets the eye.
Had the NHLPA agreed to a hard or fixed salary cap around $35 million as the NHL originally sought during the lockout, that alone would've made the league and the team owners the undisputed "winners" of the lockout.
But the PA agreed to a cap tied to revenue fluctuations, which is a whole different kettle of fish.
If league revenues stagnate or decline, so too does the salary cap "ceiling" and "floor", but if revenues increase, so too does the ceiling and floor.
Last season revenues were projected at $1.8 billion but actually came in around $2.179 billion, close to the over $2.2 billion they were the year before the lockout.
That resulted in the salary cap ceiling, set at $39 million for last season, rising to $44 million this season.
Several weeks ago I expressed my doubts that revenues will rise as much this season. After all, the NHL last year was returning to action following a season-killing lockout, nobody knew for sure what the impact would be on revenues and projecting $1.8 billion was a safe estimate for both sides.
But according to a recent report in the NY Post, revenues need only rise by five percent this season to boost the salary cap to $48 million for next season, as well as pull the cap floor up to almost $33 million.
Suddenly, within only two years of the CBA's ratification, the salary cap would have risen by $8 million.
That has the potential to make life difficult for some small market clubs that can't or won't keep pace with the rising cap, but considering that 24 NHL teams presently have payrolls in excess of $40 million, it may not be a widespread problem.
But how many will actually raise their payrolls to within striking distance of $48 million?
The big market clubs will, of course, and I suspect most of the teams in mid-size market will spend around the mid-$40 millions.
Still, a cap rise like that could bring back the same old problem under the last CBA, that being the struggle of some small-market teams to spend competitively.
Sure, revenue sharing may help, but one wonders how long it'll take before some owners begin to publicly grumble about the rising cap making it difficult for them to compete.
Don't expect the Canadian teams to complain very much as it was the rise in the Canadian dollar, rather than the salary cap or even this CBA, that has "saved" them.
When the Canadian dollar was trading at between .65-.70 cents against the American dollar throughout most of the last CBA, most Canadian teams struggled to retain their best players and rarely bid for the top UFA players, which led to dark talk around the turn of the century of the Calgary Flames, Edmonton Oilers and Ottawa Senators packing it in and moving south of the border.
Nobody's talking like that since the rise of the Canadian dollar, which started its climb from the mid-60 cent range in 2003 to where it's now been trading at around .90 US for almost a year, making it much easier for Canadian teams to retain their best and competitively bid for the best UFA talent.
Furthermore, rising revenues also means an increase in the players share. Had the 54% of revenues the players currently received been carved in stone over the life of this CBA it may have put a stronger brake on the increase in their salaries.
But as also recently noted in the NY Post, a mere one percent increase in revenues this season will push the players' share up to 55%, which means more potential for increases in their salaries for next season.
Then there's escrow, which was a paper tiger last season and has the possibility of being so again this season.
Yes, the players do have to pay a certain percentage of their salaries quarterly into escrow over the course of a season, but if salaries doesn't outstrip revenues, the players get that money back plus interest.
That's what happened last season, and should revenues rise again this season, it'll happen again.
And revenues will rise this season, perhaps substantially, because most NHL teams raised ticket prices this season.
The gate has long been the NHL's main source of revenue, and season tickets are its lifeblood, and with many teams reporting increases in season ticket sales for this season, any increases on the cost of those tickets means higher than expected revenue.
That doesn't take into account what they'll get for walk-up ticket purchases over the course of the season.
That means the players could get back this season's escrow money plus interest, thus the first two years under this CBA escrow woulve have had no effect on the players salaries.
The only way the players salaries will be impacted under this CBA is if revenues stagnate or decline, but it seems quite possible that won't happen this season.
As for the 20 percent reduction in salaries the players absorbed to start last season, the effect was short-term, one that won't have a lingering effect over the course of this CBA.
Last season the average salary was set at $1.3 million. This season, it rose to $1.79 million, close to where it was pre-lockout.
Should revenues increase by five percent this season, the combination of the increase in the players share to 55% coupled with the increase in the salary cap could boost the average salary to over $2 million for next season.
Kinda makes ya wonder why we lost a whole season to a lockout, doesn't it?
That could also make those pundits who believed the players got spanked with this CBA to re-think that opinion.
OCTOBER 18: RISE OF THE TWO-GOALIE SYSTEM?
An interesting phenomenon has taken place in the NHL in the 2006-07 season, that being teams carrying two starting goaltenders.
As recently noted by Pierre LeBrun of the Canadian Press, there are currently eight clubs with no clear starter.
"Ilja Bryzgalov and J.S. Giguere have shone early on for Anaheim, much like Vesa Toskala and Evgeni Nabokov in San Jose and the Canadiens' Cristobal Huet and David Aebischer. Elsewhere, Tim Thomas and Hannu Toivonen have both started in Boston, as have Manny Legace and Curtis Sanford in St. Louis, Alex Auld and Ed Belfour in Florida, Dan Cloutier and Mathieu Garon in Los Angeles and Robert Esche and Antero Niittymaki in Philadelphia."
NHL teams will usually carry a starter who'll play between 60-65 games and a backup who sees limited action, usually against lesser opponents and in back-to-back games.
It's an unusual situation for that many NHL teams to be in, but is it a sign of things to come or merely a situation unique to this season that likely won't be repeated.
I believe it's the latter, that this is no emerging trend but simply one of circumstance.
In Anaheim, Bryzgalov emerged as a challenger to Giguere last season when the latter struggled to adjust to the new NHL rules. It's believed the Ducks tried to move "Giggy" during the off-season but his $3.99 million contract and his UFA status next summer made him a tough sell.
Thus the Ducks had no choice but to start the season with the two. One way or the other, via trade or next summer's free agency, one of those two will be the established starter.
In San Jose, Nabokov was seen as the Sharks starter last season but injuries and inconsistent play allowed Toskala to step up down the stretch and challenge for the starter's crown.
Both were featured prominently in last summer's rumour mill but Nabokov's hefty contract and conditional no-trade clause makes him unlikely to move, leaving Toskala as a likely candidate. Still, if Toskala is outplaying Nabokov, the Sharks won't be keen to move him even if it makes the latter the most expensive backup in the league.
In Montreal, Aebischer came to the Canadiens in exchange for Jose Theodore as an insurance policy for the Habs should Cristobal Huet turn into a one-season wonder. It's too early to tell if "Abby" is a real threat to take away the starter's rule from Huet, but he has looked better than Huet in pre-season and early in the season.
That gives the Canadiens intriguing options. If Aebischer should emerge as the clear-cut starter, they could try to prevent him from becoming a UFA next summer by offering a long-term deal and then trying to move Huet, rather than the other way round which was the speculation this summer.
Thomas and Toivonen both showed promise last season for a struggling Bruins club but thus far neither has been particularly sharp in the 2006-07 season.
The brass ring is still there to be had by one of them but if they continue to struggle it could force B's management to shop for an upgrade, which could push one of them out of the picture entirely.
In St. Louis the Blues have been playing Legace more than Sanford but that could be changing in the near future. Legace has not looked particularly sharp while Sanford played well in his only start of the season.
In Philadelphia, neither Esche or Niittymaki are off to good starts, although the latter has a good excuse as he's plagued by a hip injury. Esche's mouth meanwhile continues to get him into trouble as once again he's butting heads with head coach Ken Hitchcock.
With rumours of Flyers GM Bob Clarke shopping for a goaltender, Esche could find himself on his way out of Philly if he's not careful, unless of course that's what he wants.
In Florida, Auld appears to have sewn up the starter's job over Belfour, as the aging Eagle has only made two appearances this season to Auld's five. The proud Belfour will either have to adjust to the role of a backup or retire.
In Los Angeles, Cloutier has seen more starts but his play has not been particularly good, whilst Garon was strong in one game and average in the other of his two starts on the season.
Once this season is over, almost all of these clubs will have rectified their starting goalie situation and will be back to using one netminder for most of their games throughout the season.
OCTOBER 15: ARBITRATION TO BE ABOLISHED?
When the current NHL collective bargaining agreement was ratified last year, I pointed out that one of the articles within the CBA that would work in the players favour was salary arbitration.
Along with unrestricted free agency, salary arbitration was the prime contributing factor in the stunning rise of salaries under the previous CBA.
The NHL team owners attempted to abolish arbitration during the lockout but they allowed it to remain (with some modifications) because the players conceded on cost certainty.
Barely two seasons into this CBA, there are reports the NHL approached the NHLPA about the possibility of abolishing salary arbitration.
As the NY Post's Larry Brooks and TSN's Bob McKenzie both reported last week, for the NHLPA to consider that option before this CBA has expired, it would want something in return for the players. As McKenzie writes, that being a more "liberalized" system of free agency or "something that would benefit a broader range of NHLPA members than those filing for arbitration."
Brooks and McKenzie suggested it would be in the players benefit to consider abolishing arbitration under the current CBA, for while higher-than-anticipated arbitration awards make it difficult for teams to maintain their rosters, it can also result in increased escrow payments by the players.
It must be remembered, of course, that this would only occur if revenues stagnate or decline. Since, as Brooks noted last week, revenues need only rise by four percent this season to push the players share of revenues to 55% for next season, that may not be a concern for the players in the short term.
Indeed, it's possible the players could opt to retain arbitration and take their chances, for if revenues steadily rise over the course of this CBA, their share of revenues by the final years of the agreement could reach 57% or more, which could continue to minimize escrow's impact over the life of the agreement.
Still, it is a risky proposition, as no one can foresee between this season and the expiration of the CBA at the end of the 2010-11 season what could happen to league revenues during that period.
I'm not sure what else could benefit that broader range of NHLPA members than "liberalized" free agency, and I'm guessing that would mean lowering the eligibility age for unrestricted free agency.
Under the terms of the CBA, by 2008 the eligibility age for UFA status is 27 or seven accrued seasons of NHL service, which means players who debut in the NHL at 18 or 19, as Pittsburgh's Sidney Crosby did last season, would be eligible for UFA status at 25.
A problem with arbitration for the players is that, as lucrative as it can be for them, most usually have to wait until they're in the late-twenties before they can take advantage of it..
Players coming off entry level contracts cannot file for arbitration, only following their second NHL contract. Since most NHL players debut at age 21, that means age 27 is usually the earliest they can avail themselves of that option.
If given the chance to qualify for unrestricted free agency at, say, age 24, or four years of accrued NHL services, it might be something worthwhile for the players to consider.
Still, as tantalizing as it sounds, it's not without risk for both players and team owners.
As we've seen thus far under this CBA, a floating salary cap has done little to control spending on UFA players.
For all the bitching directed at arbiters this past summer for awarding one-year, $5 million contracts to New Jersey's Scott Gomez and Buffalo's Daniel Briere, it must be remembered that it was general managers, with the blessings of their respective team owners, who willingly overpaid players like Pavel Kubina and Marc Savard to hefty, long term contracts worth $5 million per season.
In other words, abolishing arbitration is no guarantee that teams will spend wisely and thus find it easier to maintain their rosters. Indeed, if the alternative is a considerably lowered UFA qualification age, it could make it even tougher to keep a promising or winning roster together.
Just because the middleman is eliminated doesn't mean teams will be wiser spenders.
For the players, the possibility for UFA status at an younger age means a chance to hit the jackpot far earlier, but it doesn't mean that it won't have an adverse effect on their escrow payments should revenues flatline.
Since most NHL teams have demonstrated little or no restraint when it comes to re-signing key players or signing unrestricted free agents, it still means the risk of higher escrow payments if salaries are higher than revenues.
Thus far we don't know if the PA executive is seriously considering the possibility of trading off arbitration for other gains. It's possible they can say "thanks, but no thanks, let's revisit this in 2011."
If so, the owners will push to abolish arbitration under the next labour agreement. The issue might even have the potential to be a serious stumbling block in the next round of labour talks.
The owners will get their way on this, either during the course of the current deal or when the next one is ratified, and the players will get something else that could be every bit, or even more, lucrative in return.
But it will be a pyrrhic victory for both sides.
OCTOBER 11: RANDOM THOUGHTS.
MORE NHLPA INTERNAL SQUABBLING.
- A lawsuit has been filed against NHLPA Executive Director Ted Saskin and former NHLPA President Trevor Linden was recently filed by Detroit Red Wings defenceman Chris Chelios, Edmonton Oilers goalie Dwayne Roloson and former player Trent Klatt.
Also named in the suit were St. Louis Blues forward Bill Guerin and former players Vincent Damphousse and Bob Boughner.
The suit alleges Saskin was "improperly elected, he misrepresented salary figures during negotiations, and he illegally diverted tens of millions of dollars in union funds for his own benefit."
You can get the details of the lawsuit here (hat tip to Off Wing Opinion).
I'm with Saskin and Linden on this. This dissident group has tried unsuccessfully for months to find legal means to either overturn the CBA, or to get Saskin removed from his job.
This was supposedly settled this summer when Linden stepped down as PA president and a new player executive was elected. Even Chelios claimed these moves brought "closure" to the in-fighting. Instead, it's flared up again.
Chelios and company claim they're doing this on behalf of "over 100 NHL players". Evidently, they don't speak for the majority, as most have greeted this with indifference.
Some PA critics suggest the majority of PA members either didn't know what they were voting for when the CBA was ratified, didn't fully understand it and still don't.
I don't doubt that some of those players probably don't know and really don't care, but I think most of them do. Indeed, I'll go out on a limb and suggest that the current PA membership is arguably the best-informed in the PA's long history.
What seems to be forgotten in all of this is the reasons why Bob Goodenow is no longer the PA's head honcho.
Goodenow, it must be remembered, is a fighter, a guy who stood up to the NHL owners on the players behalf in the early 1990s and led them to the promised land of riches their predecessors could only dream of.
Goodenow forewarned his charges heading into the lockout that it could take up to two years to get the "no cost certainty" deal they sought. And early in the lockout, the players - and Saskin and Linden - were parroting Goodenow's party line, with Saskin and Linden as Goodenow's most loyal lieutenants.
Goodenow gave both men his blessing in January and February 2005 to open talks with NHL VP Bill Daly and Harley Hotchkiss, head of the league's negotiating team.
It was Goodenow who approved the PA's surprising offer to accept a salary cap in February 2005, first at $50 million and then at $45 million in their "final offer" to the league.
Once the season was lost, Linden and the players executive met for a week in Palm Springs in March 2005, where it can be surmised the decision was reached that they, and the majority of the players, lost the will to risk losing another season to a lockout. That led to the change in stance by the PA whereby they accepted a hard salary cap, but sought the best deal they could get under a cost certainty CBA.
For all the talk of skullduggery on Saskin and Linden's part to oust Goodenow, the question nobody's asking in all of this is why a fighter like Goodenow would go so quietly into that good night?
Does anyone really believe such a savvy, hardnosed negotiator like Goodenow could be taken advantage of by Saskin and Linden as their critics suggest?
Those critics claim the majority of the PA membership are sheep being taken advantage of by Saskin, making unkind and baseless comparison to former NHLPA director and convicted felon Alan Eagleson.
Perhaps the real reason for Goodenow's ouster is the majority of the PA membership no longer had confidence in Goodenow's hardline stance and that of his supporters like Chelios, Klatt and Roloson, opting instead for Saskin and Linden's concilliatory efforts.
That doesn't make the majority of the PA members stupid or sheep, but merely players who didn't want to risk losing any more of their prime earning years to a labour dispute than they'd already lost, and wanted the best deal possible under the circumstances, a deal that thus far has had little adverse impact upon their salaries.
It'll be probably years before we know for certain, given the non-disclosure documents Goodenow apparently signed with the PA prior to his departure, as to the real reasons for his departure. At this point, speculation is all we have.
Given the fact his small group of supporters have been continually thwarted in their efforts to get Saskin removed as PA director, this lawsuit may be their legal last gasp.
- BELINDA STRONACH: PUCKBUNNY.
The Canadian media's been all a-twitter for three weeks now over Canadian Liberal MP Belinda Stronach's supposed romantic liaison with former Toronto Maple Leaf and current TSN analyst Tie Domi.
Stronach, as noted in Wikipedia (is there nothing it doesn't know?), is in addition to being a Member of Parliament but was a cabinet minister in the former Liberal government as well as "the former president and chief executive officer of Magna International, a major automotive supplier based in Aurora, Ontario, founded by her father."
But if we go by reports in the Canadian media, we can now add "puckbunny" to her title as she was named as "the other woman" in Tie Domi's impending divorce with his estranged wife.
So I guess Belinda used to sit at home with her girlfriends on Saturday nights, watching Hockey Night in Canada and getting all gushy over Domi while her friends made faces and squealed "Eeeeewwwww!"
So she likes 'em rugged. Nothing wrong with that, especially since her last significant romantic liaison was Canadian Foreign Affairs Minister and milquetoast Peter MacKay, who went off pouting in his parents potato field after she dumped him to cross the floor of Parliament to join the Liberals.
There was even a report a few days ago about Stronach apparently having a fling with another former Maple Leaf, the relatively unknown Jerome Dupont.
Y'know, I sometimes get smug watching the American media going bonkers over trivial sex scandals involving their celebrities.
Thank you, Canadian media, for keeping me grounded as well as lowering my expectations!
CHECK THIS OUT!
-I'm a member of Kukla's Korner Forums and recently participated in a thread expressing thoughts on the upcoming 2006-07 season. Out of the goodness of his heart, Paul Kukla included as an added bonus the opportunity to win a replica NHL jersey.
Three guesses as to who won and which jersey was selected. Here's a clue: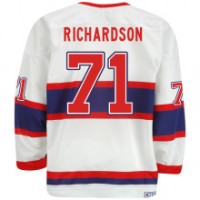 Yep, I won, it's a vintage Montreal Canadiens jersey, and the number signifies the year I became a Habs fan (yes, I'm middle-aged, get over it!).
So pop on over to Kukla's Korner. Not only will you be well- informed on the latest hockey happenings and chat with some of hockey's best blogging minds, but you might even win yourself a cool prize like yours truly (who rarely wins anything!).
- Belated Canadian and Early American Turkey Day tip from Crow T. Robot: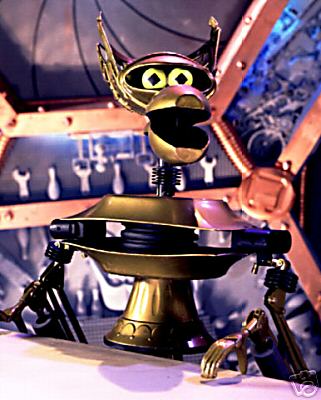 "Turkey Fact #12: Turkeys are filled with enough L-Triptophan to knock you on your sorry Thanksgiving Day ass."
OCTOBER 8: EXPECT REVENUES TO RISE THIS SEASON.
NHL Commissioner Gary Bettman and NHLPA Executive Director Ted Saskin both stated their optimism in recent interviews that this season league revenues could rise again .
Neither expect the huge, unexpected increase in revenues that occurred last season, when around $1.8 billion was expected but the final tally was $2.1 billion, resulting in a significant increase in the salary cap and a return of all escrow monies to the players for last season.
I don't expect a huge increase either, but I wouldn't be surprised to see revenues go up to $2.2 -$2.3 billion, enough to bump the cap ceiling up by another couple of million and again minimize the bite of escrow into the players salaries.
For all the talk about the NHL's struggles to attract more media and sponsership revenues, it must be remembered that the league is still predominantly a gate-driven one, much more so than the NFL, NBA or MLB.
It must also be remembered that 24 of the NHL's 30 teams lowered their ticket prices last season by an overall average of 7.54%.
This wasn't done, as some fans mistakenly believed, because salaries were lowered after the lockout, but because most NHL teams were justifiably concerned over the potential loss of revenue at the gate following the season-killing lockout.
Hence the reason revenues were projected at $1.8 billion to start last season.
But with league revenues coming in much higher than anticipated, more than a few NHL teams raised their ticket prices for this season.
The Minnesota Wild increased season ticket prices club-level seats by $5 each per game, lower-level seats by $1.50 each per game and upper levels by .50 cents per game. The Wild cited "inflation" as the reason for the increases. (Source: Associated Press, April 21, 2006).
Right, "inflation". Like the inflated wallet the Wild owner saw when fans returned in droves last season.
Dave Checketts, the new owner of the St. Louis Blues, raised ticket prices this summer, claiming he needed to do it in order for the club to go to the next level. "You can't have the best club in the NHL with the lowest ticket prices; it doesn't work," he told the St. Louis Post-Dispatch in August. "We're under pressure to deliver a great team and a great experience, and the fans have to step up and pay more."
Of course, Checketts conveniently overlooked the fact that the 2006 Stanley Cup champion Carolina Hurricanes had the lowest ticket prices in the NHL, that the Eastern Conference finalist Buffalo Sabres had the third-lowest, the Western Conference finalist Anaheim Ducks had the fourth-lowest and the Western Conference semi-finalist San Jose Sharks had the fifth-lowest.
The Boston Bruins will also raise ticket prices. " Center and corner loge seats will rise by $5, to $85 and $78, respectively (they will cost $100 and $89 on game day). Meanwhile, most seats in the balcony have inceased by $2 apiece for season-ticket holders, ranging from $34-$73. Some other balcony seats will rise minimally, from $25 to $26.50. As was the case last year, scattered $10 and $19 seats will be available in the upper reaches of the corner balconies." (Source: Boston Herald, August 27, 2006).
The Nashville Predators announced last February an anticipated 8 percent hike in season ticket prices, and more than that for single-game buyers. (Source: Nashville Tennessean, February 25, 2006).
The Tampa Bay Lightning announced ticket prices could rise by as much as 15% for this season, with the biggest hit coming to ticket holders in the lower bowl. (Source: St. Petersburg Times, February 25, 2006).
The Florida Panthers raised ticket prices after a failed attempt to collect parking fees, the Anaheim Ducks via a "facilities fee", the San Jose Sharks increased season tickets by 6-8%,the Philadelphia Flyers cited a 5% "cost of living fee", the Los Angeles Kings raised their prices by an average of 7.5% and Carolina Hurricanes jacked season ticket and walk-ups by between 5-17%.
Other teams that hiked ducat prices for this season included Chicago Blackhawks Montreal Canadiens, Edmonton Oilers, Ottawa Senators and Calgary Flames.
No wonder NHL teams painted, "Thank You, Fans" on their ice surfaces last season!
Some teams didn't raise their prices this season but will see better than expected season ticket sales.
According to an August 2006 report in the Buffalo News, the Sabres capped season ticket sales between 14,000-14,500. That's for a venue that holds 18, 690. As of August 23, they had sold 12, 498 season tickets, a considerable increase over the paltry 8, 861 sold for 2005-06.
Remember, the gate is an NHL team's prime source of revenue, and season ticket sales are its lifeblood. Anticipating season ticket sales of over 14,000 for an 18, 000 seat venue bodes very well for the Sabres bottom line this coming season, especially for a team that needed an unexpected, lengthy playoff run to declare an operating profit between $4.1-$4.6 million last season.
The Toronto Maple Leafs actually reduced ticket prices for this season across the board by five percent, and the Detroit Red Wings and Colorado Avalanche announced no price hike for tickets. Given their respective markets, however, they can do that without adversely affecting their overall revenues
I would also be curious to know if the cost of concessions and parking went up in those cities.
This of course doesn't take into account potential hikes in prices for playoff tickets, where teams can jack prices by as much as 20 percent over the regular season cost.
Should the League attract more sponsership revenue (and according to Bettman, they have and are continuing to do so), that combined with the increase in ticket sales and ticket prices should bring about another increase in overall league revenues.
As noted by the NY Post's Larry Brooks, "Final and official accounting for 2005-06 revenue has been established at $2.178B. This means that an increase of just over one percent will bump the players' share to 55-percent of the gross next season. A five-percent increase, therefore, would raise next year's cap to approximately $48M."
Should that happen, escrow's bark could once again turn out to be worse than its bite.
The revenues for this season will increase, which will bring up the cap floor and ceiling amounts.
By how much remains to be seen.
OCTOBER 4: IT'S A BRAND NEW SEASON!
Spector's Note: I had planned on writing a Soapbox article today explaining why I believe NHL revenues will rise again this season, but a heavier than usual writing schedule earlier this week (JABS Bloggers Roundtable, Foxsports.com "Ten Burning Questions", covering the Devils last-minute salary dumps) has postponed that article until Sunday.
So, to celebrate the start of a brand new NHL season, here's some video clips from last season. Enjoy!
OCTOBER 1: AVAILABLE CAP SPACE - 2007.
With most NHL teams having committed their payrolls for the upcoming 2006-07 season, some hockey fans are already looking ahead to next summer's UFA market and wondering which clubs could be the major players in that market.
With the help of the following website, here's a listing of how much each club has committed in payroll for the 2007-08 season.
ANAHEIM DUCKS: $24.7 million.
ATLANTA THRASHERS: $25.6 million.
BOSTON BRUINS: $33.5 million.
BUFFALO SABRES: $24.5 million.
CALGARY FLAMES: $27 million.
CAROLINA HURRICANES: $29.5 million.
CHICAGO BLACKHAWKS: $27.6 million.
COLORADO AVALANCHE: $17.5 million.
COLUMBUS BLUE JACKETS: $25.2 million.
DALLAS STARS: $30.4 million.
DETROIT RED WINGS: $20.5 million.
EDMONTON OILERS: $25 million.
FLORIDA PANTHERS: $17.7 million.
LOS ANGELES KINGS: $27.1 million.
MINNESOTA WILD: $30.3 million.
MONTREAL CANADIENS: $19.6 million.
NEW JERSEY DEVILS: $22.2 million.
NEW YORK ISLANDERS: $29.5 million.
NEW YORK RANGERS: $22.7 million.
NASHVILLE PREDATORS: $27 million.
OTTAWA SENATORS: $32.7 million.
PHILADELPHIA FLYERS: $21.1 million.
PHOENIX COYOTES: $21.4 million.
PITTSBURGH PENGUINS: $16.9 million.
ST. LOUIS BLUES: $12.8 million.
SAN JOSE SHARKS: $32.4 million.
TAMPA BAY LIGHTNING: $31.6 million.
TORONTO MAPLE LEAFS: $24.9 million.
VANCOUVER CANUCKS: $35 million.
WASHINGTON CAPITALS: $18.7 million.
Bear in mind that this doesn't take into account potential additions or subtractions to each payroll throughout the season, so obviously these figures may change by season's end.
These figures are based on the "cap hit" to each team, rather than actual total salary. This is due to front and back loading of contracts resulting in the average salary figure of said contracts actually counting toward the cap.
One figure determining the impact of available cap space is whether or not the salary cap increases for next season. The assumption can be made that the worst case scenario is the cap drops no more than $1 million from the current $44 million, although I doubt that scenario will occur which I'll explain in my next Soapbox article.
Something else to remember about these figures is that some of these teams obviously will spend a considerable chunk of their available cap space in re-signing key players.
For example, Canadiens fans may be salivating at the prospect of their club having potentially almost $25 million in available cap space heading into next summer's UFA market, but key restricted free agents like Michael Ryder, Chris Higgins and Mike Komisarek will need to be re-signed.
All three are likely to seek considerable raises over their current salaries, particularly Ryder if he should score 30 or more goals again this season. Re-signing their key players could cost the Habs almost half of that available cap space.
There's also the possibility of the Habs re-signing some key unrestricted free agent players before they hit the market. Defencemen Andrei Markov, Sheldon Souray and Craig Rivet are all eligible for UFA status and losing more than one of them could be a serious blow to their blueline corps.
Should the Canadiens re-sign two of the three (say, Markov and Rivet), that would quickly eat up more cap space, leaving the Canadiens with considerably less than $25 million to go shopping in the UFA market.
Another variable is how much a team will be willing to spend up to the cap ceiling.
A club like the Colorado Avalanche, for example, will likely be in a major rebuilding mode following this season. Aging potential UFAs like Pierre Turgeon, Patrice Brisebois and Ken Klee likely won't be re-signed, while the re-signing of key RFAs like Marek Svatos, Ossi Vaananen and Jordan Leopold should still leave the Avs with plenty of salary room to go shopping next summer for more experienced depth.
Should the salary cap remain at $44 million, and with the Avs having only $17.5 million committed to the actual cap hit for 2007-08, they should have considerable room even after their key re-signings to be major players in next summer's UFA market.
That room could increase by another $2-$3 million if league revenues should rise once again.
But other teams, like the Pittsburgh Penguins, have their own established cap ceiling, which this season is the cap "floor" of $30 million. Should that "floor" total remain the same, decrease less than $1 million or slightly increase, the Pens will be active in the UFA market, but don't expect to pursue big name talent once they've re-signed their key free agent players.
It's also obvious that, regardless of the fluctuations in the cap ceiling and floor, there will be some clubs that won't have that much room to shop for UFA talent once they re-sign their key players.
The Ottawa Senators, with $32.7 million toward their cap hit for next season, are a prime example. The Sens will still have to re-sign RFAs like Ray Emery, Anton Volchenkov and Chris Kelly, plus they may attempt to retain impending UFA blueliner Chris Phillips.
Unless these players tank so badly this season that not re-upping them and shopping instead for more depth via trade or free agency makes more sense, the Sens probably won't be major shoppers next summer.
So find your favourite team, look at how much they'll have for cap space, deduct from that amount what they'll likely spend to retain their key free agents, determine if they're a club willing to spend to the cap ceiling, and you'll have a good idea if they'll be major players in next summer's UFA market.