NOVEMBER 29: RANDOM THOUGHTS.
-MORE BITCHING ABOUT THE RULE CHANGES. Yes, here it goes again, still more whining from some in the media and in cybespace over how the new NHL rules are ruining the game and oh, wouldn't it be so much better if those rules were overturned and we went back to the way things used to be.
Jeebus, but some folks have short memories! Yes, by all means, let's go back to when the games were a sure-fire cure for insomnia, when the product was so dull that it sent killed the league's TV ratings in the United States, bouncing it from two major networks and off THE sports network in America.
Oh, yes please, let's go back to uncalled hooking, holding and interference masquarading as defensive hockey, sucking the skills and the life out of the game.
Enough! Even HNIC's Don Cherry doesn't believe this is an argument worth having anymore.
Now I agree there is still room for improvement but the new rules have opened up the game considerably more than it was prior to the lockout. Sure, scoring is down but to me that's not the point of having these new rules. It's not to bring up scoring but to at least open up the flow and create more chances to generate scoring plays.
The options to increase scoring are limited. I don't want to see nets enlarged because, quite frankly, that's a stupid suggestion and potentially setting the stage for scoring records that would not have occured if the current regulation net sizes were used.
But goalie equipment can still be reduced. The athleticism of today's goalie is far superior to most goalies of the past, but their equipment is still too damn big.
Given the advancements made in constructing and streamlining equipment without compromising player safety, I believe goalie equipment can be reduced without compromising goalie protection.
- PROTECT THE PLAYERS. And while I'm on the topic, let's modify shoulder pads so that players aren't getting their bells rung when they're checked. Cherry showed on a recent "Coach's Corner" segment that elbow pads are being made softer but shoulder pads are still made with a hard plastic shell which is part of the reason for the increase in head traumas in recent years.
Another reason for the increase in head trauma is that players don't respect each other out there.
In the past when players didn't wear helmets it was rare to see a player get wiped out by a head shot from a rival.
There was a lot more respect then, and still was as recently as the early 1990s, but over the past ten years players appear to be showing a growing disregard for their rivals.
That sort of thing has to stop. I'm not saying bodychecking has to be eliminated from the game, but what I am against is the blatant "headhunting" that's become so prevalent in recent years.
At the same time, of course, players still have to remember to keep their heads up and be aware of their surroundings. Some players are getting caught with their heads down, looking back for a pass or "admiring" a drop pass and that leaves them wide open for injury.
-LET QUEBEC HAVE ITS OWN TEAM AT THE '08 WORLDS. Once again a Quebec separatist is stumping to have Quebec ice its own team at the 2008 World Hockey championships in Quebec City.
I was against the idea when I last wrote about it but I've since had a change of mind.
Let's allow Quebec to ice their own team for the Worlds if there's support for it throughout the province, er nation, er, nation within united Canada, or whatever the hell it's gonna be called from now on.
But there's a caveat to this, and that is that any Quebec-born players be given the choice of playing for Canada or Quebec.
We already know "Team Quebec" can forget about the services of some of their best players, like Martin Brodeur, Vincent Lecavalier and Simon Gagne, who've already publicly stated their intent to play for Canada in future international competitions.
Now it must be remembered that the World Hockey Championships take place during the first round of the NHL playoffs, meaning many of Canada's and Quebec's (and European nations) best players likely won't be available to participate in that tournament.
Even so, Canada has far more depth to draw from that Quebec, which would also have even less depth to draw from if many Quebec-born stars available to play opt to play for Canada.
Now I'm not saying Team Quebec wouldn't ice a winner under those conditions but I think their chances are long indeed.
I'd also suggest we should allow the other provinces, notably provinces with plenty of NHL depth like Ontario, Alberta and Saskatchewan, ice their own clubs, but players who hail from those provinces would likely reject that notion as ridiculous, preferring to play for a unified Canadian team.
So yes, let's allow Quebec to ice its own team in 2008, because the very sight of such a team getting soundly thumped, particularly by a Team Canada containing Quebec-born players, will likely quell enthusiasm for such a team in future international competitions.
-WHO SHOULD HABS KEEP? MARKOV, SOURAY OR RIVET? This question has bounced around a few message boards and blogs of late so I thought (being the die-hard Habs fan that I am) to offer up my two cents.
Put simply, three of the Montreal Canadiens best defencemen (Sheldon Souray, Andrei Markov and Craig Rivet) are eligible for unrestricted free agent status next summer.
The Canadiens currently have $20.8 million committed to 2007-08, and assuming the salary cap remains at $44 million, GM Bob Gainey will likely try to keep his payroll at its current rate of around $41 million, leaving approximately $20 million available to re-sign RFAs and UFAs as well as perhaps pursue some free agent talent next summer.
That likely sets the scenario of Gainey forced to choose only two of those three to re-sign.
So who do I pick?
Markov is the better all-around blueliner. When he's not in the lineup the Canadiens defensive game suffers.
Rivet has been a Hab his entire NHL career. He loves playing in Montreal, hopes to retire a Hab and is perhaps the most under-rated of the Canadiens d-men.
Souray has the big shot and a physical presence, but he gets caught flat-footed far too often by more talented opponents and it's believed he'd prefer to play for a California-based club in order to be closer to his young daughter, who lives with her B-list actress mom in Los Angeles.
The choice is obvious. I like "Big Shel" but he's the odd man out in my opinion.
I CAN'T WATCH TSN ANYMORE: It's true, it's getting more and more difficult these days for me to watch The Sports Network, Canada's equivilant of ESPN.
No, it's not their sports coverage that's upsetting me, nor is it their Sportscentre anchors or commentators.
What's making it tough to watch that network is their continual televising of a Viagra commercial.
Now why should I be upset over a commercial for boner pills?
It's not the product that pissing me off, indeed, anything that can put the lead back into the pencils of aging baby boomers like yours truly is fine by me. Not that I need it, but y'know, it's good to know it's there should the day come when I would.
I used to get a chuckle out of Viagra commercials. This one in particular is a classic, one that was not only funny but was a great way to keep the product in the mind of consumers. This one used to get heavy rotation on sports networks like TSN for obvious reasons.
But the one that's driving me mad, the one that has me leaping for my remote lest I claw my eyeballs and eardrums out, is the one with the dancing middle-aged moms to the old show tune of "Good Morning".
That's grating enough, but what makes this commercial even worse is the creepy guy at the very end of it leering at first his wife as she flounces through her front door and then at the audience as he closes the door.
Eeewwww! That's the cherry on the s**t sundae right there.
Most irritating commercials I can ignore or I'll simply hit my "mute" button, but this one is sooo nauseating that I reach for the remote to change the channel every time.
I realize TSN has to show advertising that's marketed towards their audience, and a lot of sports fans are the middle-aged guys who are Viagra's target audience, but they show that irritating commercial too damned often.
So until TSN stops running that gawd-awful commercial, I'll be watching their competition, Rogers Sportsnet.
Oh, and to the fine folks at Viagra, just wanted to let you know that because of this commercial, if I ever need a product for "erectile dysfunction", I'll be using Cialis instead!
NOVEMBER 26: ATTENDANCE WOES?
When the NHL returned to action last season following a season-killing lockout, attendance numbers soared to record levels, which in turn drove up both league revenues and the salary cap, resulting in the players get back their escrow money for the season.
In 2006-07, however, attendance has declined in some American-based cities, catching the attention of several notable pundits.
CBC's Scott Morrison noted on October 18th, 2006 that barely two weeks into the season the NHL was struggling to draw in Chicago, Long Island, Los Angeles, Atlanta and Colorado.
The situation hadn't improved much by November 20th, 2006, when the Toronto Globe & Mail's Eric Duhatschek observed "half a dozen or more" American franchises weren't drawing well, noting Washington and New Jersey as well as those previously noted by Morrison.
Duhatschek also points out that declining attendance could adversely affect revenues this season, which would also impact the players in terms of the salary cap and escrow:
"Last year, when the NHL's board of governors met for the first time in early December, the news was unexpectedly good on the financial front. Revenues were higher than forecast and thus, the league was able to scale back significantly the amount of dollars that players were to pay into the escrow fund. This year, they can expect to hear a more sobering report: that revenues are flat at best; and the goal will be simply to hang on to the gains they made coming out of the lockout if possible. That also means the percentage of players' salaries being withheld in escrow will mostly end up with the owners' pockets following the season and not be returned to the players. And if that is indeed how the season plays out, then you can forget about the salary cap rising again for the 07-08 season."
That is sobering news, but perhaps it may not be quite as dire as Duhatschek predicts.
Kevin Allen of USA Today recently reported NHL attendance was down by 2.1 percent thus far this season compared to the year prior, but NHL Deputy Commissioner Bill Daly told Allen he wasn't concerned over this:
"When you look at this year in comparison to more 'normal' years in the past, not only is attendance strong, but it's stronger than we traditionally have been in October."
Allen notes that some American teams with strong growth, such as Buffalo and Carolina, have helped overall figures.
The Globe & Mail's Brian Milner also noted the marginal anticipated drop-off of attendance from last season, but he does go on to detail the problems faced by some American-based franchises in non-hockey and even traditional hockey markets.
Milner also cites David Carter, the executive director of the University of Southern California's Sports Business Institute, that concerns over the NHL's overall attendance may be not be justified.
"The National Hockey League is going to continue to go through peaks and valleys and I don't think it's constructive for anybody to focus on the significant upticks or hand-wring too much over any of the shortcomings"..."In the macro sense, the league is coming back. In a micro sense, looking market to market, there are certainly challenges."
For each of those American-based franchises singled out for slumping attendance, there are different reasons for their problems.
In traditional hockey markets like Chicago, Long Island and Boston, years of sub-par performances and mismangement have taken their toll on the fanbase.
In St. Louis and Colorado, the recent attendance decline is in direct correlation to the Blues and Avalanche's recent struggles. These are fans used to their respective clubs being perennial playoff contenders with big name stars, and with their team's performing poorly, the fans are staying away.
In Nashville, the Predators have played well in recent years, but they're finding it tough to make inroads in what is a non-traditional hockey market.
In New Jersey, the Devils have been a perennial power in the NHL for the last ten years, winning three Stanley Cups, yet the remote location of their arena makes for sub-par attendances in most seasons.
It's still far too early to pass judgement on NHL attendance figures and its impact on overall revenues for this season.
For one thing, the numbers for some of the previously mentioned clubs could show improvement as the season progresses.
Atlanta, Pittsburgh, Washington, New Jersey, Boston and the Islanders are all currently playoff contending teams, and as long as they stay that way it could have a positive impact on attendance numbers and in turn on overall revenues.
Tom Benjamin suggests escrow as a method to track revenues over the course of the season:
"It will be easy for us to track revenues for a change. The escrow amount at 10% assumes flat revenues. If escrow goes down, revenues are up. If escrow goes up in December, NHL revenues look to be down this year. If revenues are flat or down it would be a very sobering report indeed."
So if the final escrow tally is more than ten percent, revenues will be down, and that in turn could have an impact on the salary cap.
But will there be a significant impact? It must be remembered that the bulk of league revenues come from the gate so any serious fluctuations up or down will affect the cap.
In 2003-04, the NHL reported revenues of $2.2 billion, with an average attendance of 16, 534.
That included teams in Phoenix (15, 469), Boston (15, 133), Atlanta (15, 121), New Jersey (15,060), Washington (14,720), Long Island (13, 456), Chicago (13, 253), Nashville (13, 168)and Pittsburgh (11, 877) sitting well below the league average (Attendance figures: 2004-05 Hockey News Yearbook).
League revenues for 2005-06 were reported at over $2.1 billion, with an average attendance of 16, 955.
So why were league revenues lower last season with higher attendance than in 2003-04?
The reason is almost all 30 teams either slashed ticket prices or froze them in hopes of attracting back disgruntled fans following the lockout. The league also no longer had a lucrative national television contract and had lost several advertisers due to the lockout.
Since then, nearly two thirds of the teams have raised ticket prices and the league has to its credit attracted new advertising dollars this season.
Even without a lucrative national TV deal, the result could be that, even if overall attendance were to decline between 2-3% from last season, revenues could still be up, albeit not as high as a year ago, which could mean a slight increase in the salary cap.
That could also mean that, while the players might not get back their escrow money for this season, the final tally may only be a single digit bite. And if the players were smart, they've would've taken the advice of Vancouver's Brendan Morrison and banked the returned escrow money from last season to off-set any final payment for this season.
So it's best to follow Benjamin's advice and keep an eye on the escrow payments over the course of the season to get a general idea of the fluctuations of league revenues and how they'll impact the cap for next season.
NOVEMBER 22: AT THE QUARTER POLE: THE EASTERN CONFERENCE.
Now that NHL teams are nearly a quarter of the way through the 2006-07 season, here's a quick look at how each club is doing. Today: the Eastern Conference.
Team placement is based on the standings as of November 21, 2006.
1. BUFFALO SABRES. The Sabres thus far are right where they were predicted to be this season, at the top of the Conference. Just like last season, the Sabres are getting it done with a combination of swift, skilled offence, aggressive defensive play and strong goaltending. And just like last season, their depth has enabled them to absorb injuries to several key players without missing a beat. The Sabres are rapidly becoming the prototypical team for the "new" NHL and should continue their dominance throughout the season.
2. ATLANTA THRASHERS. The Thrashers were expected to contend for a playoff berth this season but not even their biggest fans could've predicted this placement in the standings this early. The key to their improvement thus far is their offensive attack, powered by Marian Hossa, Ilya Kovalchuk and Slava Kozlov. Unfortunately, cracks may be appearing in the facade, as the Thrashers have recently lost four straight games. Goalie Kari Lehtonen has struggled and the club's lack of defensive depth has become a concern. If things don't pick up soon, the Thrashers could find themselves falling rapidly in the standings.
3. NEW JERSEY DEVILS. The "new" NHL may be all about the offensive game but the Devils are getting the job done with their defensive game. An early injury to first line centre Scott Gomez has affected the offence of Patrik Elias and Brian Gionta but John Madden, Jamie Langenbrunner and sophomore Zach Parise have filled the void. Long-time Devils netminder Martin Brodeur rebounded from a shaky start to the season to post up his usual strong numbers and is tied for the league lead in shutouts with three. The Devils will continue to be a tough team to score against, and their offence should pick up when Gomez returns to action.
4. TORONTO MAPLE LEAFS. The Leafs have to be considered one of the surprise teams of the early going. Picked by many (including myself) to miss the playoffs, they've confounded the experts thus far. Goalie Goaltender Andrew Raycroft has rounded back into his 2004 Calder Trophy winning performance. Head coach Paul Maurice is giving more ice time to younger players like Kyle Wellwood, Alexei Ponikarovsky, Matt Stajan and Alex Steen, energizing this rebuilding Leafs team. Veterans Darcy Tucker and Tomas Kaberle are also having strong seasons. Even the loss of team captain Mats Sundin to injury didn't adversely affect the Leafs performance. One area of concern, however, remains their overall defensive game, which they must improve to remain in the thick of the Eastern playoff race.
5. CAROLINA HURRICANES. The defending Stanley Cup champions overcame an early "Cup hangover" to climb back into a playoff berth. The 'Canes are also using their depth to overcome lengthy injuries to key players. The key to their recent success has been their offensive game, led by captain Rod Brind'amour, Eric Staal, Justin Williams, Erik Cole and Scott Walker. Their goaltending and defence, on the other hand, remain inconsistent. Goalie Cam Ward's strong playoff performance has yet to carry over into the regular season, although he has been getting progressively better. Expect head coach Peter Laviolette to keep his charges focussed which should result in further gains in the standings as the season progresses.
6. MONTREAL CANADIENS. The Habs are off to another good start but unlike last season it doesn't appear they'll suffer a potentially season-threatening collapse. Cristobal Huet seems to be winning the battle for the starting goalie role over David Aebischer, and offensive blueline Sheldon Souray regained his scoring touch after a season long slump last year. Young forwards Chris Higgins and Guilliame Lantendresse have shown considerable promise with their offensive play, and head coach Guy Carbonneau's staff have the Canadiens special teams ranking amongst the league's best. Still, problem areas exist, particularly the lack of second line offence, as Alex Kovalev and Sergei Samsonov have been underwhelming thus far.
7. NEW YORK RANGERS. Another club regaining its legs after a slow start to the season, they're also powered by its offensive attack. Team Captain Jaromir Jagr continues to lead the Rangers in assists and points, and off-season acquisition Brendan Shanahan leads the club in goals. There are, however, two significant problem areas for the Rangers; the blueline and the goaltending. The Blueshirts defence corps has struggled at times, as has goalie Henrik Lundqvist, who's played anything like the "King Henrik" of last season. There may not be much management can do for now to bolster the blueline so it falls to Lundqvist to turn this game around to steal some games for the Rangers.
8. PITTSBURGH PENGUINS. The youthful Penguins were expected to improve this season but few foresaw them doing so well so early. Led by young superstar Sidney Crosby and budding stars Evgeny Malkin, Marc-Andre Fleury, Jordan Staal and Ryan Whitney, the Pens have drawn favourable comparison to the Edmonton Oilers of the early 1980s. Still, they cannot overcome the fact that the Pens are still short on skilled defence both on their blueline and checking lines, and that could be their undoing as the season progresses. There's also no denying the young Pens are bringing hope back to Pittsburgh hockey fans and excitement to the NHL.
9. WASHINGTON CAPITALS. Like the Thrashers and Penguins, the Caps improvement thus far this season has exceeded expectations. The main reason of course for their improvement is young superstar forward Alexander Ovechkin, who continues to be the straw that stirs the drink, and former holdout Alexander Semin is also having a good year so far. Goaltender Olaf Kolzig has rebounded from a poor 2005-06 performance to provide the Caps once again with strong netminding. A significant improvement, however, has been in the Capitals defensive game,thanks to the coaching of Glen Hanlon and the depth in promising talent within the Capitals system. It appears the club's rebuilding plan is succeeding.
10. NEW YORK ISLANDERS. Despite their front office off-season circus, the Islanders are a candidate for surprise team of the season, thanks primarily to the coaching of Ted Nolan, back from the wilderness after a nearly ten year exile. While the entire Isles team has shown considerable improvement, the biggest testimony to Nolan's coaching abilities is the play of Alexei Yashin, who has 23 points in 19 games and is playing with more focus and intensity. Making the playoffs is still no sure thing for the Isles, but it would be foolhardy to dismiss them as a playoff contender if they continue at this rate.
11. TAMPA BAY LIGHTNING. Their best players (Vincent Lecavalier, Martin St. Louis, Brad Richards and Dan Boyle) are playing well, and promising players like Nikita Alexeev and Paul Ranger have looked good thus far, but this team has struggled to play above .500 this season. That's led to concerns about the club's overall depth and rumours of the Bolts moving one of their stars to address this problem. Starting goalie Marc Denis has struggled this season, but they could have a potential saviour between the pipes in backup Johan Lundqvist, who could challenge Denis for top spot. The Lightning have too much talent to miss the playoffs, yet if they cannot shake their inconsistency it could become once again a real possibility as the season progresses.
12. FLORIDA PANTHERS. Former GM Mike Keenan's trading away of star goalie Roberto Luongo may have done more harm to the Panthers than good, as there've been several games he might've stolen for them this season. The Panthers continue to struggle with consistency, but they're presently only two points out of a playoff position, and have the young horses to turn things around. Olli Jokinen remains their offensive leader and young forwards Nathan Horton and Stephen Weiss and defenceman Jay Bouwmeester have shown improvement this season, but they're going to need a much more consistent effort if they're to get into the playoffs this season.
13. OTTAWA SENATORS. Nobody could've predicted the Senators sitting this low in the standings at this point in the season. Put simply, this club is far too talented to be playing as terribly as it has. Goalie Martin Gerber has yet to prove himself a challenger for the starting role against Ray Emery, but Gerber isn't the only reason the Sens have struggled. This team has uncharacteristically blown leads in games they should be winning. There's concern about the play of team captain Daniel Alfredsson and Wade Redden, and speculation the loss of d-man Zdeno Chara may have hurt this team more than expected. I believe the real problem is behind the bench, as the Senators are playing like a team that doesn't believe in head coach Bryan Murray. The Sens have shown recent signs of rounding back into form, including a convincing win over the Buffalo Sabres, so it may be too soon to write this club off.
14. BOSTON BRUINS. After hiring a new GM and head coach and signing Zdeno Chara and Marc Savard, expectations were high for the Bruins to turn things around. Unfortunately the B's haven't been much of an improvement over last year's club. However, in recent games the Bruins have gone 6-3-1 in their last ten, including winning four of their last five. Much of their problem may have been gelling under head coach Dave Lewis and adjusting to the additions of Chara and Savard. Their achilles heel remains their goaltending, where Tim Thomas and whoever is his backup this week have been inconsistent at best. The Bruins have the talent to challenge for a playoff berth, but they need better goaltending to improve their chances.
15. PHILADELPHIA FLYERS. What can I say about the Flyers that hasn't already been said. Their goaltending is terrible, their defensive game lethally slow, and their offence has been non-existant on too many nights. Bob Clarke and Ken Hitchcock paid for the club's poor play with their jobs, and as things continue to deteriorate other changes may be in store. The 5-14-2 hole they've dug for themselves may be far too deep to climb out of this season.
NOVEMBER 19: AT THE QUARTER POLE: THE WESTERN CONFERENCE.
Now that NHL teams are nearly a quarter of the way through the 2006-07 season, here's a quick look at how each club is doing. I'll examine the Western Conference first (because it seemingly always takes a back seat to the East in media analyses), and the Eastern Conference on Wednesday.
Team placement is based on the standings as of November 18, 2006.
1. ANAHEIM DUCKS. The "Mighty" is no longer in their name but they've played like a mighty team. They've received strong goaltending for the most part from JS Giguere and Ilya Bryzgalov. Chris Pronger had been a welcome addition to their already strong blueline corps, and up-and-coming forwards Chris Kunitz, Corey Perry, Dustin Penner and Ryan Getzlaf continue to improve. One area of concern, however, is a reduction in scoring from Teemu Selanne and centre Andy McDonald, sparking suggestions the club might move a goalie for a scoring centre. Gone into a recent slump, including losses to lowly Philadelphia and Chicago.
2. DETROIT RED WINGS. Bang goes the theory that the Red Wings would be dead things without Steve Yzerman and Brendan Shanahan. New captain Nicklas Lidstrom has provided leadership both in character and scoring. Aging goalie Dominic Hasek is silencing critics with strong play. The Wings aren't scoring as much as they used to but they've tightened up their defensive game which has been crucial to many of their victories this season. Injuries have taken a toll (Tomas Holmstrom, Jason Williams and Chris Osgood) but their depth has carried them through. There is some concern over their limited offence, which might be addressed later in the season.
3. MINNESOTA WILD. Once renowned for their stifling defence, the Wild have opened up their offensive game this season resulting in significant improvement in the standings. A good mix of veterans (Brian Rolston, Pavol Demitra,Todd White, Kim Johnsson) and developing youth (Pierre-Marc Bouchard, Mikko Koivu) have powered the Wild's attack this season. Best of all, they've done it without the services of Marian Gaborik, whose been out since October 21 with a groin injury. He's expected back soon, which could make the Wild even more dangerous.
4. SAN JOSE SHARKS. They're only three points behind the Ducks, but the Sharks haven't yet proven themselves the powerhouse they were expected to be this season. Jonathan Cheechoo has not shown the same chemistry with Joe Thornton, and Mark Bell has not been a good fit on their line. Their second line, led by Patrick Marleau, has been more impressive thus far. Their young blueline corp, particularly rookie Matt Carle, have played well, although it's believed management would like to bring in an experienced number one d-man. Their goaltending tandem of Vesa Toskala and Evgeny Nabokov have been outstanding thus far.
5. DALLAS STARS. Challenged for the Conference lead earlier in the season but have tailed off slightly in recent games, struggling to score in four of their last five games. Veteran Stars Mike Modano and Brendan Morrow lead the club offensively, and new additions Eric Lindros and Mike Ribeiro have also played well. Their blueline depth as well as outstanding goaltending from Marty Turco has served the Stars well this season, giving the club a chance to win when behind. It may well be their defence rather than offence that wins the bulk of their games this season.
6. NASHVILLE PREDATORS. Much more was expected from the Preds after their strong performance last season. They still have plenty of depth at all positions, and new additions Jason Arnott and JP Dumont appear to be fitting in well. Despite their depth, the Preds have a bad habit of blowing leads and playing poorly in their own zone. For a healthy team believed by some to be a Stanley Cup contender, the Predators have played at times as anything but. They'll have to tighten up their defensive game in the coming weeks.
7. EDMONTON OILERS. It was believed the Oilers would feel the off-season loss of defencemen Chris Pronger and Jaroslav Spacek. They've played better than expected by some critics, but that belief has still been justified. The Oilers have the offensive guns, bolstered by the addition of veteran Petr Sykora. Dwayne Roloson continues to provide them with the goaltending that got them to the Stanley Cup finals, but they're missing the depth Pronger and Spacek brought to the defence in the 2006 postseason. That's led to some media speculation that GM Kevin Lowe could be in the market for an offensive blueliner before the trade deadline.
8. CALGARY FLAMES. After yet another slow start to a season had critics speculating about possible shake-up trades, the Flames have rebounded in November with six straight wins to climb out of the bottom of the Conference and into playoff contention. Captain Jarome Iginla is off to the best start of his career, goalie Miikka Kiprusoff is playing like a Vezina winner and sophomore blueline sensation Dion Phaneuf remains a presence on the blueline. Their offence received a significant boost in the improved play of Alex Tanguay and Matt Lombardi. Still, their offensive depth should remain a concern and they cannot afford a repeat of October's poor performance.
9. VANCOUVER CANUCKS. A strong start that surprised critics in October has given way to a slump in November that has dropped the Canucks out of a playoff berth. There's still plenty of time remaining in the season to climb back, but to do so the Canucks have to get their offense firing again and provide better defence to goalie Roberto Luongo, who's doing everything he can to keep this club competitive. The Sedin Twins have proven to be more than Anson Carter and Taylor Pyatt has been a pleasant offensive surprise, but Markus Naslund's offensive output isn't where it usually is and Brendan Morrison has been disappointing. The blueline should be bolstered by the return from earlier injuries of Sami Salo and Willie Mitchell.
10. COLORADO AVALANCHE. Like the Canucks, the Avs have seen a good start evaporate in November, losing five of their last eight games, which is giving rise to grumblings of discontent from a fanbase accustomed to a decade of success. Their offense, led by ageless captain Joe Sakic, remains a potent force, although not as overpowering as it once was, leading to rumours of management shopping for more offensive depth. Their problems appear to be on the blueline and between the pipes. The Avs defence corps is not a particularly physical one, and starting goalie Jose Theodore continues to play the maddeningly inconsistent style that got him traded from Montreal last season. If the Avs are to make the playoffs, Theodore must regain his once-strong form and the defence must get tougher.
11. CHICAGO BLACKHAWKS. If it weren't for bad luck the Blackhawks would have no luck at all. Injuries to Martin Havlat, Michal Handzus, Nikolai Khabibulin and Rene Bourque have taken a heavy toll, leading to an 7-game losing streak that threatened to kill their season. Interestingly, however, the 'Hawks have rebounded of late, going 3-0-2 in their last five (including a big win against the Conference leading Ducks) to climb back to within striking distance of a playoff berth. Khabibulin recently returned to action and Havlat might be back by month's end, but it's possible the 'Hawks might be able to build on their recent string of success. Character could be the determining factor for the 'Hawks between now and the mid-point of the season if they're to have a shot at the playoffs.
12. LOS ANGELES KINGS. Management forewarned their fans that this season would be a rebuilding one for the Kings, and thus far it's pretty much panned out that way. There's been some nice surprises, like the play of rookie star Anze Kopitar, the improvement of forward Alex Frolov, the continuing development of Mike Cammalleri and the somewhat mellowed performance of Sean Avery. Unfortunately, the goaltending's been uneven, the defensive game has struggled and veterans Rob Blake, Craig Conroy and Oleg Tverdovsky have not played well. For all that, the Kings are still close to a playoff berth, but they'll need consistent improvement as the season progresses if they're to get in.
13. ST. LOUIS BLUES. The great expectations raised by new ownership and a raft of free agent signings have given way to the brutal reality that the Blues still have a lot of work ahead of them to become a playoff contender again. Veteran forwards Doug Weight, Bill Guerin, Radek Dvorak and Martin Rucinsky have been disappointing, the defence has been porous and the goaltending of Manny Legace and Curtis Sanford inconsistent. Keith Tkachuk has rebounded well from last season's poor effort, but all that's going to do is enhance his trade and free agent value. One ray of light has been the play of sophomore forward Lee Stempniak, who leads the team in goals and is second to Tkachuk in points.
14. PHOENIX COYOTES. It's been a season from hell for head coach Wayne Gretzky as his Coyotes have been wallowing near the Conference basement since the season began. The goaltending has been atrocious, as veteran Curtis Joseph is clearly no longer the great goalie he once was. To be fair, however he's had no help from his teammates, whose defensive game has been simply awful. Even the club's offence has been disappointing as Ladislav Nagy, Shane Doan and Mike Comrie struggled to score. Veteran additions Jeremy Roenick, Ed Jovanovski and Owen Nolan have done nothing to stop the bleeding. Injuries have taken a toll on some key players, but the bottom line is this is a poorly coached, poorly managed club that isn't going to get better anytime soon.
15. COLUMBUS BLUE JACKETS. This is a team that on paper should be much better than its current woeful record. The Jackets poor overall performance led to the firing of head coach Gerard Gallant and while Jackets fans may be hoping for Ken Hitchcock to be hired, he may not want the job. Whoever gets the post will have to motivate this team to play better than it presently has this season. The offensive and defensive games have been poor, and a club carrying players like Rick Nash, Sergei Fedorov, Fredrik Modin, Nikolai Zherdev, Anson Carter and David Vyborny should be capable of scoring more.
NOVEMBER 15: THE OWNERS WON, YOU LOST.
Forbes Magazine recently published a report on the status of the National Hockey League just over a year after infamous lockout of 2004-05 ended with a new collective bargaining agreement between the team owners and the players.
In it, the reports indicates that NHL franchise are worth more thanks to the CBA lowering the players salaries from 66% of revenues to 54%.
"Fixed player costs bring greater certainty to the bottom line, which in turn means buyers will pay a higher multiple of revenue to acquire a franchise. The average hockey team is now worth $180 million and makes an operating profit (in the sense of earnings before interest, taxes, depreciation and amortization) of $4.2 million."
The reports also notes that small market teams were the biggest beneficiaries, with 11 teams receiving more than $90 million in revenues sharing.
"The only reason why the Buffalo Sabres, Pittsburgh Penguins, San Jose Sharks and Washington Capitals posted profits last season was because of the money they received from revenue-sharing."
The article also points out that there are some problem areas to be addressed, such as the lack of a major national television contract and some revenue-sharing inequities in the CBA.
NHL VP Bill Daly had this to say about the increase in franchise values:
"It is not unexpected. That's what the CBA was intended to accomplish."
Tom Benjamin has this to say about the Forbes findings:
"About all I can say is that the story does put the punctuation mark on the lockout saga.
The fan lost hockey for a year and ended up with an inferior product. The players lost a year from their careers and about $200,000 a year. The hockey media lost all credibility covering the story. Everybody was a loser except the owners who - after having run the sport and the league into the ground for more than a decade - were rewarded with more than half a billion dollars and a fresh start so that they can screw it all up again. "
Apart from Tom's assessment of the product, I agree with his take on this.
Now surely it's not a bad thing if the owners have more money, since they'll spend more on their rosters thus ensuring competitive balance.
Oh, really?
The salary cap is currently at $44 million. The average NHL payroll is $39.333 million. 11 NHL teams currently have payrolls below that mark. 4 others have payrolls under $40 million.
Not every team is spending more on salaries, especially teams like Nashville which qualified for revenue sharing last season and has kept its payroll down in hopes of doing so again.
How many teams are going to spend more on salaries when the cap ceiling rises to $46 million? $48 million? $50 Million? All figures within range over the life of the current CBA.
I'm betting the higher the cap goes, the fewer teams will be spending more on their payrolls. In the end, it'll be the usual big market teams spending close to the cap ceiling whilst the rest plead poverty.
How much longer, I wonder, until we start hearing bitching from owners about struggling to make a go of things under this CBA, the very one they claimed they needed for survival.
One of the reasons why I was against the owners during the lockout was they weren't being honest about why they wanted players salaries lowered.
It had nothing to do with making the game affordable for the fans, nor did it have anything to do with saving franchises.
As Forbes notes, it was done to put more money back into the owners pockets, money that won't be going toward improving their rosters.
And how about those affordable ticket prices? Two-thirds of NHL teams raised their ticket prices for this season after lowering them last season as a means of enticing back the fans.
The "Thank You, Fans" painted on the ice in all NHL arenas last season wasn't thanking you for your support; it was thanking you for your money.
Now I don't care if the owners raises ticket prices for their respective teams. What I do care about is the fact they weren't forthright about those ticket prices during the lockout.
By lowering those prices last season, they gave the impression that it was the players salaries responsible for those high prices. What they didn't admit is the only reason those prices were lowered was to entice back the fans they believed wouldn't return to watch hockey following the lockout.
Mudcrutch also weighs in on the Forbes story, plus has some choice words about the media's lockout coverage:
"Someone asked what I thought about the Forbes story on NHL franchise valuations. As I'm sure many people are aware, franchise values are up as are profits. I found Bill Daly's comments in the Toronto Star interesting:
" We have received a renewed enthusiasm from people who want to own, invest in, and lend capital to the NHL and NHL franchises. That's not unexpected. That's what the CBA was intended to accomplish"
Huh. I was pretty sure that the lockout was about competitive balance and saving the Edmonton Oilers - Terry Jones wrote as much in the Edmonton Sun. I mean the day that the season was cancelled, what did Large Sports write?
"What most fans here have been able to keep in mind during this entire lockout is that this has been very much about them."
When guys like James Mirtle (who, by virtue of being one of the few media guys who participates in the hockey blogosphere gets to answer for all the media's failings) wonder why so many hockey blog types seem to delight in taking endless shots at the media, it's stuff like this that drives certain people nuts. The NHL's argument for the lockout was always impossible to sustain without an acknowledgment that part of their motivation was to increase business values. There's no shame in that but at the same time, there's no inherent virtue either. It's value neutral."
Ouch, that smart! MC is correct, although I'm not going to ask James to answer for the media's failings.
Most of the media fell all over themselves cheerleading for the league and the owners during the lockout whilst painting the playings as greedy bastards. Some, like Stan Fischler and Kevin Paul Dupont, still occasionally slam the NHLPA even though the lockout's been over for almost 18 months now.
Only a few, like Larry Brooks, Damien Cox and Al Strachan, actually reported that the lockout was not about saving small markets or making it easier for the fans to attend the games but about increasing franchise values and putting more money into the pockets of the owners.
Few hockey fans actually paid attention to what they had to say about the subject, dismissing their writings as just bizarre rantings by NHLPA suck-ups.
I know what that felt like because I frequently posted similar comments about what the lockout was really about both here and in my Foxsports.com column and faced similar criticism.
Once the owners start bitching again about this CBA being too favorable to the players or make threats about folding or relocating franchises because they can't make a go of it under this CBA, I'm hoping enough fans will finally tell these stuffed shirts and their media sycophants to go straight to hell!
I hope a majority of fans will finally get it next time, but I'm afraid they'll probably buy the "greedy players" line once again.
Like Tom said, the owners have been given a fresh start to screw things up all over again.
Just like they always do.
STANDING IN THE SHADOWS.
As an added bonus, here's a cartoon that recently appeared in The Rocky Mountain News that is both a great tribute to Patrick Roy and a shot at current Colorado Avalanche goalie Jose Theodore. Hat tip to GJ Berg.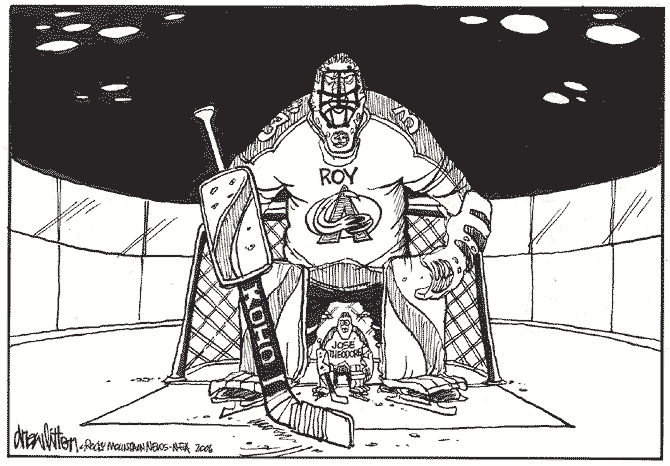 NOVEMBER 12: HALL OF FAME BROUHAHA.
New York Post hockey columnist Larry Brooks was recently very critical of the Hockey Hall of Fame's induction process.
" It's scandalous that (Dick) Duff - by all accounts a fine fellow - could be in the Hall of Fame while Glenn Anderson is annually blackballed by a 15-man committee that meets behind closed doors, reveals nothing of its deliberation process, is consumed by petty personal agendas, and issues a cloud of white smoke (which may or may not be from Glen Sather's cigar) upon reaching its conclusions.
Dick Duff? Well, then, what about Butch Goring, a far superior and more valuable player than Duff? Dick Duff when Rick Middleton doesn't have a chance? Dick Duff and not Reggie Leach or Rick MacLeish? Or for that matter, Dick Duff and not John Tonelli or Bob Bourne?
And please. How could Dick Duff be in the Hall of Fame when Pavel Bure, who played his final game in 2002-03 and thus was eligible for induction in this class, is not?"
I've been asking similar questions since 2002, when HHOF announced Clark Gillies and Bernie Federko were to be inducted. I'm re-posting that column because I feel it's as relevant today as it was when I wrote it four years ago.
I also had more to say on this topic over at Kukla's Korner.
I'll begin this article by stating I have no problem with the respective inductions of Roger Nielson and Rod Langway into the Hockey Hall of Fame.
While Nielson is a much-travelled head coach, he was an innovator who's influence on the game remains worthy of merit.
His use of video to improve his team's performance, as well as for scouting opponents for strengths and weaknesses, is now used by coaches at all levels.
Furthermore, Nielson touched thousands of hockey lives with his long-time summer hockey camp, as well as his coaching at the minor and junior league levels.
Langway was perhaps the last pure defensive blueliner to win the Norris trophy, a feat he accomplished twice. An all-star numerous times, Langway was also instrumental in turning the Washington Capitals from a moribund also-ran club into a perennial playoff team during the 1980s.
He also helped raise interest in the US for aspiring hockey players, and answered his country's call in international tournaments like the Canada Cup.
Based on these accomplishments, there can be no doubt Nielson and Langway deserve to be in the Hockey Hall of Fame.
But Bernie Federko and Clark Gillies?
Come on, now, let's get serious!
I'm sure this will offend their fans, as well as those long-time supporters of their respective clubs, the St. Louis Blues and New York Islanders. But seriously, what accomplishments did these guys make to merit entry into the Hockey Hall of Fame?
Federko chalked up 10 seasons with 50 + assists. Nice, but what else did he do to merit entry into the Hall? He's among the top fifty scorers of all time? Sorry, but as one sportswriter pointed out, he's fast falling out of that category, having dropped to 43rd overall. Within the next five years, his name will disappear from that achievement (Spector's Note: Ferderko is now 47th on the list and should be passed by Joe Nieuwendyk this season, who's only 12 points behind him.)
He twice cracked the top ten scorers? Not bad, but other players with more accolades to their name, as we'll soon see, also turned that trick, as did players with roughly the same credentials as Federko.
Did Federko garner any individual awards? Was he a perennial contender for the scoring title? Did he lead the Blues to the Stanley Cup?
At least Federko supporters have those statistics as a basis for substantiation. I'm still trying to figure out what Gillies did to gain entry to the Hall.
Yes, he was a popular player, a grinder who was overshadowed by his flashier, more skilled linemates, Bryan Trottier and Mike Bossy. Yes, he played tough, but fair, and only dropped the gloves if an opponent was dumb enough to tangle with him.
But what great feats did Gillies accomplish to merit inclusions amongst hockey's greatest players?
He played on four Cup winners? So did Montreal's Doug Jarvis, who still holds the NHL's "Ironman" record of most consecutive games played with 964. Jarvis also won the Selke Trophy in 1984 as the league's best defensive forward. He was one of the best faceoff men and penalty-killers ever. Certainly that's more worthy of Hall-of-Fame inclusion than being "a prototypical power forward"?
I'm sorry if this sounds petty, and I'm sure I'll hear about this from irate Islanders fans. Clark Gillies had a good NHL career, but he did nothing to merit entry into the Hockey Hall of Fame.
There are plenty of examples of former great players who are more worthy of being in the Hall, Doug Jarvis being only one.
How about former Boston Bruin forward Rick Middleton? Twice in the early 1980s - just like Bernie Federko - he was among the league's top ten scorers. He was an All-Star and a member of Team Canada in the 1984 Canada Cup. Middleton also won the Lady Byng as most gentlemanly player in 1984 and was runner-up for the Calder in 1973. He was also one of the most exciting and entertaining players the game has ever seen. Surely these accolades are worthy of acceptance in the Hall?
What about Carl Brewer of the Toronto Maple Leafs? He was a terrific defenceman in the early-1960s for the Leafs, playing for three Cup winners. As one sportswriter noted, he was also a four-time All-Star, a runner-up for the Norris, played for Canada's National team in the late-60s, and helped pioneer hockey in Finland.
How can those achievement not be worthy enough to gain entry into the Hall? If Clark Gillies and Bernie Federko can get in for less, why not Brewer?
Hell, I'd vote Brewer in as a builder, for it was thanks to his tireless fight on behalf of retired NHL players that fixed a huge injustice visited on them through a miserly pension scheme. His efforts were also instrumental in sending former NHLPA honcho Alan Eagleson to prison for defrauding those players he was supposed to represent, Brewer having been one of them.
That's probably why Brewer is overlooked when it comes time to consider players for selection into the Hall. He was considered a "troublemaker" by the old guard of the NHL on and off the ice. Unfortunately, there's still a lot of them around and they have a say as to who gets into the Hall of Fame.
What of Clark Gillies former teammate, Butch Goring? I've always believed one of the biggest injustices in HOF history is how often Goring gets passed over for inclusion.
He was one of the most complete players the game has ever seen. If you needed a timely goal, Goring could get it. If you wanted someone to kill a penalty, you sent out Goring. If Isles head coach Al Arbour looked for a player to check his opposition's best line, he went with Goring.
Most Islander historians will tell you it was the acquisition of Goring from the LA Kings in 1980 that was the final piece of the championship puzzle, which launched the Isles on a four-year Cup run.
Goring's play also garnered him two individual awards, the Lady Byng in 1978, and the Conn Smythe as playoff MVP in 1981.
How can the HOF ignore a terrific all-round player like Goring year after year, yet grant entry to guys like Federko or Gillies?
And what about European players? Sure, the number of Europeans selected to the Hall is bound to rise as years go on, given the increasing number of European stars in the NHL.
But what about former Soviet greats like Alexander Yakushev, Boris Mikhailov, or Valeri Kharlomov? (Spector's Note: Kharlomov was inducted in 2005). Granted, they never played in the NHL, but they dominated international play, and earned rave reviews from their NHL opponents in the 1972 Summit Series. Aren't their accomplishments worthy of consideration?
How about the accomplishments of Ulf Nilsson and Anders Hedberg? Sure, they played in that lesser league known as the WHA, but playing with Bobby Hull in the late 1970s, these two former Winnipeg Jets formed one of the most exciting lines in hockey, one that also matched up well against NHL oppositions during exhibition games.
These are but a few examples of players who, for whatever reason, are seemingly ignored for consideration by the Hockey Hall of Fame selection committee.
And don't think I'm just picking on Gillies and Federko here. The HOF has a long history of voting lesser lights into their exclusive club.
For example, former Montreal Canadien Steve Shutt was the first left winger to score over 60 goals in a season, and played on four Cup winners. Good for him, but that doesn't warrant inclusion into the HOF.
Bob Pulford? He's more notable as Bill Wirtz's yes-man in Chicago than for anything he ever did on the ice during his playing career. In fact, given his unspectacular career, one is left to wonder if Wirtz and others of the old-boy network used their influence to get Pulford into the Hall.
And it's not just some players who have no business being in the Hall of Fame.
Why, in God's name, is Harold Ballard a member of the Hockey Hall of Fame? Since when did taking a beloved, respected franchise like the Toronto Maple Leafs and turning it into a laughing-stock become credentials for entry into the Hall. Let's not forget his stint in prison for fraud and tax evasion in the early 1970s. Yeah, there's a sterling guy to honour in the Hall!
Clarence Campbell? The man was a feeb! As several books on his tenure as NHL president have pointed out, Campbell was a lackey of the owners, who were the real power behind his throne.
John Ziegler? Another guy who was in the hip pocket of the team owners, as well as a close, personal friend of that well-known felon and defrauder of the NHL players pension, Alan Eagleson.
The whole point of my little rant here is to point out that, no matter how much the HOF selection committee goes on about using stricter guidelines for selecting players and builders, it's apparent they still aren't good enough.
Federko and Gillies were good, talented players in their day. They had good careers and deserve to be saluted for them. If their teams wish to honour them, great, retire their numbers, have a night for them, offer them a job with the team for life, whatever.
However, there are other former players who accomplished much more during their careers than Federko and Gillies. It is unfair for them to be passed over because of personalities, nationalities or whatever. To pass over players like Middleton, Goring, Jarvis, Brewer, Yakushev, Hedberg and others who did so much to bolster the image of hockey in favour of lesser players is ridiculous.
It calls into question the integrity and the knowledge of the members of the selection committee.
Worse, it casts the Hockey Hall of Fame into a bad light, making it's hierarchy appear to be an old-boy network where recognition is passed down only to those they deem worthy of being HOF material, while ignoring those who properly deserve it.
As one newspaper noted, it's not the Canadian Hockey Hall of Fame. It's not the North American Hockey Hall of Fame, nor the NHL Hockey Hall of Fame.
It's very name - the Hockey Hall of Fame - is supposed to be a blanket one, by which it recognizes those in all the major hockey leagues and associations who have made signficant contributions to the sport.
While they have improved in recognizing those worthy of merit, it's apparent there are still problem areas that need to be addressed.
While we wait for those changes, consider this article an official nomination by one hockey fan of those players noted in it whom I deem more than worthy of induction!
NOVEMBER 8: PROVINCIAL TEAMS.
"Mark" recently wrote in with the following:
"The article on Quebec icing their own team got me thinking about the other provinces and how they would do if we ever had a Canadian championship where teams where made up based on players from their respective provinces. Who do you think would be the powerhouse and could boast the best team of professionals?
Quebec would most certainly have the best goalie tandem in Brodeur and Luongo but what about the other provinces? So I would love to see your idea of what the line ups would look like on each provincial team."
Good idea for a Soapbox topic, Mark. So here's how the provinces match up if each iced their own teams made up of the top NHL professionals from each province (Source: Yahoo! Sports)
PLEASE NOTE! This topic has since been revised since I originally posted it. I overlooked the fact goaltenders Cam Ward, Alex Auld and Chris Osgood were also from Alberta. My thanks to "Ken the Goalieman, Chris Attrell, "Marc" and "Mark" for pointing out my glaring error and not busting my chops too badly for it...;)
Also, hat tip to "Kyle" for reminding me of a few noteworthy Saskatchewan players I'd missed.
And thanks to "Louis" for pointing out a few noteworthy Quebec players I'd inadvertently overlooked.
TEAM BRITISH COLUMBIA.
Joe Sakic (Burnaby, BC), Paul Kariya (Vancouver, BC), Shea Weber (Sicamous, BC), Eric Brewer (Vernon, BC), Brendan Morrison (Pitt Meadows, BC), Willie Mitchell (Port McNeill, BC)
TEAM ALBERTA
Scott Niedermayer (Edmonton, AB), Jarome Iginla (Edmonton, AB), Daymond Langkow (Edmonton, AB), Dion Phaneuf (Edmonton, AB), Ray Whitney (Fort Saskatchewan, AB), Ryan Smyth (Banff, AB), Joffrey Lupul (Fort Saskatchewan, AB), Jay Bouwmeester (Edmonton, AB), Brent Sopel (Calgary, AB), Sheldon Souray (Elk Point, AB), Chris Phillips (Calgary, AB), Shane Doan (Halkirk, AB), Darcy Tucker (Castor, AB), Cam Ward (Sherwood Park, AB), Chris Mason (Red Deer, AB), Alex Auld (Cold Lake, AB).
TEAM SASKATCHEWAN
Ryan Getzlaf (Regina, SK), Brendan Morrow (Carlyle, SK), Jarret Stoll (Melville, SK), Scott Hartnell, (Regina, SK), Mike Sillinger (Regina, SK), Wade Redden (Lloydminster, SK), Patrick Marleau (Aneroid, SK), Cory Sarich (Bladworth, SK), Rhett Warrener (Shaunovan, SK), Chris Kunitz (Regina, SK), Nolan Schaefer (Yellow Grass, SK), Kyle McLaren (Humboldt, SK).
TEAM MANITOBA.
Dustin Penner (Winkler, MB).
TEAM ONTARIO.
Chris Pronger (Dryden, ON), Corey Perry (Peterborough, ON), Marc Savard (Ottawa, ON), Brad Boyes (Mississauga, ON), Rod Brind'amour (Ottawa, ON), Eric Staal (Thunder Bay, ON), Justin Williams (Cobourg, ON), Rick Nash (Brampton, ON), Marty Turco (Sault Ste Marie, ON), Dwayne Roloson (Simcoe, ON), Rob Blake (Simcoe, ON), Steve Sullivan (Timmins, ON), Jason Arnott (Collingwood, ON), John Madden (Barrie, ON), Brendan Shanahan (Mimico, ON), Jason Spezza (Mississauga, ON), Ed Jovanovski (Windsor, ON), Joe Thornton (London, ON), Jonathan Cheechoo (Moose Factory, ON), Dan Boyle (Ottawa, ON), Bryan McCabe (St. Catherines, ON)
TEAM QUEBEC.
Martin Brodeur (Montreal, QC), Roberto Luongo (Montreal, QC), Patrice Bergeron (Ancienne-Lorette, QC), Daniel Briere (Gatineau, QC), Jason Pominville (Repentigny, QC), Alex Tanguay (Ste-Justine, QC), Mike Ribeiro (Montreal, QC), Pierre-Marc Bouchard (Sherbrooke, QC), JP Dumont (Montreal, QC), Simon Gagne (Ste Foy, QC), Steve Bernier (Quebec City, QC), Vincent Lecavalier (Ile-Bizard, QC), Martin St. Louis (Laval, QC), Marc-Andre Bergeron (St-Louis-de-France), Patrice Brisebrois (Montreal, QC), Antoine Vermette (St-Agapit, QB), Francois Beauchemin (Sorel, QC), Stephane Robidas (Sherbrooke, QC), Mathieu Dandenault (Sherbrooke, QC), Eric Belander (Sherbrooke, QC).
TEAM NOVA SCOTIA.
Sidney, Crosby (Dartmouth, NS), Glen Murray (Halifax, NS), Colin White (New Glascow),
TEAM PRINCE EDWARD ISLAND.
Brad Richards (Montague, PEI),
TEAM NEWFOUNDLAND & LABRADOR.
Michael Ryder (St. John's, NL).
I think it's safe to say Quebec, Ontario and Alberta have much more depth than all the other provinces combined.
Of these teams, Quebec has the edge in goaltending and possess dangerous offensive talent but lack defensive depth. Obviously they'd have to bring in lesser talent to play their blueline and checking lines but it wouldn't be enough. Even with Brodeur and Luongo standing on their heads, there's no way they could win a tournament amongst the provinces.
Alberta, on the other hand, would be a very nasty team to face, full of tough, talented players that'll make rivals pay the price both in goals and physical pain. They could start Cam Ward, who rose to the occasion in big-game competition to carry the Carolina Hurricanes to the 2006 Stanley Cup. With the depth in quality defensive talent in front of him, he might give Team Alberta a chance to win it all, although it remains to be seen if he can rise to the occasion again.
That changes my original claim that hands down, the tournament winner would be Team Ontario, but I still believe they'd come out on top. They're very deep at every position and I think that would serve them well in such a tournament.
Their blueline depth would be swift enough to shut down Quebec's speedy forwards yet tough enough to match Alberta's physical play. With Turco and Roloson between the pipes, goals would be hard to come by.
At this point I think it's safe to say that such a tournament would see Ontario and Alberta in the medal round, and that it would be one heckuva game.
NOVEMBER 5: NEWS N' NOTES.
- Looks like the natives are getting restless with the Phoenix Coyotes in the Arizona desert.
East Valley Tribune columnist Scott Bordow lays the blame for the Coyotes decline squarely at the feet of Wayne Gretzky, eloquently making the case that the Great One has done more harm than good for the Desert 'Dawgs.
From mismanagement to cronyism, Bordow makes a strong case that the Coyotes will not improve as long as Gretzky and company are running the show in Phoenix.
Hat tip to regular contributor GJ Berg for the link.
- Evgeny Malkin is making a strong case early in this season for the Calder Trophy, not to mention helping the Pittsburgh Penguins maintain their hot start.
Globe and Mail columnist Eric Duhatschek noted Malkin earlier this past week accomplished something hockey greats Wayne Gretzky, Mario Lemieux, Gordie Howe, Brett Hull or Pavel Bure never did - score six goals in his first six games in the NHL.
Malkin is also helping young superstar Sidney Crosby share the offensive burden, and the two youngsters are fast emerging as one of the league's most lethal - and youngest - one-two offensive punches.
Even if you're not a Penguins fan, you can't help but be charmed by their youthful exhuberance. The Pens still need development, but they're a lot of fun to watch.
- If you were were an NHL general manager, which player would you prefer to have on your team, Alexander Ovechkin or Dion Phaneuf?
That's the question posed recently by Canadian Press, which I've also posted to my blog.
A tough choice between either guy, but I'd take Phaneuf over Ovechkin simply because truly elite blueliners like the Flames young defencemen are hard to find, while Ovechkin has to compete with Sidney Crosby, Ilya Kovalchuk, Eric Staal and Evgeny Malkin for the role of top young NHL superstar.
Who would you pick, gentle reader? Feel free to e-mail your comments and I'll post 'em in a future "Fans Speak Out" update!
- Finally, yet another Quebec separatist wants the province represented on the international stage by its own team, this time at the 2008 World Hockey Championships to be held at Halifax and Quebec City.
The notion of course was shot down because those tournaments are for countries, not provinces, but even if the hockey powers-that-be were dumb enough to allow a "Team Quebec" for the Worlds, they'd have a tough time finding top notch players.
Tampa Bay's Vincent Lecavalier and New Jersey's Martin Brodeur are already on record speaking out against such a notion, preferring to play for Team Canada.
I suspect most of the top Quebec-born NHL'ers probably share Lecavalier and Brodeur's opinion, so it would mean "Team Quebec" would be going into action without their best available players, meaning that team would be spanked hard and often in the round robin and wouldn't even get within sniffing distance of a medal.
Even though a Leger marketing poll indicated 72 percent of Quebecers polled favour the notion of a Team Quebec, those in the poll probably agreed based on the assumption that the province's top players would be on the roster.
I think the results would've been different if the question were, "Do you favour Quebec icing a team in the 2008 World Championships even if the province's best players opted to play for Team Canada"?
The only people this seems to appeal to is aging separatists who cannot let go of their fading dream.
NOVEMBER 1.EARLY SEASON SURPRISES.
In my last Soapbox, I took a look at teams which are suffering through early season blues. Now, let's take a look at those clubs off to surprising early starts.
- PITTSBURGH PENGUINS. I've already noted their improvement on my blog but it's definitely worth mentioning again here.
Admit it, Penguins fans, none of you really expected the team to be off to this good of a start, now did you? Be honest.
That's ok, you're in good company, few expected it. Sure, I expected the club to improve this season, but to be leading the Atlantic Division heading into November was too much to hope for.
I'm not a Penguins fan, but I've always had a soft spot in my heart for them going back to 1984 when they drafted Mario Lemieux. I guess it's my love of the underdog that draws me to them.
The Pens rose from the dead once before to become the NHL's best team, and they have the horses to one day do it again.
I'm not expecting a Cup this season, but a playoff berth may not be out of the question. Given the depth in promising youth on this club, they are well on the way to a resurgence, providing hope to their long-suffering fans once again.
From Crosby to Malkin to Fleury to Whitney to Staal, this year's Penguins are youthful and exciting to watch. Indeed, they put me in mind of the Edmonton Oilers of the early, early 1980s, before that team rose to become Stanley Cup champs.
This club still lacks quality blueline depth, and their overall defensive game still needs work. That could pull them down in the standings as the season wears on, but they're a fun team to follow this season. They should give their fans not only a reason to come out and support them, but hopefully also provide the incentive for the city to build them a new arena to keep them where they belong.
- MINNESOTA WILD. Like the Penguins I've previously noted their improvement on my blog, and like the Pens, it's worth noting again here.
Some folks have taken issue with my assessment of the Wild as an improving club, particularly their increased offensive production, because the majority of their goals to date were scored on the powerplay.
Given the increase in penalty calls since the return of the NHL from a season-killing lockout, the Wild aren't the only team in that category.
Quite frankly, I don't think it matters when the Wild are getting their goals. The point is, they're scoring more, and that's why they've jumped out to an unexpected fast start this season.
The Wild did bring in more veteran offensive talent to help star Marian Gaborik share the load, but they're also getting improved performances from youngsters like Pierre-Marc Bouchard and Mikko Koivu.
- ATLANTA THRASHERS. This team was expected to improve and challenge for a playoff berth this season, but few expected them to storm out of the gate as they have this season.
The Thrashers were expected to score a lot this season, and thus far they've done just that, led by Ilya Kovalchuk, Marian Hossa and Slava Kozlov. Even aging Scott Mellanby has gotten off to a good start, with 11 points in 13 games.
It's their defensive game that has surprisingly improved thus far. The Thrashers still have a predominantly "no-name" blueline corps, lacking a true defensive "stud", yet only two players on the team have plus-minus ratings on the minus side.
The true reason for the improved defense is goaltender Kari Lehtonen, who to date has faced the most shots of any goalie in the NHL. Because of him, the Thrashers sit 19th in goals-against, a significant improvement over last season at this time when Lehtonen's early season injuries sidelined him and ultimately cost the Thrashers their first playoff berth in franchise history.
If Lehtonen can stay healthy, the Thrashers should easily make the playoffs, and might even continue to challenge for not only top spot in their division but also the Conference. If he gets sidelined for a lengthy period again, those hopes could be in serious jeopardy.
His teammates, and Thrashers fans, are crossing their fingers he stays healthy.
-TORONTO MAPLE LEAFS. Die hard Leafs fans always expect their club to make the playoffs every season, but even they had reservations about that possibility this season.
After all, the management and coaching staff forewarned fans that this season was a rebuilding year, and that it would be a struggle for the Leafs to make the post-season.
So it had to come as a pleasant surprise for Leafs fans to see their club sitting fourth overall in the Conference by the end of October.
It hasn't been all roses for Toronto. Their provincial rivals, the Ottawa Senators, spanked them royally in three of their meetings in October. Starting goalie Andrew Raycroft has been inconsistent, flashing the form that won him the Calder Trophy in 2004 in some games and the form that got him run out of Boston in others.
Their defensive game hasn't been that strong either, as witnessed by the Leafs giving up the second-most goals in the league by month's end, as well as Raycroft facing the second-most shots of any goalie in the league.
But it's been their offence that's been carrying the Maple Leafs, as they've scored the third-most goals of all NHL teams.
They've been getting scoring from long-time Leafs vets like Mats Sundin, Darcy Tucker, Bryan McCabe and Tomas Kaberle, but also from youngsters like Kyle Wellwood, Matt Stajan and Alex Ponikarovsky.
The Leafs are living dangerously if they continue this trend, but if they can just improve their defensive game as the season progresses, they could be playoff contenders.