NOVEMBER 30: RANDOM THOUGHTS.
- Hate to start things off on a creepy note, but TSN has a report on an upcoming report by CBC's fifth estate regarding the relationship between player agent David Frost and former client Mike Danton, who is presently doing time for attempting to hire a hitman to kill Frost.
I'm not going to reprint the story here, but suffice to say, after reading this story, I strongly believe the NHLPA is going to finally have to look into Frost's background and his behaviour around some of his young clients.
- NHLPA Executive Director Ted Saskin may have won the majority of votes of the players that recently confirmed his hiring, but the dissident group isn't impressed and intend on continuing to fight it.
The dissidents leader, former PA player executive member Trent Klatt, questioned the integrity of the secret vote, because they were sent in to Saskin before they were forwarded to PricewaterhouseCoopers for tabulation.
KP at Hockey Nation has more on this plus a nice summary of all that's transpired in the NHLPA's continuing uncivil civil war, and suggests (rightfully so) that Saskin probably isn't out of the woods yet.
- Congrats are in order for Toronto Maple Leafs goalie Ed Belfour, who tied Hall of Fame legend Terry Sawchuk for second overall in career wins with 447. Former Habs and Avs great and future Hall of Famer Patrick Roy is the all-time leader with 551.
No offence to Roy or Belfour, but I still believe Sawchuk and Jacques Plante were the two greatest goaltenders of all time. Just my opinion. I realize one can't make accurate comparisons with today's goalies to yesterday's, but Sawchuk racked up most of his wins in the old six-team league, which was considerably tougher to do than in today's 30 team league, where there are more easier opponents to play against more frequently.
- The Montreal Canadiens got off to a red hot start to this season, reaching a 12-3-1 record by mid-November.
However, it seems Les Canadiens have cooled off over the last two weeks, posting only two wins in their last nine games, including only 1 win in their last five as of this writing.
Another Eastern club that has seemingly cooled from a hot start is the Carolina Hurricanes, themselves also only a winner of 1 in their last five.
Meanwhile, don't look now, but the team many predicted to be jostling with the Washington Capitals for doormat status in the East, the New York Rangers, are challenging the Ottawa Senators for first overall and have won five straight.
- Remember a month ago when folks were wondering if the Calgary Flames were suffering from a Stanley Cup final hangover?
The Flames got off to a sputtering start leading to grumblings amongst some of their followers, but the Flames have since risen steadily in the standings, winning 3 of their last five, and are presently in a three-way tie for fourth overall in the West.
Meanwhile, the expected improvement of the San Jose Sharks, last year's Western Conference finalists, has failed to materialize. They've lost 8 of their last nine, sparking growing speculation management could be ready for a major roster shakeup.
Blogger Mike Chen has a detailed look at why the Sharks are struggling which is well worth a look.
- And finally, check out The Acid Queen's response to CBC commentator Kelly Hrudey's complaint that an amazing shootout goal by NY Rangers defenceman Marek Malik shouldn't have counted.
Folks would be wise not to run afoul of the Queen's tart tongue!
And for those of you who didn't see Malik's highlight reel goal, check it out (courtesy of Hockeybird):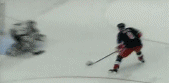 NOVEMBER 27: PERFORMANCE ENHANCING DRUGS AND THE NHL.
Comments recently made by the head of the World Anti-Doping Agency regarding NHL players and performance enhancing drugs have set off a firestorm of angry responses from the league and its players.
Dick Pound, an influential member of the International Olympic Committee, recently made the accusations speaking at a London, Ontario business school:
"I spoke with Gary [NHL commissioner Gary Bettman] and he said, 'We don't have the problem in hockey,' " Pound said. "I told him he does. You wouldn't be far wrong if you said a third."
Asked by a reporter from London if he meant performing-enhancing drugs, Pound, a Montreal lawyer and member of the International Olympic Committee, replied, "Yes."
This is quite a claim by Pound, which has led to the numerous responses from league executives, NHLPA executives and players. Click here, here, here, here, here, here, and here for some of the players reactions.
The biggest complaint from the players is where Pound got his statistics to make such a claim. That a third of players are using performance enhancing drugs would suggest a rampant drug problem within the National Hockey League.
As the Globe and Mail noted, it's been known for a few years now that NHL players have availed themselves of non-lethal stimulants like caffeine and the cold medication pseudoephedrine (Sudafed), the latter no longer considered a "banned" substance.
But as the report also noted, whenever one says "performance enhancing drugs", the first thing that leaps to mind isn't sinus medication or Tim Horton's double-doubles.
It's the "S" word - steroids.
Reports of steroid abuse amongst NHL players are limited, scarcely a handful of players being known to have used or abused them. The most notorious case would be former Montreal Canadiens tough guy John Kordic, who died in August 1992 from heart failure brought upon by steroid use as well as years of alcohol and cocaine abuse.
Perhaps, as former NHL tough guy and current minor leaguer Rocky Thompson observes, Pound was making reference to the non-lethal stimulants as perhaps indicative of performance enhancing drug abuse, not steroids or banned substances.
Thompson himself admitted to using steroids before and after the 2000-01 season in an effort to remain in the NHL, but quickly said the team never knew that he was using them.
"Two of them were injections and one was oral," Thompson said.
"At the time, there was no rules against it. Just your own personal moral rules. It was all on my own. Nobody would approve something like that."
Blogger and Globe and Mail reporter James Mirtle has more on Pound's comments as well as reports from fellow Globe and Mail reporters.
What is interesting, as Globe columnist Al Maki points out in the story's companion piece, is that the league saw fit to bite back at WADA head Dick Pound so forcefully when, according to the league and NHLPA, it has no such problem to worry about.
Maki's column isn't posted online (or at least isn't yet at this early hour), but the thrust of what he says is that Pound is making the accusation that the league has a drug problem in order to get the NHL thinking about the issue. From all of the press coverage it's received lately, it seems Dick's plan has worked.
That may be, but if Pound's intent was to "get the NHL thinking about the issue", making such a blanket statement suggests the widespread use of steroids, and would have more than a few casual fans now questioning the players integrity.
Obviously it would naive to suggest there isn't any NHL players using steroids now, and the NHL should have a system implemented (which they now do, in cooperation with the PA) to conduct random tests to prevent the use of such drugs.
Still, it seems that those that may be using performance enhancers in the NHL appear to be in a distinct minority.
Like Pound, I have no numbers to support my claim, but given the reports of steroid use in professional baseball and football over the years and how those stories would ultimately spur federal investigations into both sports, one would think that more widespread use in pro hockey on the scale suggested by Pound would have reached the light of day long ago.
Surely more than a few former players, agents, team doctors or trainers with axes to grind and nothing to lose would've ratted out such drug use by now. As pro baseball players recently discovered, dirty little secrets like that rarely stay secret for long.
To answer Maki's earlier question, perhaps the reason why the league and the PA are "biting back" as hard as they are is that they don't want to be unfairly tarred with the same brush as pro baseball and football players.
Using cold medicine and caffeine may provide a minor "speed" lift for some players, but they're hardly comparable with using things like steroids or human growth hormone, nor are they the next logical step for drug abuse along those lines.
Pound is to be commended for his efforts to clean up drug use in both amateur and professional sports, but unless he can provide hard facts to back up his contentions regarding NHL players, his claims are baseless.
NOVEMBER 23: THE PA'S CIVIL WAR CONTINUES.
The division within the National Hockey League Players Association leapt back into the headlines within the last several days.
First came news this past weekend of PA executive and former player Steve Larmer's resignation, in which he stated the executive committee, headed by president Trevor Linden, hired Ted Saskin as NHLPA Director based solely on information provided by Saskin.
Larmer also accused Saskin and the player executive of keeping the majority of players in the dark over Saskin's hiring, particularly in the apparent flouting of the PA bylaws in how the hiring was done.
Worse, Larmer drew comparisons to this situation to the dark days of former director Alan Eagleson's tenureship. Raising the spectre of Eagleson, who served 18 months in a federal prison in the late 1990s for defrauding the PA, is certainly a slap in the face to Saskin and Linden, the latter responding indignantly to Larmer's accusations by calling them "insulting".
Meanwhile, the US National Labor Relations Board decided on Monday to hear the case filed by several dissident players, headed by former NHLPA executive and player Trent Klatt, over the PA's method of hiring Saskin.
Bloggers James Mirtle, Tom Benjamin, Eric McErlain and others have already commented on this in greater detail. Benjamin and Mirtle in particular suggest this could be the start of bigger problems for the PA. Mirtle suggested Larmer's resignation and that of Klatt's this summer is indicative of how expansion the divide is within the PA, while Benjamin wrote that it wasn't the process of how Saskin was hired, but rather the method of how the players accepted the new CBA.
Larmer has a well-deserved reputation as a player's guy and not just because of the former position he had at the Association, yet the anticipated "eye-opener" of his resignation for the rest of the PA membership hoped for by the dissidents has instead scarcely seemed to have caused a ripple.
It's interesting to note that the divide is almost along the same lines as the PA's votes to ratify the new CBA back in July (as reported by CP on November 21):
The size of the dissident group seems about the same as the number of players who voted against the new CBA when players ratified the deal in July. Out of 532 votes, 464 (87 per cent) voted in favour while 68 (13 per cent) votes against it.
That had led to the question of whether this is really about ensuring the hiring of Saskin was done according to PA bylaws or if it's more about seeking revenge.
Most of those dissidents appear to be die-hard supporters of former director Bob Goodenow, and they obviously weren't pleased over what's contained in the new CBA and the manner in which he was replaced.
A seemingly overwhelming majority of players (and agents) not only support Saskin but how he was hired. Carolina's player rep Kevyn Adams seemed to speak for this majority on Monday with his comments on the subject.
In recent weeks it doesn't appear as though the number of dissidents are growing. It seems as though the majority of players accepted whatever route the majority of the players executive took (perhaps as Benjamin suggests, on Saskin's urging) to get to the new CBA, had no problem with how Saskin negotiated it on their behalf or how he replaced Bob Goodenow as PA Executive Director.
So if the actions of Klatt's group are successful in forcing Ted Saskin out of the executive director's chair, what's stopping the majority of the PA membership from voting to bring him back?
Unless the NLRB demands some sort of investigation into Saskin's hiring or determines that the PA's hiring of him was illegal, I don't see what could prevent them from deciding that Saskin is still their man.
Klatt's group would have to prove to the majority that there is a bigger agenda here, that the method of Saskin's hiring is a serious threat to the PA. In other words, they'd have to prove that this was, or will be, detrimental to the players.
Benjamin has an interesting take on this in the comments section of his same article on the topic:
Linden would probably respond by saying "Maybe Ted was a little too enthusiastic about selling the CBA, and maybe we were hasty on Goodenow and his replacement. It really doesn't matter. The players were buying the CBA anyway, Goodenow was going anyway, and Saskin was getting hired anyway." In all those respects, Linden is probably right.
To Larmer and Klatt it really does matter. It isn't up to Linden to decide what the players would decide to do if given the opportunity. It was not up to Linden and Saskin to decide it was okay to circumvent the rules. Klatt would probably say that Saskin does not deserve the job simply because he did mislead the players.
Larmer would say that this deal was negotiated the same way collective agreements were negotiated in Eagleson's day. It was not transparent. It was negotiated and passed the same way every Eagleson CBA was negotiated and passed. When exactly did the NHLPA sit down and decide to cave in? Who decided? How? What gave them the right?
That is the seemingly uphill battle Klatt and his group will be fighting. That's why the NLRB's decision to hear Klatt's complaint could be important.
If the NLRB should rule in favour of Klatt, it could open up the PA to a full investigation into how Saskin was hired, which in turn could cast more light upon how the PA came to negotiate and ratify the current CBA.
But again, will this be enough to sway the majority of the PA membership?
It is becoming more apparent as times passes most of the players essentially capitulated on their core issues of contention that led to the cancellation of last season in order to get the best deal they could to save this season.
Most of them seem only too happy to be back playing, regardless of the supposedly contentious issues, such as escrow, in the new CBA. Most seem determined to put this all behind them and move on.
Klatt and his group are fully within their rights to contest Saskin's hiring and in their claims that this, along with how the CBA was negotiated and ratified, lacks transparency. But if it fails to sway the majority of PA members, or ultimately fails to lead to Saskin losing his job, these efforts may have been for naught.
Perhaps that's what the majority are hoping for. Whatever happens, it appears this division within the PA ranks could remain a festering wound for some time.
NOVEMBER 20: AT THE QUARTER POLE.
ANAHEIM MIGHTY DUCKS: Made news by signing Norris winner Scott Niedermayer in the off-season, then made more news by shipping Sergei Fedorov to Columbus in a cost-cutting move. Their play on the ice thus far has been inconsistent, which may prompt GM Brian Burke to use the freed up cap space from the Fedorov trade to bolster his depth.
ATLANTA THRASHERS: Have found their offensive legs since their horrid opening weeks, thanks in no small part to getting Ilya Kovalchuk re-signed. The defensive game still leaves much to be desired, and their goaltenders have been whacked by the injury bug. With limited cap space, they've got no choice but to rely on call-ups until their regular goaltenders get healthy, which may come too late to save their season.
BOSTON BRUINS: Despite several notable free agent signings, the Bruins haven't played up to expectations thus far. Team captain Joe Thornton has played well but he can't play defence, which has been the Bruins achilles heel. Recently acquired David Tanabe may help a little, but they'll need Brian Leetch back soon, and their limited cap space leaves them little room to bring up better blueliners.
BUFFALO SABRES: The speedy Sabres appeared ready to move up in their division when young star goalie Ryan Miller broke his thumb. They haven't been the same team since, which is a pity since there is enough talent on this team to become a playoff club. Inconsistency has plagued the Sabres thus far and they'll have to get it together if they're going to challenge for a playoff berth.
CALGARY FLAMES: After a slow start threw a scare into their fans, the Flames have rallied in recent weeks and are almost back to their Cup contention form. The play of resurgent team captain Jarome Iginla and goalie Miikka Kiprusoff are two big reasons for their improvement, as is the play of rookie blueliner Dion Phaneuf, who's my pick to win the Calder thus far. He won't, of course, but he deserves to.
CAROLINA HURRICANES: The surprise team of the new season, the 'Canes were off to a red hot start before cooling a little in recent games. Goalie Martin Gerber is finally getting the chance to strut his stuff as a starter, while sophomore centre Eric Staal has emerged as a genuine start. A recent rash of injuries, however, could threaten the 'Canes momentum in the coming weeks.
CHICAGO BLACKHAWKS: After spending big on free agents like Nikolai Khabibulin and Adrian Aucoin, the Blackhawks have been one of the biggest disappointments of this early season. Injuries to key players like Eric Daze and Tuomo Ruutu haven't helped, but the 'Hawks should be getting better performances from their new additions, as well as from some of their young players. There's still time to turn things around but they'll have to work harder in the coming weeks to accomplish that goal.
COLORADO AVALANCHE: Expected to struggle because of cap constraints and the loss of Peter Forsberg and Adam Foote to free agency, the Avs overcame a slow start and find themselves still in the thick of the early playoff race. Veterans Joe Sakic and Rob Blake still lead this club, but younger stars such as Alex Tanguay and rookie winger Marek Svatos are also making their mark and keeping the Avs competitive.
COLUMBUS BLUE JACKETS: The much-anticipated breakthrough for the Jackets hasn't arrived, despite the off-season acquisitions of Adam Foote and Bryan Berard. One big reason is the absence of star forward Rick Nash, leaving a huge void in their offence. It remains to be seen if newly-acquired Sergei Fedorov can turn their fortunes around, and if he can't, Nash's return won't be in time to save the season.
DALLAS STARS: Another veteran club expected to struggle under the new salary constraints, they like the Avalanche overcame a slow start and have moved up the standings in recent weeks. Key veterans have stepped up but perhaps the main reason for their improvement is a return to form of goalie Marty Turco, who struggled early but has played well in recent games.
DETROIT RED WINGS: The salary cap was supposed to hurt the Wings, but instead they've rolled along as the dominant club in the NHL, thanks to a good mix of skilled veterans and rising young talent. Critics rightfully point out, however, that the Wings have benefitted from an easy schedule thus far, and the next twenty games where they'll play some of the league's stronger clubs could be a test to that dominance.
EDMONTON OILERS: The much-ballyhooed acquisitions of Chris Pronger and Mike Peca failed to noticeably improve the Oilers, which led to several weeks of rough sledding until the younger players on the roster picked up their games. Although they've played better of late, there remain concerns about their goaltending and lack of veteran scoring at centre and on right wing.
FLORIDA PANTHERS: After a good start, the Panthers have been mired in a lengthy slump that threatens to scuttle their hopes for a playoff berth. They've been getting strong efforts from Roberto Luongo, Olli Jokinen and emerging young forward Stephen Weiss, but defensive miscues have led to their blowing leads late in their games. Rumours have already started that GM Mike Keenan is making inquiries round the league for some veteran help.
LOS ANGELES KINGS: Amazing what a run of good health can do to a roster than in the previous two seasons were bitten hard by the injury bug. The Kings are presently sitting near the top of the Conference standings. Rookie goalie Jason Labarbera has been an early standout, whilst some free agent acquisitions critics predicted wouldn't help the Kings - specifically Pavol Demitra and Craig Conroy - have been leading them to victory.
MINNESOTA WILD: Their strong team defensive game and strong goaltending has them playing around the .500 mark, but this club clearly misses Marion Gaborik's offensive punch and will need him back soon to bolster their scoring. Two pleasent early surprises have been the play of forwards Pierre-Marc Bouchard and Marc Chouinard, who are among the team leaders in scoring.
MONTREAL CANADIENS: Off to their best start in years, the Habs spent most of this early season challenging for the lead in both their division and conference. Depth in promising young talent has made the difference in their close victories this season, but dark clouds loom on the horizon. The loss of Alex Kovalev for 8 weeks with a knee injury is a serious blow, there's concerns over Jose Theodore's health, and they've slumped in recent games.
NASHVILLE PREDATORS: The Preds started strong, slumped for a few games and then regained their footing to remain one of the strongest clubs in the Western Conference. Paul Kariya and Steve Sullivan have meshed well together, their unheralded blueline corps has played well, and Tomas Vokoun has been outstanding between the pipes. Should the Predators carry this momentum into mid-season, they could be in position to not only make the playoffs but to finish much higher that some critics predicted.
NEW JERSEY DEVILS: The loss of the two Scotts (Stevens to retirement, Niedermayer to free agency), the early struggles -both in goal and with injury - of Martin Brodeur, and the uncertainty over who will be dumped once Patrik Elias returns from illness have clearly taken their toll early in the season on the Devils. There's still plenty of time and plenty of talent on this club to turn things around, but they'll need a stronger outing over the next 20-30 games if they want to bolster their chances of making the playoffs.
NEW YORK ISLANDERS: Despite the assertions of ownership and management that their club was good enough to win the Stanley Cup this season, the Isles so far have looked nothing like a Cup contender. Inconsistent play has dogged the club in the early going, contributing to their .500 record, and putting pressure on coach Steve Stirling to improve their fortunes. They'll need a much stronger showing in mid-season if they're to position themselves for a playoff berth.
NEW YORK RANGERS: Expected to finish near the bottom of the Eastern Conference, the Rangers have been amongst the surprise teams of the league this season. A combination of strong coaching, the addition of some much-needed youth, strong goaltending - particularly from rookie Henrik Lundqvist- and the re-emergence of Jaromir Jagr as an offensive force have made the Rangers an early playoff contender. Now comes the hard test: carrying over their strong start into the mid-point of the season.
OTTAWA SENATORS: One of the most dominant clubs in the league once again, but this time because of their offensive play, the Senators are an exciting team to watch, responding well to first-year coach Bryan Murray. Their first line of Daniel Alfredsson, Dany Heatley and Jason Spezza are among the top scorers in the league, whilst the ageless Dominik Hasek continues to provide top notch goaltending. They're playing like Cup contenders now and it seems only injuries can slow them.
PHILADELPHIA FLYERS: Despite possessing on paper a very talented roster, the Flyers have not been the dominant club they were predicted to be. Granted, they're still a very strong hockey club, thanks in no small part to the play of Peter Forsberg and Simon Gagne, but they've been blowing leads this season, especially on the penalty kill. If they can rectify this problem by mid-season, the Flyers could well go on to become "the Beasts of the East". If not, this could become a cause for concern.
PHOENIX COYOTES: After a shaky start head coach Wayne Gretzky is starting to see results from his Coyotes team, thanks to his willingness to discipline those who don't play well enough. They've also been among the busiest teams in terms of player movement this season, as their cap space allows them room to tinker. If their improved play of recent weeks continues, the Coyotes could be barking at a playoff spot.
PITTSBURGH PENGUINS: For all their unprecedented player acquisition activity during the off-season, the Penguins have thus far failed to play up to expectations, although of late they've shown signs of improvement. Rookie Sidney Crosby has played as well as expected, but the club's unwillingness to call up young goalie Marc-Andre Fleury full time is leading to rumours they're more concerned about their payroll than their game on the ice. The defensive game must improve for the Pens to have a shot at a playoff berth.
ST. LOUIS BLUES: A potential buyer has pulled out, the club's on-ice woes have hurt their value, one of their best players attended training camp out of shape and is now sidelined with a rib injury, and they're lacking depth throughout their roster. The less said about the Blues right now, the better. The only silver lining: they might win the draft lottery and the rights to the first overall pick in 2006.
SAN JOSE SHARKS: Expectations were high going into this season following their strong performance in 2003-04, but this year's version of the Sharks has struggled to a .500 record thus far. Injuries to their goaltending tandem have hurt, but the chief culprit appears to be inconsistency. There's plenty of time for this young team to rebound, but they'll have to start stepping up in the coming weeks.
TAMPA BAY LIGHTNING: Who knew a Stanley Cup hangover could last nearly 18 months. The Bolts look nothing like the team that marched to the 2004 championship. Several key players, including Hart and Art Ross winner Martin St. Louis, have struggled, and they've yet to address their lack of blueline depth this season. With limited cap space, there isn't much management can do right now.
TORONTO MAPLE LEAFS: Playing much better than anticipated, thanks in no small part to youngsters like Alex Steen and Kyle Wellwood, the strong play of blueliner Bryan McCabe and of course the goaltending of Ed Belfour. They still lack significant blueline depth and there's rumours they're shopping around, although their limited cap space may hamper their efforts. As long as this roster remains healthy the Leafs should stay in playoff contention.
VANCOUVER CANUCKS: Once again the Canucks are challenging for the Western Conference lead, powered by Markus Naslund and Todd Bertuzzi, the latter shaking off the rust and the Steve Moore situation in recent weeks to place second in team scoring. The Sedin Twins and Anson Carter have also meshed well together. There are concerns about their salary cap room, which won't give them the space needed to bring in help later in the season should the need arise.
WASHINGTON CAPITALS: They're the worst team in the Eastern Conference, yet the Caps aren't as bad as observers expected they would be. There appears to be a promising young nucleus on this club, led by the amazing Alexander Ovechkin, whom more than one reporter considers this year's Calder winner. The Capitals still have a long, bumpy road back to respectability, but this hard-working team appears to be on its way.
NOVEMBER 16: CRITICISM IS NOT BIAS.
If there is one thing I've discovered since I started this website back in 1998, it's that hockey fans are very passionate about their game, and very loyal to their favourite teams.
That's a wonderful thing to see, especially when I write something critical about a team in these twice-weekly columns, for it usually generates responses that result in a good, healthy debate between myself and supporters of those teams I may have criticized.
For me, it doesn't matter if I'm ultimately proven right or wrong, as long as I've had an engaging discussion/debate with a knowledgeable hockey fan.
Indeed, sometimes the responses I receive are so intelligent and well-written that I post them to my "Fans Speak Out" page, in hopes that those reader comments will motivate other fans to write in with their opinions.
Sure, my criticisms will also attract the attention of the troll brigade, who sometimes feel compelled to start every response with an insult, usually a brilliant bon mot like, "Dude, you suck".
This bunch probably couldn't spell "cat" if you spotted them the "c" and the "a", but sometimes they're a good laugh, and the really funny ones (well, funny to me anyway) may occasionally earn a place in the "Fans Speak Out" section so that all my readers can revel in the towering intellect that comes from the nitwit patrol.
The really insulting ones, of course, never see the light of day on this site, and more often than not hit the recycle bin after a quick snort of derision.
But the ones I find troubling are from those hockey fans who are obviously knowledgeable and intelligent, yet cannot abide even the slightest criticism of their favourite team.
Now I realize that sometimes I can go a little overboard in my criticism of a hockey club, even to the point of derision, and when a reader points it out, I will quickly correct my error.
My goal here is to try to be as objective as I can with my opinions, to not show any favouritism. Sure, there are some NHL teams that I prefer over others. I've been a Montreal Canadiens fan for 35 years, and naturally I enjoy the good-natured rivalry with fans of the Maple Leafs and Bruins.
But to run a website such as this, where I cover the entire NHL and not just one team, I must check my love of the Habs at the door, otherwise, I might as well just cover the Canadiens and ignore everyone else. Quite frankly, I don't want to pigeonhole myself.
When the Habs are playing poorly, and for several recent seasons they were, I have to call them on it and point out their flaws and problem areas in the same manner as I would another team.
So it really bothers me when a fan of a team will take my criticism of their club as bias against their team.
For example, during the years the New York Rangers were in the midst of their futile efforts to build a playoff club via free agency and trading for other team's free-agents-to-be, I was very critical of them.
Not because I hated the Rangers, but because I could see the path their front office was taking was doomed to disaster.
I had no reason to hate the Rangers, in fact, to be perfectly honest I'm not swayed by the team either way. Whenever I think of the Blueshirts, well, nothing really stirs my soul.
Except, of course, for the irresponsible way the Rangers front office was spending their money and consistently disappointing their fans with nothing to show for it except seven straight years of failure.
During those years I expounded more than once on why Rangers management was so wrong in taking the path they did, and I'm not going to rehash those comments again. Suffice to say, time proved me right.
Most Rangers fans who wrote in to comment on my articles agreed with me, and those who didn't did so in a respectful, intelligent manner.
Yet there were a couple who persistently accused me of "anti-Rangers bias". They claimed that because I was Canadian I was jealous of the big bucks the Blueshirts were tossing around and could only wish that Canadian teams during that era could afford to do the same.
Never mind that their management's free-spending efforts failed to garner a playoff berth for the Rangers in seven seasons. Ignore the fact that more fiscally responsible clubs who built through the draft, savvy trades and affordable UFA signings were winning Stanley Cups or going to the playoffs on a regular basis. Forget the fact that with each passing season my point was driven home more forcefully by their management's ineptitude. Disregard the fact the only thing the Rangers free-spending accomplished was to contribute to driving up players salaries during that period.
No, no, it was in their minds because I hated the Rangers. Honestly, I simply couldn't understand it. To this day, I still don't.
I haven't heard from those chaps in some time now, but if they're still reading my column, I'm pleased that the Rangers front office finally got it this time around, hiring a coach that they'll actually allow to coach the team and loading up with a good mix of affordable veterans to work with centerpiece Jaromir Jagr and young, hungry talent that in the past would've been buried behind the overpaid underachievers.
It's the same thing with a couple of fans of the Toronto Maple Leafs.
Now before some of you get up in arms, understand that many of my buddies are Leafs fans. Hell, my wife is a die-hard Leafs fan, so it's gets fun in this household whenever there's a Leafs-Habs game on the telly.
Now like those aforementioned Rangers fans, most who've read my comments about the Leafs usually agreed with me. Many of those who didn't did so in such a way that I could respect their opinions and their hockey knowledge.
But the occasional Leafs fan who accuses me of bias because I'm jealous of the Leafs popularity or their money or their success, well, let's just say these are strains of a broken record that I've heard before.
When I criticize the Leafs, it has nothing to do with bias or jealousy or hatred.
Jeebus, the Leafs for years were my second-favourite team. I loved the late-70s teams of Darryl Sittler, Lanny McDonald, Tiger Williams, Borje Salming, Ian Turnbull and Mike Palmateer. Rick Vaive was a great scoring forward who just had the misfortune to play for those awful Leafs teams of the early 80s.
I hated Harold Ballard for destroying a once-proud franchise. Wendel Clark is still one of my all-time favourite players, and those Leafs teams of the early-90s, with Dougie Gilmour and Felix Potvin and Pat Burns was a likeable, hard-working bunch.
If I truly hated the Leafs, my posts about them would be filled with hateful comparisons of the number of Stanley Cups won in comparison to my Habs.
But again, there's supposed to be a thing called objectivity here, so I leave that kind of stuff for the good-natured banter with my wife and my friends.
I have both complimented and criticized the Leafs since 1998 when it was deserved, yet for one or two Leafs fans, they prefer the former and not the latter.
Being critical of the amount of money the Leafs have spent over the years with nothing but a couple of early conference finals exits to show for it isn't bias.
Being critical of their defence corps and their over-reliance on goalie Ed Belfour isn't bias.
Suggesting that it's possible they could finish last in their division this season in my season preview isn't bias.
Disagreeing with me about my critique is one thing, and I encourage the comments of those who do as per the rules outlined earlier in this piece.
Accusing me of bias because I dared to point out a team's flaws is not only absurd, it's annoying. Criticism isn't bias. Period.
For those of you who believe otherwise, might I suggest that instead of reading my comments you go to a website devoted solely to your favourite team, where seldom is heard a discouraging word and the skies are not cloudy all day.
That way, you won't have to get yourselves worked up over my commentaries, and I won't have to read another of your dreary bias accusations....or write another piece like this one!
NOVEMBER 13: NEWS N' NOTES.
- Did LA Kings team president Tim Lieweke let the cat out of the bag regarding the future of the Pittsburgh Penguins?
The Ottawa Sun on Sunday reported Lieweke stands to face a major fine from the NHL for comments he made regarding the Penguins and Kansas City:
Leiweke, who doubles as president of the Anschutz Entertainment Group (the owners of the Kings), told a Kansas City newspaper last week the Pittsburgh Penguins could be the major tenant of a new 18,500-seat rink there scheduled to open in 2007. "If Pittsburgh doesn't have an arena deal done a year from now, they're gone," said Leiweke. "The Pittsburgh Penguins can be the Kansas City Penguins, no question about it. That team here ... it will sell out every ticket in advance, end of story. That team will be a huge, instant home run here. And, that kid, Sidney Crosby, is unbelievable."
Yipes. That can't be good news for Pittsburgh hockey fans, who've known for some time that their franchise is having a tough time getting the city to build them a new arena.
Team owner and captain Mario Lemieux was on record two months ago forewarning his club would have no choice but to relocate if the city still dragged its feet regarding an arena.
While Sun reporter Bruce Garrioch wrote that he believes Houston is a top prospect city should an NHL team relocate, Lieweke comments certainly should open some eyes.
One also wonders what stake, if any, Lieweke and Anschutz Entertainment Group (his employer and owner of the LA Kings) might have if the Pens did move to KC.
Wonder no longer, for as noted in the Vancouver Sun (subscription needed):
Tim Leiweke is aiming to find a tenant for his company's new arena in downtown Kansas City.
Leiweke's name is already familiar to the NHL -- he's the president of the Los Angeles Kings. And as such, he wouldn't be able to own or operate another NHL team.
But Leiweke, also president and chief executive officer of Anschutz Entertainment Group, can facilitate a move and have AEG still manage the Sprint Center, an 18,500-seat arena set to open in the fall of 2007.
Jeebus, nothing like tipping your hand early, eh?
- Seems Boston Bruins team president Harry Sinden is worried that somebody could get seriously hurt because of all the 5-on-3 situations created by the new NHL rules:
"It's the 5-on-3s," Sinden said on Monday in Toronto, as he rode a bus to the Hockey Hall of Fame for Cam Neely's induction. "There have been more 5-on-3's in the first 15 games than I've seen in years. And they are somewhat dangerous right now, I mean seriously dangerous."
"The defensemen are getting forever to wind up," Sinden said. "They're going to kill someone standing in front with a shot. They've got forever to shoot, and they shoot it so hard and so high. Most shots are high. I'm telling you, I'm worried sick about it. I'm afraid it's going to happen. Someone is going to get killed out there."
Well, that certainly is cause for concern, although I'd think defenders would still be more concerned about taking a blast off the ankle or the foot that getting one in the temple, especially given that everyone wears helmets nowadays so the odds of something that Sinden described occurring are low.
Besides, while there may have been more five-on-threes now than in the past, I still believe over time we're going to see those decreases as players adjust to the new rules.
Maybe Harry's more concerned about how five-on-threes are killing his team on the scoreboard this year.
- If you're a St. Louis Blues fan, life pretty much sucks right now.
OK, so maybe life is pretty good for all of you but I mean in terms of how your favourite team is making out this season.
Not only are the Blues brutal on the ice, wallowing in the basement of the Western Conference, but now there's problems with the sale of their club.
It appeared several weeks ago that the Blues current owners, Bill and Nancy Laurie, had found a buyer for their club in former New York Rangers owner Dave Checketts and his group, Sports Capital Partners.
However, a report several days ago claimed six weeks of negotiations had broken off with Checketts pulling his offer to buy the club from the table.
The St. Louis Post Dispatch reported Sunday representatives from both sides met on Saturday to try to salvage negotiations but there's no word of yet as to how those talks went.
As per the Post-Dispatch article, it appears Checketts is trying to employ business strategy in these talks to swing this deal more to his advantage:
"First, Checketts has allowed information of his unhappiness with the Blues' negotiating tactics to be leaked.
On Thursday, (John) Davidson told the Post-Dispatch that Checketts' group had ended talks with the Lauries, saying that "negotiations are from their point of view not in tune (with the Blues)."
Davidson, who played for the Blues in the 1970s, has been a longtime TV analyst for the MSG Network and worked with Checketts, who was the CEO of Madison Square Garden for 10 years before resigning in 2001.
On Saturday, reports linked Davidson to a management position with the Blues if Checketts were to buy the team and the Savvis Center lease.
Davidson denied any interest when reached Saturday."
Checketts sees the Lauries, who obviously want to rid themselves of the Blues franchise, aren't dealing from a position of strength, and is trying to exploit it to drive down the cost of purchasing the team, currently set at $150 million. It also doesn't hurt Checketts' case when the club is doing so poorly on the ice.
It'll be interesting to see how far this goes.
- Finally, remember back when this new CBA was signed that general managers would try to find loopholes in it to exploit to their advantage?
It didn't take long to start seeing this. First, Tom Benjamin has his take on news reports of teams sending fringe players back and forth to the minors on essentially day trips to save themselves some payroll.
Check out this piece by James Mirtle on the further perils of the salary cap, based on a recent article in The Hockey News.
What's particularly interesting in the Mirtle piece is that clubs who find themselves with considerable cap space remaining as the trade deadline nears will not only be able to "load up" for a playoff run, but they'll only be on the hook for 20% of the salaries of the players they obtain.
So in other words, the concept of the trade deadline "rent-a-player" trade won't be discouraged by this new salary cap.
Mirtle also notes that the THN article points out teams can exceed the cap by 7.5 percent if that is due to player bonuses, but it can be deducted from their cap ceiling for next season.
If a team should trade away a player whose bonuses may be pushing the club over the cap, however, it won't count against their cap for the season.
It'll be fun to see what else some of these general managers come up with.
As Mirtle and THN noted, teams that are pressing close against the salary cap this season are leaving themselves no room to better themselves later in the season. Teams that have more cap space available, like the scary-good Ottawa Senators, are going to benefit by the trade deadline.
If there is any good that will come out of this first year of the new CBA, it's that it'll clearly show that teams who are well-managed and spent wisely are going to be in better shape by playoff time than those who spent more freely.
NOVEMBER 9: THE 1995 DRAFT REVISITED.
Back in late-August, blogger Jes Golbez and myself took a look back at the 1999 prospects of the then-28 NHL teams.
I had so much fun doing that article that I've decided this time out to jump into the way back machine (actually, hockeydb.com) to go back ten year to look at how the 1995 draft picks of the then-26 NHL teams panned out.
As per the hockeydb site, each will be noted by what number they were selected in the draft, their position and of course their names. My analyses will be italicized for your protection.
Keep in mind, folks that this wasn't a great draft year as far as first rounders went. A lot of teams picked players in the first round that never amounted to much.
The most interesting thing about this list is that so few of the players remain with the clubs that drafted them.
ANAHEIM MIGHTY DUCKS:
4 C Chad Kilger
29 R Brian Wesenberg
55 L Mike LeClerc
107 R Igor Nikulin
133 R Peter Leboutillier
159 D Mike LaPlante
185 G Igor Karpenko
Not a great year for draft picks for the then-two-year old Ducks. After hitting a home run with Paul Kariya in 1993 and securing a good offensive d-man in Oleg Tverdovsky in 1994, the Ducks took Chad Kilger over J-S Giguere, although fate would be kind and see "Giggy" dealt to them several years later. Kilger is now a well-travelled checking forward and Mike Leclerc did stick for several seasons in Anaheim before getting dealt to Phoenix earlier this year.
BOSTON BRUINS:
9 D Kyle McLaren
21 D Sean Brown
47 G Paxton Schafer
73 D Bill McCauley
99 R Cameron Mann
151 D Evgeny Shaldybin
177 L P.J. Axelsson
203 D Sergei Zhukov
229 Jonathan Murphy
The Bruins have done reasonably well at the draft table over the years, and this was no exception. McLaren never played up to the hype of being a Scott Stevens clone like some expected but he has had a decent, albeit injury ravaged career. He ultimately was dealt from the Bruins to the San Jose Sharks after becoming embroiled in a contract dispute with management. Sean Brown and PJ Axelsson have also managed to have good NHL careers, although Axelsson is the only one still with the Bruins. Cameron Mann saw limited NHL action and now plays in Europe.
BUFFALO SABRES:
14 D Jay McKee
16 G Martin Biron
42 L Mark Dutiaume
68 R Mathieu Sunderland
94 R Matt Davidson
111 D Marian Menhart
119 D Kevin Popp
123 L Daniel Bienvenue
172 F Brian Scott
198 C Mike Zanutto
224 W Rob Skrlac
The Sabres did all right with McKee, who's become a stalwart on their blueline and is quite possibly one of the most under-rated defensemen in the NHL. Biron at one point appeared to be the Sabres goalie of the future but has apparently lost out that role to Ryan Miller and now finds himself the topic of trade rumours. Davidson wound up with the Blue Jackets for parts of three seasons and now plays overseas.
CALGARY FLAMES:
20 D Denis Gauthier
46 F Pavel Smirnov
72 D Rocky Thompson
98 R Jan Labraaten
150 C Clarke Wilm
176 D Ryan Gillis
233 D Steve Shirreffs
Gauthier spent seven years with the Flames until landing in Darryl Sutter's doghouse and moving on to Phoenix. Thompson saw limited action over three years with the Flames and Panthers and is now a career minor leaguer in the AHL. Wilm has played seven seasons with three teams and currently sees occasional duty on the Maple Leafs checking lines.
CHICAGO BLACKHAWKS:
19 C Dmitri Nabokov
45 D Christian Laflamme
71 Kevin McKay
82 Chris Van Dyk
97 Pavel Kriz
146 G Marc Magliarditi
149 D Marty Wilford
175 C Steve Tardif
201 R Casey Hankinson
227 R Michael Pittman
I realize that 1995 wasn't a great draft year, but even so, the 'Hawks did a poor job with these selections. If you want to know why they've struggled over the last ten years, poor drafting during the mid-to-late 1990s is one reason. The only player of note here is Laflamme, who spent part of eight seasons with four NHL teams before moving on to Europe.
COLORADO AVALANCHE:
25 G Marc Denis
51 L Nic Beaudoin
77 R John Tripp
81 L Tomi Kallio
129 G Brent Johnson
155 C John Cirjak
181 D Dan Smith
207 C Tomi Hirvonen
228 R Chris George
Avs GM Pierre Lacroix has a reputation as a shrewd general manager but even he couldn't do much with what was available in the 1995 draft. Still, it wasn't all bad, as he drafted two eventual NHL goalies in Denis and Johnson, although they would further their careers with other teams. Kallio spent most of his four NHL seasons in Atlanta before moving back to Europe.
DALLAS STARS:
11 R Jarome Iginla
37 L Patrick Cote
63 D Petr Buzek
69 D Sergei Gusev
115 Wade Strand
141 Dominic Marleau
173 R Jeff Dewar
193 Andrei Koveshnikov
202 R Sergei Luchinkin
219 C Steve Lowe
Then-Stars GM Bob Gainey is another highly respected hockey man who got himself a future franchise player in Iginla, but dealt him off later in the 1995-96 season for Joe Nieuwendyk, who would lead the Stars to the 1999 Stanley Cup. A fair trade-off. Buzek went on to the Thrashers where he had plenty of promise until a car accident robbed him of further NHL development and he returned to Europe. Gusev saw limited NHL action for five seasons and also plays overseas.
DETROIT RED WINGS:
26 D Maxim Kuznetsov
52 L Philippe Audet
58 C Darryl Laplante
104 F Anatoly Ustyugov
125 D Chad Wilchynski
126 G Dave Arsenault
156 C Tyler Perry
182 R Per Eklund
208 F Andrei Samokhvalov
234 L David Engblom
Now some critics of the Wings will point to this as substantiation that if it weren't for their owner's big wallet they never would've become Cup champions. Fact is, the Wings did much better in previous drafts prior to this one and have continued to do so since 1998. Even a great club like the Wings have an off-year now and again, and 1995 was one of those years. Only Kuznetsov saw any NHL action and that was sporadic over four seasons with the Wings and the LA Kings. He's now playing in Russia.
EDMONTON OILERS:
6 L Steve Kelly
31 L Georges Laraque
57 D Lukas Zib
83 G Mike Minard
109 D Jan Snopek
161 C Martin Cerven
187 D Stephen Douglas
213 Jiri Antonin
Former Oilers GM Glen Sather has taken a lot of criticism in recent years for his draft record during the 1990s. He did draft some talent during that time (Rucinsky, Arnott, Satan, Smyth) but the best he got in this year was Laraque, who's been the club's enforcer now almost 8 years. At least he got an NHL player in this draft. Five years earlier, in 1990, his selections all failed to make the NHL.
FLORIDA PANTHERS:
10 R Radek Dvorak
36 G Aaron MacDonald
62 D Mike O'Grady
80 L Dave Duerden
88 D Daniel Tjarnqvist
114 Francois Cloutier
166 L Peter Worrell
192 D Filip Kuba
218 G David Lemanowicz
Not a bad outing by the Panthers, considering they selected Ed Jovanovski and Rhett Warrener the year prior. Dvorak has the talent to be a strong first-second line forward but his career has been dogged by injuries and seen him bounce from Florida to New York to Edmonton. Worrell for six years was their designated tough guy but now toils in the AHL for the Rangers farm club. It was Kuba who has stood out on this list, having gone on to anchor the blueline corps of the Minnesota Wild.
HARTFORD WHALERS:
13 G Jean-Sebastien Giguere
35 D Sergei Fedotov
85 C Ian MacNeil
87 L Sami Kapanen
113 D Hugh Hamilton
165 C Byron Ritchie
191 L Milan Kostolny
217 D Mike Rucinski
Yes, before they moved to Carolina to become a storm system, the Whalers were still in Hartford, although 1995 would be the team's second-to-last draft before relocation. As we can see, they didn't do too badly, selecting Giguere and Kapanen, although "Giggy" wound up dealt to Calgary and later to Anaheim. Kapanen made the club in 1995-96 after spending half the season with the Whalers farm team, moved with them to Carolina where he enjoyed his best seasons before getting dealt to Philadelphia where he's currently sidelined indefinitely. Ritchie had played parts of seven NHL seasons and is currently with the Flames.
LOS ANGELES KINGS:
3 D Aki-Petteri Berg
33 C Donald MacLean
50 R Pavel Rosa
59 L Vladimir Tsyplakov
118 C Jason Morgan
137 F Igor Melyakov
157 Benoit Larose
163 F Juha Vuorivirta
215 D Brian Stewart
Berg spent parts of four seasons with the Kings before getting dealt to the Toronto Maple Leafs where he's in his fourth season being much maligned by the Leafs faithful. Rosa saw a handful of games with the Kings over four seasons and now plays in Russia. Tsyplakov spent six seasons in the NHL with the Kings and Buffalo Sabres but injuries hampered his final three before a contract dispute sent him back to Russia.
MONTREAL CANADIENS:
8 L Terry Ryan
60 D Miroslav Guren
74 L Martin Hohenberger
86 R Jonathan Delisle
112 R Niklas Anger
138 C Boyd Olson
164 D Stephane Robidas
190 Greg Hart
216 C Eric Houde
Critics of the Canadiens claim they drafted poorly throughout the 1990s and for the most part they're right. The 1995 draft, Serge Savard's last, was no exception. Ryan had plenty of promise but a serious concussion suffered early in the 1996-97 season killed his NHL career. Only Robidas would go on to have an NHL career, having played six years, three in Montreal and the rest with Chicago and Dallas, where he still plays today.
NEW JERSEY DEVILS.
18 C Petr Sykora
44 L Nathan Perrott
70 D Sergei Vyshedkevich
78 L David Gosselin
79 C Alyn McCauley
96 D Henrik Rehnberg
122 G Chris Mason
148 L Adam Young
174 C Richard Rochefort
200 G Frederic Henry
226 D Colin O'Hara
The Devils have a well-deserved reputation for drafting well, and even in this weak draft year they still found a gem in Sykora, who had his best offensive seasons with the Devils and was a key player in their 2000 Cup championship. McCauley never played for the Devils, but saw limited action in Toronto before becoming a key forward for the San Jose Sharks in 2003-04. Mason is now Tomas Vokoun's backup in Nashville, while Perrott saw limited action with the Maple Leafs and is now with the Stars.
NEW YORK ISLANDERS.
2 D Wade Redden
28 L Jan Hlavac
41 D D.J. Smith
106 R Vladimir Orszagh
158 L Andrew Taylor
210 G Dave MacDonald
211 Mike Broda
Isles GM Mike Milbury drafted well in the 1990s, as did his predecessor, but he just couldn't hang onto most of his best picks and prospects! The Isles drafted three NHL calibre players of varying quality with their first four picks. Redden was dealt to the Senators for Bryan Berard, the first overall pick. Hlavac had two seasons of scoring promise with the Rangers before his numbers faded and he moved on to Europe. Orszagh eventually wound up in Nashville where he had three decent seasons before a knee injury made him an unrestricted free agent this summer. To date he's playing overseas.
NEW YORK RANGERS.
39 R Christian Dube
65 D Mike Martin
91 C Marc Savard
110 D Alexei Vasiliev
117 D Dale Purinton
143 Peter Slamiar
169 G Jeff Heil
195 D Ilja Gorokhov
221 C Bob Maudie
Former Rangers GM Neil Smith gets a lot of criticism for consistently signing or dealing for aging veterans following the Blueshirts 1994 Stanley Cup championship, but give credit where it's due, for the most part he did well at the draft table. 1995 would've been an exception save for Marc Savard, who if he could only stay healthy could be among the league's top pointgetters. He now plays for Atlanta. Purinton was the Rangers designated tough guy for four seasons but according to hockeydb he's now with their farm club.
OTTAWA SENATORS:
1 D Bryan Berard
27 D Marc Moro
53 L Brad Larsen
89 D Kevin Bolibruck
103 L Kevin Boyd
131 F David Hruska
183 D Kaj Linna
184 D Ray Schultz
231 R Erik Kaminski
One of the Senators strengths for years has been their draft record, although apart from selecting Berard this one wasn't much to shout about. Still, they parlayed Berard for Wade Redden with the NY Islanders, proving that smart management also means being able to trade well. Larsen never played for the Sens but has seen limited action over seven seasons with Colorado and Atlanta.
PHILADELPHIA FLYERS:
22 G Brian Boucher
48 D Shane Kenny
100 L Radovan Somik
132 D Dmitri Tertyshny
135 D Jamie Sokolsky
152 L Martin Spanhel
178 F Martin Streit
204 F Ruslan Shafikov
230 D Jeff Lank
GM Bob Clarke is another guy who is definitely one of the shrewdest hockey men in the game, and has the draft record to prove it, although I don't think 1995 will stand out in his memory. Still, he did select Boucher, who for one glorious season (1999-2000) electrified the Flyers faithful and carried them to within one period of going to the Stanley Cup finals. Boucher would end up dealt to Phoenix, where injury and inconsistent play threatens his tenure there.
PITTSBURGH PENGUINS:
24 R Alexei Morozov
76 G Jean-Sebastien Aubin
102 R Oleg Belov
128 C Jan Hrdina
154 C Alexei Kolkunov
180 Derrick Pyke
206 D Sergei Voronov
232 G Frank Ivankovic
GM Craig Patrick made a name for himself drafting such players as Jaromir Jagr, Markus Naslund and Martin Straka in the early 90s, and consensus was in the late-90s that he may have hit the jackpot in the 1995 draft. While Morozov, Aubin and Hrdina had NHL careers of varying success, none of them panned out as expected and they are either in Europe (Morozov), in the AHL (Aubin) or on another NHL team (Hrdina).
SAN JOSE SHARKS:
12 R Teemu Riihijarvi
38 C Peter Roed
64 L Marko Makinen
90 G Vesa Toskala
116 G Miikka Kiprusoff
130 F Michal Bros
140 Timo Hakanen
142 L Jaroslav Kudrna
167 R Brad Mehalko
168 D Robert Jindrich
194 C Ryan Kraft
220 Mikko Markkonen
Then-GM Dean Lombardi did a good job building the Sharks in the 1990s, part of which was his ability to land decent talent in the draft. Kiprusoff looked to have a career with the Sharks until injuries and Evgeny Nabokov and Toskala made him expendable, where he's gone on to become the Flames number one netminder and one of the main reasons for their going to Game Seven of the 2004 Finals. Toskala remains Nabokov's backup although he's been hampered by a groin injury this season.
ST. LOUIS BLUES:
49 C Jochen Hecht
75 G Scott Roche
101 C Michal Handzus
127 L Jeffrey Ambrosio
153 L Denis Hamel
179 D Jean-Luc Grand-Pierre
205 L Derek Bekar
209 D Libor Zabransky
Hecht has become an inconsistent second line forward in a career that's taken him from St. Louis to Edmonton to now Buffalo. Hamel has spent parts of five seasons with Buffalo and now Ottawa. Grand-Pierre bounced around from Buffalo to Columbus to Atlanta to Washington over seven seasons before moving on to Europe . It's the loss of Handzus, however, that probably stings the most for Blues fans, as he's become a highly valuable two-way forward for the Philadelphia Flyers.
TAMPA BAY LIGHTNING:
5 C Daymond Langkow
30 D Mike McBain
56 W Shane Willis
108 F Konstantin Golokhvasto
134 C Eduard Pershin
160 D Cory Murphy
186 L Joe Cardarelli
212 G Zac Bierk
The Bolts were still nine years away from the Stanley Cup at the time of this draft, and Vincent Lecavalier , Brad Richards and Pavel Kubina were still several years away from being drafted. Langkow has gone on to become a solid two-way centre in an 11 year career that now sees him on Jarome Iginla's line in Calgary. Willis had a promising rookie career with Carolina until he was run over by Scott Stevens in the 2001 playoffs and was never the same again. Zac Bierk became a fan favourite in Tampa Bay during his occasional callups and his last season was split between Phoenix and the Springfield Indians.
TORONTO MAPLE LEAFS:
15 D Jeff Ware
54 R Ryan Pepperall
139 G Doug Bonner
145 D Yannick Tremblay
171 C Marek Melenovsky
197 W Mark Murphy
223 D Danil Markov
Another team that gets justifiably slammed for not drafting well, the Leafs actually came out of this one with two promising defencemen. Tremblay spent eight seasons in the NHL, most of those with the Thrashers. The hard-nosed Markov was dealt to the Phoenix Coyotes in 2001 and has since bounced to the Hurricanes, Flyers and Predators.
VANCOUVER CANUCKS.
40 D Chris McAllister
61 L Larry Courville
66 L Peter Schaefer
92 D Lloyd Shaw
120 L Todd Norman
144 D Brent Sopel
170 C Stu Bodtker
196 R Tyler Willis
222 G Jason Cugnet
Schaefer played three seasons for the Canucks until a contract dispute saw him play in Europe for a season before his rights were dealt to the Ottawa Senators, where he's seen second and third line duty. The popular Sopel had rounded out an uneven playing style and after six seasons was thought to be a permanent member of their blueline corps until the new CBA meant trading his salaryto the Islanders last summer to free up contract space to re-sign other players. McAllister spent parts of ten seasons with five NHL clubs and is now in the AHL.
WASHINGTON CAPITALS:
17 L Brad Church
23 L Miika Elomo
43 L Dwayne Hay
93 G Sebastien Charpentier
95 D Joel Theriault
105 C Benoit Gratton
124 D Joel Cort
147 D Frederick Jobin
199 D Vasily Turkovsky
225 D Scott Swanson
The Caps did not draft very well in the last half of the 1990s, and this was definitely their worst draft year of that period. Those who saw NHL action (Hay, Charpentier, Gratton) made very limited apperances and aren't likely to return.
WINNIPEG JETS:
7 C Shane Doan
32 C Marc Chouinard
34 D Jason Doig
67 L Brad Isbister
84 D Justin Kurtz
121 G Brian Elder
136 G Sylvain Daigle
162 D Paul Traynor
188 R Jaroslav Obsut
189 Fredrik Loven
214 C Robert DeCiantis
In their final year at the draft table as the Jets before moving to Phoenix to become Coyotes, Winnipeg management had a good year. Doan remains with the Coyotes and is their top forward. After three years with the Mighty Ducks, Chouinard has found a home with the Minnesota Wild. Doig has spent parts of eight NHL seasons with four NHL teams as well as boucing around the minors. Isbister was once thought to be the next John LeClair but injuries and inconsistent play has seen him bounce from the Coyotes to the Islanders to the Oilers to the Bruins.
NOVEMBER 5: RANDOM THOUGHTS.
- NHL Commissioner Gary Bettman is pleased with what he's seen of the new season so far.
''Oh, do I love Canada,'' Bettman told a National Press Club lunch crowd, noting that ratings have risen 50 per cent on CBC's Hockey Night in Canada and a whopping 200 per cent on TSN since the 2003-04 season.
I bet he does, because without strong fan support from Canada, the NHL would be in a lot of trouble.
Of course fan support has been overwhelming for hockey's return here in Canada. The sport is this country's passion, the NHL it's biggest temple of worship.
But will those big ratings boosts remain? Or will those ratings level out or even decline back to pre-lockout levels in Canada?
If attendance has been trending downward as the Toronto Star indicated, at some point so could the ratings.
''Who ever believed it could come back this strong? Actually we did,'' said Bettman, who also credited avid, knowledgeable fans and a total overhaul of the league's economic system which features a salary cap.
''Now the team's ability to compete is based upon its hockey, front office and team-building skills, not on the team's ability to pay,'' he said. ''We have emerged as partners with our players and our fans.''
Bwaaah-hahahahaha!
The NHL is in partnership with their fans? Ahhh-hahahahahahaha!
There is no partnership between the NHL and its fans. None. Zippo. Nada.
If the owners and players truly cared about us, we wouldn't have lost an entire season to a senseless labour dispute. All they care about is that we keep plunking down money for tickets and merchandise. That's the extent of the "partnership" between the league and its fans.
And if you really believe Bettman's claim that a team's ability to compete will be based more upon those running it and less on how much it can pay, I've got a bridge in Brooklyn to sell you.
Look, there are some teams that are run responsibly and will spend the same way, and there are teams that aren't and won't.
When that salary cap starts rising (and it will) into the mid-40 million range in a couple of years, you're going to see that widening gap between "haves" and "have-mores" reappear once again.
Sure, it won't be as wide as under the previous CBA, and that is a good thing, but it will be there. Teams that can afford to spend will and those that can't, won't.
Honestly, does anyone really believe, once the cap reaches around $45 million, that the small markets will keep pace with the big markets?
That's going to drive up salaries again, as will the irresponsible spending habits of the front offices of some teams. The days of $10 million per season contracts may be in the past, but those of $8 million per would be in range then, and it wasn't that long ago that those kind of contracts were considered to be too high for the game's best players.
Remember, you can't legislate against greed and stupidity.
''Mere months ago, this league faced what some - not we, but some - characterized as the worst crisis in our history.''
High ticket prices, instability of franchises and the widening gap between ''have and have-not'' teams required a revolutionary approach, said Bettman.
''There were simply too many bankruptcies and too many owners who had enough of losing money or not being competitive and too many fans distracted by our problems.
''Things had to get fixed and this conviction was shared by all 30 of our teams.''
Ticket prices are down about 7 percent this season compared to 2003-04 overall, but don't expect that trend to last. They were reduced not because of the salary cap, but because of concerns the fans would stay away because of the lockout.
Now that it's obvious the lockout hasn't hurt their gate, watch those prices start climbing next season...and the year after that...and the year after that...and it won't have anything to do with inflation.
As for the instability of franchises and bankruptcies, that had nothing to do with player salaries, despite Bettman's insinuation. That instability was caused by the NHL's overexpansion into non-traditional markets or the poor stewardship of those in other markets.
''The way this system now works, all teams can be competitive in terms of talent on the ice,'' he said.
''All franchises can be not only survivors but fully competitive teams under the new NHL,'' and the new revenue-sharing program means Canadian teams won't suffer because of a lower dollar compared with the U.S."
There are some good things in the new CBA and I agree with Bettman that the revenue sharing plan is one of them, although the fact the Canadian dollar has improved significantly over the past two years (now trading at .85 cents US) compared to where it was from 1995 to 2003 (averaging between .65-.70 cents US) will also play a major part in helping Canadian teams compete.
But the revenue sharing plan only works for those teams with payrolls under a set level (for this year, $29 million) as well as its market.
Right now, all Canadian teams have payrolls well over $30 million US, meaning it's possible none of them could qualify for revenue sharing.
- The increased attendance for the opening month of this NHL season seems to indicate that the league's fan base wasn't hurt by the bitter year-long lockout.
All thirty teams have expressed their gratitude by painting, "Thank You Fans" near the bluelines of their arena ice surfaces.
But are they thanking us for supporting the league? Or thanking us for being suckers by not punishing the owners and players following their stupid, protracted work stoppage?
One thing is clear, as noted by the astute Hockey Rodent: NHL fans have no say and no power over what happens.
There can be future lockouts and labour disputes and the owners and players know we'll all come trotting back like dumb little lemmings, rather than punish them by hitting them in their collective wallets.
Face it, folks: we have no power. They have it and they'll lord it over us for years to come. They'll exploit our love of the game and of their product and won't listen to anything we have to say about improving it or fixing its problems.
Oh, I know, they've instituted these new rules to open up the game and make it more exciting and fan-friendly. Surely that means they're listening to us, right?
No it doesn't. We've complained for the past dozen years that the quality of the NHL product was deteriorating, yet the league powers and the players did nothing about it until the lockout.
It was almost as if they thought, "well, we've got nothing better to do right now, why don't we look into this improving our product stuff that fans were whining about".
The real reason, of course, was that as the lockout dragged on, both sides realized that the possibility existed the fan base might be adversely affected.
We heard nothing about improving the product during the summer and fall of 2004, but only around early winter was there any real movement to look into it, something that gained more traction as the lockout continued and the 2004-05 season was threatened and then finally cancelled.
Now I'm on record that I like the new rules, and I continue to do so. As anticipated, the game has opened up and become more entertaining.
That, however, doesn't mean that they were listening to us. They just wanted to ensure that their revenue sources didn't take a big hit. It wasn't about us, it was all about the green stuff going into their wallets.
It shouldn't have taken the loss of an entire season to a labour dispute to force the NHL into improving its product. If the league is truly in a "partnership" with its fans, it should've been listening to us a long time ago.
And those record-setting attendance increases the league was crowing about for October?
According to a report in Saturday's Toronto Star, those figures have been "trending downward as the month went on and it continues to drop".
The NHL is already attracting an average of 700 fans less per game than they did a month ago, which should be a cause for concern on both sides if the trend continues throughout the season.
- Remember a year ago, when the lockout was in its early months, there was a lot of hype about NHL players going overseas or down to the minors to take jobs from European players and lesser minor leaguers?
More than a few pundits were up in arms about those big, mean NHL "scabs" who were supposedly "stealing" jobs away from those poor, struggling, lower paid lesser lights.
The NHL is back in action now and those NHL'ers are back where they belong, but even so, there are some NHL players who've opted to remain overseas for various reasons.
And there will always be either fringe NHL'ers or those past their prime who'll turn to Europe or the minors to play out the remainder of their hockey careers.
So why aren't those pundits who were soooooo concerned about NHL players "stealing" jobs last season worried about that now?
Of course, it's no big deal, folks lose jobs every day, and those players who lost jobs last season either found work with other teams or were rehired once the NHL players returned to North America.
But it was certainly a cause celebre for some in the media during the lockout.
Put simply,that story was sexy because of the ununsually high volume of locked out NHLers employed by European and minor league team owners using NHL work stoppages to their advantage at the expense of those already playing there.
Now that the flood is back to a trickle with the NHL returning to action, nobody cares about those players losing jobs to former NHL'ers now.
- Hats off to Jacques Demers for having the courage to admit his illiteracy in his autobiography.
To have accomplished so much as an NHL coach (two Adams trophies, a Stanley Cup) despite being illiterate is truly amazing, but what impressed me even more was that he was able to rise from a harsh upbringing to reach the pinnacle of the NHL's coaching ranks.
Demers is more than a class act, he's also an inspiration.
NOVEMBER 2: OCTOBER SURPRISES.
Yes, it's now November, but as promised in my last Soapbox (NHL Tales of Halloween Horror) there were some NHL teams that got off to a better start than those in the aforementioned article.
Thus it's now time to list those clubs that were October surprises in the 2005-06 season:
ATLANTIC DIVISION: New York Rangers. Not much was expected from a Rangers team finally in the midst of a long-overdue rebuilding program, yet the Blueshirts surprised a lot of observers, including many of their own fans, with their strong start in October (6-4-3, 15 points).
Credit the no-nonsense coaching of Tom Renney, who's making everyone accountable, including the big name players, and the strong goaltending of Henrik Lundqvist, who's become the early season darling of Rangers fans and is making an early bid for Calder and Vezina nominations.
NORTHEAST DIVISION: Montreal Canadiens. Yours truly predicted the Habs were a better club than some pundits suggested and in October, at least, they proved me right, going 8-3-1 for 17 points to not only lead the division but also tied for the Eastern Conference lead by end month.
Jose Theodore hasn't been carrying the Canadiens, but rather the strong play of their young forwards as well as established vets like Saku Koivu and Alex Kovalev. If Theodore gets his consistency back and some of their blueliners step up, the Habs could be even stronger in November.
Buffalo Sabres: They're sitting third in the division and sixth in the Conference by end October, a far better start (7-4, 14 points) than they've had in recent seasons. It's a shame that so far they've been playing to less than full houses at home.
Those who've stayed away have missed out on a fast-skating young club that's also stingy on defense, while young goalie Ryan Miller has finally stepped up as anticipated as their starting goalie. They could use more offence from forwards like Maxim Afinogenov and rookie Tomas Vanek, but for now the Sabres have served notice in October they could be serious playoff contenders.
SOUTHEAST DIVISION: Carolina Hurricanes. Yowzah! Where did these guys come from? Another rebuilding club that not much was expected from this season, the 'Canes are presently tied with Les Canadiens for first overall in the East ( 8-2-1, 17 points) by end October.
They're also another club whose strong play thus far has failed to bring back the crowds in Raleigh. Too bad because they're missing out on an exciting hockey team, especially phenominal sophomore centre Eric Staal, who led the league in points in October (9-13-22). They've also received solid goaltending and steady defence.
Florida Panthers. It was only a matter of time until this predominantly young team improved, and thanks in no small part to new head coach Jacques Martin, they've become a much tougher club to play against defensively, contributing to their 6-5-1 start and keeping them in the hunt for a playoff berth.
The stronger "d" has no doubt come as a blessing for all-star netminder Roberto Luongo, yet the decreased workload hasn't harmed his quality of play, as at this point he's looking like a strong candidate for the Vezina Trophy.
CENTRAL DIVISION: Detroit Red Wings. Come on, admit it. With the salary cap constraints imposed in the new CBA, their struggles in the pre-season to re-sign Pavel Datsyuk and Henrik Zetterberg, their aging vets and their seemingly average goaltending , few other than die-hard Wings fans expected this club to dominate their division and conference in October.
Yet the Wings are sitting once again in familiar territory as the top team in the NHL in October(11-1-0, 22 points). Strong goaltending, solid defence and depth at the forward lines are once again contributing to the Wings success. A big tip of the hat to new head coach Mike Babcock for getting this mix of veterans and youth to mesh well.
Nashville Predators: Another club that yours truly predicted would be better than some pundits expected, the Preds rolled off to a 8-1-1 record for 17 points to sit right behind the Wings in their division and fourth in the Conference.
There are several reasons for their strong play. Among them, the steady coaching of Barry Trotz, the outstanding goaltending of Tomas Vokoun, a young, dominant blueline corps, and the offensive power of Paul Kariya and Steve Sullivan. If they carry this strong start throughout the course of the season, hockey could become the biggest ticket in town in Music City.
NORTHWEST DIVISION: Minnesota Wild. Remember how the new NHL rules were supposed to hamper the Wild, a club known for their trapping defensive game? Well, it's been busy as usual for the Wild, as their aggressive defensive game has them off to a 6-4-2 record, good for second in the division and fifth in the conference.
They've had to rely on their strong goaltending and defence because their best offensive players have been sidelined with injury. They'll need guys like Marian Gaborik back to bolster their offensive game as the season progresses but for now, their tried and true style is working well in the new NHL.
PACIFIC DIVISION: Los Angeles Kings. Actually, their 8-4 record isn't that much of a surprise. This team has had the talent over the last two seasons but were hamstrung by injuries during that time.
Now healthy and led by the strong play of new Kings like Craig Conroy and Pavol Demitra, a good defensive corps and the eye-popping goaltending of rookie Jason Labarbera, the Kings are leading the Pacific and sit third in the Conference. Their overall play is enough to make critics overlook the slow start of motormouth Jeremy Roenick.
So are all these clubs for real? Or will they fade as the season progresses and fall out of the playoff picture by March?
Only time will tell. It's a long way to April and a lot can happen between now and then.
For now, their fans have reason to hope and dream of a strong season for their respective clubs. Here's hoping most if not all of them will see those dreams fulfilled.