MAY 29: PARITY OR PARODY?
As the 2005-06 Stanley Cup playoffs advance toward the Finals there's been some grumbling about the quality of the four finalists in this year's Conference finals.
The Buffalo Sabres, Carolina Hurricanes, Edmonton Oilers and the recently eliminated Anaheim Mighty Ducks are considered small market NHL franchises, lacking the large fan bases of other, bigger, more recognizable teams.
That's led to concerns about the league's U.S. television ratings, as all the big market "name" franchises either failed to make the playoffs or were eliminated before the Conference Finals.
Some critics are starting to blame the "New NHL" system, that under the new salary cap system there is greater parity than ever before, which consequently results in teams with less drawing power marching to the the final two rounds of the Stanley Cup playoffs and thus adversely affecting the league's efforts to increase its popularity in the U.S. sports market.
Yet in the final two seasons under the previous CBA, the NHL already seemed to be trending toward parity.
In the 2003 playoffs, the New Jersey Devils and Anaheim Mighty Ducks were the finalists, and in 2004, the Tampa Bay Lightning and Calgary Flames.
I can vividly recall plenty of grumbling back then over how those finalists were hurting the NHL's ratings and popularity in the United States. The 2003 Finals were considered the dullest in recent memory and the 2004 series was tagged by some as "the best Finals nobody saw".
So the fact that this year's Finals is shaping up to be another showdown between small market or less popular franchises is hardly one unique to the "new NHL".
Why are more small markets clubs qualifying for the Stanley Cup finals in recent years? Probably because the markets dictated what these small market clubs must do to build and maintain contending rosters.
These clubs under the previous CBA simply couldn't compete with their big market rivals for the services of the top unrestricted free agents, be it bidding for them in the open market or retaining their own.
Thus they had to turn to the more "tried and true" methods of team building, via trades and the draft, and establishing a strong development system. That would guarantee a pipeline of promising youth to be used either as trade bait to plug gaps in the roster from departing veterans or to fill the spots themselves.
That system makes it easy to build a club that has the time to gel together as a team. That can give that team an edge over one with a bigger payroll and - on paper - with more talent.
Free agency can help a potential contender build into a champion, but it's bringing in the right players that can mix well with a roster that has been together for a long time. It's no guarantee of a championship.
The problem for small market clubs under the old CBA, however, is that budget restrictions made it very difficult to maintain a contending roster.
The new CBA was supposed to address this for these clubs, to supposedly give every team a legitimate chance to build and maintain a contender on a "level playing surface".
It remains to be seen if this system will accomplish this goal, but it does, however, raise the question over what's best for the NHL.
Is it a system that allows any team, large or small, to have a legitimate shot at the Cup, or one that only favours the big markets teams?
In terms of "growing the game" in the all-important American sports marketplace, it would probably help the league's visibility if more of the big market American clubs - the NY Rangers, Detroit Red Wings, Philadelphia Flyers, Boston Bruins, Chicago Blackhawks, Los Angeles Kings, Dallas Stars and Colorado Avalanche - consistently it to the NHL's "Final Four".
However, from 1996 to 2003 one or two big market franchises regularly made it to the Finals, but ratings during that time period consistently fell, which would suggest the quality of the product and not the popularity of big market franchises has an impact on ratings.
That period is derisively referred to as "the Dead Puck era", when uncalled obstruction and an emphasis on defensive play sucked the offensive life - the most important selling point of hockey - out of the game.
Given the large amount of clubs spread out throughout the USA in smaller markets, a system favouring big markets would be a killer for the latter, turning those teams into little more than professional "feeder systems" for their big market peers.
Ideally the NHL wouldn't have thirty teams, but would be limited to perhaps 20 or 22 franchises. Unfortunately, however, the mad dash for expansion in the 1990s, fuelled by greed rather than common sense, means the NHL must work for parity.
Without parity the NHL risks the possibility of franchise relocations or contractions, neither of which is palatable for a sports league just coming off a year-long lockout which did serious damage to its already shrinking visibility in the United States.
So it must "grow the game" and the best way is parity, to give fans in every NHL city the hope their team has a shot at winning the big prize every year.
In turn the league hopes that this will also improve the league's visibility and popularity in the American sports market.
It remains to be seen if this current CBA will allow for league-wide parity, but if the NHL truly hopes to build its popularity it requires a better product regularly showcased on both ESPN and one of the major U.S. networks.
The league has taken the necessary steps to improve its product, spurred more by fear the lockout might cause serious damage to its already shrinking U.S. fanbase than by a real determination to improve the product.
Unfortunately, the NHL failed to renegotiate a new contract with ESPN, opting for a supposedly better deal with OLN, which reaches far fewer viewers. It also has a once-per-week show on NBC, but only for games during the second half of the season and the playoffs.
Under these terms, it's difficult to imagine the NHL product making substantial inroads into the U.S. sports market, but the league still has to try.
For better or worse, the NHL must turn to the promise of parity in hopes of rebuilding itself back into a major sports league in the eyes of American sports fans.
Only the end of the current CBA will determine if parity has made the NHL into a parody.
MAY 24: THE IMPACT OF BRAD RICHARDS NEW CONTRACT.
The hockey world is still abuzz over Monday's report of the Tampa Bay Lightning re-signing star forward Brad Richards to a five-year, $39 million contract and its potential implications for both the Lightning and this summer's free agent market.
The new deal will pay Richards $7.8 million per season, and taking into account the respective salaries being paid to Vincent Lecavalier ($6.85 million) and Martin St. Louis ($5.25 million) will tie up nearly $20 million of the Lightning's payroll for next season.
I've already commented in my Foxsports.com column as to how this will adversely impact the Lightning's efforts to stock up their roster for next season.
There's been conflicting talk over what the Lightning will do to free up salary cap space. Some observers suggest St. Louis will "obviously" be traded, yet Feaster was recently quoted in a radio interview as hinting he'd retain St. Louis but would have to consider making cuts elsewhere on his roster.
St. Louis also has a no-trade clause, although there's some confusion as to whether or not it's in effect now or July 1st.
I don't believe Feaster will move St. Louis or Lecavalier, and I think he'll try to retain Pavel Kubina, but it wouldn't surprise me if Kubina, Fredrik Modin or Ruslan Fedotenko are shopped.
In the wake of the announcement of the contract, commentary from other media sources as to how it will affect this summer's UFA market.
Michigan Live's Ansar Khan writes this will have an impact on the Red Wings negotiations with Nicklas Lidstrom. Granted, Lidstrom is a defenceman so an argument could be made that there is no comparison between he and Richards, a forward, but as Khan notes, "If Richards is worth $7.8 million a season, it's hard to imagine Lidstrom's agent, Don Meehan, settling for less than $8 million."
In other words, Lidstrom is a Norris winning defenceman who could win the award again this season, making him the best player at his position, and thus worth as much or more than Richards, who isn't the league's highest scorer, goalscorer or MVP.
John Manasso of the Atlanta Journal-Constitution suggested on his blog that, not only will Richards contract affect Lidstrom's value, but also New Jersey's Patrik Elias, Colorado's Joe Sakic and Atlanta's Marc Savard.
Elias has played on three Stanley Cup winners but has no individual awards, while Richards has played on one Cup winner and won a Smythe and Lady Byng, plus is nominated for the Byng again this season.
Richards also has more points over the past five seasons (368) than Elias (340), although the latter was adversely affected this season due to his lengthy recovery from hepatitis. Still, Richards has shown steady improvement compared to Elias, whose point production has fluctuated over the same period.
Elias is also a left winger while Richards plays centre, which it could be argued is a more important position.
That being said, don't be surprised if Elias gets an offer comparable to that of Richards, if not from the Devils then from another club.
Sakic is another story.
Like Richards, he's a centre, and over the same period has more points than Richards (429) plus is a former Hart, Smythe and Byng winner, and like Richards was his team's leading scorer this past season.
As great as Sakic's career has been, however, he's in his mid-thirties and unlike Richards, who's about to enter his prime, would be considered a depreciating asset. His best season was ten years ago and the last time he cracked the 100 point plateau was five seasons ago.
He also hopes to remain with the Avalanche, but may have to consider taking a pay cut from the $6.6 million he earned this season because of Colorado's potential cap constraints.
As for Savard, who scored six more points (97) that Richards this season (91), a quick look at his stats indicates there not comparable to Richards, but he and his agent will likely point out that in the two seasons prior to 2005-06 he would've outpaced Richards were it not for injuries.
Savard won't get a deal worth $7.8 million, but he'll probably more than double the money ($2.28 million) he got for this season.
The Minneapolis Star-Tribune's Michael Russo reports Richards deal initiated another nasty row between Marian Gaborik's agent and Minnesota Wild's management.
Prior to the 2003-04 season the Wild had used Richards as a comparable when it offered Gaborik a richer contract than that which Richards signed with the Bolts in the summer of 2003.
However, Wild management no longer considers the two as comparable, yet Gaborik's agent Ron Salcer observes his client's performance last season despite getting less icetime than Richards is proof he's "a premier player".
Now obviously Salcer isn't seeking the same money that Richards made, but he's right in noting that Gaborik is a premier player who's been held back by the Wild's restrictive defensive game. Gaborik and Salcer rejected a five-year, $5.5 million contract, secure in the knowledge they'll get a better contract on the open market next summer if the Wild are unable to lock him up long term.
Chris Stevenson of the Ottawa Sun notes this deal could make it very difficult for the Senators to retain Wade Redden, Zdeno Chara and Martin Havlat. He makes the following observation:
"The players took a salary cap and a 25% hair cut in the last CBA and looked like the losers, but the story is going to be same: The top players are still going to get top dollar, perhaps at the expense of their less-talented colleagues in the long run."
As I frequently pointed out during the "lost season", this was never going to change, regardless of the outcome of the year-long lockout.
Perhaps the biggest impact of Richards contract is that it puts to rest the misguided notion that the new CBA would prevent teams from paying too much to either retain their best players or to sign comparable unrestricted free agents.
Stevenson continues:
"There is a downside for the players, however. The top players will get their money, but even if the cap goes to $43 million for next season -- that's the most popular guess -- it still means there is going to be more of a gap between the haves and have-nots in the NHL.
More than a few insiders said the problem with the old NHL was not the big stars making big money, but the second-tier players getting almost as much.
The middle class might start disappearing now."
Checking the list of the top 25 players in salary from 1995-96 to 2003-04, I found only five players - Uwe Krupp, Valeri Kamensky, Joe Murphy, Pat Verbeek and a fading Kevin Stevens - who fell into the category of "second tier players" earning as much as the top players.
Still, Stevenson has a point in that there were too many second tier players earning more than their worth under the old CBA. The "middle class" isn't going to start disappearing, as Stevenson suggests, but it will start shrinking.
By how much, however, depends on the floating cap and the spending habits of the teams.
During the lockout a majority of hockey fans (if the polls of the time were anything to go by) believed the cap would make it more affordable for teams to retain their best players, rather than lose them to free agency because they couldn't or wouldn't re-sign them.
Richards contract will be one of many that will be used by stars of small market teams in the near future as a comparable when seeking new contracts.
Remember, just because a team has plenty of available cap space doesn't necessarily mean that team will willingly spend $7.8 million per season - or more - to retain their best players.
The worry for those clubs was not about retaining their secondary players like their third and fourth line forwards, their fifth and sixth d-men or their backup goalie. Those players are easily affordable to acquire or retain.
It was the salaries of franchise players, stars like Brad Richards, that drew the wrath of fans and media critics of the players. Given what Richards received, it shouldn't take too long before the complaints from the owners and fans of small market clubs should be heard once again blaming the CBA and the "greedy" players for their inability to retain their best players.
Tom Benjamin and Boltsmag have more.
WOULD YOU CARE TO SEE THE DESSERT TRAY?
The following comes from "Alessa":
"I used your "handle" in a project I had to do for culinary school. I gave you full credit in the paper that went with it, and I hope you can appreciate it. I just wanted to show you...
I'm originally from NC, so I'm a huge 'Canes fan. When I had to come up with
a theme for my buffet presentation, I chose hockey. Anyway, here's the
"menu" and the pic."
Dessert/Petit Fours
The Shield - Chocolate pastry cream fills a light, sweet pastry crust. We'll top it off with the league logo in white chocolate.
Prince of Pucks Truffles - Spector's namesake: The darkest chocolate ganache center is lightly coated with cocoa powder and superfine sugar to resemble a well-iced puck.
H-E-double hockey sticks - A not-so-hedonistic ginger-flavored meringue
dessert (it's fat-free!)
The Goalie - A Swiss roll fit for Martin Gerber himself! Sweetened whipped cream is swirled inside a chocolate and vanilla sponge cake modeled after the Hurricanes logo.
Lord Stanley - These lovely cookies, shaped like the sport's ultimate prize, are the perfect accompaniment to your after-dinner cup of coffee.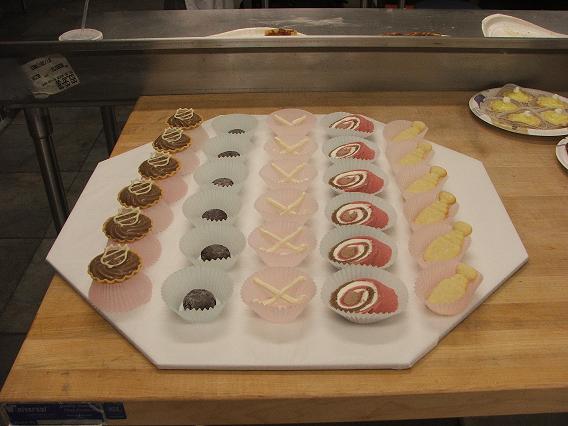 I think it all looks delicious! It's not often somebody gets a dessert names after them, so I'm touched by the gesture. Thanks again, Alessa!
PS: She told me she got an "A" for this. Probably because of the truffles...;)
MAY 21: THE SOUND OF SILENCE?
As more NHL teams fall by the wayside in the Stanley Cup playoffs, more attention is turning toward potential off-season moves.
Some teams have appeared in the rumour mill quite frequently this spring.
The Toronto Maple Leafs, Boston Bruins, Minnesota Wild, Vancouver Canucks, Florida Panthers, NY Islanders and Phoenix Coyotes have regularly popped up in the news since failing to qualify for the Stanley Cup playoffs.
The Leafs and Canucks naturally dominate the sports headlines in their respective cities so it's not surprising those two clubs are still in the news.
The Bruins and Islanders have had front office circuses for some time, so the respectives searches for new general managers continues to make news.
The contract statuses of goalie Roberto Luongo and forward Marian Gaborik remain the topic of conversation for those following the Panthers and Wild.
The Nashville Predators have frequently appeared since its first round elimination, having already re-signed two key restricted free agents.
Yet for the remainder of the teams that were either eliminated from the playoffs or never made it in the first place, there's been precious about their off-season plans to report on .
When the Red Wings, Canadiens, Lightning, Flames, Devils and others got bounced from the post-season, there was an initial flurry of speculation, but since then, the only sound from these clubs is silence.
Not a week goes by without a reader writing in to ask if I've heard anything new on their respective team. When I reply that I know about as much as they do, I usually get asked if these teams are doing anything.
There's a perception by some fans that a team's front office hits the golf course the same time as their players when their season is finished, or take a lengthy vacation until June rolls around, when it's time to prepare for the draft and unrestricted free agency.
That's usually reflected by the occasional e-mail I'll receive at season's end suggesting that I'll have some well-earned time off in April and May because there won't be as many trade and free agent rumours to cover.
Don't mistake the lack of news coming from your favourite NHL team at this time of year as meaning there's nothing going on. The front office of an NHL team at this time can be compared to a duck, seemingly floating along on the surface whilst paddling furiously beneath it.
When an NHL team's season ends, the work continues for most general managers and their respective staffs.
There's many decisions to be made in the off-season, which are usually influenced by how well or poorly the team played that season.
Group II players have to be qualified. Decisions have to be made over which impending Group III players are to retained, which can be cut loose, and which ones will be pursued.
The coaching staff must be evaluated to determine if changes need to be made. Preparations have to be made for the June draft, which means travelling across North America and Europe to scout for the best available prospects.
Phone calls are made to rival general managers to discuss potential deals. Decisions must be made over player development, particularly of those prospects within the farm system.
All of the above now has to be governed by available salary cap space, which could involve trading or releasing some players to free up room on the payroll to address other areas.
These are just the tip of the iceberg but they're perhaps the most important considerations for general managers at this time of year.
So if your favourite team hasn't been making the news this spring, don't take it as a sign that it's not doing anything. Indeed, most have been laying the groundwork for a busy summer.
Consider the spring the calm before the storm.
MAY 17: PLAYOFF NOTEBOOK.
- So Dominik Hasek is hoping to return with the Ottawa Senators next season, eh?
Hate to say it, but I think "the Dominator" not only won't be returning with the Sens, but at 41 years old and with enough of an injury history now to be considered "high maintenance", I think we've seen the end of his NHL playing career.
- There's been a lot of publicity lately over the small market teams qualifying for this year's Conference Finals, as if this is some kind of a strange phenomenon that doesn't normally happen.
Now I realize it's been two years since some of the folks making this observation have seen NHL playoff hockey, but this trend has been around more than just this season.
In fact, looking back over the Conference Finals since 2002, we've seen that small market clubs have been gaining the Conference Finals with far more frequency.
In 2002, it was only the Carolina Hurricanes. In 2003, however, the Minnesota Wild in the West and the Ottawa Senators in the East made it to the Conference Finals. In 2004, the Calgary Flames and San Jose Sharks made it to the Western Conference Finals whilst the Tampa Bay Lightning not only went to the Eastern Conference finals but also emerged as the 2004 Stanley Cup champions.
This season, we're looking at four clubs considered either small or mid-market advancing on.
Why this trend? Probably because those teams were predominantly built via drafts and trades for younger, affordable players, allowing those teams to grow together over time, something that teams who bring in hired guns in the form of free agency haven't been able to do successfully in recent years.
- I like John Davidson as a hockey analyst, but I don't believe he's what the St. Louis Blues need for a general manager to rebuild their club.
This team needs experience in the front office, someone who came up through the management ranks, who knows what it takes to build a team from the ground up.
The Blues were the worst team in hockey this season. They need to rebuild in a major way, and that's going to require a seasoned pro, not a neophyte, in the management chair.
Meanwhile, in Colorado,where Pierre Lacroix is stepping down as GM ( but is leaving behind a team that is still in good shape and with a few adjustments could potentially become a Cup contender again), it's believed Michel Goulet is the front runner for that position.
Goulet's resume is impressive: "In the first nine seasons the Avalanche played in Denver, Michel Goulet wore various hats. He was a director of player personnel, a director of player development and, for the first time this past season, the special assistant to the president."
If anyone knows the Avs, how its front office works, what the roster requirement are, and has learned the ins and outs of management, it's Goulet.
He has experience, something the Blues desperately need if they're going to replace Larry Pleau.
If the Avs don't hire Goulet, somebody in the Blues hierarchy better get his name forwarded to new owner Dave Checketts in a hurry.
Or for that matter, to NY Islanders owner Charles Wang.
- Nice to see the practice of booing another team's national anthem hasn't gone out of style.
Y'know, it doesn't matter who started it or any supposedly misguided justification for doing it. It's simply wrong, and hockey fans who do so should bloody well know better.
Especially when the bulk of your team is made up of players who were born and raised in the country whose anthem you're booing, pinheads!
To paraphrase Yosemite Sam, "Peoples is so stupid!".
- Some folks are suggesting that the lack of star power in this year's playoffs is responsible for the NHL's low TV ratings on OLN and NBC.
That may be partially to blame, but I think it has more to do with the fact that, well, the NHL's TV contract is with OLN, and that NBC's playoff coverage is limited only to Saturday afternoons, where the NHL has to compete with baseball, the NBA playoffs, and the fact that as the playoffs advance the weather gets nicer and folks would rather be outside on a sunny Saturday afternoon than inside watching hockey.
Let's face it, kids, if NHL hockey is to have any chance of improving its visibility in the US market, it must be on ESPN...which it used to be, until the NHL's powers-that-be decided they could get a better deal with OLN, a nice little network that unfortunately doesn't have the same drawing power for its sports that ESPN has.
Now I realize the good folks who run ESPN were playing hardball with the NHL over a new contract, but quite frankly, that was because the NHL's ratings were falling due to the unwatchable product of the dead puck era that the NHL foisted upon sports fans since the late 1990s.
The NHL product is more entertaining now, but the average sports fan in the United States doesn't know about that, because the games are on OLN, not ESPN.
Sometimes, you just have to accept the fact that you're not going to get a great deal to stay with a network that promises higher visibility. A league hierarchy with vision would've understood that and worked with ESPN to promote the hell out of its product in hopes of improving ratings and thus improving the odds of a better contract in the future.
But that would take a league hierarchy with vision, something the NHL has been lacking for years.
- Want another example that, outside of its market cities, the NHL product isn't doing so well in the United States?
How about the recent announcement the US Hockey Hall of Fame was closing?
If the US HHOF couldn't make a go of it located in Minnesota, the state of hockey, that certainly doesn't bode well for the future of the game in the United States.
- Finally, Ed Willes of the Vancouver Province made the following observation:
"(T)his postseason has again demonstrated it is difficult to win when the core of your team is predominantly European. Detroit and its seven Swedes are gone. The Rangers and all their Czechs are gone. So are the Canadiens and their United Nations.
The Canucks, you may have noticed, didn't make the playoffs in the first place.
Conversely, look at the teams that are still going. Anaheim's best player is Scott Niedermayer.
The Oilers are led by Chris Pronger and Ryan Smyth. San Jose has Thornton, Cheechoo and Marleau. Buffalo's best players are Daniel Briere, Chris Drury and, when he's not concussed, Tim Connolly.
We're not channeling our inner Don Cherry, but it's a reality that can't be ignored.
So we'll just ignore the fact that New Jersey's Czech winger Patrik Elias, as of today, leads the playoff scoring race.
Or that Anaheim's Russian goalie, Ilya Bryzgalov, leads all playoff goalies in save percentage, goals-against and shutouts (Scott Clemmensson's 7 minutes of relief work for Martin Brodeur in the Devils-Hurricanes series doesn't count), as well as the fact the Mighty Ducks turned things around against Calgary after they went with Bryzgalov over J-S Giguere.
Or that Anaheim's best forward has been Finland's Teemu Selanne, who's been every bit a leader as Scott Niedermayer, and that Sweden's Sami Pahlsson has been their best defensive forward and also a team leader.
Or that the Sabres best d-man has been Sweden's Henrik Tallinder and that he and Finnish veterans Teppo Numminen and Toni Lydman logged the most ice time on average for Buffalo in these playoffs.
Or that Russian forward Sergei Samsonov has been hailed by the Oilers front office and the Edmonton media for what he's brought to the team in this year's playoffs.
If I'm not mistaken, these aforementioned players would be considered part of the core of their respective teams
Yep, them Europeans just never bring it come playoff time.
MAY 14: THANK YOU, SUCKERS.
Toronto Sun's Al Strachan recently reported of several teams that have shown their appreciation to their fans for their support following the lockout:
- In Ottawa, management booked a children's show that evicted the Senators from the Scotiabank Place last weekend.
Senators-haters, who are numerous, laughed at this, suggesting that the team didn't even have enough confidence in its ability to expect to advance to the second round.
Of course it did. But Dora the Explorer is a high-revenue production, and kids can hardly be expected to come out on a school day.
So the Senators were shunted aside. After last Friday's debacle they wanted nothing more than to get back on the ice as soon as possible. But because of Dora, they had to wait until Monday. When they lost again.
- In Carolina, the Hurricanes have instituted a process that in a less fan-friendly league, might be characterized as gouging. According to the News Observer, fans are infuriated. Seats that cost $85 this round will cost $125 next round and $180 should the team get to the Stanley Cup final. That's a 47% increase in one round and a further 44% in the next.
The newspaper quotes one season-ticket holder since 1999 as saying, "It's clearly a case of let's grab the money while it's there and next year be damned."
- According to Sports Business Journal, the Montreal Canadiens are about to close a blockbuster $240 million financing. As part of the deal, Canadiens owner George Gillett will pay himself a $72 million dividend.
- In San Jose the Sharks started their playoff series after the Colorado Avalanche had already played two games. The arena had booked wrestling and indoor-football events.
- The Nashville Predators threatened to black out Game 5 of their playoff series against the San Jose Sharks if fans didn't buy more seats. A deadline of two days prior to the game was imposed.
The backlash was considerable (or as considerable as a hockey backlash could be expected to be in Nashville), and the team relented after fans coughed up for most of the seats, leaving about 1,100 empty.
- The Minnesota Wild has never had an unsold seat in its existence and consistently has one of the league's lowest payrolls. It has made the playoffs once. Yet the Wild announced that it will be raising prices on every ticket next season.
- In Florida, where the Panthers didn't make the playoffs, the team had to be a bit more creative. It normally charges $15 for parking ($10 for season-ticket holders). As a result, fans took to parking across the street at a large shopping mall which encouraged the practice, and walking to the games.
The Panthers announced that they intend to build a fence around their facility so that fans who walk onto the premises can be charged $5 (for starters).
There are many other examples of the manner in which the NHL is proving that the lockout was "for the fans."
Forgive me while I feign surprise.
I mean, what did these fans expect after the lockout?
There's a line from the opening scenes of the movie "New Jack City" , where Wesley Snipes character says, "Money talks, bullshit runs the marathon."
That's all you need to know about whatever you hear from your favourite NHL hockey team when they assure you that the lockout was done for you, the hockey fan.
Remember how those owners blamed the players for all their woes? How they insisted it was the players high salaries that were making it impossible for small market clubs to compete? That those salaries were the reason ticket prices kept going up? Remember how they claimed they were losing so much money that it was better off to shut down the league for a season if it would bring about the "cost certainty" they claimed the NHL needed for its survival?
All bullshit.
Ask the fans of the Hurricanes, Predators, Panthers and Wild if they're feeling the love from their team's ownership.
Do you think those owners who own their arenas (which would be almost all of them) really put their hockey teams ahead of other, potentially more lucrative, revenue generators?
For that matter, how long do you think those reduced ticket prices many NHL teams introduced for this season will stay that way?
Oh, but the owners need to recoup those losses from missing the season because of those mean greedy players, right?
Wrong!
The NHL and the team owners sold the lockout to hockey fans as the only way to save the NHL product. Same with the CBA. Fans were promised a more affordable product because salaries were capped.
What Strachan noted above is only the beginning, NHL fans. Get used to more gouging when it comes to tickets, concessions, parking or anything else that can be squeezed out of you.
The NHL had "Thank You, Fans!" painted on the ice surfaces of the arenas, and rightfully so, after all, without the hockey-starved NHL fans turning out in record numbers (especially in Canada), the NHL wouldn't have seen its revenues for this season bounce up to close to $2.1 billion, slightly below pre-lockout levels.
You should be thanked, NHL fans. You came out to support a product that was taken away from you by greedy men who only care about you when you pass through the turnstiles of their arenas.
Most of you bought into what the NHL front office and the team owners told you about the lockout being the players fault. You honestly believed the cost of attending an NHL game would be more affordable with a salary cap.
Your money is what makes the players millionaires and the owners billionaires. You could've told these guys to go pound sand after the lockout, but you didn't, you came back, willingly and excitedly.
You did that out of blind, passionate love for your favourite professional sport, not out of stupidity.
But your love is unrequited.
The owners may be saying, "Thank you, fans", but most of them are really thinking, "Thank you, suckers".
CLICK THIS LINK FOR MY TAKE ON PIERRE LACROIX STEPPING DOWN AS THE COLORADO AVALANCHE'S GM.
MAY 10: PLAYOFF NOTEBOOK.
- Is it me, or does it seem much more difficult to generate scoring chances with point shots in this year's playoffs?
That's not to suggest that scoring chances or goals can't be had from point shots, but it seems to me that in this year's playoffs more point shots are getting blocked or are bouncing away harmlessly off a forest of legs.
Obviously players will willingly block more shots in a post-season game than in a regular season game, but as I noted earlier, more shots seem to be bouncing off players either trying to generate traffic in front of goalies or those trying to clear those players out of the slot.
- One of my readers raised an interesting point recently about Ottawa Senators head coach Bryan Murray.
He noted that Murray has a history of coaching teams who play very well in the regular season but come up small in the playoffs, noting his coaching history with the Washington Capitals in the late 1980s and the Detroit Red Wings in the early 1990s.
Could history be repeating itself with the Senators? They were the best club in the Eastern Conference this season and although they've outplayed the Buffalo Sabres, they're still down by two games as their Eastern Conference semi-finals series heads to Buffalo for the next two games.
- Something else I've noticed in this year's post-season is that scoring a goal late to give a team the lead with less than a couple of minutes to play doesn't guarantee a victory.
The Ottawa Senators found that out in Game One of their series against the Buffalo Sabres, as did the New Jersey Devils in Game Two of their series against the Carolina Hurricanes.
In both games, the Sens and Devils got late goals that should've crushed the spirits of the Sabres and 'Canes, but instead they wound up blowing their lead in the final seconds, and then fell to defeat in the opening minutes of overtime.
Just goes to show, if there's still enough time left on the clock to mount an offence, never give up on a game if you fall behind by a goal late in the game.
- Speaking of overtime, we've seen few of the marathon OT games in this year's playoffs compared to recent years when overtime could mean another period or two or even three.
Indeed, this season it seems we've seen more games end within the first ten minutes of overtime.
Is it because of the new NHL rules opening up the game? Are players more opportunistic? Are they pressing more now than in recent years, looking to end it quick? Is this the start of a trend or just unique to this playoff year?
It'll take more than just this year's playoffs to fully determine the answer to those questions, but I prefer to see OT games end quickly rather than drag on.
Sure it used to be fun to see the occasional playoff game stretch into two or three periods because it used to be an unusual occurance, but that seemed to be more the rule than the exception in recent years.
I didn't mind that trend so much when I lived in Alaska and games started at 3 pm, but where I now live in PEI, multi-period OTs can sometimes stretch into 3 AM, and when you're middle-aged like me, it's tough to stay awake for those marathons!
- Here's hoping Buffalo Sabres forward Tim Connolly wasn't seriously hurt in that collision with Ottawa's Peter Schaefer in Game Two of the Sabres-Senators series.
So far he's listed as day to day, but with his concussion history and the work Connolly put in to recover from those injuries, it would be a damn shame to see such a talented stickhandler suffer another setback after working so hard to get himself back into the Sabres lineup.
- When a player isn't performing as well in the playoffs as he does in the regular season, the automatic assumption from critics is that player can't handle playoff pressure.
Those critics, however, may be too quick in their criticism of those players, as they could be nursing a hidden injury that hampers their performance.
Montreal's Michael Ryder was singled out for some criticism during the Canadiens-Carolina Hurricanes series, but it was later revealed he had a leg injury that hampered his performance.
The Philadelphia Flyers received some justifiable criticism for their struggles to keep up with the faster Buffalo Sabres in their first round series, but it's since been revealed that fourteen Flyers - that's right, 14 - will have off-season surgery for a variety of ailments.
Now even if the team had been healthier they still probably would've had their hands full against the swifter Sabres, but there can be no question the high number of injuries played a part in the Flyers downfall.
The rule even applies to players who aren't playing as well as they had in previous seasons.
The Vancouver Canucks failed to make the playoffs this season, and one reason was the poor play of centre Brendan Morrison, which had gotten so bad that his name frequently popped up in trade rumours.
Turns out, however, that Morrison had been nursing a hip injury since late January, which would explain his sub-par season.
Or how about Teemu Selanne? He was written off as past his prime following a dismal 2003-04 season with the Colorado Avalanche, and more than a few observers sniggered when Anaheim Mighty Ducks GM Brian Burke signed him to a one-year, $1 million contract.
Selanne and Burke got the last laugh. Turns out Selanne had played with a bad knee throughout the '03-'04 season, and off-season surgery (and the opportunity to fully recover provided him by the lockout) put the flash back into Selanne's game as he potted 40 goals this season and boosted his free agent value considerably.
So if a usually good player has a lousy regular season or playoffs, don't be too quick to write them off.
MAY 7: LEADERSHIP OR LANGUAGE?
Wanna know why, other than payroll, it's tough for the Montreal Canadiens to attract top free agents to their club?
The following should give you a clue:
Saku Koivu was challenged by a reporter yesterday for his inability to speak French after 10 years of playing in Montreal and seven seasons of serving as captain of the Canadiens.
After being posed the question by the reporter from TVA, a leading French-language television network in Quebec, Koivu said it would be the "ideal situation" for the Canadiens to have a French-speaking captain. Then he admitted he has not put in enough effort to learn the predominant language of the province.
"Should I or could I make an effort to learn? I think, yeah," Koivu said. "I guess when you're not forced to do something, you become lazy.
"And the (hockey) schedule is very demanding."
But Koivu also said the language issue is not a very important one to the players and that team pride is the most important factor in selecting a captain.
So, to recap, it doesn't matter to this TVA reporter that Koivu wears the Canadiens sweater with as much pride as any of the great captains before him.
It doesn't matter that he made a courageous comeback from cancer. It doesn't matter that he subsequently set up a foundation in his own name new PET/CT scanner for the Montreal General Hospital.
It doesn't matter that he's probably the hardest working player on the Canadiens and has been ever since he was first awarded the captaincy. It doesn't matter that he loves Montreal and re-signed with the Habs last year, rather than move on to another city where he could've made more money.
It doesn't matter that two weeks ago some irresponsible asshat from Le Journal de Montreal took pictures of Koivu with a flash just after he suffered a serious eye injury, which could've worsened the injury.
No, the only important thing is that Koivu doesn't parlez vous francais.
As GM Bob Gainey noted, one reason may be that Koivu, who is fluently tri-lingual (Finnish, Swedish and English) finds it difficult to learn a fourth language. Thankfully, neither Gainey nor anybody else on the Habs have a problem with Koivu's lack of ability to speak French.
When, oh when, will some of the Quebec media finally understand that it's more important for Les Canadiens to build the best team possible with the best available players than worrying over how many on the roster are either Quebecers or bilingual?
Look, it's 2006! The Canadiens don't get first crack at the best Quebec-born talent by divine right like they used to forty years ago. Sam Pollock isn't around to fleece inexperienced GMs from expansion clubs of their top draft picks with which to land the top Quebec talent.
They now have to build their teams with the best available players they can find, whether they're from Quebec, the heathen hinterlands of English Canada, or Europe. The calibre of their game and the pride they take in wearing the "CH" should be of more value than whether or not they can order poutine in French.
This issue first raised it's ugly head over ten years ago, when Mike Keane, an anglophone who spoke no French, was named captain of the Canadiens. The press spent more time grilling Keane about that than over whether or not he deserved to wear the "C" - which he did, just look at how important his leadership was to the Colorado Avalanche and Dallas Stars, two clubs he helped win Stanley Cups.
No wonder some NHL'ers never consider coming to Montreal as free agents.
I thought English Canadians were the supposed "threat" to the Quebecois? Is TVA gonna demand separation from Finland over this?
What's next, are they going to demand Koivu give up the captaincy? Are they going to call for him to be traded because he doesn't speak Francais? Yeah, deal him for a good Quebecois, that's the ticket.
Should Koivu one day lead the Habs to the Stanley Cup, TVA will probably still bitch about the fact he doesn't speak French.
Sadly, as long as some in the Quebec media continue beating the bushes for the mythical Anglophone boogeyman bent on destroying their language and culture, questions over the ability to speak French rather than the ability to lead will continue to dog Koivu and every future captain of the Montreal Canadiens.
I'm pretty sure most Canadiens fans in Quebec could care less if Koivu can speak French. All that matters to them is winning the next Stanley Cup, not whether or not their captain speak fluent French.
Koivu's linguistic abilities aren't important. What he brings to the Canadiens is.
MAY 3: PLAYOFF NOTEBOOK.
- Montreal Gazette sportswriter Jack Todd's overconfident column last week predicting this year's version of the Canadiens wouldn't blow two-game opening round lead as the one ten years ago had came back to haunt him when the Carolina Hurricanes rallied to defeat Montreal 4 games to two.
Now the reasons Todd gave in his piece were good ones; this year's Canadiens team was better coached, with better goaltending, depth in talent and plenty of character than the 1996 version that blew a two game series lead over the NY Rangers.
And yes, the loss of Saku Koivu to an eye injury and the 'Canes replacing the wobbly Martin Gerber with the sharp Cam Ward were unforeseen circumstances around the time Todd wrote that piece.
But Mr. Todd must've seen enough playoff hockey over the years to understand that a two games to none lead is never safe in the Stanley Cup playoffs.
As the old saying goes, "Don't count your chickens before they hatch".
- Do you think the Boston Bruins front office is getting deluged with "Thank You" cards from grateful San Jose Sharks fans for the Bruins gift of Joe Thornton?
The guy that some in the Boston media considered too soft to lead a team not only helped bring the promising-but-then-struggling Sharks back to life to make the playoffs, but was also a major factor in the Sharks defeat of the Nashville Predators to advance to the second round.
As if that weren't enough, some cyberspace observers are considering the Sharks to be the favourite to win the Western Conference and advance to the Finals.
None of that was possible this season without Joe Thornton, who turned Jonathan Cheechoo into a fifty goal scorer, took pressure off captain Patrick Marleau, and got the Sharks believing in themselves again.
Playoff loser? That tag no longer applies to Thornton. Indeed, in future years, when people look back on the trade that sent Thornton to San Jose, the only loser in the deal will be those in the Bruins front office who shipped him there.
- It's as simple as this: if Cam Ward had played as lousy as starter Martin Gerber had earlier in the Carolina-Montreal series, it would be the Hurricanes, not the Canadiens, hitting the golf course today. But Ward was outstanding and his play may raise questions about Gerber's continued tenure with the 'Canes.
Yes, it was Gerber's strong play throughout most of the season that contributed to the Hurricanes outstanding performance this season, but he was soft as the baby food that bears the same name down the stretch and into the playoffs.
Cam Ward may have done more than just steal a series, he may have also stolen Gerber's job. The Swiss netminder is an unrestricted free agent, and if Ward continues to play well throughout the remainder of the 'Canes playoff run, he may have forced Gerber out of a job.
If so, don't feel too bad for Gerber, as there will be several NHL teams seeking a goaltending upgrade who'll be very interested in his services.
- The new "delay of game" penalty whereby a player who accidentally shoots the puck over the glass into the crowd is as stupid as the old "crease rule", and if the NHL's not careful, it will bite the league in the ass as surely as the crease rule did.
For the uninformed, the "crease rule" used to see goals waved off if an opposing player had so much as a toe in the crease, even if he wasn't anywhere near the goalie and in no way was interfering with the goalie.
But when Brett Hull scored the Cup winning goal for Dallas against Buffalo in the 1999 Cup finals with a foot firmly planted in the crease, nothing was said, even though by the letter of the rule that season the goal should've been disallowed.
Guaranteed, this new "delay of game" rule could have similar consequences. Suppose it's Game 7, overtime in the Stanley Cup Finals and a player accidentally flips the puck over the glass, gets assessed a penalty, and then the opposing team scores to win the Cup?
Or suppose this happens but the refs decline to call the obvious penalty and on the next play that player ends up scoring the Cup winning goal?
Does the NHL really need that kind of negative publicity so soon after a season-killing lockout?
It's a stupid rule, just like the crease rule, and must be abolished immediately.
- If we have seen the last of Steve Yzerman as an active NHL player after the Detroit Red Wings were eliminated on Monday by the Edmonton Oilers, then we as hockey fans will be poorer for it.
We've seen lots of retirements of the "old guard" this season, but for me, the retirement of "Stevie Y" will sting the most.
Sure, Mark Messier won more Stanley Cups and individual awards and accolades for leadership, but "Moose" hung around far too long past his "best before" date, and in his final seasons was a shadow of his former greatness.
Nobody will say that about Steve Yzerman. If anything, Yzerman's career was more notable for the success and recognition he received in the last half than in the first half.
Back in the 1980s and early 1990s, he was a highscoring forward who rarely garnered the attention that his peers of that era - Messier, Gretzky, Lemieux and Hull - received.
And as the Red Wings stumbled from one early playoff elimination after another in the early 1990s, his leadership was question, with more than one fan and pundit openly questioning his right to hold the captaincy of the Wings.
Highscoring forwards usually lose their effectiveness as they grow older and their skills deteriorate. They struggle to adapt to being checking forwards and penalty killers, never appearing fully comfortable in those roles. When their careers are reviewed, it's the productive years that are fondly remembered, with the final seasons a painful memory to be blotted out.
Not so for Yzerman.
After Scotty Bowman took over as coach of the Red Wings, he was able to convince Yzerman of the value of being a two-way forward. Along the way, Yzerman also learned what it took to be an inspiring leader.
A quick look at the final ten seasons of his 22 season career indicate that, while he was no longer the offensive dynamo he'd once been, he'd morphed into one of the most complete forwards in the game.
He learned to be a winner and a leader, and in the 2002 playoffs, he led the Wings to their third Stanley Cup in six seasons on a knee so badly damaged that he required off-season surgery that would sideline for most of the following season.
That earned him the respect of everyone. Players, coaches, management types, pundits and fans.
Losing to the Edmonton Oilers in the first round was not the ending Yzerman envisioned, but battling a serious rib injury, he was there at Game Six, battling as hard as he could to help his team win. Of all the Wings in that series, he was the only one who could hold his head high in defeat.
Gordie Howe was long considered the greatest player in Detroit Red Wings history, but now he'll have to share that spot with Steve Yzerman.
I don't think "Mr. Hockey" will mind.
- Don't forget to check out my blog for my unique analysis of the 2006 Stanley Cup playoffs.