WHO WAS THN'S "MYSTERY PLAYER"?
One of the biggest stories to emerge from the "uncancellation that never was" was The Hockey News' report on the night prior to the February 19th meeting between the NHL and NHLPA that both sides had agreed to a "deal in principle" that would save the 2004-05 season just four days after NHL commissioner Gary Bettman announced its cancellation.
The deal never occured, of course, and THN wound up with egg on its face for quoting an unnamed player "close to the talks" claiming this deal was in place.
THN stands by its source, and while some folks aren't happy with their subsequent apology and explanation, I'm satisfied with it. That's the nature of the reporting business, especially when you go with unnamed sources making claims that at times seem too good to be true.
If the story had turned out to be true, THN would've scooped the world, and lemme tell ya, that's an irresistable temptation regardless if you publish a hockey newspaper, personal website or blog.
THN screwed up, but they've established a pretty good track record over the years for its coverage of the game, so I'm not about to stop reading it because of a mistake, even if it was a big one.
What I'm more intrigued by is who the "unnamed player" was that fed THN this story.
As noted in their "mea culpa" (as Tom Benjamin called it), THN claims to stand "100 per cent behind our source, both in terms of his character and legitimacy. We have absolutely no reason to believe he intentionally misled us. To the contrary, we have every reason to believe he was convinced a deal was done, less the fine print and was in a position to know what was happening."
THN claims this player was close to the talks, leading me to wonder who the mystery man could be?
So, for lack of any real hockey news until we get the usual "he said/he said" from the NHL and NHLPA following their respective meeting today and tomorrow, let's indulge in a little "conspiracy theory" by trying to figure out who this mystery player could be.
Here's a few suggestions to get you started. If you can think of anyone else who'd be a good candidate (remember, they must be an active player considered to be close to negotiations) and I'll post it up in "the Fans Speak Out".
- Trevor Linden. He's the NHLPA president, and on his own initiative attempted to kick-start stalled talks between the two sides in January, plus he had a meeting with Toronto Maple Leafs principal owner Larry Tannebaum and NHL VP Bill Daly, where the groundwork for the "final offers" from both sides prior to the season cancellation were laid. Perhaps he believed the NHL was going to compromise at that meeting by increasing the cap level to $45 million?
- Bill Guerin. A member of the NHLPA executive and an outspoken one at that. He's been perhaps the most adamant against the imposition of a hard salary cap of all the executive members. Maybe he believed a compromise offer from the league was coming?
- Chris Pronger. Blues player rep who was cited as one of a half-dozen players who were believed to have contacted Bettman directly in an attempt to hammer out a seperate deal with the leagu. Was he led to believe a new offer from the league was coming?
- Jeremy Roenick, Robert Esche, Jarome Iginla. Also believed amongst those who with Pronger attempted to cut a seperate deal.
Roenick is perhaps the most outspoken player in the league. Could he have "blabbed" about a potential deal? Esche was openly critical of Bettman. Iginla has been "exonerated" of trying to do an end-run deal. Were either player given the impression a deal in principle was about to go down?
- Tie Domi. Believed to have close ties with influential members on the executive committee and with those in the Executive Director's office. Look past the "goon" image and you'll find an intelligent, savvy player who'd likely has access to inside info within the PA. Did his contacts tell Domi a deal was in the works?
- Disgruntled player reps. One thing that emerged in those final frenzied hours leading up to the season cancellation was the fact there were some player reps unaware the PA was agreeing to a hard cap if the league took linkage off the table.
Those reps, such as Buffalo's Jay McKee, were quite upset over the change of tone from the PA hierarchy. Is it possible one of those reps may have extracted some revenge at the PA by planting a story of a season-saving deal?
- Mario Lemieux. He was invited to those February 19th talks by the NHLPA and has since claimed he was mislead by the PA, believing they were about to table a $45 million offer to the league at that time. Could he have been THN's unnamed player source?
Have fun, and when you're finished, check out the following cartoon, courtesy of regular contributor "GoSharks!"
Speaking of "GoSharks", my thanks to he and "Frank" for informing me that Las Vegas does have an ECHL franchise called the "Wranglers". This was in response to yesterday's column regarding potential NHLPA rival league sites, in which Las Vegas was listed as a potential site.
Like both, I'm not sure there's potential interest in another pro hockey team in Vegas, particularly one from an upstart rival league.
MORE RANDOM MUSINGS.
- WHAT WERE THEY THINKING?? That was my first reaction when I read the news last week that the Canadian Broadcasting Corporation (CBC) fired their best all-around play-by-play man Chris Cuthbert.
CBC claimed it was done as a cost-cutting measure because of the lack of hockey coverage owing to the NHL lockout, but more than one pundit has questioned that rationale, believing the real reason was Cuthbert clashed with CBC management over how they handled their sports coverage.
This isn't the first time the CBC has blundered over the employment of their sports commentators. Two years ago they announced they weren't re-signing popular Hockey Night in Canada host Ron MacLean, and the uproar from thousands of angry hockey fans helped spur their reconsideration.
If I'm the folks at TSN and Rogers Sportsnet, I'd be burning up Cuthbert's phone lines trying to sign him up to a contract.
Cuthbert is not only a terrific hockey play-by-play man, but he's also covered different Olympic events, as well as figure-skating and CFL Football. He'd be nothing but a positive asset to either sports network.
No offence to TSN's Gord Miller, but I think he's a better host than a play-by-play man. Put Cuthbert in the TSN booth and watch their ratings for NHL hockey soar whenever that league gets back to action.
Hell, I'd be thrilled to hear Cuthbert calling the World Juniors and World Championships.
Once again, the CBC proves they're run by bean-counting mandarins rather than progressive-minded executives open to constructive criticism.
- RIVAL NHLPA LEAGUE? I've heard that speculation from some pundits and fans, that the NHLPA might consider starting up a rival league next fall if the NHL maintains the player lockout, or if the NHL returns next fall with replacement players.
It's a nice fantasy, but as we've seen with the attempts to re-start the World Hockey Association, it's much easier said than done.
First, you need to have owners willing to sink considerable funds into the startup and maintenance of such a league. Next, you'd have to have cities with decent venues to host your teams. Third, you have to attract sponsorship. Fourth, you have to get some kind of broadcasting deal in place. Finally, and most importantly, you must have marquee talent willing to play in such a league, and for far less money than they'd be used to getting in the NHL.
A readers recently sent me a list of cities supposedly being considered for an NHLPA league. The list included Hamilton, Hartford, the two Portlands (Maine and Oregon), Philadelphia, Toronto, Winnipeg, Quebec City, Atlantic City, Ann Arbor, Milwaukee, Seattle, Kansas City and Las Vegas.
Hamilton, Winnipeg, Hartford and Quebec City have decent to excellent venues, but the other issues I noted work against putting franchises in those cities.
Portland Oregon has always been cited as a potential expansion destination for the NHL, but there's never been interest from Microsoft co-founder Paul Allen, who'd certainly have the money to fund a franchise. If Allen isn't interested in an NHL franchise (and he's not, despite rumours to the contrary), he's definitely not going to invest in a team in an upstart league. I'm not aware of anyone else there with significant interest in a hockey franchise.
Las Vegas once had an IHL franchise, but it's unknown if there's any real interest in bringing back pro hockey to the Nevada desert. Seattle is another city where interest in an NHL franchise has never really materialized so I doubt there would be interest in an upstart league. Ditto Kansas City and Atlantic City. I've yet to hear of any interest in bringing a pro hockey franchise to Milwaukee or Portland Maine.
Any team attempting to compete in NHL strongholds like Toronto, Philadelphia or Detroit (Ann Arbor) are doomed to failure. Only buffoons looking to flush away money would attempt to put teams from a rival pro league in those towns.
Forget about any rival league have success in North America. It's nothing more than a pipe dream.
RANDOM MUSINGS.
- DISNEY FINDS BUYER FOR MIGHTY DUCKS. As reported by the Associated Press and TSN.ca, "The Walt Disney Co. agreed to sell the Anaheim Mighty Ducks to billionaire Henry Samueli and his wife Susan."
Sameuli told AP he'd been negotiating with Disney for some time about purchasing the Ducks, and for good reason: he owns the company that operates the Arrowhead Pond in Anaheim (across the street from Disneyland) where the Mighty Ducks play.
It's interesting to note that, while the sale price hasn't been confirmed, Samueli's initials bids were believed between $50 million - $60 million. Disney paid a $50 million expansion fee back in 1993 to join the NHL.
They could be taking a loss here, but at this point, having had the team on the block for at least three years now, they're probably just happy to have found a buyer with a strong financial background willing to take the club off their hands.
If Samueli got it for, say, $75 million, it's a bargain, considering Forbes Magazine recently valued the franchise at $108 million.
Now I can hear some of you wondering, "hey, if the NHL is supposedly in such trouble what with their lockout costing them a season and potentially two key sponsors and ESPN, why would anybody wanna buy a franchise at this time?"
Simple. Buy low, sell high.
Despite the problems plaguing the NHL under commissioner Gary Bettman's reign, franchise values have soared over the past ten years.
By owning both the Mighty Ducks and the venue in which they play, Samueli realizes he's got a great opportunity here to increase the value of the franchise.
Of course, there is some risk attached to this. The current lockout will impact the value of all franchises, even the rich ones in strong hockey markets. Another labour dispute within the next ten years (count on it happening) also has the potential to devalue the franchises.
Still, most successful businessmen are gamblers at heart, and if the NHL can improve its product within the next ten years and avoid another protracted labour war, those franchise values will stabilize and should increase.
By that point, if Samueli decides he wants out of the hockey business, he stands to make considerably more by selling the Ducks than it cost him to purchase the franchise. Even more so by owning the arena.
Now all he has to do is hire hockey people who can make this club a consistent success. That's the hard part.
And as Jes Golbez aptly noted, "At the very least, the NHL did not have to step in to protect the value of the franchise. That would have been just another embarassing log to throw on the NHLs fire of failure. "
- STEVE MOORE/MARKUS NASLUND REDUX: Seems I inadvertently stirred up one of my favorite hockey bloggers regarding Steve Moore's lawsuit against Todd Bertuzzi and the Vancouver Canucks and Canucks captain Markus Naslund's comments regarding the same.
Tom Benjamin wrote a lengthy, interesting piece on the subject, with quotes from my Soapbox article. I won't quote Tom's entire piece here (just follow the link on his name) so I'll try to encapsulate it without taking his words out of context.
Essentially Tom correctly observes that Moore filed the case in Colorado because it would be "a nickel and dime case" in Canada in terms of damage awards.
I recall seeing a piece on CBC where the commentator (I believe it was Tom Harrington) noted that such awards for pain and suffering are considerably less in Canada than in the US. I believe the maximum quoted was between $300 - $400K Canadian.
In the United States, those awards can be considerably higher, into the millions of dollars.
Tom also makes an interesting point that it'll be harder for Moore to prove his contention of a conspiracy against him by the Canucks in a Colorado court than it would've been in a Vancouver court.
It probably won't be a "slam dunk" case for Moore in Colorado, but the same evidence can be as useful there as it would've been if the case were filed in BC.
As the Canadian Press noted, comments made by Bertuzzi and Canucks forward Brad May could come back to haunt them and the team in this case.
It may be tougher to prove a team conspiracy, but Bertuzzi and May certainly sounded as two guys on the same page in terms of extracting revenge on Moore for his borderline hit on Markus Naslund.
Tom also commented on my claim that if the roles were reverse and Naslund were the one seriously injured by Moore, the hockey world would support a suit by Naslund against Moore and the Avalanche.
He claims Naslund "would not move the suit. His lawsuit would return millions in British Columbia. The damages from the injury created a very significant loss of earnings in his case. The same arithmetic that produces $875,000 in projected career earnings for Steve Moore would project another $35 million for Naslund."
I'm not a lawyer, and if any of my readers are lawyers (I know for a fact a couple of you are), perhaps you can clarify what I'm about to suggest.
If Naslund had been the injured party, I think that he couldn't move the case because of residency. Naslund resides during the hockey season in Vancouver. If he'd been the injured party in this instance, he couldn't move the case to Colorado because he doesn't reside there.
Moore, on the other hand, spent the hockey season living in Denver. While his injury occured in Vancouver, he could move the case to Colorado because he resides in that state for much of the hockey season.
I don't agree with Tom's suggestion that Moore's moving the lawsuit to Colorado reflects poorly on his character. I think this is something he's within his rights to do, and if I were in his shoes, I'd do the same thing.
Some have taken issue with Moore filing the suit now, rather than taking more time to determine if his injuries are indeed career-ending. Unfortunately, Colorado law stipulates that those filing for damages must do so within one year of the incident taking place.
Ultimately, this is a sad issue that will continue to be in the papers for some time. Like picking at a scab, this will serve as a reminder of one of the NHL's darkest moments.
- BELIVEAU AUCTION NETS OVER A MILLION. "Steve" recently wrote in and asked if I'd comment on the sale of Jean Beliveau's memorabilia on classicauctions.net.
As any hard core hockey fan knows, Beliveau was perhaps the classiest player to ever lace up skates in the NHL.
That class shone through again with his auctioning off his memorabilia, done not for his own personal gain, but to " raise money for his daughter Helene and her two children, Mylen and Magalie, whose father died when they were young children."
Some folks don't know this, but Beliveau also turned down the title of Governor-General of Canada nearly ten years ago, because he wanted to spend time with his grand-daughters and fill the void from their father's death.
That's not just class, that's dignity, and I was delighted to read that the auction pulled in over $1 million Canadian.
Le Gros Bill comes through again, with the help of his fans.
- MORE CARTOON FUN: "GoSharks" sends in another.
RESPONSE TO THE LEAGUE'S STOCK APOLOGY LETTER.
"Jaded" of jadednhlfan.com has spent the past several weeks e-mailing the NHL and its respective teams to voice his/her displeasure as a paying customer over the farce that is the NHL lockout and the cancellation of the 2005-06 season.
"Jaded" usually shares the more interesting responses with me. The classiest responses have been from the Montreal Canadiens (their head of PR just spent some time climbing Mount Kilimanjero to raise funds for the team's Children's Fund. Tres cool! If you don't know where or what that is, you should've paid more attention in geography class, or that day when you had to read that Hemingway short story) and the grumpiest from Patrick LaForge of the Edmonton Oilers ("Is there any way I can get off your mailing list?").
Anyway, here's one recent e-mail "Jaded" sent off to the NHL and NHLPA:
Gentlemen of the NHL and NHLPA,
I was channel surfing yesterday evening and caught a news clip mentioning that the NHL season was cancelled. It must have been on Comedy Central or the Cartoon Channel because the NHL is the laughing stock of professional sports; it's a total joke. But I can't be sure I heard it correctly as I immediately dropped off to sleep on the sofa, an understandable involuntarily reaction from fatigue, and boredom over your labor issues. Anyway, thanks for allowing me to catch up on my sleep.
Ouch!
Jaded also sent out a much lengthier e-mail to both sides, which you can read here.
No word on the NHLPA's response but here's what the NHL had to say (their response in italics, mine in regular script):
Thank you for e-mailing the National Hockey League. From the tone of your e-mail it is clear that you are frustrated about the lockout.
Commissioner Bettman asked that we respond.
In other words, we were anticipating a blizzard of angry e-mail and letters, so here's our stock form reply.
On behalf of the 30 NHL teams, we want to say how sorry we all are that, given the very practical reality that there are not enough days available to play a representative regular season and Stanley Cup Playoffs, we were left with no choice but to cancel the remainder of the games scheduled for the 2004-05 campaign.
Is there any hockey fan out there who believes Bettman's apology (or Goodenow's for that matter) is sincere? If so please write in and let me know why. I promise not to treat your comments with sarcasm, for I'd be genuinely interested in why you believe Bettman's apology is sincere.
No offence, but I think only the very naive believe Bettman is sorry for cancelling the season. More than one commentator believed this was his and the owners plan all along. It'll be some time before the truth is known, but quite frankly, the weeks that were wasted in silence rather than serious negotiations lends credence to that opinion.
The NHL is very fortunate to enjoy the support of the most loyal and
passionate fans in all of professional sports, and we want you to know how very much we appreciate the patience and understanding you have shown the NHL during this very difficult time in our history. We understand the impact this dispute has had on you, our loyal fans, and I want you to know we worked very hard, starting as far back as 1999, to prevent this from happening.
Ha! That is undoubtedly one of the biggest whoppers of all time. If we fans had any input into this, you can bet your bottom dollar there wouldn't have been a lockout.
With their actions, the owners and players are seriously testing the patience of their loyal and passionate fans. As for understanding, there are plenty of knowledgeable fans who still don't understand why the two sides seem bent on mutual self-destruction.
I know Bettman has tried to start negotiations with the PA going back a few years, yet he waited over 13 months before responding to the players first offer, which was made in June 2003.
For someone so intent on trying to get a deal in place to prevent the loss of an entire season, he and the owners certainly took their sweet ass time about it in the final year, when there was plenty of time to still get a deal in place.
As I've said before, we fans have no input into any of this. Like a hockey game, we're merely spectators, free to rant and rave but our opinions aren't taken seriously.
Our intention throughout the collective bargaining process has been, and
continues to be, the creation of an enduring partnership with our players
Bullspit. It's about bringing the players association to its knees and forcing out Bob Goodenow.
that will allow you to enjoy a world-class product,
As opposed to the cure for insomnia they've inflicted upon us over the past ten years.
at affordable prices,
Which have no correlation with player salaries but are instead set by the individual markets, which even Bettman finally acknowledged last December in a meeting with Toronto Maple Leafs season ticket holders.
Which means fans who are expecting a significant drop in ticket prices whenever the NHL returns to action are going to be bitterly disappointed.
and enter each season confident that your favorite team can compete for the most cherished trophy in pro sports, the Stanley Cup.
In Fantasyland, perhaps. That will always be determined by how well managed and coached your team is. How much they invest in payroll will have little to do with it. Just like always.
Our resolve to deliver on that promise will not change.
Which could mean the potential loss of another season if they're unsuccessful in bringing in replacement players.
Accordingly, we remain resolute, for the good of the League and our fans, to postpone our return to the ice until we can assure you that the current business issues have been resolved in a way that assures the long-term viability of all our Clubs.
The prospects certainly don't look good for next season.
I can promise you, though, that when NHL hockey does return, it will be in a way that allows our great game to prosper for years to come, both on and off the ice.
Wonderful! Now where was that resolve and committment over the past ten years? Why did it have to come to this nightmare?
I dunno about you folks, but I've seen and heard far too much BS from the league over the past decade about improving the product and growing the game, only to see things continue to deteriorate. Forgive me if I'm not buying into their promises this time around.
Sincerely,
NHL Communications
As "Jaded" noted, "If this is how the NHL responds to its fans, what hope is there for a 2005-2006 season? I've been looking for evidence there's sufficient collective intelligence to extricate themselves out of their self-created mess.
Still looking..."
You could be looking in vain, mon ami.
- Got the link to this cartoon from regular rumour contributor "GoSharks!" Sums things up quite nicely, I think.
NASLUND AND MOORE.
By now most hockey fans are aware of the civil suit filed by former Colorado Avalanche forward Steve Moore against Vancouver Canucks forwards Todd Bertuzzi and Brad May, Canucks head coach Marc Crawford and former GM Brian Burke.
Unless you've lived under a rock for the past year, the suit was the result of Bertuzzi's suckerpunching Moore into the hospital with a broken neck, concussion and other injuries during a game between the Avs and Canucks last March.
Bertuzzi's attack was in retaliation for Moore's borderline hit on Canucks captain Markus Naslund nearly a month earlier, which prompted comments of retaliation from May.
Bertuzzi ultimately sought a plea bargain in a Vancouver court, pleading guilty to assault causing bodily harm in exchange for a conditional discharge.
Moore's lawsuit not only guaranteed that this story would continue but also brought criticism of his intentions.
Much was made of his filing the lawsuit in a Denver Colorado court, owing to the fact that under US law, he would be entitled to significantly more in damages for pain and suffering than if he'd filed the suit in Canada.
That brought about a critique from Philadelphia Flyers GM Bob Clarke, who suggested that Moore may not have been pleased with the result that came down from the Canadian court.
Clarke's comments, however, were mild compared to what Naslund had to say.
"He's suing everyone so he can make money," Naslund told the Vancouver Sun from Sweden. "I've got no respect for him at all.
"Even talking to his teammates, it seems evident he doesn't have a lot of support in hockey."
This is just a guy who's trying to hit a home run (financially)," Naslund said to the Sun. "Someone who wasn't good enough to play.
"I'm not saying what (Bertuzzi did) was right. But if it was me, I'd be doing everything I could to get back and play and show everyone the character I have . . . instead of trying to sue everyone."
This isn't about the hit," Naslund told the paper of his feelings toward Moore. "Hockey players take hits and give hits."
Can Naslund possibly be more of an insensitive tool?
OK, I understand "Nazzy" is probably still upset with Moore for the concussion and stitches he received from the hit the latter laid on him last February, and he feels intense loyalty for his team.
That being said, it no way excuses what Bertuzzi did to Moore, and it's quite clear that at least Bertuzzi and May were looking forward to extracting some physical revenge upon Moore the next time the two clubs met.
''That kid's a piece of shit,'' the suit quotes Bertuzzi as saying. ''We play them twice more and hopefully they'll keep him in the lineup.''
''There's definitely a bounty on his head,'' the suit quotes May as saying. ''Clean hit or not, that's our best player and you respond. It's going to be fun when we get him.''
I don't recall Bertuzzi's comments but I clearly remember May's comments were broadcast on TSN, Sportsnet and The Score following the hit.
Moore was a fringe player whose chances for a long-term NHL career were thin, yet because of Bertuzzi's attack he may never get the opportunity to play in the NHL again.
He has every right to sue those who may have taken away his chances at furthering his NHL career.
Naslund's comments are troubling, given his status as one of the league's top offensive players. He's acting like a damned snob and an heartless one at that.
The fact Moore even managed to crack the NHL as a fringe player was testament to the hard work he put in to getting to that point. He didn't have it as easy as Naslund, who's clearly blessed with more talent.
Given the current labour dispute between the NHL and NHLPA, Naslund's comments are even more troubling. Isn't there supposed to be unity amongst the PA brotherhood? That the best players were fighting shoulder-to-shoulder with their lesser talented brethren for a common goal?
It says a lot when Naslund can look down his nose at a lesser talented PA member.
Speaking of the PA, I'm not the only one to puzzle over the silence from its leadership regarding this sorry matter. It's understandable since they obviously consider this an individual dispute between Moore, Bertuzzi and May.
Still, if I were Bob Goodenow, I'd be contacting Naslund or his agent, and telling him to smarten the hell up.
Moore was seriously injured because of Bertuzzi. He still suffers from the after-effects of his injuries. There's a good possibility he may never play hockey again.
Who the hell is Naslund to question Moore after all he's been through? Has Naslund had to recuperate from a broken neck? How does he know Moore hasn't tried to work hard to get back to playing again?
That also raises another bothersome point. What if Moore has been trying to resume his NHL career but is finding doors being closed to him?
Naslund's comments about Moore not having much support in hockey seems to suggest that fact.
The Avalanche have seemingly abandoned him, and no other NHL club came calling when he became an unrestricted free agent.
The rationale wouldn't be hard to understand. Moore refused to accept Bertuzzi's apology. He insisted that if he returns to NHL action he doesn't ever want to play another game against the big Canucks forward.
In the world of NHL hockey, he may have violated one of its unwritten "codes" by his actions.
That code would be to accept the apology of the player who harms you, and not to insist on never playing against that player again.
It apparently frowns on filing civil suits for damages against your attacker, his coach and his former general manager.
There certainly appears to be a lack of support for Moore from the league, the union and his former team.
Regardless of all of this, Naslund's comments are those of a selfish, spoiled, immature and unfeeling twit.
If the shoe were on the other foot, and it were Naslund whose career was in doubt because Moore had attacked him and caused the same injuries, the hockey world would be rallying behind the talented Swede and unleashing its wrath on his attacker.
If Naslund were to sue Moore, Avs former coach Tony Granato and GM Pierre Lacroix, the hockey world would be going on and on about how Naslund was within his rights to do so since his career was cut short thanks to a talentless goon.
With his comments, Naslund has worsened an already bad situation and added further tarnish to the NHL's badly damaged reputation. Not to mention the damage his big mouth inflicted upon his own once-sterling rep.
I think the Toronto Star's Damien Cox summed up Naslund best:
What a stupid, stupid man.
Amen to that.
THE NHL WAR OF WORDS AS TRANSLATED BY CHILDREN.
Yes, it's been a heavy time for NHL hockey fans. The labour war continues unabated. An entire hockey season is lost and another could be in jeopardy. There won't be a Stanley Cup winner, and many fans are starting to question their loyalty to a sports league that has shown precious little of that quality toward them.
Meanwhile, NHL Commissioner Gary Bettman and NHLPA Director Bob Goodenow have engaged in a heated war of words via the media, each blaming the other for the latest failed round of negotiations.
So as a public service to ease the tension, here's the latest NHL war of words as translated by children. Well, not actual children, but I ran the most recent comments of Gary Bettman and Bob Goodenow through my "translate-o-matic" (patent pending) with the setting on "child". I found the results so interesting, I just had to share them with you.
Gary Bettman: "I think this was a set up. I think this was done intentionally to try and cause the type of reaction we saw all weekend. I think they were trying to position us into an offer they knew I couldn't accept - either because they wanted me to make a mistake that I couldn't get through my board (of directors), or so we would ultimately agree to something we couldn't afford."
Translation: The players are a bunch of big poopheads. They told a bunch of big stories and everybody believed them and then they told some different stories when we got there because they promised they would make a deal and then they didn't make a deal and they got mad at us and tried to get everyone else mad at me and the owners to make us look dumb. But we're not dumb. And they are still poopheads, so there."
Bettman: "What happened with our fans, in raising the level of expectation... I was sick to my stomach. It was more trying than what I had to do on Wednesday."
Translation: "They told lies to our fans and that got me so upset I had a tummy ache and had to stay home all day eating nothing but soda crackers and drinking that gross pink stuff. It was worse than the time when I had to stand up in front of everybody and explain why I hadn't done my work on time and I got so scared I peed my pants and then everyone got mad at me and then they called my mom and she got mad cause I peed my pants in front of everybody and I didn't do my work like I was supposed to and I was grounded for the whole weekend. "
Bettman: "And after Saturday, when everybody realized that they had been had, then they had a field day in the media, killing us on Sunday."
Translation: "Then Bob and his buddies told a big lie to everybody that we welched on the deal and everybody got mad at us and threatened to beat me up and take away my milk money".
Bettman: "You're right...except all we did was - all that information about a deal, a season, a press conference, the whole business of making an offer - it was all a pack of lies. I can't control the lies that are being told by whomever is telling them."
Translation: "They're liars. Liar, liar pants on fire!"
Bettman: "We got criticized by people saying, 'How can you cancel the season Wednesday and then talk about undoing it on the weekend?' We never talked about undoing it."
Translation: "People are mad at me because I did one thing and then Bob and the poopheads said I was gonna do something else but I wasn't gonna do that, so there. Stupid Bob, thinks he's so big just 'cause he's tall".
Bettman: "This is a case were it all ran amok, and none of it came from us (the league)."
Translation: "It's not my fault and Bob is a big liar so there".
And now, here's Bob Goodenow:
"Regarding Gary's portrayal of the events of last week, I will make the following four points"
Translation: "I'm not a big fibber, Gary is and here's why".
Goodenow: "One - Gary claims he heard that we wanted to have a meeting and talk to them. That is totally false - the League cancelled the season Wednesday, and on Thursday night, Gary and Bill Daly separately called Trevor Linden after 11 p.m. EST and invited Trevor and the NHLPA to come to New York for a meeting.
Translation: "Gary and his buddy Bill wanted to talk to Trevor so they called his house real late at night and woke up his mom who was not happy at them calling so late on a school night but she let them talk to Trevor and they invited him to a big party on Saturday".
Goodenow: "Two - Friday morning, when arrangements for the League-requested meeting were being coordinated, Bill advised Trevor that Gary would not be attending on behalf of the League. As a result, I also did not attend."
Translation: "Bill told Trevor Gary wasn't coming and because I didn't wanna make Bill feel bad I said I wouldn't come either."
Goodenow: "Three - There was never a suggestion by the NHLPA that we were making an offer. Our presence in New York only occurred because of the League's request to meet."
Translation: "It wasn't our idea to have a party, it was Gary and Bill's idea. We never would've gone there if they hadn't invited us. They're just big fibbers, is all. "
Goodenow: "Four - As for Gary's comments that we came to New York with the purpose of conducting a media campaign, that's just erroneous and the facts prove this to be the case. When Trevor, Vincent Damphousse and Ted Saskin met with the media at the St. Regis Hotel they actually met in a room that had been reserved and fully set up by the League for their own media conference. The room was left vacant when the League attendees slipped out of the hotel after they decided not to address the media after the conclusion of the meeting they called. The hotel then offered us the use of this room to accommodate the media stranded outside on the sidewalk."
Translation: "Gary's the big liar and poophead, not me! They invited Trevor and Vincent and Teddy to a big party at a hotel and they they ran away and left them to talk to the newspaper guys, who were freezing outside but the hotel people were real nice and let those guys come inside for hot cocoa and Smores and the newspaper guys were all like, "hey I thought you guys were having a big party and were gonna agree to play hockey again" and our guys had to tell them Gary and Bill were a bunch of big fat fibbers".
Goodenow: "It is unfortunate that Gary Bettman would publicly engage in this type of false characterization of events that he himself set in motion last Thursday."
Translation: "Gary is just a big fibber, just ask anyone".
I hope you all enjoyed this touch of whimsy on my part. After all, since these guys are insisting on acting like children, the least I could do is make them sound like children.
SOME TIPS FOR THE NHL TO WIN BACK THEIR FANS.
Yeah, I know, there's no way in hell the NHL and NHLPA will consider most of the following. I doubt anyone on either side even reads this site, which makes them poorer for it.
Still, in an effort to sort through my own feelings on the debacle of the past week and the death of the NHL as we know, I figured it would probably be helpful to add my voice to some suggestions on improving the NHL product whenever the owners and players decide to put their self-destructive squabbling over money behind them and get back to action.
- Bettman and Goodenow, lay low for a very long time when the game returns. Sorry, gentlemen, but fans are sick and tired of seeing both of you.
The fans don't want your empty apologies,they want you to clean up your act, stop squabbling between yourselves over money and start working together to improve the state of the game.
It'll be far easier for Goodenow to stay out of the public eye than it will for Bettman, who probably fancies himself as the "face" of the NHL, but believe me, that's a face most hockey fans - even those who support the league in this labour dispute with its players - consider a most ugly one.
Gary, don't award the Stanley Cup to the next winner. You'll be drowned out by boos when you try to give your presentation speech, and probably pelted with debris. That might be somewhat cathartic for the fans, especially if the visiting team wins the Cup, but the site of the league commissioner getting booed out of the building is not a sight the already tarnished image of the NHL needs.
Get someone else to do it. No, not Wayne Gretzky because he's a part owner of the Phoenix Coyotes, but maybe perhaps Gordie Howe or Jean Beliveau.
It would probably be better for all concerned if Bettman and Goodenow either resigned or were fired, but I doubt we'll be that lucky.
- Lower ticket prices. That's normally up to the respective teams, not the league, since ticket prices are based not on salaries but on what eachmarket will bear.
Regardless, the league must entice back its fans, and it would probably be in its overall best interest to drop ticket prices by a quarter across the board and ensure all teams comply. Those prices should stay frozen at that reduced level for at least two seasons.
Unlikely, however, since the NHL relies on the gate for the bulk of its revenues and they're going to take a big hit whenever it returns to action.
Still, they're going to have to win back those they've disillusioned with this lockout. It shouldn't be a marginal 5 percent cut. Ten percent would be a good place to start, fifteen percent even better and twenty-five percent fair.
Fat chance, but given the insulting manner in which both sides have treated the fans in recent months, it's the very least they can do!
- Employ a better system of revenue sharing that will guarantee the
stability of small market clubs. The NFL success is not based solely on
their salary cap, but also on their comprehensive system of revenue sharing.
Granted, their revenue streams are far richer than anything the NHL will see, but it still wouldn't hurt for the NHL to adopt a similar system. If it's good enough for the big market NFL teams, why isn't it good enoughfor the big market NHL franchises?
The NFL is a model of success, or at least one the NHL looks upon with envy, so perhaps it's time the NHL started copying it.
- Better goodwill PR by teams and players. Increase their visibility in the
communites and the access to the players,and publicize the good works
they're doing.
One of the greatest tales of NHL lore is that of Bobby Hull patiently signing autographs (for free!) of every kid who approached him, even to the point of making the team bus wait until he was finished. Hull wasn't a perfect man, but he appreciated and respected the fans.
How many of today's big name NHL stars do that? Guess what, NHLers, it's time for payback, time to give back to the people who've made you rich beyond your wildest dreams, and I ain't talking about the slimebags you work for!
- Long term labour peace. After this labour war, fans aren't going to stand for another lengthy lockout or another cancelled season. Indeed, another labour dispute of this magnitude down the road could kill the NHL once and for all.
Both sides must work out a new deal based on compromise and cooperation rather than grandstanding and mistrust. Stop running each other down and start working together.
I spent four years in the Canadian Navy, and one thing I learned during my sea environmental training was that, if the ship is sinking, everyone must work together to save it, regardless of their rank and status.
The NHL ship is sinking, but both sides aren't doing a damn thing to save it, and that's perhaps the most maddening thing of this whole sorry mess.
- Improve the on-ice product. Don't waste time with silly little
bells-and-whistle plans like limiting goalie movement, widening bluelines or miking players and coaches. The simplest solutions are often the best and easiest to implement.
Streamline the goalie equipment. Crackdown on uncalled obstruction
masquarading as defensive play. Eliminate the red line once and for all.
Bring in no-touch icing and hurry-up faceoffs.
Above all, allow your best players to be the best players. The reason why there's no new Great One is because even he in his 1980s prime wouldn't have posted up those mind-boggling numbers if he were forced to play under today's clutch-and-grab system.
- Finally, clean up your image. Fighting isn't what keeps the fans interested nor is it what will bring back new fans. Get away from highlighting how tough your players are and focus instead on the skills that makes the game a wonderful thing to behold when played at the highest level.
HST 1937-2005.
Hunter S. Thompson, the eccentric journalist who took creative writing to the extreme whilst placing himself as a central character in his coverage of US sports and politics, killed himself on Sunday.
I was a big fan of Thompson's work. In my opinion he was an off-beat genius, who had the uncanny ability to observe the sleazy underbelly of life in a way that could infuriate, inform and entertain. He was drawn to the dark side of the American Dream as a moth to a flame.
Hmmm, that sounded a bit cliched, didn't it? How about this, then: He was drawn to the dark side of the American Dream as surely as a starving dog is drawn to an overflowing, reeking, maggot-infested garbage can.
Ah, much better.
He was one of my many literary inspirations, whose style not only pushed the boundaries of journalism, but also demonstrated just how much fun and exciting the process could be.
I certainly wouldn't wanna try to emulate the lifestyle of the "good Doctor". He lived hard, although a lot of that was also for show, to build on the legend he created of himself as a monstrous, chemically- influenced observer of modern life. There's no possible way he could've maintained a life of epic narcotic abuse as he described in much of his work for forty years and survive, let alone garner a well-earned reputation as a preeminant wordsmith.
Still, I have to admit, he certainly knew how to have a good time, and I'd kill to have even a quarter of his literary genius coursing through my brainpan.
His writing style, "gonzo journalism", has undoubtedly be copied by many aspiring young writers, but it can never be duplicated. To coin another tired but apt cliche, he was one of a kind.
Thompson's style was as unique as Ernest Hemingway's, another writer who fancied guns, the sporting life and the pursuit of a good time, who also tragically took his own life. Indeed, the parallels are eerie.
HST's work wasn't for the timid. He was brutally outspoken, unafraid, even fiercely proud of his bias, and his colourful use of profanity won't make his work a staple of many high school libraries in our lifetime or several other lifetimes.
But for the adult mind, seeking to cut through the BS that clouds so much of the coverage of sports and politics, Thompson's works were the proverbial breath of fresh air.
His best stuff was done in the 1970s, and while books such as "Hell's Angels" (actually published in the late 1960s) and "Fear and Loathing in Las Vegas" are more well-known, my personal favorites were his coverage of the 1972 presidential campaign ("Fear and Loathing: on the Campaign Trail 1972") and his collection of essays from the late '60s and 1970s ("The Great Shark Hunt") which ran the gamut from the Kentucky Derby to Watergate to Muhammad Ali to Jimmy Carter.
Thompson's luster faded following his 70s' heyday, although he was still capable of inspired lunacy from time to time, such as his lurid coverage of the Pulitzer divorce trial in 1983, his poisoned obituary to Richard Nixon and his recent articles on life in George W. Bush's America.
HST was a football man, and his coverage of the 1972 Super Bowl demonstrates the spectacle was every bit as depraved back then as it is today.
Al Davis, owner of the Oakland Raiders, should be forever grateful to Thompson for his depiction of the club as swashbuckling outlaws, which has been cemented as the team's image for all time.
I won't go into my impressions as to what drove Thompson to take his own life as that's going to be the subject of media speculation for a long time, nor will I pass judgement on his decision since that isn't my place.
Instead, I raised a glass of Glenlivet scotch (HST preferred Chivas Regal but even he couldn't have good taste all the time) and toasted the work of a man who inspired countless aspiring writers to pursue their love of writing, to find their own style and to live life to the fullest.
SPARE ME THE APOLOGIES!
In the aftermath of the failure of "The Return of the Season-Saving Talks", there were a few reporters demanding apologies from both sides for raising hopes of a settlement by Saturday morning only to toss cold water upon those hopes by that night.
Sorry, but I don't want phony apologies from these stumblebums. I had my fill of those on Wednesday with Gary Bettman's smarmy sadness and Bob Goodenow's brusque attitude.
What I want is action. Real, positive action toward compromise and cooperation that gets a new CBA hammered.
I agree that it's too late to save this season but it's not too late to work on a deal that could be in place by, say, April or May of this year. That way, the entry draft weekend can go off in June, the free agent market can kick off on July first and the summer can be spent stocking rosters in anticipation of a full 2005-06 season free of contentious labour talks.
Look, owners, you've won. Even though I believe the players have presented the best proposals and have made the lion's share of concessions, you the owners got them to bend on the two issues they said they'd never bend on: a hard salary cap and linking their salaries to revenues.
Yes, I know, they want a cap higher than $42.5 million and the linkage they seek is only upward if revenues increase.
Still, you got 'em right where you want them. The membership is apparently in dissension, with some players furious that their side bent on a cap and others claiming they'll play for that cap offer.
The point is, you had them, owners, the players finally cried uncle.
And then you let this opportunity to make some face-saving concessions to them, to win yourselves kudos by making an effort at compromise on arbitration, qualifying offers and entry-level bonuses, slip through your collective fingers.
There was no need to twist the knife. Why compound the problem by not setting up a cap "floor" to ensure all teams spend at a minimum level? Why rub salt in their wounds by trying to claw back arbitration and entry-level bonuses?
If you guys are truly out to ensure that all thirty teams can be viable, what's with the proposal of reducing revenue sharing over the course of the next CBA to almost nil?
That measure isn't going to save the small market clubs. Sure, capping those salaries will bring the end of those salaries over $7 million per season, but most of those small market clubs weren't going to make bids of that kind anyway. All that ensures is they'll be able to afford to retain their average talent, not their best players.
The players were beaten, at least let them have some morsels to hang onto. Now, you've pissed them off all over again.
Goodenow, the man you hated who appeared to be on the ropes with his membership last Friday, may become even more firmly entrenched as the PA leader by your actions. He'll rally the troops and reach out to the dissenters and doubters. He'll solidify his position and come back at you even stronger than before.
Speaking of the players, what difference does it make if you'll play at $42.5 million or $45 million?
You know only the big market teams will spend at that level, and the more enterprising at an even higher level. You know your agents will tempt them with some creative measure to legally skirt a hard cap and that some of them will bite.
$42.5 million was considerably higher than the $33 million first proposed by the owners, plus they were willing to take linkage off the table. Yes, their revenue sharing proposal based on playoff revenues is farcical, but it would be exposed for the meaningless proposal it was.
And don't forget, you had the right under the league's last proposal to can the next CBA if you felt it wasn't going your way within three years.
There's obviously support within your ranks for the league's offer. Linkage was gone, the owners couldn't try to screw you by linking your salaries to revenues.
You can't win them all, and you misjudged the owners resolve this time around, but at least the cap was higher and linkage was gone, plus you got entry level bonuses back.
Arbitration was still contentious but I doubt the owners would've cancelled the season over insisting on a stipulation to eliminate arbitration at any time.
Both sides are close, much closer than they profess to be...if they were only willing to cooperate and compromise.
They weren't, and now an entire season is gone, and these negotiations will likely drag on for weeks, perhaps months.
No, we're way past apologies at this point, folks.
MORE ON DIVISIONS IN THE OWNERS CAMP.
Sportsnet has the story. There are apparently those who feel the league's last minute offer of $42.5 million went too far (!) while others, notably big market franchises (Toronto, Philadelphia, Detroit and even Vancouver) are said to be upset a deal wasn't made.
Everything isn't as together as Gary Bettman and his media sycophants would have us believe, although you've gotta give the Commish credit for keeping the cone of silence down on dissension.
About the only thing this lockout is succeeding in doing (besides destroying a once-proud league and driving their fans to despair) is creating strains on the unity of both sides.
Wouldn't surprise me if civils wars break out in both camps.
OWNER SOLIDARITY?
For months we've been told by league sycophants (hello there, Stan Fischler) that the owners were united in their quest to achieve cost certainty.
A gag order enforced by penalties worth hundreds of thousands of dollars helped to present that image of the owners reacting as one to the attempts of the NHLPA to avoid a hard salary cap.
Despite the absence of real commentary from the owners side, it's been widely speculated there were seperate factions at work in the owners camp, specifically pitting some big market moderates against small market and more hawkish big market clubs.
The efforts of the Toronto Maple Leafs Larry Tannebaum (see below) indicates he stands among the moderates, particularly since his club stands to make the most revenue of all NHL teams regardless of what system is in place.
There were also unconfirmed reports yesterday of the respective owners of the Tampa Bay Lightning and Montreal Canadiens voicing their displeasure over the season cancellation directly to NHL commissioner Gary Bettman.
That's not surprising, as Lightning owner Bill Davidson has worked hard since purchasing the club several years ago to build up interest in his club in the Tampa Bay area, as well as his efforts to build the club into a Cup champion.
As for the Habs, owner George Gillett has allayed the fears of Canadiens fans with his devotion to bringing in the right people to rebuild the club into its former glory. Since moving to the Bell Centre in the last 90s, the Habs have consistently led the league in attendance, and with the club showing real improvement in recent years, Gillett obviously doesn't want a work stoppage to cut into revenues.
Now comes a report in today's Philadelphia Inquirer claiming "Carolina's Peter Karmanos, Nashville's Craig Leipold, and Florida's Alan Cohen are fighting the Flyers, Toronto, Detroit, Colorado, the Rangers and other top-revenue clubs."
There can be no question of dissension within the ranks of the NHLPA since it made its startling move off its anti-hard cap stance last week, but it's becoming obvious things aren't as rosy on the owners side as the league would lead us to believe.
NHLPA PRESIDENT, LEAFS OWNER TRIED THEIR BEST.
There aren't many folks on either side who'll emerge from these labour talks with enhanced reputations, indeed, too many people have sullied their reputations with their ham-handedness during this dispute.
The same cannot be said for NHLPA President Trevor Linden and Maple Leafs Sports and Entertainment Ltd., chairman Larry Tanenbaum.
The two men have worked tirelessly behind the scenes in recent weeks to keep negotiations moving forward and to seek a workable compromise for both sides.
As reported by the Toronto Sun, Tannebaum hosted a meeting with Linden in hopes of finding a solution between the two sides. Also in attendance were Penguins owner and captain Mario Lemieux, NHL VP Bill Daly and Leafs winger Tie Domi, who has close ties to key people within the NHLPA and is considered one of its most respected members.
It's believed the genesis of the last minute proposals from both sides last Tuesday, where the league moved off linking salaries to revenues and the PA moved off its "no hard cap" stance, occurred at that meeting.
Their efforts ultimately came to naught, but it's comforting (cold as it may be at this point) to know there are some genuinely intelligent people on both sides who are trying to broker a compromise.
If there is any hope of concilliation and cooperation between the owners and players in future CBA talks, it probably lies with these people, and especially with Linden and Tannebaum.
FALLOUT FROM YESTERDAY'S MEETINGS.
So what transpired yesterday that killed "Season-saving Talks Part 2: Electric Boogaloo"?
Well, here's the press release from the NHLPA where Ted Saskin elaborated, in italics with my comments in bold.
"The NHL invited us to meet them today in New York. We met for about six hours. The League did not make a new proposal but did outline new details about their earlier proposal which made it crystal clear that we are much further apart than many people had speculated about earlier in the week.
We reviewed our proposed framework on CBA Deal Points, which was attached to our Feb.15/05 proposal, and the NHL today revealed a number of significant differences between our respective positions, such as:
1) While we expected the upper limit number on payroll would increase over the six-year term of the deal as hockey revenues increased, the NHL's position today was that the upper limit would remain a fixed number for six years, regardless of any growth in hockey revenues.
I dunno who told the PA that the salary cap (that's what it is, Ted, despite your aversion to calling it otherwise) would increase if revenues increased. There are hardline owners who feel they've got the players pinned down and they're not going to let them up. They want a fixed hard cap in place and they want it to stay in place over the course of the next CBA.
2) While we were told earlier in the week that the NHL's revenue sharing plan would not decrease over time, the plan they revealed today could decrease significantly over the term of the agreement.
Here's what bothers me about the league's insistence on a hard salary cap. It claims it wants this measure to help all thirty clubs, especially the small market ones, to survive. It also claims it wanted revenue sharing. Yet throughout all of this, the league's stance is that it doesn't want a fair revenue sharing system in place.
As far back as December, the league envisioned "a revenue sharing pool funded primarily by a portion of revenues generated in the Stanley Cup playoffs" rather than regular season revenues.
Whatever was generated from that system isn't going to be as lucrative to small market clubs as would a system based on regular season revenues. With the league now suggesting those revenues would decrease over the term of the next CBA, I'm puzzled as to how this is supposed to help small market clubs.
Is it based on the opinion that salaries will decline so much under a cap that small market won't need to draw as much on a revenue sharing system? If so, I believe that's folly.
Supposing that the NHL returns with a $42.5 million hard cap in place, the top salaries commanded by the best players in the NHL will still be within the range of $4 million to $7 million per season. This is based on comparing the average payroll during the period from 1998-99 to 2000-01 with the top 25 salaries of the same period as I did earlier this month.
Since small market clubs claimed they were struggling to make a go of it with payrolls that last season were often much less than $42.5 million, and obviously won't be spending anywhere close to the league's proposed cap, how are they going to make a go of it with a limited revenue share plan that will decrease over time?
I just don't understand how the small market clubs can be signing on to a system that appears to me would be of little help for their problems. Salaries aren't going to decrease that significantly for the best players under this cap, which means it'll still be difficult for those small market clubs to retain their best players, let alone bid competitively for quality unrestricted free agent talent.
3) While we anticipated a minimum team payroll number in our proposal, the NHL was today not interested in providing any minimum team payroll number, but only a maximum number.
This is an unusual development, as the league's previous proposals since December called for a salary "floor" as well as a "ceiling. Without insisting that teams must spend a set minimum number on payroll, that would definitely have an adverse affect on overall salaries.
This might explain why the small market clubs are online with a $42.5 million hard cap. If there's no set minimum limit, some could continue to spend considerably less than the cap limit, as in the case of Atlanta, Minnesota, Nashville, Pittsburgh and Florida, whose payrolls were all below $30 million last season.
That may be beneficial if the salaries for average talent is impacted, which is what I anticipate, but it isn't going to help those small market clubs retain their top talent.
No wonder the NHLPA isn't happy.
4) While we had anticipated using our Dec. 9/04 system changes, with a couple of exceptions to be discussed, the NHL today outlined more significant exceptions which they were seeking, particularly in the area of salary arbitration and qualifying offers."
Saskin didn't elaborate and we should have more news on that in the coming days, but I'm betting the league still wants to retain the right to eliminate arbitration at any time in the next CBA if they believe it's contributing to keeping salaries high. Meaning they'd likely scrap it within the first two years of the deal.
As for qualifying offers, the league's last proposals wanted QOs to be 75% of what the player made in his final season. The players want that to at least remain at 100%.
TSN's Bob McKenzie alluded to other cap issues yesterday, most notably how replacement of injured players would fit into a cap system. This was something blogger Tom Benjamin also pointed out as a potential problem area back on February 11.
It's clear from all of this that there were more contentious issues here than just a salary cap. Indeed, at this point the issue of a cap isn't if one should exist, since the PA still appeared willing this weekend to consider one, but what the cap should be set at. But it's crystal clear there are other points that these folks didn't consider in their almost single-minded zeal to reach agreement on the cap issue.
Meanwhile, the LA Times reports the reasons why the league pulled out of the talks was the PA still insisted on a higher cap ceiling and didn't want to negotiate a luxury tax that would curb spending.
But what was the ceiling the players wanted? If they're still seeking $49 million or above, that's not going to fly with the league. But if it were, say, $45 million, the magical halfway point between the final offers of the two sides last Tuesday, that's not a significant bump despite the insistence of some owners that small market clubs couldn't survive under that figure.
Even at $42.5 million, most of those small market clubs aren't going to spend up to that level, instead staying in the lower-to-mid thirty million range as their self-imposed "caps", thus it really doesn't matter if the cap is set at $42.5 million or $45 million.
The only teams who'll spend out to that maximum level are the big market clubs, and to suggest that a $2.5 million difference would give those teams an unfair advantage over their small market peers is ludicrous.
The luxury tax, on the other hand, is a legitimate beef from the league since the PA has been unwilling throughout these negotiations to set a tax level that would be tough enough to curb spending.
Then again, perhaps the PA knows the big market owners too well, understanding that at some point, regardless of a hard cap and a luxury tax, an enterprising big market GM, with the blessing of his ownership and spurred on by an equally enterprising player agent, could find loopholes in that hard cap system to spend beyond that set limit to land the player or players they desire.
After all, that's what was done with entry-level players under the previous CBA.
Meanwhile, the Toronto Star reported the league wanted to "claw back" on arbitration, qualifying offers and entry-level salaries.
For the latter, that could mean the league wanted to take those entry-level bonuses off the table, just as they proposed doing last December,which is also a contentious point for the PA.
The NY Daily News reports the league had no intention of raising its cap number and believed it would be accepting the players capitulation yesterday.
If that's true, they badly misjudged the PA's resolve. Yes, there is confusion and dissension amongst the ranks of the PA, thanks to their side's surprising willingness last Tuesday to discuss a salary cap.
But if the owners thought the players union was in tatters and willing to accept anything, they're mistaken.
In fact, I believe they've missed a golden opportunity here to use the disarray in the NHLPA camp to their advantage. They could've been more willing to make some minor concessions, to cede some ground elsewhere, even to nudge up that cap limit, to still get the cap system they wanted while allowing the players side to feel they saved face. Heck, it may have even achieved the owners dream result: the dismissal or resignation of Bob Goodenow had the PA agreed to the owners plan.
Instead, the owners camp chose to rub the players collective noses in it, which will only serve to rally the troops around embattled NHLPA honcho Bob Goodenow.
Remember the old saying, it's as important to be a good winner as it is to be a good loser. Humiliate your opponent, and you only further stoke feelings of resentment and bitterness, which could be used against you in the future.
Even if the PA should lose this round and the owners get their "cost certainty" system, the bad blood that boiled during this labour dispute will certainly carry over into the next round of negotiations years from now unless there is legitimate desire on both sides to work together.
COLLECTIVE BARGAINING UPDATE FEB. 19
WARNING! The following is an alcohol-fuelled, snarky reaction to the official collective bargaining update from the NHLPA's public relations office. The tone may not be suitable for those with a delicate disposition.
NEW YORK (February 19, 2005) -- Representatives of the NHL and NHLPA met for approximately 6-1/2 hours today to discuss collective bargaining matters but made no progress toward a new agreement.
Yes, we at the NHL and NHLPA stupidly thought we could raise the dead by working out a deal to resurrect the cancelled 2004-05 season. Unfortunately, the hype of today's meeting got away from us and a lot of people got their hopes unnecessarily raised again. Our bad.
No further talks are scheduled.
No really, we mean it this time...
The League was represented by Bill Daly, Executive Vice President and Chief Legal Officer; Wayne Gretzky, Managing Partner, Phoenix Coyotes; Mario Lemieux and outside counsel Bob Batterman. The NHLPA was represented by Ted Saskin, Senior Director; Trevor Linden, NHLPA president; Vincent Damphousse of the Colorado Avalanche; Mike Gartner, Director of Business Relations, and outside counsel John McCambridge.
Nine men in search of a click and there's ten thousand clicks in a clue.
Following the meeting, Bill Daly released the following statement:
"We met for six hours today in New York to further explore the
possibility of reaching a new Agreement with the Players' Association.
Wayne Gretzky and Mario Lemieux joined and participated in today's meeting, at the request of the Union. We talked through the parties' respective positions on the numerous elements that would be involved in designing a new salary cap-based system. The talks were cordial and informative, but revealed that there remain significant differences that need to be discussed and resolved by the parties. No new proposals were made by either side. While no new meetings are scheduled, we remain committed to continue working through the process until a new Agreement can be reached."
"We spent six hours eating catered pastry and using up hotel conference room space to arrive back at the same square one we were at on Wednesday when the commissioner cancelled the season. But at least we were nice to each other while we were discovering our vast differences."
Wayne Gretzky made the following statement:
"Mario and I were happy to be part of the process and everyone seemed to work very hard together. We had a constructive meeting and we only hope they will continue meeting for the betterment of the NHL and its fans."
No offence, Wayne, I'm sure you guys did try to work hard at resolving this, but come on, don't insult our intelligence by claiming this was a "constructive" meeting. Did you guys get a deal in place? No? Then it wasn't constructive, then. If you guys are still as far apart as you were prior to when you started today's meeting, it wasn't constructive, despite how civil everyone was toward each other.
Mario Lemieux made the following statement:
"I hope all parties continue talking and come to a solution for the
betterment of the game. I certainly appreciate the work Gary and Bill have done a lot more, now that I have been part of one of these sessions."
I'm glad you can appreciate their work, Mario. As for myself, I don't appreciate how these two have contributed to the downfall of a once-great sports league.
SO MUCH FOR A "DEAL IN PRINCIPLE".
4:50 PM EST: TSN's Bob McKenzie reports the meeting broke up a short while ago, and after 6 1/2 hours, there was no progress and a source told McKenzie the situation was "not good". McKenzie reports no new talks are planned (although we've heard that old chestnut before).
Sportsnet's news is far more grim: Bill Daly told them "it is now too late for a season and the focus will shift to getting a deal done ASAP and preparing to come back as strong as possible next year."
Looks like there's a limit to what the Great One and Super Mario can do.
At this point, I think most fans probably don't care if there's a deal or not to save this season. As long as they can get that deal done "ASAP" in time to prepare for next season, fine, but JUST GET IT DONE, YOU ASSCLOWNS!
Sorry for the frustration seeping through, folks, but I'm fed up with all this nonsense. Talks that go nowhere. Rumoured deals that never come to pass. Promising words that turn to acrimony. I'm fed up with it and I think I speak for most of you out there.
Anyway, that's enough for today. I'm gonna go unwind and look forward to starting fresh tomorrow, when we'll undoubtedly hear the true reasons why yet another deal that was supposedly close to reality wound up falling through once again.
MEETING IN PROGRESS....
3:30 pm EST: TSN and Sportsnet have the latest. Both sides sat down around 11 pm EST in New York and the meeting remains in progress. It's unknown if Bettman and Goodenow are in attendance, but the other main players are in attendance.
They include NHLPA president Trevor Linden and members of the executive, including Vincent Damphousse and Bill Guerin, Goodenow's right hand man Ted Saskin and the PA's legal counsel. It's unknown how many are there from the owners side, but NHL VP Bill Daly, league counsel Bob Batterman and Wayne Gretzky and Mario Lemieux are in attendance.
No word yet as to any potential announcements.
TSN claims the NHLPA isn't expected to make a new offer while the NHL is supposedly only going to make "cosmetic" adjustments to their "final offer" of this past Tuesday.
Sportsnet meanwhile claims several European players have pulled out of games with their respective clubs and are awaiting word from the meeting. Apparently the NHLers' in Europe have voted 100 percent to return to the NHL. There's also details of a meeting late last month between Toronto Maple Leafs principal owner Larry Tannebaum, Daly, Linden and Lemieux which saw the concept of the PA's $50 million cap explored.
If there's any word from today's meeting, I'll post it here. Hey, it's not like I have a life or anything, right? Thanks, NHL and NHLPA for ruining what I thought would be a nice, peaceful weekend free from all these negotiations!
Settle this you bastards so I can get my life back!!
Oops, sorry about that, inside voice talking outside again....
HERE WE GO AGAIN!
NOTE: Before I start today's Soapbox, it's been brought to my attention that my redirection URL (www.spectorshockey.net) is no longer working. That's because the good folks at the Face off Hockey Show, who set this up for me, are in the process of changing the ISP. In the meantime, you can still reach this site via the host URL: (http://spectorshockey.tripod.com/default.html). If you're already here, that means you either had this site bookmarked under the host URL, found it via a search engine, or had someone else e-mail you this link. Simple, eh? Anyway, I apologize for the inconvenience and hope to have this sorted out with the Faceoff folks soon. And now, on to today's article!
Yes, folks, just when you thought it was save to check out the sports headlines, just when you thought you were finally free of the seemingly neverending nightmare of the NHL lockout, it's back! Back with a vengeance!
Like Jason Vorhees in those intolerable Friday the 13th splatter films, talks of a season-saving settlement refuse to die and stay buried. Believe it or not (and I'm still shaking my head over this one), representatives from the NHL and the NHLPA are set to meet this morning in New York in hopes of working out a new CBA that could save the 2004-05 season and the future of the NHL itself.
This comes just a day after I posted an article on Foxsports.com dismissing the rumours that a small cabal of owners, players and agents were desperately behind the scenes to resurrect the season cancelled this past Wednesday by NHL commissioner Gary Bettman.
In my own defence, I didn't dismiss the notion, for as I noted in the article there were forces behind the league moving off their insistence of linking salaries to revenues and the PA agreeing to accept a salary cap last Monday night.
Those forces are obviously still at work.
Among them, Phoenix Coyotes part-owner Wayne Gretzky and Pittsburgh Penguins owner and captain Mario Lemieux, who not one day ago denied they were involved in attempts to resuscitate the dead season.
The major players, Bettman and NHLPA Executive Director Bob Goodenow, will also be in attendance, along with their respective negotiating committees.
This comes after the Hockey News reported an unnamed player claiming both sides had agreed to a "deal in principle" that would feature a $45 million hard cap. The player, who is supposedly "close to the talks" believes there's no way this deal could be undone.
That of course brought about a blizzard of denials, with NHL VP Bill Daly taking the lead insisting the deal in principle talks was baseless.
Given the number of denials of rumors we've heard throughout this lockout that ultimately turned in fact, Bettman could be facing the media by Monday with a crap-eating grin on his face announcing the season's been "uncancelled".
OK, I'm being sarcastic here, but ya gotta admit, folks, this is like a bad movie, the kind that used to be hilariously ripped apart by Joel, Mike, Tom Servo and Crow on Mystery Science Theater 3000.
Give the moderates on both sides credit, they're not willing to let the season go gently into that good night (with apologies to Dylan Thomas). Ignore the nonsense spewed by Bettman and Goodenow about there being no bad blood between the two sides, because it's clear from all the sniping both have done at each other via their media sycophants that this labour dispute got very personal the longer it dragged on.
They were spurred on by hard line owners and players who would rather have killed the season than capitulate.
So will these talks be successful? Will there finally be a resolution? Can the season be saved?
Perhaps the more important question is, are there any hockey fans left who honestly give a damn if these talks succeed or not?
GAME OVER!
Yep, it's all over, folks, the 2004-05 season is officially toast. My Foxsports column on this development, what the immediate future holds and the potential consequences to the league is up and you can read it here.
I'm going to take a couple of days off from updating the Soapbox to rest up from both covering the frantic final days leading up to today's announcement and battling a nasty flu bug. My thanks to those of you who e-mailed "get well soon" wishes, I appreciate it.
I may be taking a break, but I would like to hear the thoughts of all of you out there regarding this cancellation. Send in your comments and I'll post them every day in my "Fans Speak Out" section.
The next update to the Soapbox will be Saturday, February 19th. I will continue to update this site on a daily basis. The lockout didn't stop me from finding things to write about here, so you know the season cancellation isn't going to stop me.
I want to thank all of you for your support thus far and I hope you'll continue to check out this site for my take on the latest happenings in this NHL labour dispute and (hopefully) other hockey-related news of interest.
In the meantime, I think the following cartoon, sent in by regular "Fans Speak Out" contributor "CoachBowman_2003" aptly suits the latest developments: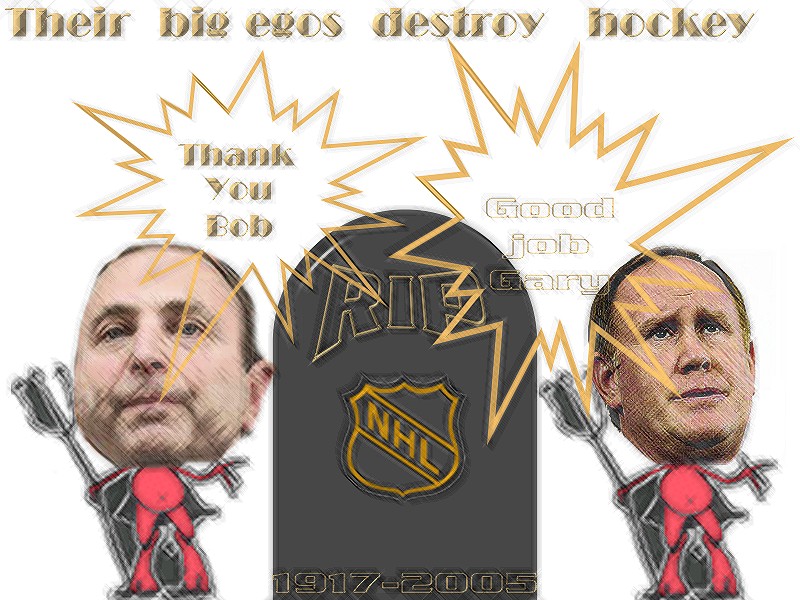 DECISION DAY.
Well, here it is, folks, the day that will ultimately decide not just the fate of what little remains of the 2004-05 hockey season but also the future of the National Hockey League.
For those of you who might've missed it, NHLPA Executive Director Bob Goodenow responded to NHL Commissioner Gary Bettman's letter by rejecting the league's "final offer" of a $42.5 million hard salary cap, instead offering to come down off the PA's $52 million "set ceiling" offer down to $49 million.
As you can imagine, Bettman rejected that counter-offer, sticking to his $42.5 million offer, claiming teams couldn't afford the PA's proposed cap. Goodenow rejected this, citing previous spending by NHL clubs under the previous CBA.
You can read the full text of the letters here.
Goodenow also ended his letter ominously. "You will receive nothing further from us," he wrote.
Taken at face value, that's obviously not a good sign, and I have to agree with Bob McKenzie's take that this thing is over and no deal will be put into place.
I won't go over the same details as McKenzie. His assessment of the situation sums things up perfectly. While $6.5 million appears to be a breachable gap, the reality of the situation as McKenzie spelled out suggests otherwise.
Until last night, neither the league or the players association publicly made a final offer. By doing so last night, Gary Bettman has told the players and the rest of the hockey world that his side is done negotiating.
There is always the possibility of talks continuing behind the scenes, of both sides still trying to strike some form of deal that would have them meet halfway, around $45 million. Anything is possible and as we've seen over the course of this lockout, just because the sides say they're finished talking with each other doesn't mean they're finished talking with each other.
The difference this time around is we have a press conference slated for 1 PM EST where the Commissioner will formally announced the cancellation of the 2004-05 season.
I'm not trying to be pessimistic. Anything is possible, it ain't over 'til it's over, blah, blah,blah. In fact, heading to bed last night, I was optimistic for the first time in weeks that a deal may finally be close.
Seeing the correspondence between Bettman and Goodenow, I am no longer optimistic.
We'll know for sure by 1 PM Eastern today. I'll be filing my take of whatever announcement comes out of Bettman's press conference for Foxsports later today, which I'll post a link to later on today on this site.